Pandemic Prescription for Halloween
Monday, 02 November 2020 13:36
Last Updated: Thursday, 05 November 2020 14:31
Published: Monday, 02 November 2020 13:36
Joanne Wallenstein
Hits: 742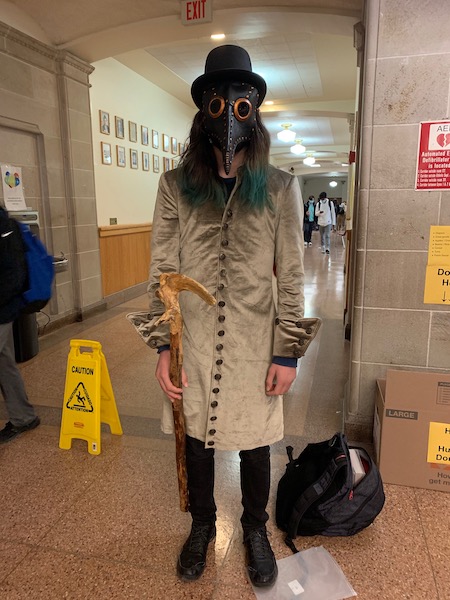 The Plague Doctor at Scarsdale High SchoolThough it wasn't your usual Halloween, Scarsdalians found safe ways to celebrate the holiday. The devised ingenuous costumes, many with themes involving the strange happenings this year including a Purell bottle, the Grim Reaper and several plague doctors, dressed up in Medieval gear.

You might ask, what is a Plague Doctor? According to Scarsdale Art Historian Linda Wolk Simon, these harken back to the outbreak of the bubonic plague in the 6th century when doctors visited the afflicted wearing pointy, beak-like nose masks. The "beak" was filled with rose petals or other pungent flowers to act as a kind of filter and, it was wrongly believed, protect or shield the wearer from the pestilence. By the late 17thc, "the doctor" became a stock character in Italian Commedia Dell'Arte, improv traveling theater. The character always wears that mask and a large flat hat.
At Scarsdale High School, in addition to plague doctors, we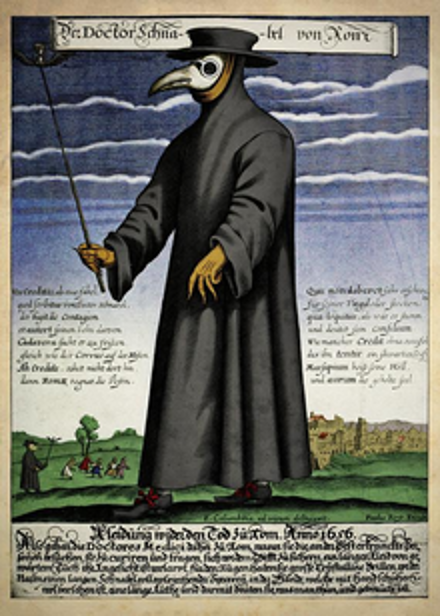 saw a troupe of medical doctors (today's superheroes), a school of sharks, bears, flying squirrels, astronauts, cowgirls, kangaroos, traffic cones and more.
The deans and principals wore black and orange Halloween t-shirts that read, "Halloween Seriously? 2020 is Scary Enough," on the front, and on the back said, "Trick or Teach,
Be Afraid-ers," and did their best to drum up the holiday spirit as Cohorts A and B left school on rainy weather on Thursday and Friday October 29 and 30.
Take a look at the high school students below:
The younger kids also had some fun. At Greenacres, students posed for Halloween photos in front of the newly-installed school sign and enjoyed spooky treats. Winners of the Greenacres costume contest were Lois Levy (Zombie Ballerina Jewelry Box - 1st prize), Lola van Santen (Zombie Cheerleader - 2nd prize), Nicola Dechiario (Butterfly Fairy - 3rd prize) and Finn Pearson (Slenderman).
Lois Levy as Zombie Ballerina
We also received some terrific photos of kids in costume and trick or treating around town. To add yours to our Halloween photo gallery, please email photos to scarsdalecomments@gmail.com.
On Halloween, since guidelines discouraged door to door trick or treating, residents set out tables with individual Halloween treats for kids to take. See photos below of a Pandemic Pumpkin Patch in Davis Park and of treats set out along a popular stretch of Brewster Road in Greenacres.
Whatever your experience, it was a Halloween that no one will ever forget.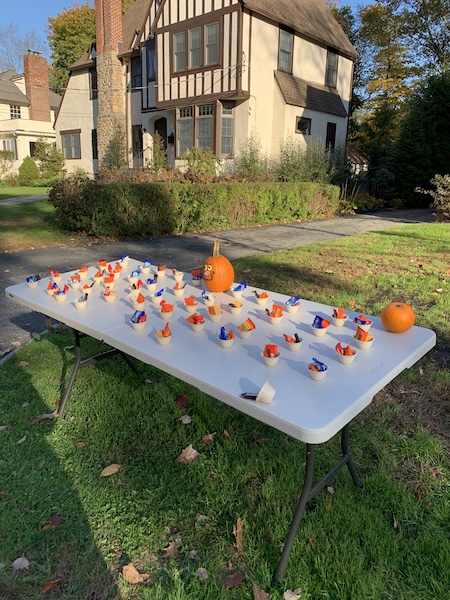 Brewster Road Trick or Treat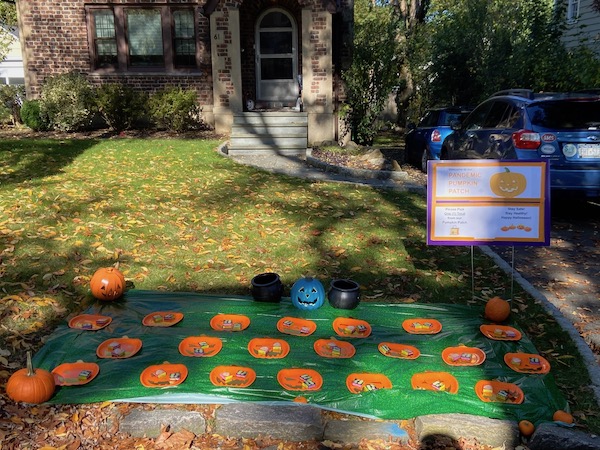 A Pandemic Pumpkin Patch in Davis Park