Boys Tennis Team Ends Season 4-3
Wednesday, 26 May 2021 11:42
Last Updated: Thursday, 27 May 2021 13:36
Published: Wednesday, 26 May 2021 11:42
Joanne Wallenstein
Hits: 1236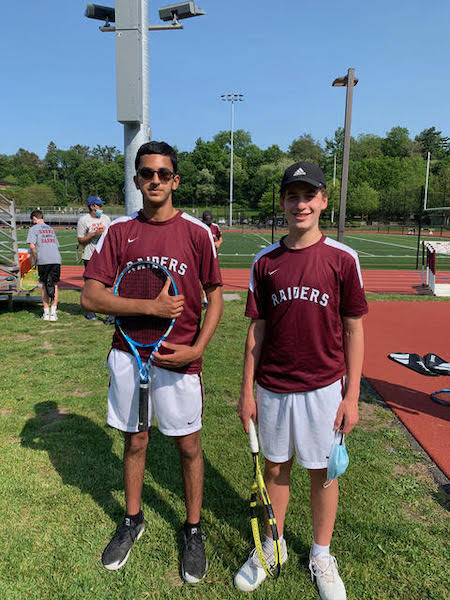 First doubles team Samir Kini and Ben HymanThough the boys tennis season was shorter than usual, it sure beat last year when there were no matches at all. We chatted with Boys Varsity A Tennis Coach Jennifer Roane at the team's last regular match of the season against Rye, and she explained that for the first time ever, this year she welcomed ten new members to the team and had only three returning players.
The relatively green team did well – ending the regular season with four wins and three losses. At their final match against Rye on Wednesday May 19 at home, they had a clean sweep, winning all seven courts.
Here are the results of the match against Rye where Scarsdale scored strong victories on all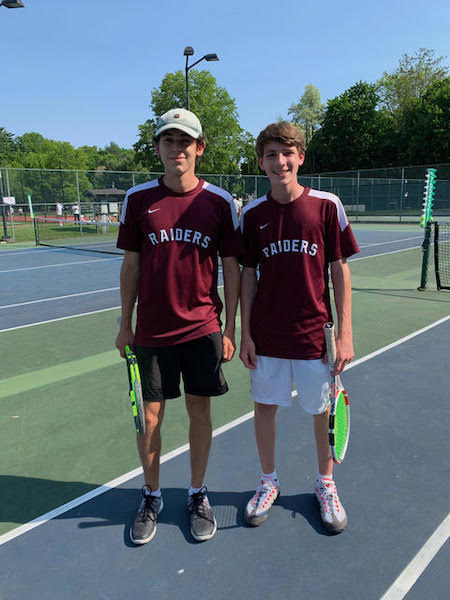 First and second singles, Andrew Broom and Jason Gans courts.
Singles
Andrew Broom vs. Nicolas Echlor 6-3, 6-1

Jason Gans vs. Matthew Templeman, 6-1, 6-0

Adin Lamport vs. Cian Keegan, 6-1, 6-0
Doubles
Ben Hyman and Samir Kini vs. Dylan Rodilosso and Reece Dorfman, 6-1, 6-1
Hiroshi Hebner and Michael Marks vs. Ryan Wyckoff and Patrick Moran 6-1, 6-4
JP Figueiredo and Coby Gantcher vs. Luke Burnham and Nate Collins, 6-1, 6-1
Eric Rodriguez and Trevor Cohen vs. Ty Bibas and Henry Paul, 6-1, 6-4
Kenny Xu and Aditya Menon vs. Johnny Mambino and Naved Azim (non-league)
Roane hopes to send a few teams to the sectionals to be held from June 5-12. There will be no state championship this year.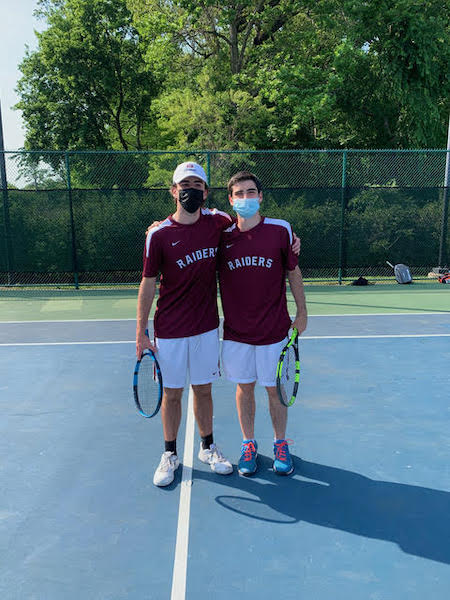 Fourth doubles team Eric Rodriguez and Trevor Cohen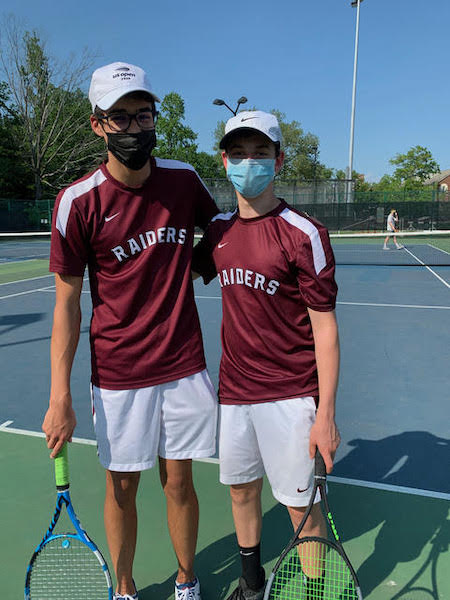 Third doubles team JP Figueiredo and Coby Gantcher