Voter Information for August 23 Primary
Monday, 18 July 2022 13:52
Last Updated: Monday, 18 July 2022 13:56
Published: Monday, 18 July 2022 13:52
Joanne Wallenstein
Hits: 687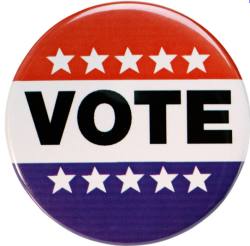 In Scarsdale, there is an upcoming Democratic Primary Election for the U.S. Congress, District 16. (Please note, there is no Republican primary).
• Now: Residents should check their voter registration status at: https://voterlookup.elections.ny.gov/

• July 29: Last day for your voter registration form to be postmarked. Last day to register to vote in person at the Westchester County Board of Elections' Office (25 Quarropas Street, White Plains, NY 10601).
Please note the following deadlines regarding ABSENTEE BALLOTS:

• August 8: Last day for the Westchester County Board of Elections to RECEIVE an application for an absentee ballot by mail, email, fax letter, or web portal. The Board of Elections website details the variety of ways to apply for an absentee ballot. Note: Voters may still apply to vote by absentee ballot using the temporary illness clause, which includes being unable to appear due to risk of contracting or spreading a communicable disease like COVID-19.

• August 22: Last day to apply in person for an absentee ballot.

• August 23: Election Day. Last day to postmark a completed absentee ballot (must be received by August 30) or submit a completed absentee ballot in person.

The County Board of Elections website provides instructions for completing an absentee ballot.
EARLY VOTING for the August Democratic Primary Election is AUGUST 13-21, 2022:
• You may vote early at any of the designated Early Voting polling locations throughout the County. The Board of Elections website lists all polling locations and hours.
PRIMARY ELECTION DAY is TUESDAY, AUGUST 23, 2022:
You may vote only at your assigned polling location which you can look up here:
For information about the candidates, see Vote411.org, the website the U.S. League maintains with comprehensive information on elections nationwide.
On Monday, July 25, the League of Women Voters of Westchester is holding a Virtual Democratic Candidate Forum for U.S. Congressional District 16. Please register at this link:
Questions regarding voting in the Primary Election should be directed to our LWVS Voter Service Chairs at lwvsvoterservice@gmail.com.