Computer Maintenance to be Done on the Westchester Library System
Details

Hits: 4207
The computer system will be down for ALL libraries in the Westchester Library System during the week of March 9th. On March 9 and 10, 2010 the system will be taken offline to rebuild the Headings Index. This is essential to keeping the system running efficiently. The system will also be taken offline to load the Authorities File. This file needs to be updated to allow the catalog to be accurate and consistent. The system needs to be taken offline from time to time to allow big server jobs to be run, which cannot be done while people are using the system.

As a result, these rules will be in place during the system maintenance:
There will be a 5-item limit at check out
Patrons will not get overdue or lost item notices
The catalog will not work
Holds cannot be placed
Library Express will be out of service
Existing Overdrive users (downloadable audio books) will be able to use the service, but new users cannot register on these days
Library ELF will also not be able to gather more information
The good news is that during this time the Scarsdale Public Library will be open for regular hours and public access computers and wireless service will continue to work.
Teens: The Scarsdale Library Wants You!
Details

Hits: 3623
Thanks to a generous grant from the Friends of the Library, planning is underway for the redesign of the Scarsdale Public Library's teen space. A new Teen Advisory Board will help design the new space; give advice on what technology, books and music the library should have; share ideas about what teens want to do in the library; and help with the Library's teen website.
Students in grades 9 – 12 who want to help shape the future of the Library are invited to email scarsdalelibraryteens@gmail.org by February 15 to say that they'd like to be a member of the Teen Advisory Board. For more information, contact Library Director Beth Bermel at 722-1300.


Dara Horn Comes to Scarsdale
Details

Hits: 12330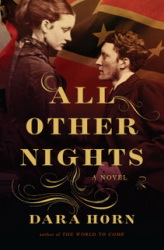 It's not everyday you have the pleasure of listening to a talk by someone with the intellect of author Dara Horn.  Ms. Horn, author of several novels was on hand to address the Sisterhood of Westchester Reform Temple in Scarsdale N.Y. to discuss her third and latest novel, "All Other Nights." Her second book, "The World to Come" is a favorite of book clubs, and extra seats had to be added to the new meeting room at WRT.

Calling Dara Horn an author is a misnomer. From the rabbi's introduction and her opening remarks it was clear that Horn could be called a theologian, a scholar, a professor and a mom. Though she looks no older than my children, she claims to be the mother of three of her own, ages 4, 2 and 9 months and she somehow finds a few hours each day to write. Horn grew up in New Jersey, one of four children, who were sometimes called "The Bronte's of Short Hills" as three have emerged as writers. 

Horn attended Harvard University and received her PhD in comparative literature, studying both Yiddish and Hebrew.  She brings her knowledge of the Torah, Judaism and ancient Jewish language to her novels which all have Jewish themes.  As she writes for American Jews whose first language is English, she writes in English and draws from Jewish texts included stories from the Torah that she reconstructs to fit her plotline.

What does the American culture have in common with the Jewish culture? Horn asserts that they both have tremendous respect for the rule of law.  However, in other aspects the two groups diverge.  America is all about the future, and the possibility of making yourself anew tomorrow.  In contrast, Jews are defined by their past and their heritage. The torah was handed down to Moses and all his descendants at Mt Sinai, binding the Jews together in a shared history. In this way, Horn contends that the myth of Jewish identity is at odds with the American dream.

In her book, "All Other Nights," she addresses both myths, examining the story of the Jewish community in America at the time of the Civil War.  Apparently there were 130,000 Jews living in the U.S. at that time, and the largest American Jewish community was in New Orleans. Horn grew curious about the Jews of the South, when she went to Louisiana to speak at a temple in 2002, and in her free time wandered into a Jewish cemetery. This discovery is the inspiration behind her latest book, which is a Civil War era spy story with Jewish characters.

She ended her talk by explaining that the book is written as a palindrome, beginning and ending with parallel events that conclude differently at the front and at the back of the book. In keep with this theme, I will end this piece by restating it's opening…it's not everyday you have the pleasure of listening to a gifted intellect like Dara Horn!

All Other Nights
By Dara Horn
Published by  W.W. Norton & Co.
Want to Curl Up with a Good Book?
Details

Hits: 4326
Here's a list from resident reader Julie Gerstenblatt of her top five fiction picks for January.  Let us know what you're reading. Send in your comments below:


Little Bee by Chris Cleave
An amazing tale narrated by two women whose lives are both forever changed by an incident on a Nigerian beach.  Compelling and poignant, Little Bee is an unforgettable character who gives a voice to refugees everywhere.  Without giving too much away, the story provides rich topics for book group discussions.

Nanny Returns by Emma McLaughlin and Nicola Kraus
This sequel to The Nanny Diaries is set 12 years after the first book.  Nan is married to her Harvard Hottie and has moved back to NYC after many years abroad.  One night, she finds a drunk and angst-ridden, now 16-year old Grayer on her Harlem doorstep.  What to do?  This social satire is almost as satisfying as the original.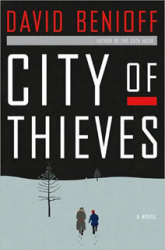 City of Thieves by David Benioff
An exciting page-turner based on the author's grandfather's stories about surviving World War II in Russia.  Another great book group pick.

Love Walked In by Marisa De Los Santos
When someone dynamic walks into 30-year old Cornelia Brown's life, it causes her to take notice and make some actual, grown-up decisions instead of just coasting as she usually does.  Through narrators Cornelia and 11-year old Clare, layers of relationships are revealed, tested and interwoven in this nicely written, lovely book, that shows how love can walk in (or out) on just about anyone.

This is Where I Leave You by Jonathan Tropper
Comic novelist (and Westchester resident) Tropper has written an engaging tale of what happens when you have to spend a lot of time with your dysfunctional, Jewish family during a week-long shiva.  We follow protagonist Judd Foxman -- recently separated, newly jobless, and feeling more than sorry for himself – as he mourns the loss of his father and deals with a true cast of characters, from the old neighbors and old flames of his hometown, to each of his three flawed siblings, to his breast-augmented, child psychiatrist mother.  Oy!