Routines, Relationships and Resources: Keys to a Smooth Transition Back to School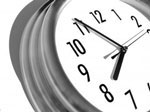 It's that time of year again! The days are cooler, the nights are longer and the air is filled with the excitement of a new school year. Whether the first week of school has your kiddos jumping for joy or wringing their hands, we have some suggestions to help the transition back to school go as smoothly as possible.
First, Scarsdale High School Psychologist Dr. Peter Faustino's advice is to "Definitely fall into three R's (not reading, writing and arithmetic) but Routines, Relationships and Resources."
Faustino suggests, "Start school routines now! The benefits of exercise and good sleep are showing profound effects on mental health. High School can be rigorous as student's juggle various demands, but prioritizing exercise and sleep are the foundation to managing it all. Examples would be to set an alarm now for the start time of school and practice getting into bed at the time you should when school is in session, eat meals as if you have started a school schedule, plan walks or regular physical activity, and perhaps even begin reading a new book to soften the transition of September."
He also explains, "Relationships are key in the science of resilience as well as in academic success. Remind anxious teens that everyone is feeling a little nervous AND everyone is also looking forward to connecting. So freshmen should take chances to say hello to new classmates or be brave and ask to sit at someone's table at lunch. Juniors and seniors should reach out to teachers and connect in the first few weeks to ask questions and build trust. This also means avoiding social media and focusing time and energy on "in-person" connections that sound like laughing in the hallways, making plans to socialize on weekends, or spending time with teachers during office hours or afterschool."
Finally, Dr. Faustino would "Encourage children to reflect on their Resources (both internal and external). Internal resources include avoiding negative thinking ("This school year will be soooo hard or junior year is the worst.") and replacing it with positive thoughts. Ensuring that our thoughts remain positive will help us maintain motivation, effort to accomplish goals, and positive feelings. Teens can do this by focusing on past successes, thinking about smaller manageable goals and gratitude for the things that they have in their lives as opposed to the things in the future that have not yet happened. And external resources are all of the school based professionals who are available to help families when school presents a challenge. Reducing the stigma around asking for help or mental health struggles means using the resources that schools offer in the form of School Counselors (Deans), School Psychologists, or School Social Workers."
While Dr. Faustino works at SHS and his suggestions are geared toward teens, his advice is applicable to, and can be adjusted to help students of all ages.
Members of the SMS Wellness Committee agree with many of Dr. Faustino's ideas and further emphasize these suggestions:
Get a good night's sleep.
A healthy sleep routine has so many benefits including boosting stamina, focus, and moods!
Remain organized and follow a predictable routine.
Try packing up and preparing the night before and creating and posting a visual checklist for your child.
Plan and eat healthy meals and snacks.
Eating a healthy diet full of protein and lots of fruits and veggies will help boost energy levels, increase attention span, and keep your immune system strong!
Use mindful techniques to help ease anxiety.
In addition to relieving tension and stress, mindfulness can also help improve focus and attention.
Regularly check in with your kids.
Check to see how they are feeling about going back to school. Try to ask open ended questions and use "active listening" skills. But also express your confidence in your child's ability to make a smooth transition.
Communicate with your child's teacher and other faculty members.
We are lucky to have such dedicated and responsive teams here in Scarsdale! If you have any questions or concerns, don't hesitate to reach out to your child's teacher, counselor, or school psychologist. And don't forget that Scarsdale Edgemont Family Counseling Services is an invaluable resource for our community!
From preschool through senior year, these tips should help any student start the year off right. Wishing all of our families a happy and healthy school year!
Wendy MacMillan is a former teacher and a proud mom of two children. While her background is in psychology and education, Wendy was recently trained in mindfulness at Mindfulschools.org. She has long been passionate about wellness, and as an active member of the Scarsdale PTA, Wendy helped to bring mindfulness to her children's elementary school. In addition, Wendy helped establish and is an acting member of the school's Wellness Committee.