COVID on the Decline But Masks Still Required Indoors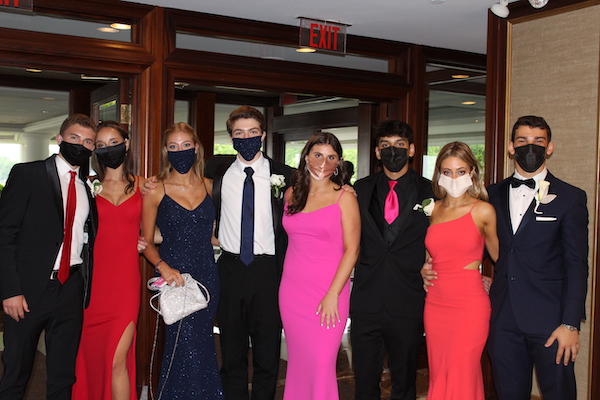 Prom goers were required to wear masks.County Executive George Latimer continued to track the virus and vaccination statistics at his briefing on Monday June 9, where he reported only 328 active cases in Westchester, down from 11,500 in January. 30 remain hospitalized and there were two COVID deaths in the past week. Of the 3,000 COVID tests administered this week, only 19 were positive, which is less than half of one percent.
On the vaccine front, 421,000 vaccines have been administered in the county. 53% of all Westchester residents are fully vaccinated and 61% of residents have received at least one dose. Teens ages 12-16 who are eligible are getting the vaccines.
Appointments are no longer required to get vaccinated at the County Center. If you want to walk-in to the county center, those without an appointment will get the one dose Johnson and Johnson vaccine and those with an appointment will get the Pfizer vaccine.
As the COVID crisis is on the decline, Latimer changed his briefing schedule to once, rather than twice per week.
Masks
Latimer emphasized that the county government does not make the school mask policy. These decisions are made by the state of New York. However the county does implements state policy and local recreation programs follow the school policies.
Currently, for village and municipal recreation programs, you can be unmasked when playing the sport. When you are not playing or watching from the sidelines, vaccinated people do not need a mask, while those who are not vaccinated are required to wear a mask.
Also this week, Scarsdale Schools Superintendent Thomas Hagerman announced that masks no longer need to be worn outside on school property but do need to be worn inside. On Monday June 7 he wrote, "Starting tomorrow, students will no longer be required to wear masks outside. Students who would like to continue to use masks while outdoors are encouraged to do so. In the coming days, we will clarify our requirements for mask-wearing at sporting events and end-of-year ceremonies after consultation with our District Physician and the Department of Health. Masks must continue to be worn on busses."