Who Do You Think Should Win the Scarsdale Bowl? Committee Seeks 2023 Honoree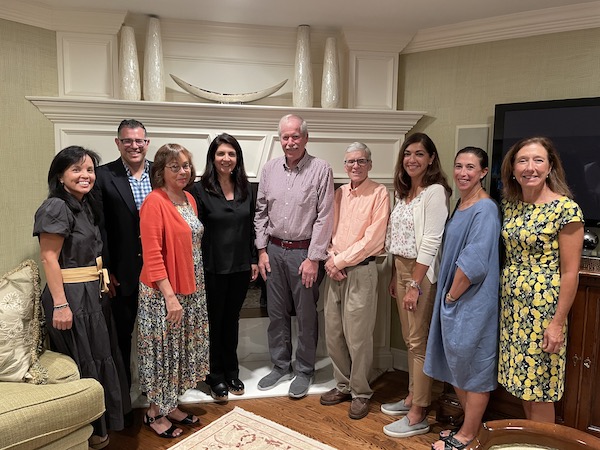 The 2022 Scarsdale Bowl Committee is looking for nominations for the 2023 Bowl Award winner. The Committee will hold its first of several meetings dedicated to selecting this year's honoree on December 11, 2022. Nominees for the Bowl award are requested by December 1st, but will be accepted until December 11th. Candidates must be Scarsdale residents who do not currently hold elective office. The Scarsdale Bowl Committee seeks a diversity of candidates for consideration. To access the nominee recommendation form, click here.
The Scarsdale Bowl, under the sponsorship of the Scarsdale Foundation, has been awarded annually since 1944, to an individual (or, in exceptional cases, to a married couple) who has given "unselfishly of their time, energy and effort to the civic welfare of the community." The founding donors of the Bowl believed that "many who serve generously and voluntarily, without office, honor, or publicity, are those deserving of having their names permanently inscribed on the Scarsdale Bowl." The Scarsdale Bowl Award is the highest honor bestowed on a Scarsdale resident in recognition of his or her volunteer public service in the community. The Bowl itself, with the honorees engraved names, is permanently displayed at the Scarsdale Library.
This year, the Bowl dinner is scheduled to be held on April 27th at Mamaroneck Beach and Yacht Club. The dinner will pay tribute to the newest Bowl honoree, as well as celebrate the spirit and culture of volunteerism in Scarsdale.
The Scarsdale Foundation is pleased to share that Erika Rublin is the Chair of the Scarsdale Bowl Committee, with Leah Dembitzer serving as Secretary and Isabel Finegold serving as Treasurer. The members of the Bowl Committee are Becky Bach, Sara Farnsworth, Carl Finger, Tim Foley, Adam Hellegers, Ronny Hersch, Sharon Higgins, Angela Manson, Margot Milberg, Susan Ross, Xue Su and Beverly Thornhill. Elyse Klayman, a Scarsdale Foundation Trustee, will serve on the committee as a liaison, along with Suzanne Seiden, President of the Scarsdale Foundation Board.
This year marks the 100th anniversary of the Scarsdale Foundation, a community institution that has quietly but effectively helped individuals and local community organizations through scholarships and grants over the course of a century. Most significantly, the Scarsdale Foundation has awarded more than $1 million in scholarships during the past ten years to Scarsdale's high school graduates in their sophomore, junior and senior years of college. Funds raised at the Scarsdale Foundation Bowl Dinner will enable the Scarsdale Foundation to continue supporting Scarsdale students faced with financial obstacles to continue their education. We look forward to gathering in recognition of all that makes Scarsdale a special place to live, and to benefit generations to come.
Questions? Please reach out to Erika Rublin, Bowl Chair at erublin@gmail.com. Additional information about the Scarsdale Foundation and the Scarsdale Bowl may be found at www.scarsdale-foundation.org.