Scarsdale Rocks Out at Village's First Music Festival
Details

Written by

Joanne Wallenstein

Hits: 1113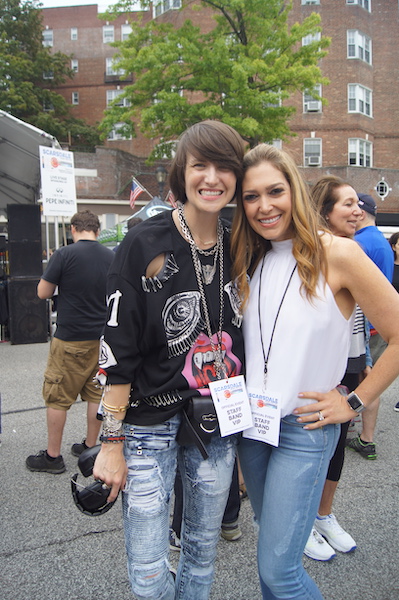 Event organizers ML Perlman and Marcy Berman-GoldsteinScarsdale Village was transformed into our own little Woodstock on Saturday September 14 when hundreds of rockers of all ages descended on the Village to hear some talented local bands, sample wines from the world over and feast from the food trucks. The concept of a downtown music festival was an ambitious one…. requiring funds from sponsors, a large stage and sound system, big tents, promotion, parking, and cooperation from Scarsdale Village government, the police and more. And if that wasn't enough, just days before the event, originally dubbed "Scarchella," the Scarsdale Business Alliance (SBA) received a letter from the Coachella Music Festival in California, asking for a name change for the Scarsdale event. Eager to avoid any legal challenges, the team worked quickly to change the name to the Scarsdale Music Festival and reworked all their branding and marketing materials to reflect this new name. Undaunted, they pulled off a perfectly executed day.
Who knew that Scarsdale was home to so many talented musicians, and these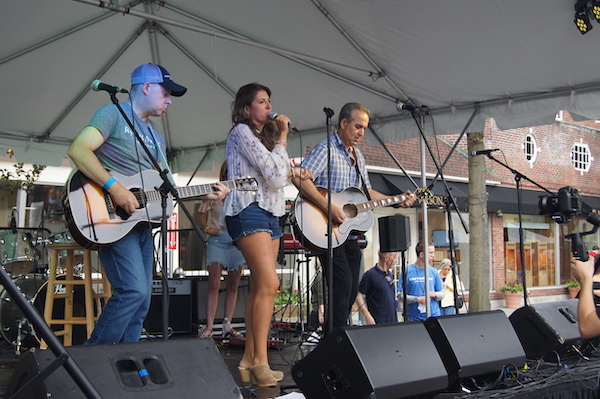 Randi Culang and members of Louise in Troublebands put on a great show from 12 to 6 pm on a big stage set up on Chase Road. Moms, dads, IT folks, realtors and high school students were just a few of the musicians we saw playing and singing on stage. We caught The Del Bocas, Louise in Trouble and Anytime – and if you didn't know better you would think you were at a professionally produced rock concert. Fans danced in the street to The Del Bocas rendition of "Feels Like the First Time," and sang along when Randi Culang and Abby Sroka of Louise in Trouble harmonized their way through Lady Gaga's "Shallow." We can't wait to hear more from these groups.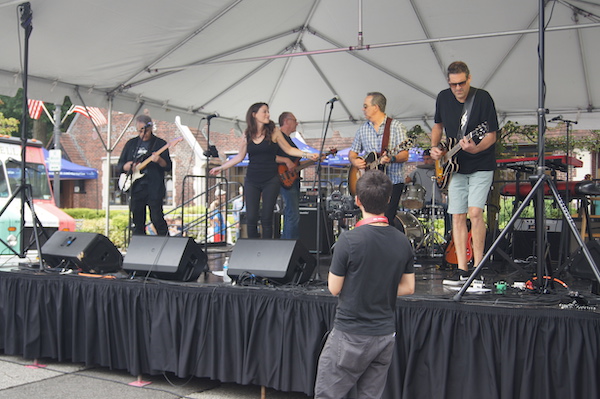 Erika Radin and The Del BocasThe music was just one attraction of this big event. Zachys "Wine Village" tasting tent covered Boniface Circle and brought vintners from the world over to the streets of Scarsdale. Adults – 25 and over of course –enjoyed white, reds and roses from California, France, Italy and even Argentina. It was perhaps Scarsdale's biggest ever tasting.
In the family fun zone, kids were lined up to have their faces painted while others enjoyed hair braiding from Plush Blow, a balloon artist, bouncy castles and beading. There were two Gaga pits on site where kids were having a great time kicking around balls.
Running the show were Marcy Berman-Goldstein, owner of village store "I Am More Scarsdale," and President of the Scarsdale Business Alliance along with ML Perlman who heads the Arts Advisory Council, Andrew McMurray from Zachys and Robert Shire.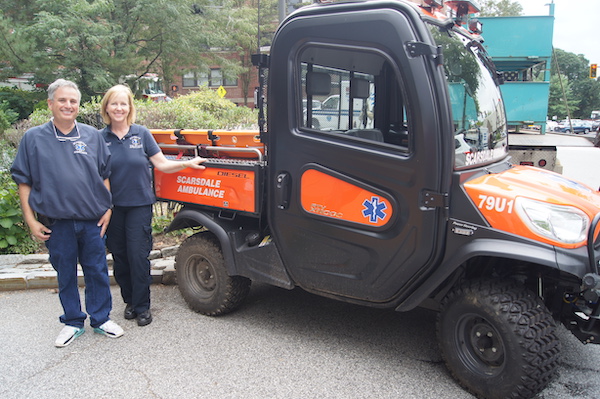 David Raizen and Angela Manson with SVAC's newest emergency vehicle.We spotted David Raizen and Angela Manson from the Scarsdale Village Ambulance Corps who were proudly displaying their new emergency vehicle – part jeep and part ambulance- that can be driven in tough to access areas like golf courses, to help those in distress. The vehicle was purchased with a gift from Quaker Ridge Golf Club.
Also on hand were Village Mayor Marc Samwick, Deputy Mayor Jane Veron, Village Trustees Justin Arest, Lena Crandall, Seth Ross and Rochelle Waldman, Deputy Village Manager Rob Cole and Assistant Village Manager Ingrid Richards. SNAP, representing Scarsdale's Neighborhood Association was on hand with tatoos.
The Police Benevolent Association hosted a smoky barbecue where police were grilling up burgers and hot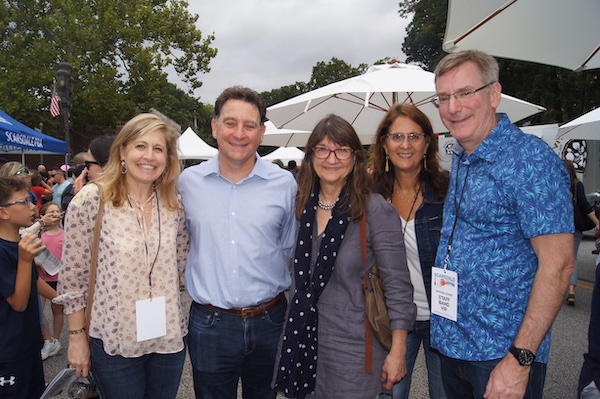 Jane Veron, Marc Samwick, Deb Pekarek, Susan and Seth Rossdogs. People stood on long lines to buy good eats from the food trucks offering sloppy joe's, crepes, pizza and burgers, from the new Westchester Burger Company, soon to open on Garth Road. Local restauranteurs from Bistro 808 and Sapori also offered lunch and of course there was ice cream.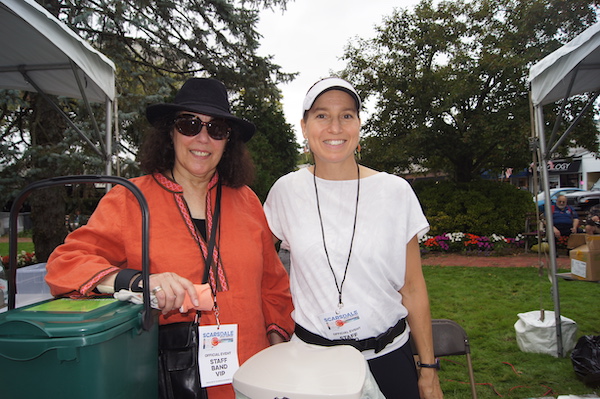 Madelaine Eppenstein and Michelle Sterling from the Conservation Advisory CouncilEven better, the Scarsdale Music Festival was a no waste event. Unlike other street fairs that result in huge mounds of trash, just about everything that was used on Saturday could be recycled. Food was served on compostable or recyclable serveware, and representatives from the Conservation Advisory Council were busy enrolling new participants in the Village's food scrap recycling program.
It was a proud day for Scarsdale, and a joyous celebration for everyone who participated.
Commenting on the event, Marcy Berman-Goldstein and ML Perlman said the following:
Marcy Berman-Goldstein: "The Scarsdale Business Alliance believes that everyone in our community shares in the benefit of a thriving merchant community. We are thrilled with the overwhelming positive response from everyone involved in the event; attendees, merchants, sponsors, the Village Board, Staff, and Councils, community groups, and charity partners. The extraordinary turnout is exactly what this event needed to continue into the future, and we are grateful to have been a part of something so meaningful to our community. This event could not be possible without our sponsors who provided us every resource we needed to succeed; especially our presenting sponsor Morgan Stanley Wealth Management and platinum sponsors Zachys who were the first to join the event and Pepe Infiniti who sponsored the live stage and Houlihan Lawrence who sponsored the Family Fun Zone. The Arts Advisory Council assembled the local musical talent and we are proud to announce that the Conservation Advisory Council organized 40 local residents (including local students!) who made sure the event generated less than one bag of garbage - all waste from 3,000 attendees over 6 hours was either composted or recycled.
ML Perlman: "Like so many other attendees, I was filled with joy to spend the day with neighbors and friends of all ages. This event is the culmination of countless years of effort from so many residents and local community groups who have endeavored to provide structure and guidance toward a strategy for downtown vibrance and public engagement. Having the Scarsdale Business Alliance is a game changer for our community and this event is a direct result of their dedication to forging a meaningful program for compelling events in the public realm. As the Chair of the Arts Advisory Council, the Village Board has provided our council with the opportunity to advise them of opportunities for the arts to be more accessible to all residents - and having the SBA provides a valuable opportunity for the costs of this enormous undertaking to be subsidized by the generous support of the event sponsors. Two of our Arts Advisory Council members, Robert Shire and Lee Miller, organized the lineup of local Scarsdale talent and oversaw the production of the live stage program. This event demonstrates that the arts are an enduring shared value of our community and I look forward to seeing this event become a model for success over many years to come."
Come to Scarsdale Village on Saturday for the Scarsdale Music Festival
Details

Written by

Joanne Wallenstein

Hits: 1094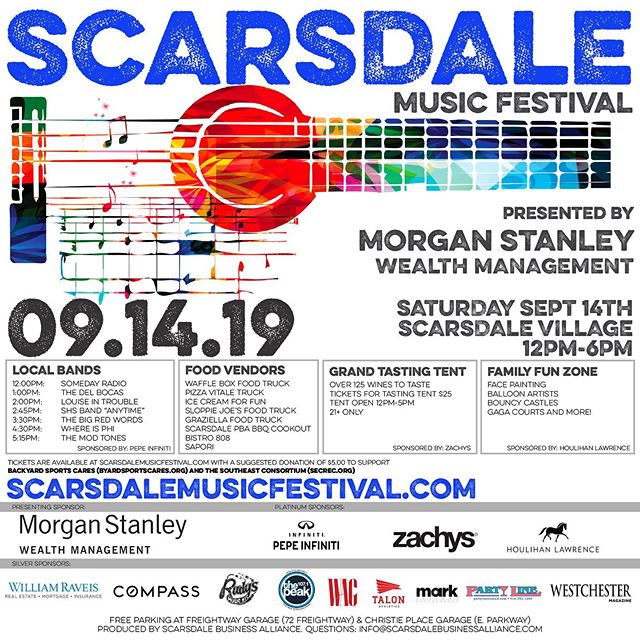 The Scarsdale Music Festival is THIS Saturday, September 14, from 12 - 6 pm in Scarsdale Village. Here's a letter from the Scarsdale Business Alliance inviting you to attend:
Dear Scarsdale: This Saturday, September 14th from 12pm-6pm, the Scarsdale Business Alliance (SBA) invites the entire Scarsdale community to attend Scarsdale's first all day music festival. The event is free with a suggested donation of $5 (to support our local charity partners) with access to all day music, food, and family fun.
The live stage will feature a lineup of local Scarsdale bands: Someday Radio, Louise In Trouble, The Del Bocas, Where Is Phi, The Modtones, The Big Red Words, and SHS student band Anytime.
Zachys will host a Grand Tasting Tent where a big selection of wines and beers can be sampled for $25 for those 21 and over with ID. Tickets and more information is available at www.scarsdalemusicfestival.com.
There will be activities for children at the Family Fun Zone and food from Leila's Crepe Station, Sapori and a barbeque hosted by the PBA.
The event is hosted by the Scarsdale Business Alliance which began only a year and a half ago. The purpose of the SBA is to foster the shared success of a flourishing Village Center and local merchants. We believe that the music festival on Saturday is the perfect way to celebrate our shared vision for the enduring success of our community.
Thanks to participating sponsors: Morgan Stanley Wealth Management, Zachys, Pepe Infiniti, and Houlihan Lawrence.
We look forward to seeing you on Saturday!
The Scarsdale Business Alliance
Severe Storms Knock Out Power to 1,200 Homes and Close Post Road
Details

Written by

Joanne Wallenstein

Hits: 2688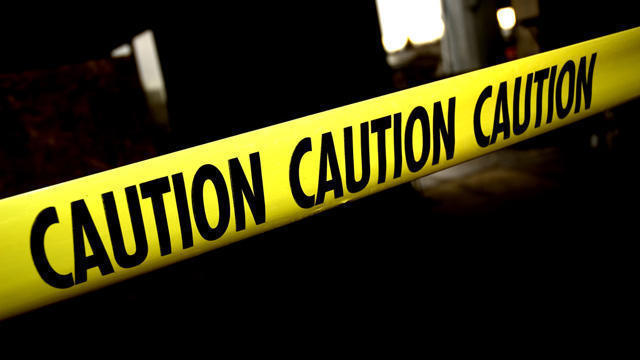 Severe storms late Monday afternoon August 19 knocked out power to almost one fifth of Scarsdale homes. Deputy Village Manager Robert Cole said that strong winds downed power lines and trees and left 1,200 households without power.
Here is his report:

"At the peak of yesterday's storm event, an estimated 1,200 Scarsdale homes were without power. The outages were in connection with downed trees and wires caused by wind. The Department of Public Works responded to a variety of issues up until about 9:00 pm last night, at which a majority of homes had power restored, with the balance restored during the overnight hours.
For a period of time last night, Post Road was closed near Wayside Lane, and there were other lesser street closures, as well. Finally, staff are aware of one private tree that damaged a neighboring home."
If you have photos of storm damage, please email them to scarsdalecomments@gmail.com to share them with our readers.
Who Knows Where the Stores Go? LF and Lord and Taylor to Close
Details

Written by

Joanne Wallenstein

Hits: 14037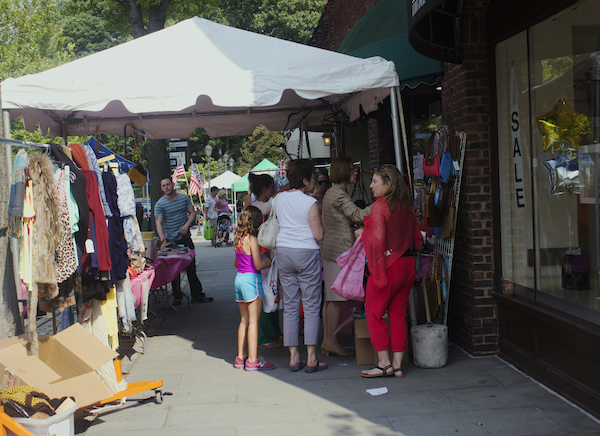 Scarsdale shoppers met with news of two more big losses this week.
LF Stores, whose large and popular store has graced Boniface Circle for years, announced that they are closing all 24 of their brick and mortar locations.
The store, always chock a block with merchandise, was a favorite for teens who went for their torn jeans, off the shoulder tops, chunky knit sweaters and accessories. Especially popular were their annual sales where enthusiastic shoppers would dig through mountains of clothing in search of a find.
The press release says, "LF is closing its brick-and-mortar stores and offering at least 80% off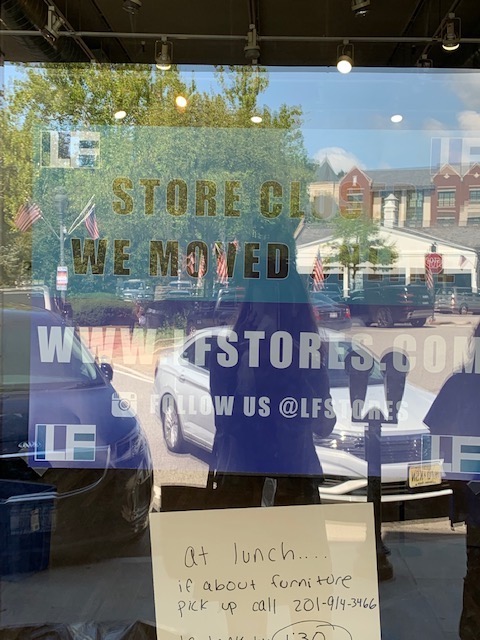 LF has already closed in Scarsdale.storewide starting now. All store inventories will be sold at greatly reduced prices. These huge discounts are for a limited time and in-stores only."
According to the press release, "The brand will continue to sell their merchandise online even after the stores close, the LF website will continue offering customers the most unique and exciting fashion in the market – all at www.lfstores.com."
The store's exit leaves another large retail space unoccupied in Scarsdale -- and a wide swath of Boniface Circle empty.
Department Store Demise
After Lord and Taylor closed their flagship store in Manhattan in January, many wondered if the Scarsdale store would be far behind. Despite assurances that the popular department store was here to stay, this week we learned that Hudson Bay Corporation had sold the entire Lord and Taylor brand to Le Tote. What's Le Tote? Apparently it's a subscription based clothing rental business who plans to convert Lord and Taylor shoppers to subscription clothing buyers. Really? Will I soon be driving down the Post Road to renew my favorite sweater or pay late fees because I failed to return my shoes before their due date? We shall see!
In the interim, even those of us who are accustomed to shopping the stores, will be forced to shop online – as there will be few places that stock sufficient inventory.
Weekly Puzzle: How Many Words Can You Find in the Hive?
Details

Written by

Midori Im

Hits: 1376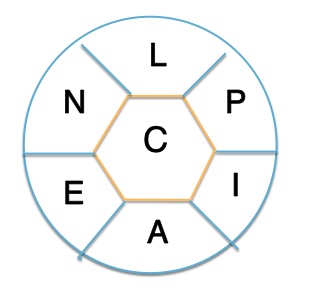 How many common words of five or more letters can you spell using the letters in the hive? Every answer must use the center letter at least once. Letters may be reused in a word. At least one word will use all seven letters. Proper names and hyphenated words are not allowed.
Score one point for each answer and three points for each word that contains all seven letters.
Rating:
16 = Good
22 = Excellent
27 = Genius
Scroll down for answers:
Answers:
acapella, alliance, alpaca, apiece, appliance (3 points), canine, cilia, clean, clinic, clinical, icicle, incline, lance, lenience, palace, panic, peace, pecan, penance, picnic, piece, pinnacle (3 points), place.
If you found other legitimate dictionary words in the beehive, feel free to include them in your score.