Public Comments Invited on Freightway Development January 22
Details

Written by

Joanne Wallenstein

Hits: 1218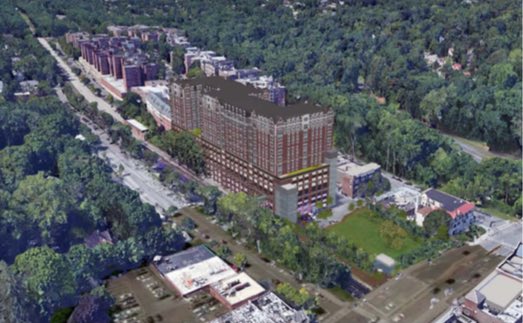 (From Scarsdale Village) The Village of Scarsdale Committee of the Whole will convene a meeting on Tuesday, January 22, 2019 to garner public comments on the recently submitted responses to the Request for Expression of Interest for the Freightway Redevelopment Site ("Site"). The meeting is scheduled for 6:30 PM in Scarsdale Village Hall, 1001 Post Road.

The Freightway Visioning Committee ("Committee") was tasked with developing a vision for the Site through an extensive process of gathering Village wide-community input. To meet this charge the Committee held three public workshops including focus groups, and conducted a series of on-site walking tours and surveys, both in person and electronically. The Committee's work concluded with the release of the Freightway Site Redevelopment Study which was presented publically to the Village Board of Trustees. The Board subsequently agreed to a two-step process to select a preferred developer for the Site, the first step would be the development and release of a Request for Expression of Interest, and the second step would be the development and release of a Request for Proposal.

The development and release of a Request for Expression of Interest was completed in July, 2018 and resulted in seven responses from the development community, as follows: Toll Brothers; East End Capital; Fareri Associates and Gateway Development; Avalon Bay; Lennar Multifamily Communities; LCOR and BRP Development. The responses and corresponding background information are located here or you may visit scarsdale.com where the information is located on the home page.

The Vision for the Redevelopment of the Freightway Site states: "Any future development at the Freightway Site should be a signature project that positively contributes to the vibrancy of the Village Center while maintaining its current function as a commuter parking lot."

The Vision is supported by seven guiding principles for the future development of an attractive, economically viable project as follows:
Principle 1 - Improve Parking and Circulation
Principle 2 - Ensure that public benefits are achieved by any development
Principle 3 - Ensure contextual development (scale, bulk, height)
Principle 4 - Encourage mixed-use development supportive of the Village Center
Principle 5 - Connect and integrate the Freightway Site with the Village Center
Principle 6 - Include environmentally sustainable development
Principle 7 - Plan for the long term future within a reasonably practicable time horizon

The Board of Trustees encourages any and all interested residents, property owners, merchants and other stakeholders to attend the meeting to provide input and/or thoughts about the responses to the Request for Expression of Interest.

The site is a 2.38 acre Village owned property currently used for commuter and merchant parking with approximately 700 spaces in an aging five-story parking garage and two surface parking lots.
Public Feedback Invited on Development of Freightway Site on Tuesday January 22
Details

Written by

Joanne Wallenstein

Hits: 2669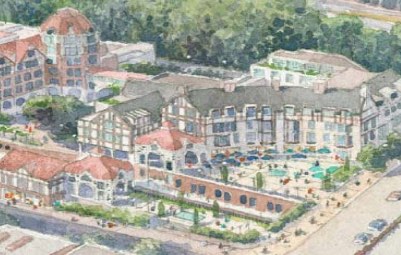 This letter was sent to Scarsdale10583 from Scarsdale VillageTrustee Jane Veron:
Dear Editor:I would like to invite Scarsdale residents, business owners, and all other interested parties to participate in the Freightway public feedback session scheduled for Tuesday, January 22, 2019, at 6:30 pm at Village Hall. As we move forward on one of the most important and impactful developments in Scarsdale's recent history, we continue to seek your input.
Together, we have been reimagining possibilities for the Freightway site, a 2.38 acre Village-owned parcel of land situated adjacent to the Scarsdale train station. The site is marked by an aging parking infrastructure built in 1972 as well as nearby surface lots. At our November 24, 2018, meeting, we shared with the public the seven conceptual plans we received from the development community in response to our RFEI (Request for Expression of Interest) issued July 16, 2018. For your ease of review, we uploaded the submissions to the website at scarsdale.com under the Planning Department tab, entitled Freightway Site.
We have been diligently working for years to arrive at this very exciting moment for Scarsdale. After many decades of discussion and multiple studies, our community is now ready to embrace the promise of this site. In 2010, the Village Center Update to the Comprehensive Plan laid the framework for a redevelopment plan. In March 2017, we embarked on a community-wide listening and visioning study, producing a final report that established principles that guided the RFEI process. Now, we are at the stage where we will draft an RFP (Request for Proposal) which we plan to circulate to the development community in the coming months.
The community has been with us every step of the way. Please join us on January 22 and/or send your written comments to clerk@scarsdale.com. To receive notifications about Freightway and other Village initiatives and services, please enroll in Notify Me on Scarsdale.com.
Thanks for your consideration,
Jane Veron
Scarsdale Village Trustee
Land Use Committee Chair
Jane Veron
Scarsdale Village Trustee
Scarsdale Police Commissioner
Municipal Services Committee Chair
Land Use Committee Chair
Communications, Library, PRC and SBA Liaisons
New York Moms Demand Action To Host Vigil To Honor The 26 Killed At Sandy Hook And All Survivors Of Gun Violence
Details

Written by

Joanne Wallenstein

Hits: 2157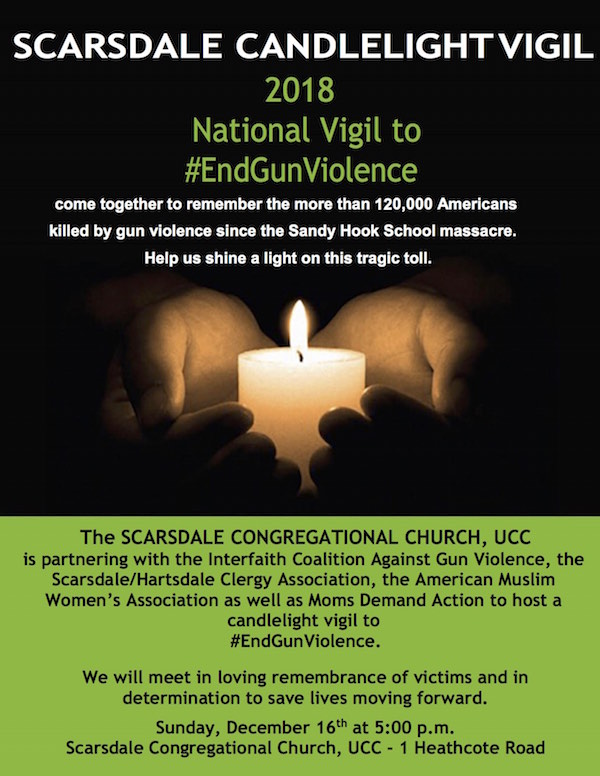 A candlelight Vigil to End Gun Violence in Scarsdale on December 16 is one of nearly 100 events taking place across the country to honor Sandy Hook and demand an end to gun violence.

Volunteers with the Westchester County chapter of Moms Demand Action for Gun Sense in America, part of Everytown for Gun Safety, will gather on December 16th in partnership with the Scarsdale Congregational Church, the Interfaith Coalition Against Gun Violence, the Scarsdale/Hartsdale Interfaith Clergy Association, and the American Muslim Women's Association to shine a light on the countless lives lost and touched by gun violence since the shooting at Sandy Hook Elementary School that took the lives of 20 children and six educators. The event is one of nearly 100 across the country commemorating the six-year mark of Sandy Hook and asking lawmakers to act to prevent gun violence.

In the six years since Sandy Hook, Moms Demand Action volunteers, along with survivors of gun violence and other gun violence prevention advocates, have fought hard – and successfully – to change America's lax gun laws, but much more must be done. Nearly 100 Americans are shot and killed every day, and hundreds more are wounded.

-Candlelight Vigil to End Gun Violence, a non-denominational service in loving remembrance of the Sandy Hook victims and the 35,000 people killed by gun violence each year in the U.S.

-Volunteers with the Westchester chapter of Moms Demand Action for Gun Sense in America
-Speakers Damon Bacote (SNUG program) and Tara Langworthy (Hudson Valley Moms Demand Action)
-Faith leaders Rev. Dr. Kelly Hough Rogers, Rev. Astrid Storm, Rev. Dr. Edward Schreur,
-Pat Colella and Bonnie Mitchell, Co-chairs of the Interfaith Coalition Against Gun Violence
December 16: 5pm
The Scarsdale Congregational Church, UCC
One Heathcote Road
Scarsdale
Take it or Leave It At the Recycling Center
Details

Written by

Michelle Sterling

Hits: 2325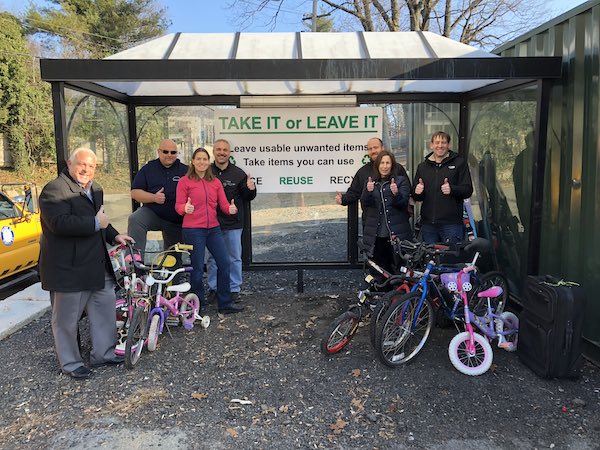 Did you know that Scarsdale now has a "Take It or Leave It"area at the Scarsdale Recycling Center? Now you can drop off your unwanted (but useable) items at the shed and take whatever you like! It's another great step towards trash reduction and more reusing in Scarsdale. Non-residents can take from it as well.
The shed is at the Scarsdale Recycling Center (110 Secor Road) and residents can drop off and pick up during its open hours which are Monday through Saturday from 8 am to 3 pm.
Furniture should still go in the Furniture Sharehouse bin (right next to the shed) but everything that Furniture Sharehouse doesn't accept such as sports equipment, toys, baby items can go in the shed. Even the shed itself was recycled from an old bus stop in Scarsdale.
What are some of the items to take or leave? Here are just a few ideas: Skis, boots, bats, balls, gloves, bikes, scooters, tennis equipment, golf equipment, baby items, toys, strollers, board games, kids games, exercise equipment, gardening items, tools and kitchen equipment and tools.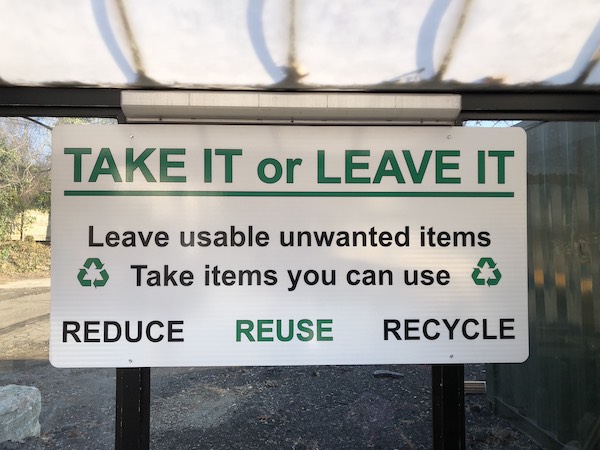 Light the Dale Lights Up Smiles in Scarsdale Village
Details

Written by

Joanne Wallenstein

Hits: 2200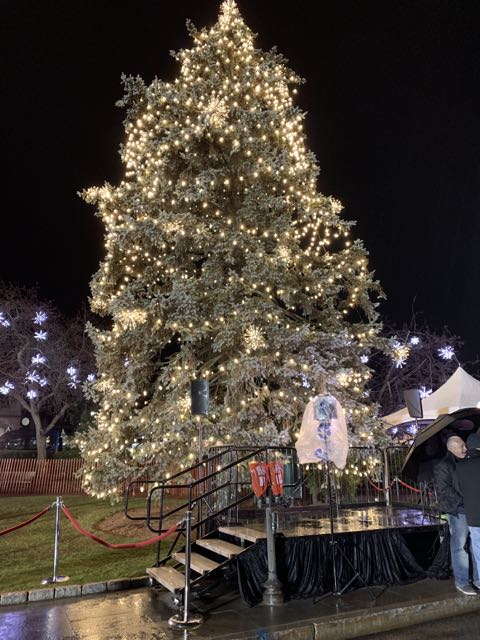 There were smiles all around on Friday night November 30 when Santa arrived in Scarsdale Village on a fire truck and the holiday tree and menorah were illuminated in Boniface Circle.
The festive event featured food, Christmas carolers, kids crafts, face painting and hot chocolate and was a hit with kids and adults too. Though a wintery mix was falling, no one seemed to notice.
The event was sponsored by Scarsdale Village, the Scarsdale Business Alliance, the Acceleration Project and many willing volunteers. Thanks to Jane Veron, Amy Nadasdi, Dalya Kahn and Vanessa Siderow for their leadership in making the event a runaway success.
It was the second annual "Light the Dale" event and from the community response it seems sure to become a tradition.