Do-it-Yourself Genetic Testing for Breast Cancer Risk
Details

Written by

Stacy Waldman

Hits: 2282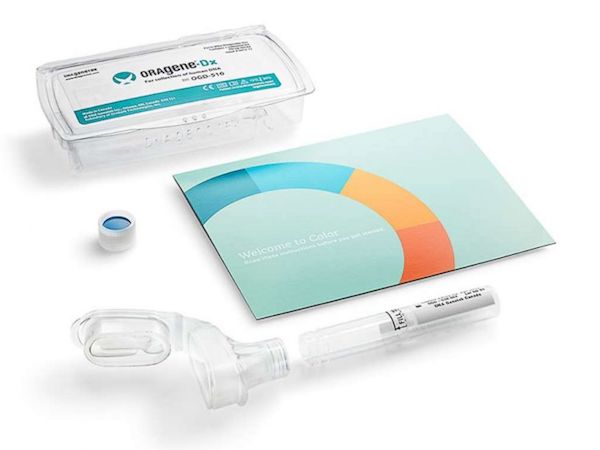 According the American Cancer Society, about 266,000 people are diagnosed with invasive breast cancer each year. There have been huge advances in diagnosis and treatment of the disease. There have also been advances in screening for risk of developing breast cancer along with ways to decrease risk of breast cancer development in people at high risk such as lifestyle changes, mastectomy and hormonal treatment, among others. For 41,000 people a year, breast cancer is fatal.
Everyone has BRCA 1 and BRCA 2 genes that work to prevent cancer. Inherited variants, or genetic mutations, in one or both of these can put a person at higher risk for certain cancers including breast cancer. The National Cancer Institute states that BRCA1/2 mutations together account for about 20-25% of hereditary breast cancers and about 5-10% of all breast cancers. The average lifetime risk of breast cancer for women is about 12%; with the BRCA 1 or BRCA 2 mutation, it is between 3 to 7 times greater than that of a woman who does not have the mutation.
Doctors have been able to order a genetic risk test for women deemed at high risk for breast and/or ovarian cancer to determine if they have mutations in one of these genes. In March of this year, the FDA approved the first at-home genetic risk tests for BRCA1 and BRCA2. For $100-150 and a donation of saliva, consumers can determine if they have a BRCA1 or BRCA2 gene mutation in just a few weeks via mail order.
What is the genetic risk (BRCA1/2) test?
Genetic risk tests help determine if one's breast cancer or family history of breast cancer is due to an inherited gene mutation. Most women who are diagnosed with breast/ovarian cancer do not have this inherited gene mutation although being positive for the gene variant puts one at higher risk of developing breast or ovarian cancer in women and breast or prostate cancer in men.
Should all women undergo BRCA1/2 genetic testing for cancer since the test is readily available?
BRCA1/2 testing is available if you are considered high risk for the mutation, such as being of Ashkenazi Jewish descent. It is important to understand that BRCA1/2 gene mutation leads to an increased risk of breast cancer and ovarian cancer (and prostate cancer in men), but not all with the variant will develop cancer. There can be physical, emotional and financial impacts of knowing your genetic status. The CDC and Susan G. Komen Breast Cancer Foundation both recommend that you speak with a genetic counselor and/or a physician to provide you with accurate information and counseling both before and after the test.
What are the benefits of having at-home genetic risk tests approved by the FDA and available for home use?
Juli Murphy Bollinger is a Senior Research Analyst at the Johns Hopkins University Berman Institute of Bioethics. As a genetic counselor, she doesn't have a strong opinion in favor of or against direct-to-consumer at-home BRCA1/2 testing but she does see the pros and cons of its availability. "The good is that it has become more affordable and can provide more access to more information for a larger population in the comfort of their own home. Companies such as 23andme do have a lot of reliable information on their website," she said. "The test is quite accurate so there are not concerns around that."
What are the potential downsides of at-home genetic risk testing?
According to Murphy-Bollinger, the biggest concern is false reassurance. Only a small fraction of breast cancer is hereditary, so the test is not providing patients with the full story or full answers. The FDA has released a statement saying that "…no doctor or patient should use the test as a basis for deciding treatment, 'including anti-hormone therapies and prophylactic removal of the breasts or ovaries'." Murphy-Bollinger added, "…there are other gene mutations that cause breast cancer and not all are hereditary; other risk factors include lifestyle, environment and more. If the at-home test comes back negative," she said, "there is a concern that patients will think they are not at risk for breast cancer and may skip other important screening measures like mammograms and ultrasounds, or manually feeling for lumps." She added that, "…if the test comes back negative, a patient may still possess other risk factors that put them at high risk for breast cancer, so again, we are concerned about false reassurance. Furthermore, we are concerned for patients if the test comes back positive." A positive test does not necessarily mean a patient needs an immediate full mastectomy, hysterectomy or aggressive hormonal treatment. "It is important to have a team of people such as a physician and genetic counselor available to provide accurate information in the case of a positive or even negative result," she voiced.
Are there any other ethical issues to consider with testing for BRCA 1 and 2 gene mutations?
Murphy-Bollinger says there may be. "If your test comes back positive for BRCA1/2 mutation, it can be very stressful and confusing for patients regarding whom they should inform. Are you going to feel burdened by the responsibility to share this information with your family? Does extended family need to be made aware of your genetic status? A team of professionals can help patients determine what the results of the test means for themselves and relatives and put them at greater ease. You can read more about the position of the National Society of Genetic Counselors here via a statement released after the March 2018 approval of 23andme.com's test.
Additionally, information access and privacy may be issues with all at-home genetic testing. Consumers need to remember that when they are sending their DNA samples in for testing, this information may be used for other purposes such as market research or marketing purposes. It is too early to tell what these companies will do with this type of information, but others have used patient data for potential financial gain. Doctors and hospitals are bound by privacy acts such as HIPAA. The American College of Obstetrics and Gynecology (ACOG) released a statement shortly after the FDA-approval of the at-home kit; read it here.
The bottom line is this: The presence of a BRCA1 or BRCA2 genetic mutation does seriously increase a person's risk of breast, ovarian and/or prostate cancer. Certain patients who are pre-determined to be at higher risk for these types of cancers may be advised to undergo testing, but experts across the field suggest considering this under the supervision of professionals in the field. A team of experts can help a patient develop strategies for cancer prevention and early detection in the case of a positive result for a genetic mutation; if the result is negative, this team can still help patients understand that they may still be at risk for various cancers and encourage a similar course of action of prevention and early detection.
Scarsdale Raiders Baseball Team Celebrates Seniors
Details

Written by

George Samwick

Hits: 2214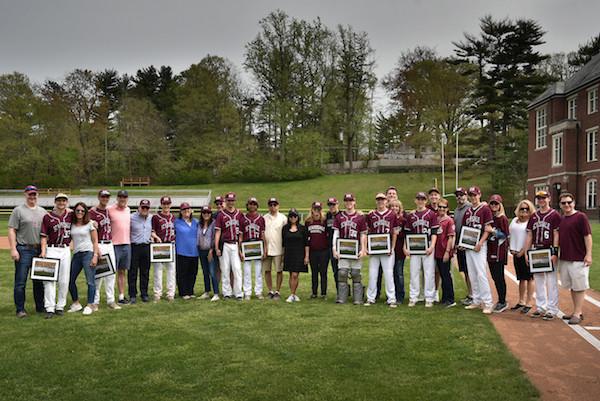 Scarsdale Raiders Seniors and their parents holding team photosSaturday, May 5, the Raiders faced off against the Stepinac Crusaders on senior day. Preceding the game, a ceremony was held to honor the ten seniors on the team: Jack Callahan, James Conlan, Matt Daniel, Michael Green, Daniel Karp, Evan Maroney, Zach McMurray, Kiran Ramachandran, George Samwick, and Joe Weintraub. Assistant Coach Boyer announced each senior, their parents, their respective college, and a witty comment for each player. The players, after being announced, made their way to home plate to greet their parents and take a picture before getting a team photo. To conclude the ceremony, a plaque was hung on the dugout fence and read, "Standing on the shoulders of those who came before us" followed by the name and number of each 2018 senior. After the ceremony, the Raiders quickly got to work.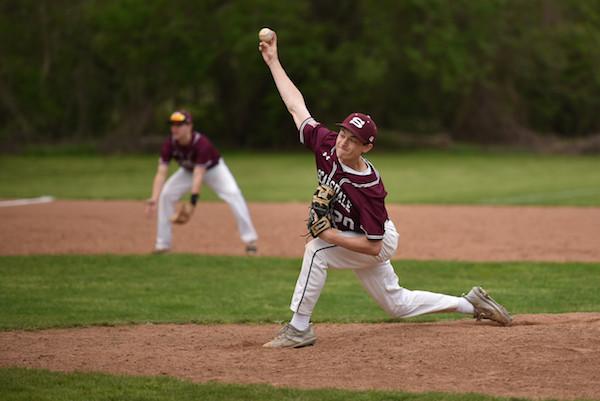 Trevor Lambert ('19) pitching in reliefWith Junior Ben Lehrburger as the starting pitcher, the Raider defense held Stepinac to a scoreless top of the first inning. The Scarsdale offense wasted no time as Senior captain Evan Maroney hit a double and was driven home by senior captain Joe Weintraub, making the score 1-0 at the end of the first inning. In the top of the second inning, the Crusaders answered back with two runs of their own. After Stepinac scored again, Junior Trevor Lambert relieved Ben Lehrburger on the mound in the fourth inning.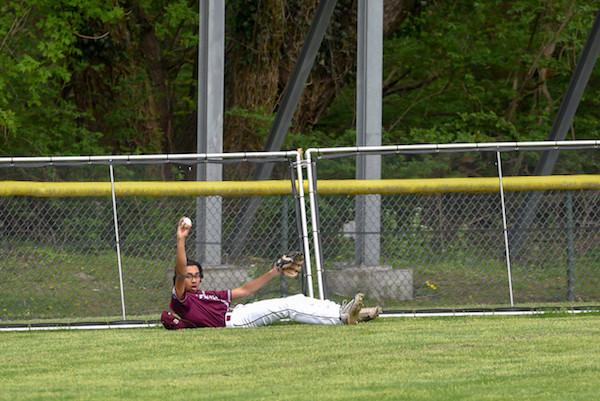 Kiran Ramachandran ('18) showing the umpire the ball after a spectacular catchTrevor Lambert had a dominating performance on the mound, throwing 3.2 scoreless innings. Scarsdale was able to tack on another run in the bottom of the fifth inning to make the score 3-2, Stepinac. Both relief pitchers threw well as the rest of the game went scoreless. The game, filled with spectacular defensive efforts, was highlighted by a catch by Senior Kiran Ramachandran in Left Field. Crashing against the wall and juggling the ball, Ramachandran was able to make the play and save the Raiders a run. In the end, the Raiders fell to the Crusaders 3-2.
Update: The team played White Plains on Tuesday, May 8 and Wednesday, May 9 and lost both games 5-1 and 6-0 respectively.
Photos courtesy of Jon Thaler, for more click here.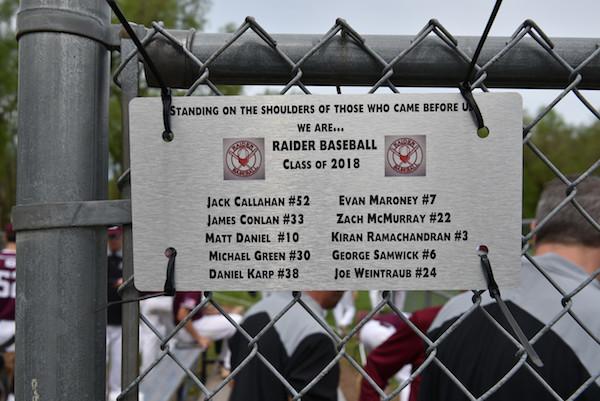 The new plaque hanging in the dugout
The History of Slavery in Scarsdale
Details

Written by

Joanne Wallenstein

Hits: 3345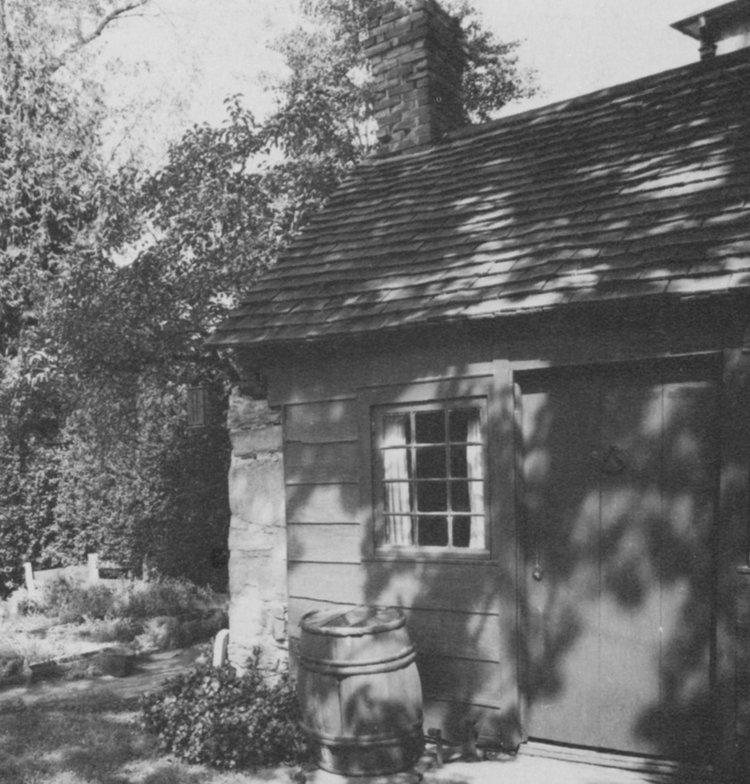 Scarsdale Historical Society Examines the History of Slavery in Scarsdale, Westchester County and New York City. The Scarsdale Historical Society has published an article on its website about the history of slavery in Scarsdale, Westchester County and New York City from the 1600s to 1865.
Late Scoring Game Leads Scarsdale to Victory
Details

Written by

Sarah Kazan

Hits: 2111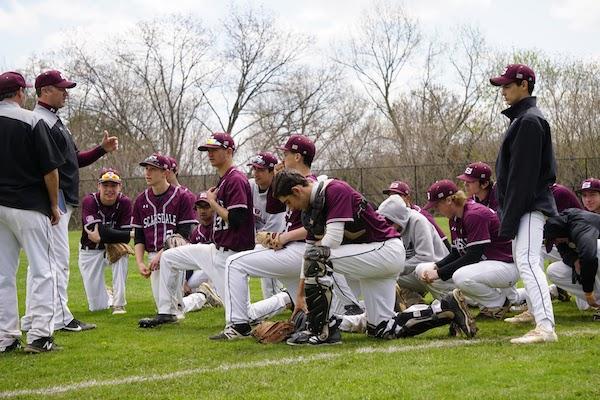 A slow start ended in an exciting win for the Scarsdale High School Varsity baseball team in a game against New Rochelle on Tuesday, May 1st. For the first five innings, there was no score, however, things heated up during the sixth inning. New Rochelle scored one run during the top of the sixth which only motivated Scarsdale. The team brought in three runs: with bases loaded, Michael Green ('18) hit a single to tie the game, and Kiran Ramachandran ('18) brought the two other home which put Scarsdale ahead by two. Senior Jack Callahan pitched up until the top of the seventh and Junior Trevor Lambert closed off the game. Ramachandran caught a fly ball and Lambert struck out New Rochelle batter to end the game.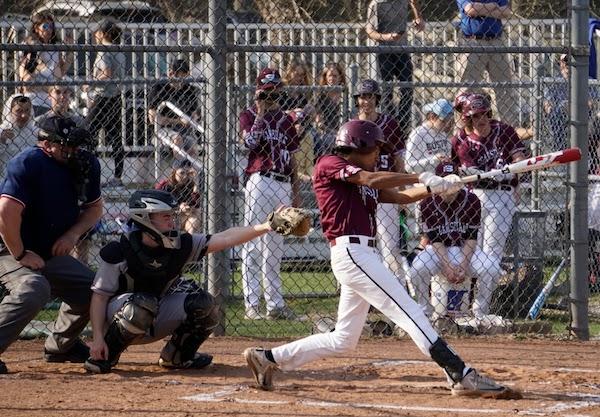 Kiran Ramachandran ('18)The current record for the team is 7 and 6. "We started off the season hot with a 5-1 record and we were feeling real good about ourselves. I think we got a little complacent and took our hot start for granted and we went on a 4 game losing streak" Says senior and captain Evan Maroney. "Coach Weigel always reiterates to us that the only way we can win is if we stay together, support each other, and work hard in practice."
"This team is great because of how much we care about each other, the game, and winning." Says Senior and Captain Joe Weintraub. "Being a captain is great because of the other guys around me. We know how great a team we could be and everyday everyone on our team goes out there and gives it their best. Its great having so many seniors on the team because I have been playing with these guys for forever. We have always been friends on and off the field. Kiran and I have been playing baseball together for twelve years now and I love playing next to him in the outfield."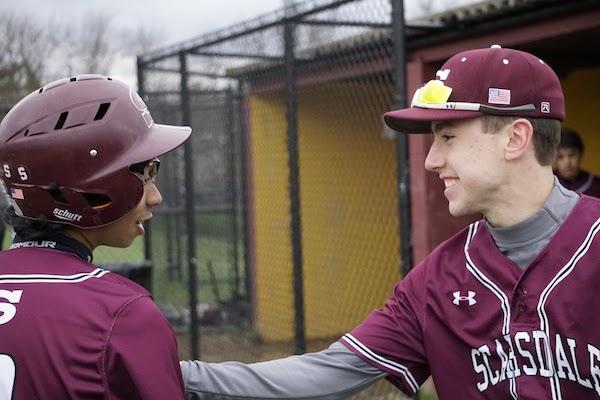 Kiran Ramachandran and Captain Evan Maroney Heads are held high for the end of the seasons and upcoming playoffs. "It's great that we have a lot of seniors on the team because that means we are a veteran team with a whole lot of experience. When the playoffs roll around, the veteran teams usually go far due to the experience from the seniors. This group of seniors is a very close group of guys and it really helps our team chemistry." Comments Maroney. He adds "Being a captain has been a great experience because I get to be a leader on the field and try to teach the younger kids and get them acclimated to the varsity level. It's an honor to be the captain of such a great group of guys."
See them next on Thursday, May 3rd at 4:30pm at New Rochelle High School, Saturday, May 5th at 3:00pm and Tuesday, May 8th at 4:30pm at Scarsdale High School.
Photos courtesy of Joshua Weintraub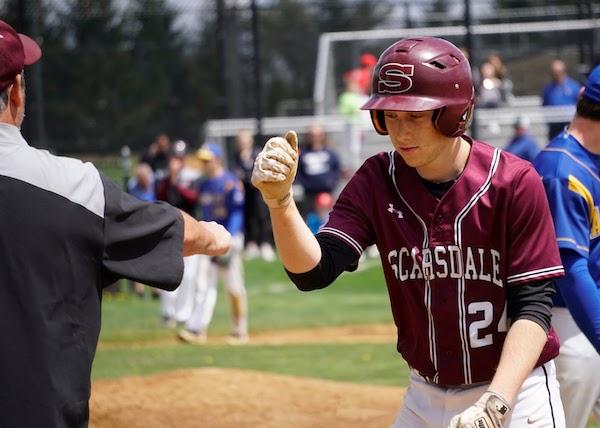 Captain Joe Weintraub ('18)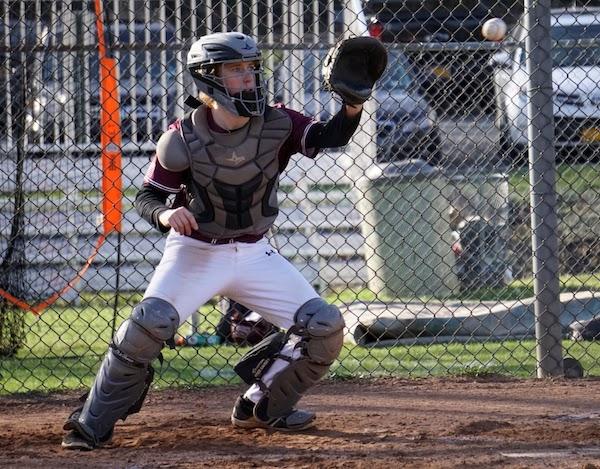 Captain Michael Green ('18)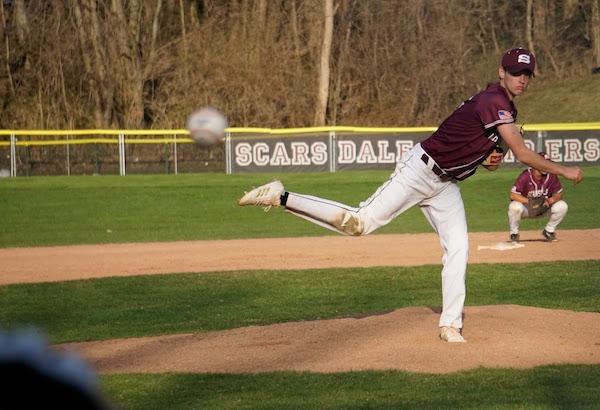 Captain Pitcher Jack Callahan ('18)
Thorough Nominating Committee Process Yields Two Excellent School Board Candidates
Details

Written by

Joanne Wallenstein

Hits: 7097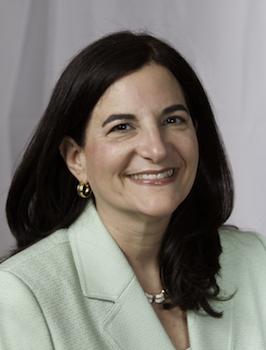 This statement was sent to Scarsdale10583 by Elizabeth M. Guggenheimer, 2018 SBNC Chair
As the 2018 School Board Nominating Committee (SBNC) has completed its nomination of Woodrow Crouch and Alison Singer for election to the Scarsdale Board of Education, I thank the members of the SBNC for their dedication, thoughtfulness, and diligence in performing this important civic responsibility. I also thank all of the applicants. Scarsdale benefits when many talented citizens are willing to present themselves to the SBNC each year, as well as from the efforts of an engaged SBNC.
Our community created the SBNC to nominate school board candidates who will work to maintain and enhance the quality of education provided by the Scarsdale schools. The SBNC is composed of 30 voting members (six elected from each of the five elementary school areas), a non-voting chair and non-voting vice-chair, and two non-voting appointees from TVCC and SNAP. Pursuant to its governing resolution, it judges and selects candidates "solely on their qualifications to serve the community."
This year, the SBNC nominated Alison and Woody to fill the two seats that open and begin on July 1, 2018. The SBNC considered many more candidates than could be selected for the two available positions. All current SBNC members signed the nominating petitions.
The Candidates
The SBNC strongly endorses Alison and Woody for election to the School Board. They bring different professional and personal experiences and perspectives to our community. They share a deep commitment to maintaining the excellence of the Scarsdale schools and serving constituents with multiple points of view.

Woodrow Crouch worked at the New York Power Authority (NYPA) for 30 years, where he managed major engineering and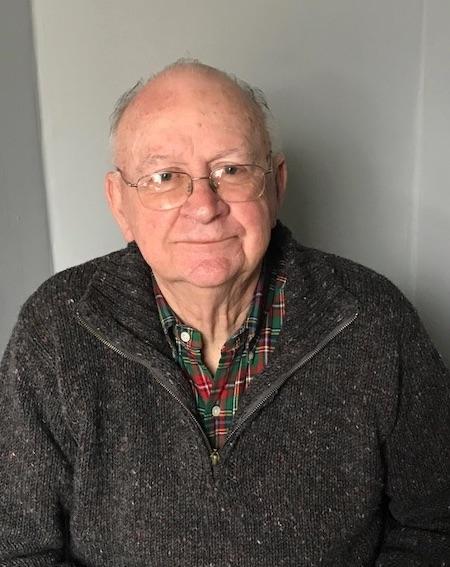 Woody Crouchconstruction projects and collaborated with colleagues, residents, politicians and unions, and he continues to work in the industry. He served as president and chaired the construction committee of the US Committee on Large Dams and is a licensed Professional Engineer. He holds a BS from the US Merchant Marine Academy and MS from Columbia University.
Woody and his wife Mary have lived in Scarsdale for 40 years, where he has served as president of the Drake Edgewood Association, chaired SNAP and the Edgewood Athletic Association, coached, and was on the board and treasurer of IHM's religious school. He currently is a merit badge counselor for Scarsdale Boy Scouts Troop 2 and a board member and past board chair of the Sturge-Weber Foundation. Five of his grandchildren now attend the Scarsdale schools.
Alison Singer is president of the Autism Science Foundation, dedicated to funding innovative autism research and supporting the needs of people with autism. She worked for 15 years in communications, including at NBC, where she engaged in team-oriented work to produce news programs and in business negotiations and personnel matters. Alison holds a BA in Economics from Yale University and an MBA from Harvard Business School.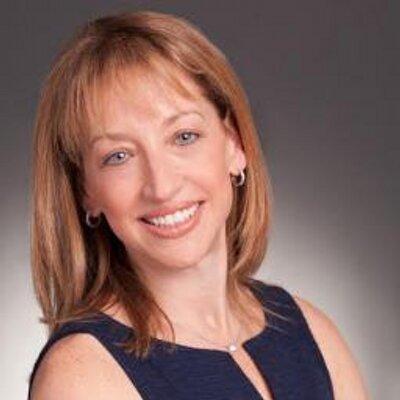 Alison SingerAlison and her husband Dan have lived in Scarsdale for 18 years, and their two daughters attended the Scarsdale schools. She chaired the SBNC Administrative and Joint Committees and the Parent Committee of the high school speech and debate team. She served on the School District's Committees on Special Education and Preschool Special Education and the search committee for the Director of Special Education and Student Services.
The School Board Nomination Process
The SBNC nomination process involves several stages. In January, the SBNC heard current school board members' views on the role and responsibilities of board members and the School District's opportunities and challenges. SBNC members sought potential board candidates. Each interested applicant submitted a biographical form and then presented orally to the SBNC in February or March.
Pursuant to rules of procedure, committee members conducted due diligence by contacting dozens of people outside of SBNC familiar with the applicants, presented confidential due diligence reports, shared relevant factual information and experiences, focused on the many positive attributes of this year's candidate pool, and listened to one another carefully.
Discussions and deliberations regarding candidates are confidential in order to encourage people to apply, protect the privacy of candidates and references, allow for candid discussion among SBNC members, and select nominees based on their qualifications.
The committee discussed fully and candidly the qualifications of all proposed candidates before there was any vote, and it voted by secret ballot to fill each vacancy. This year's SBNC members devoted an estimated 1,600 total hours (an average of 50 hours per person) to their charge. The process was serious and deliberate, with respect for differing opinions.
For more information about the SBNC and its procedures, visit the "About Us" and "Join the School Board" pages of www.scarsdalesbnc.com.
Please Participate
Scarsdale is fortunate to maintain a nonpartisan election process for the Board of Education that selects candidates based solely on their qualifications to serve, not on their campaigning abilities or positions on specific issues. Informed and engaged residents willing to serve on the SBNC and the School Board, along with voter participation, help to ensure the highest quality school board leadership. Please consider serving or suggesting other school district residents to fill future vacancies.

Finally, please remember to vote on Tuesday, May 15, 2018 on the school budget and in the school board election.