League to Hold Public Information Session on Proposed School Bond
Details

Written by

Mary Beth Evans

Hits: 2295
The League of Women Voters of Scarsdale (League) will hold a public information session on the Proposed 2018 School Facilities Bond from 9:00 to 10:30 AM on Wednesday, January 10th in the Scott Room of the S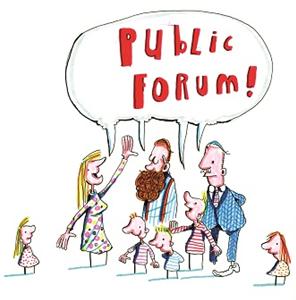 carsdale Public Library.
Members of the League and the public are invited to hear School Board President Bill Natbony, Superintendent Thomas Hagerman, Assistant Superintendent for Business Stuart Mattey, and Greenacres Principal Sharon Hill present the bond proposal and respond to the League's pre-submitted questions. Members of the audience will then have an opportunity to ask questions during the Q and A portion of the meeting.
School District information on the proposed bond, including information on how to vote in the February 8, 2018 bond referendum, is available on the 2018 Bond Information page of the District website.
For information on the League School Bond Study, including links to League Board public statements on the bond process and District Administration responses to League Study Committee questions raised at public meetings, click here or visit the "Ongoing Programs" page of the League website.
League Member Consensus Meeting
Following the information session, League members will remain for a consensus meeting in order to discuss and weigh in on the proposed bond. There will be an opportunity to renew membership or join the League at that time. Information on League membership is available on the League website.
The League of Women Voters of Scarsdale is a volunteer nonpartisan political organization that promotes political responsibility through informed and active participation of citizens in government. The League is nonpartisan in that it does not support or oppose any political party or candidate for public office, but the League encourages its members, as individuals, to take part fully in the political process. The League is political in that it takes positions on selected governmental issues after member study and consensus.

Contributed by Mary Beth Evans, Chair of the League of Women Voters of Scarsdale's School Bond Study Committee.

Add a comment
Creative New Dishes and Italian Classics at the Updated Olde Stone Mill
Details

Written by

Judie Dweck

Hits: 3720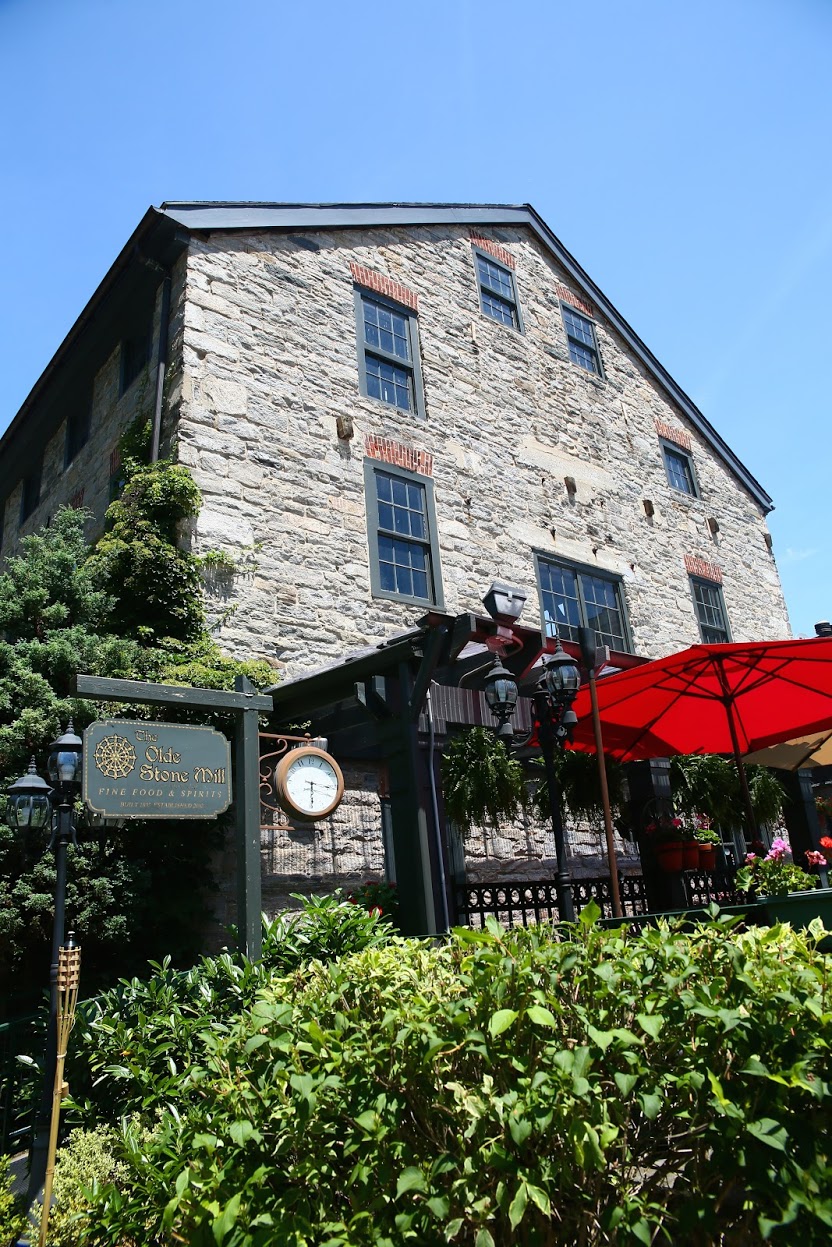 On the banks of the Bronx River in Tuckahoe, the beautiful Georgian style building that was built in the 1800's as a cotton mill and converted into a manufacturer of rubber goods and then to a pharmaceutical company was reinvented as a restaurant many years ago. About 10 years ago, under the ownership of Louis DiNapoli, owner of the popular Angelina's, it became a popular dining spot. With several chefs and managers through the years, the place took on a very tired feel. Di Napoli was aware of this, and with a new chef and a new general manager, one of Tuckahoe's oldest buildings has been reinvented and today the service as well as the modern creative and traditional Italian menu meet the standards of this charming historic spot. Yes, there is a new spark in the eyes of Louis DiNapoli. From his roots in Naples, DiNapoli has reached new heights. "People will be pleasantly surprised to see how traditional and creative fresh dishes have exceeded all expectations at The Olde Stone Mill." Di Napoli takes pride in his work, and sets a fine example for his sons who both pursue careers in the culinary field. Antonee owns Antonees Gourmet Catering and Perry is president of Briarcliff Manor Restaurant and Catering Hall.

At The Olde Stone Mill, your choice of dining areas include, a plant filled outdoor stone patio in good weather, a tavern bar room with dark woods for a casual feeling, the main dining room, formal and filled with beautiful antiques and paintings and an original stone hearth or as we dined, the bright and cheerful atrium aglow with holiday decorations. They have ample parking.
The new general manager Florio Rugova, arrives here with a fine pedigree and lots of experience in the restaurant business. He spent many years in Pelham at La Fontanella and then at Jordan Hall, where he managed the dining room. "The best part of my work is engagement with my guests and being proud of the products we offer." There is an elegance in the service Rugova provides and in the near future, The Olde Stone Mill will be known as Florio's Restaurant at The Olde Stone Mill.

The new chef, Christopher Stragisher, along with Rugova and DiNapoli, have recreated a varied and interesting menu with classic Italian choices mingling with inventive dishes created by Chef Stragisher. Stragisher earned a BA in philosophy and worked as a waiter to support himself. He went on to culinary school and clearly loves his craft. He worked in management in the corporate world and most recently at Maplemoor Golf Club in White Plains. "I love developing menus and seeing happy guests. In the kitchen I enjoy breaking down meat and fish with reverence."

Appetizers, both hot and cold are varied from crab or
shrimp cocktail to carpaccio di manzo, spedini alla romana sausage and broccoli rabe and fried calamari. We loved the grilled octopus. The freshly poached octopus was embellished with seared olives, tomato and lettuce. A lemon dressing complimented this light and fresh starter. We also enjoyed gamberoni al Pernod. This nice presentation of a large cube of firm polenta as a pedestal for the pan seared shrimp with shitake mushrooms in a fragrant creamy sauce was excellent.

Among the entrees, eggplant lasagna is a popular choice. Here, slices of fried eggplant take the place of the usual pasta, making this dish suitable for a wider variety of tastes. The battered slices of eggplant are layered with seasoned ricotta, mozzarella and marinara sauce for a tasty result. The top layer is the mozzarella which becomes nice and crisp, as the lasagna is returned to the oven during its final minutes of baking. With winter weather here, thoughts of a hot meal will come to the fore. If you don't have the time or the inclination to prepare a hearty winter dish, head over to The Olde Stone Mill and order the slow cooked pork osso bucco, a gargantuan pork shank braised and served in a red wine and veal ragu over freshly mashed potatoes. This fall off the bone dish will certainly warm you up on a cold winter evening. There are dinner specials every evening. On the day of my visit, fresh grilled swordfish was suggested. It was a well conceived dish in both taste and appearance. The fish had its grill marks in place and was accompanied by braised fennel, roasted tomato, fresh spinach and a large classic potato croquette. With a lemon, butter, caper sauce on the side it was a good choice.


Salads range from a classic Caesar to arugula and fried artichoke or hearts of palm and crabmeat. We enjoyed roasted thickly sliced yellow beets with candied walnuts in a fig balsamic dressing. They were kind enough to substitute shaved parmesan for the gorgonzola in this salad. Pasta dishes include familiar choices such as penne vodka and linguine and clams. We savored fresh potato gnocchi with shrimp. The large shrimp, peas and pancetta were enrobed in a creamy tomato sauce, very rich and delicious. Desserts include homemade tiramisu, both American and Italian cheesecakes and carrot cake. They offer tableside prepared specialties such as zabaglione, bananas foster and crepes flambee which add to the elegance of dining in the formal dining room of the restaurant.

On Saturday evenings, the ambiance is enhanced by a pianist who serenades the guests.

A very extensive brunch menu includes waffles in several varieties, caramel apple French toast, crepes, both sweet and savory, lobster omelet, and the list goes on. We loved a bountiful New England lobster roll served in a basket with waffle fries and pickle. Served on a brioche roll with a light mayonnaise dressing it would be great any time of day. Very good, as well, was the shrimp and crab en croute. Delicate filo pastry was the wrapper for fresh shrimp and crabmeat. Baked until golden and served with a beurre blanc sauce, it was quite good. Seared salmon salad or smoked salmon alfredo might be future brunch choices. At lunch the menu is varied, as well. There are a la carte choices as well as lunch specials including soup or salad, entrée and coffee or tea.

Enjoy the charm of the past with an interesting menu of creative and classic dishes at the updated Olde Stone Mill.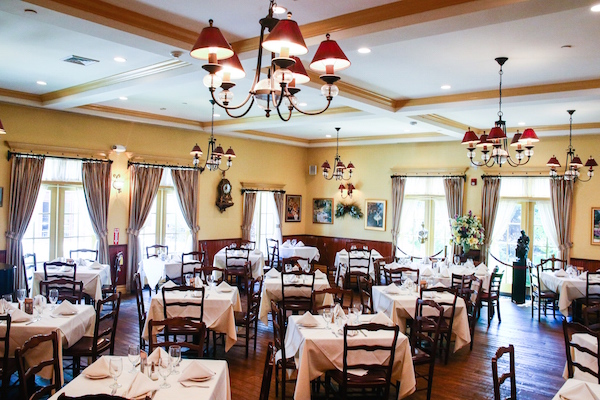 The Old Stone Mill
2 Scarsdale Road
Tuckahoe, NY
(914) 771-7661
Soon to be renamed Florio's Restaurant at the Old Stone Mill

Recipe: Eggplant Lasagne (9 X 13 inch tray)

Ingredients:
3 medium eggplants, peeled and sliced ¼ inch thick
2 cloves garlic
2 cups ricotta cheese
1 cup pecorino romano
1 cup shredded parmesan
2 bunches parsley
4 eggs
1 cup milk
6 slices dry mozzarella
1 Tbsp. dry oregano
1 quart marinara sauce
Olive oil as needed
2 cups blended vegetable oil
2 cups flour, seasoned with salt and pepper.
1 paper bag, to drain the fried eggplant
Salt and pepper to taste
Instructions:
Mince the garlic and sauté it in the olive oil. In a bowl mix the ricotta, garlic, oregano, 1 bunch chopped parsley, salt and pepper. In another bowl mix the eggs, pecorino, milk, 1 bunch chopped parsley and salt and pepper. Coat eggplant slices with flour. Heat 2 cups vegetable oil in a large skillet over medium high heat. Dredge eggplant slices in egg mixture and let excess drip off the side of the dish. Place slices in pan a few at a time. Do not crowd the pan. Turn each slice as they get crisp. They should be floating in the oil. This takes a bit of time and attention. Place fried slices on the paper bag to remove excess oil. Let slices cool and drain. Place 1 layer of prepared eggplant in baking dish. Coat with ricotta mixture. Top with another layer of eggplant and top with marinara. Repeat until the last layer of eggplant is on top. Coat with marinara and spread with grated parmesan. This is important so you have a lasagna that is easy to cut. Bake at 350 for 10 minutes. Remove and top with the sliced mozzarella. Return to oven for 10 minutes. Remove and let it rest for 10 minutes before serving.
Add a comment
'Tis The Season To Be Jolly…..that is unless you are not quite feeling it.
Details

Written by

Julie Stonberg

Hits: 3419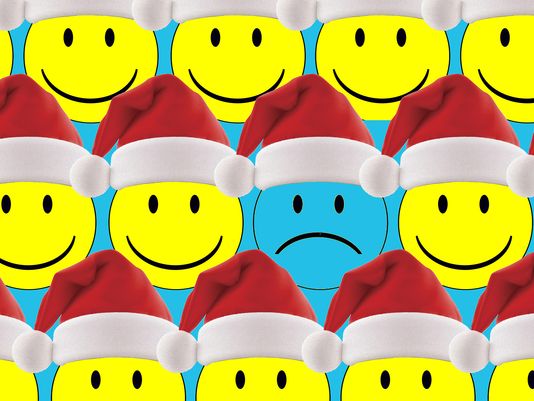 If you have experienced a recent loss; the death of a family member or partner, the end of a relationship, the loss of a job or a much-loved pet, all the forced cheer and strangers wishing you "Happy Holidays" can make you feel like staying in your room under lots of covers until January 2. Without being able to fast forward time, here are some suggestions to get through the next few weeks.
Connect consciously.
Make plans with people around whom you can just be yourself, without expectations. Get out of town if that helps. Visit an old friend or family member who understands exactly where you are. Connect with others who have experienced similar losses through groups, for example, like the ones offered through the Bereavement Center of Westchester. Or try something totally different. Kripalu Center in the Berkshires offers Grief, Loss and Renewal retreats in December, and other programs over New Year's.
Do less.
Let others host, or supply the homemade treats this year. Take people up on offers to help by thinking about what might really be helpful for you and your family. Ask friends to pick up boxes of chocolate for you to give out as small gifts, for example, or to coordinate bringing dinner a few nights a week.
Find comfort in rituals.
Adjust the old ones if necessary. If someone is missing, or your family has a new constellation, don't just gloss over the loss or change, bring it out into the open. Include loved ones who are no longer here with stories and memories and photos. It's perfectly fine to cry a bit while carving the turkey if Dad always did it in years past, or while decorating the tree if you are no longer doing it as a nuclear family.
Come up with new ones.
Last year, I worked with a family to help them decide on a special way to honor their father/husband on his birthday, the first since he had passed away. They chose to take the day off from school (and work) and spend it in Manhattan doing things he particularly loved. They plan to do the same this year, incorporating this day into their family traditions. The day together, along with the planning leading up to it, allows them to feel connected to him and to each other as they move forward.
Welcome sad feelings.
Don't push them away. They will always come back, but if you can make space for them, they eventually won't feel as scary. Think of your feelings of grief as waves in the ocean and let them wash over you completely. They will recede back out after some time, and you will not have drowned. On days when you feel like you are slogging through quicksand, allow yourself to stay quiet, and put aside your normal activity load.
Understand that there is no timeline for grief, and no roadmap to follow.
Everyone's path is different. Give yourself permission to opt out. You don't have to participate in every gathering or seasonal event, even if you have in years past. Enjoy some extra quiet time. On the other hand, if going to lots of events and baking homemade cookies for everyone you know helps keep you present and functioning – go for it. Just make sure you are leaving some time to check in with yourself.
Find your spiritual center.
If you are part of a religious community, you can take part in structured mourning rituals that are offered. Light a candle, say a special prayer. You can do this on your own as well.
Take care of yourself.
Exercise when you can, outside in natural light as much as possible. Limit the amount of alcohol you drink. As a central nervous system depressant, alcohol can lower your mood even further, especially the following day. Try to eat healthy. Schedule a professional massage if that is something you enjoy.
Contemplate gratitude.
Look around when you feel up to it, and think about one or two things, big or small, that you are truly grateful for today – write them down. Try to do that every day for a few minutes.
Know that you will get through this.
In a few weeks, it will be January and everyone will be taking down lights, packing up ornaments, and returning unwanted gifts. Think about one or two things you would like the New Year to bring. It can be as simple as a few moments of unencumbered joy, or as ambitious as a new relationship or job. Trust that you will get there.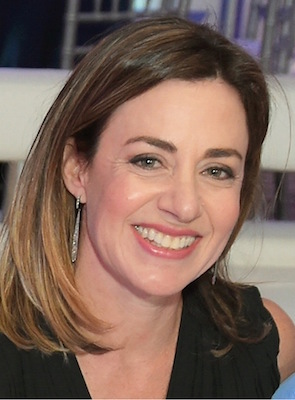 May 2018 bring peace and healing.
Julie Stonberg is a clinical social worker at Westchester Family Counseling in Hartsdale.
Add a comment
Former Members of the Committee for Historic Preservation Suggest Changes to Preservation Code
Details

Written by

Joanne Wallenstein

Hits: 3151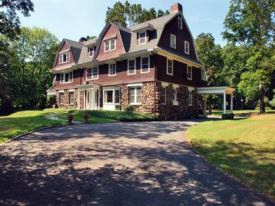 After the entire Committee for Historic Preservation resigned their seats in November, it became clear that the current Village Code regarding preservation needs to be revised. Committee members said that Scarsdale's current law, which is even more stringent than state and federal guidelines for preservation, make "preservation nearly impossible in Scarsdale." Now these former committee members have made suggestions for how the code can be revised to be more effective. See below:

Suggestions for Improvements to the Scarsdale Village Code December 12, 2017
William Silverman, Alan Steinfeld, Joyce Hirsch, Barbara Jaffe, John Cromwell, Abigail Olsen, and David Peck Former Committee for Historic Preservation
Following our resignation from the Committee for Historic Preservation (the Committee), we met with Mayor Hochvert to discuss proposed changes to the Village Code. At the Mayor's request, and with the intent to promote a workable and reasonable legal framework for preservation in Scarsdale, we have drafted this memorandum containing our main suggestions. It should be noted that these ideas are standard practice in countless towns and cities across the country. We have attached copies of two such local examples: the Bedford and Mamaroneck preservation laws.
1. Bring the preservation requirements in line with the State and Federal guidelines

a. Explanation: Criteria number three under section 182-5 of the Village Code requires that "the building is the work of a master and embodies the distinctive characteristics of a type, period or method of construction that possess high artistic values." (emphasis added) This standard is significantly more stringent than the New York State and Federal standards which provide: "Properties may be eligible for the National Register if they embody the distinctive characteristics of a type, period, or method of construction, or that represent the work of a master, or that possess high artistic values, or that represent a significant and distinguishable entity whose components may lack individual distinction."
b. Suggested Change: Adopt the federal and State standard by changing "and" to "or." The Village's standard does not adequately protect certain historic homes. Of importance here, the Committee could not always determine the identity of the architect or builder. Indeed, the Building Department only started requiring plans to be filed with the Village in 1923 so it is often impossible to determine the architect or builder for homes built prior to that date. In the absence of that information, it was especially difficult for the Committee to reach consensus on whether the home is the work of a "master." The Village Code does not provide any guidance on this point. Federal law does provide guidance but sets a narrow, challenging standard in such an instance: "The work of an unidentified craftsman is eligible if it rises above the level of workmanship of the other properties encompassed by the historic context."
Under the Village preservation standard -- which, as far as we know, is not followed anywhere else -- there is no question that homes which otherwise meet criteria number three were approved for demolition by the Committee because a majority was unable to agree that they were the work of a "master." To the extent a home "embodies the distinctive characteristics of a type, period or method of construction that possess high artistic values," we believe such a home should be eligible for preservation regardless of whether there is a sufficient basis to conclude that the home is the work of a "master." The federal and state standard appears in countless codes, including Mamaroneck (§ 218-5- B) and Bedford (§ 71-22-B).

Changing the "and" to an "or" does not mean that all works of a "master" would be eligible for preservation. Again, using federal law as a guide, the home must also "express a particular phase in the development of the master's career, an aspect of his or her work, or a particular idea or theme in his or her craft." The main takeaway here is that preserving a home because it is the work of a "master" is a separate and independent ground for preservation that should not be conflated with other criteria.
2. Historic preservation should be proactive
a. Explanation: Under current law preservation only attaches at the moment the homeowner intends to demolish more than 50% of a home.
b. Suggested Change: The preservation process should not simply be triggered by a request for demolition. The Village should hire an expert such as Professor Dolkart to complete a thorough survey of the Village and identify houses which should then be designated as historic.
When preservation is only raised at the time an owner wants to demolish the home, the process only invites conflict. The goal of a preservation statute should be to make historic designation both a socially and financially desirable circumstance. There should be a strong message from Village leadership that preservation is important along with an effort to raise public awareness. Historic designation should be accompanied by the awarding of a plaque, recognition in the paper, and a meaningful decrease in the tax assessment in recognition of the potential decrease in resale value. Also, a homeowner should be able to apply for such designation.

The Bedford preservation law (§ 75-25-A) provides for the ongoing recommendation of historic houses, as does the Mamaroneck code (§ 218-3-C-2).

In addition, when building permits are sought for significant work (but which does not constitute demolition of more than 50% of the structure), there should be some mechanism for the Committee to be included in the approval process for potentially historic homes. It is unacceptable that under current law an owner can demolish up to 50% of an historic home without the Committee's knowledge, much less consent.
3. Protect historic neighborhoods in addition to particular structures
a. Explanation: Under current law preservation applies only to individual structures.

b. Suggested Change: Scarsdale should consider providing protection for historic neighborhoods. This is standard practice in preservation codes throughout the country. Taken together certain homes have greater historic significance than when each is considered in isolation. Residents routinely would plead with us at meetings not to permit demolition because it would, in their view, undermine the historic character of their neighborhoods. The Reconnaissance Level Cultural Resource Survey from 2012, among other things, identified certain study areas which "have the potential to be historic districts." (at 1-2) We recommend that the Village pursue additional research and field study to define certain historic districts and their boundaries.
4. Broaden the makeup of the Committee

a. Explanation: Only Scarsdale residents may be Committee members and there is no required expertise among any of the members.
b. Suggested Change: It is important for the Committee to have access to expertise, as needed, to make informed decisions. Specify that an architect or architectural historian be on the Committee and allow one committee member to be from outside the Village if necessary. Adding someone from the Historical Society and a real estate professional to the Committee would make sense as well. Both Mamaroneck (§ 218-3-B-1) and Bedford (§ 71-23-B) follow this model.
5. Require a complete and better supported application

a. Explanation: The Village does not require very much from applicants in terms of information or supporting documents. This places an undue burden on a volunteer board.
b. Suggested Change: At a minimum, the Village should require applicants to submit copies of the Building Department and Tax Assessor's records so the Committee does not have to go scrambling for them. To the extent an applicant cannot determine who the architect is, the applicant should at least have to specify what steps were taken to find out the information. In addition, the Committee should have the discretion to take reasonable additional time to review an application so that a proper record can be made. Recently, the Trustees pointed to the fact that the Committee failed to present substantial evidence of who the architect was for a particular home. If the Committee had more time in that instance, the result may have been different.
6. Ensure that the hardship exception does not sallow the whole preservation code
a. Explanation: In the case of 12 Dolma Road, the Trustees overturned the Committee -- as well as its own determination that the property should be preserved -- on the basis of "hardship," thereby calling into question whether this exception renders the entire code meaningless.
b. Suggested Change: The Scarsdale Village Code appears to be substantially in line with hardship provisions from other jurisdictions. We do recommend, however, that an applicant should have to establish "substantial hardship," as found in the Mamaroneck code (§ 218-7).
The problem with respect to "hardship," in our view, is not as much a function of the specific code provision as it is the Trustee's lack of interest in enforcing the law. The Earl Graves home suffered a similar fate as 12 Dolma Road because the Village was unwilling to accept litigation risk and/or unwilling to spend money to defend its position. A preservation code is only as strong as the Village's resolve to enforce it even when -- especially when -- the homeowner hires a lawyer and threatens litigation.
Add a comment
News from Julia B. Fee: Family Fun Day and New Agent
Details

Written by

Joanne Wallenstein

Hits: 2097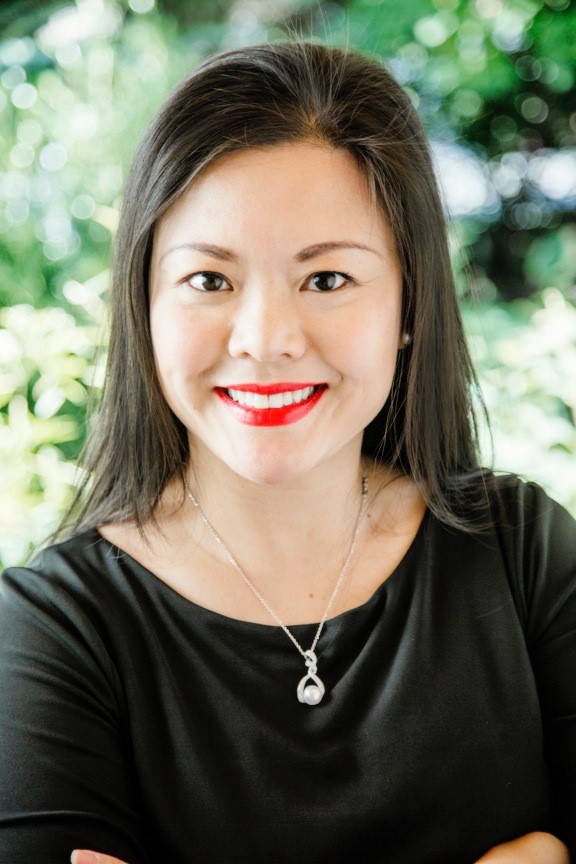 Jessica Chan, a real estate agent at Julia B. Fee Sotheby's International Realty's Scarsdale office, hosted a successful Fall Family Fun Day event for local families at the Greenburgh Nature Center.
Nearly 100 people attended the free event in late October, which featured GNC's barn tour and animal program. Children were able to visit the sheep, goats, pheasants, eagles and other farm animals in the barn. Families were also able to get up close with the center's snakes, turtles and chinchillas while learning about these animals via GNC's Naturists, Casey Keefe and Lindsay Cohen. There was also a raffle where two lucky families won a "grand membership" to the Greenburgh Nature Center, which entitles them to free admission to indoor exhibits and other various discounts.
The event's origins stem from Chan's creation of a social media group for young families with preschool-aged children in Westchester earlier this year.
"The group was created out of necessity," Chan said. "My buyer clients, whether they have recently moved here or are looking to buy a house here for the great school districts in Westchester, are in constant need of recommendations relating to schooling and activities for their pre-school children. So I created this social media group with the hope that I could help these and other families by sharing information and resources." Along with her husband, Michael Paul, Chan is raising two boys aged four and six.
After months of online interactions, Chan thought it would be beneficial for the families in the group to get to know each other in person. The idea for the event was created and Chan immediately decided on GNC as the venue. "Greenburgh Nature Center is one of Westchester's most loved places for nature lovers and families," Chan said. "As a Scarsdale resident, I am a patron and beneficiary of GNC's programs, so having our first event at the GNC is a great way for me to create awareness of GNC and give back to our local community. The event was a huge success and I want to thank everyone who participated, especially the team at GNC, led by Executive Director Margaret Goldberg, for making it happen.
"This is so encouraging as I already have group members volunteered to organize the next events going forward," she continued. "Families with young children who are new or looking to move to the area are welcome to contact me to join the group for information on future events."
Eiseman Joins Julia B. Fee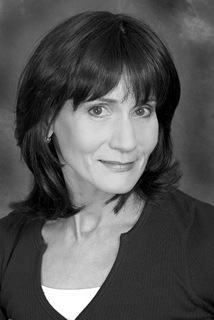 Seasoned real estate agent Robin Eiseman has joined the Scarsdale office of Julia B. Fee Sotheby's bringing over a decade of knowledge and experience to the company. Most recently, Eiseman was an Associate Broker with Keller Williams, where she specialized in Scarsdale, New Rochelle and other areas of Westchester County. Eiseman also worked with partners in Manhattan, the Hamptons, Connecticut and other international locations. Eiseman chose to move to Julia B. Fee Sotheby's International Realty due to the firm's broader network and sophisticated marketing tools and partnerships.
"I am so excited to welcome such an accomplished and extraordinary sales professional to our firm," said Brad Kimmelman, manager of Julia B. Fee Sotheby's International Realty's Scarsdale brokerage. "Her diverse background gives Eiseman the unique ability to meet the needs of our clients with knowledge, commitment and hard work. I look forward to supporting her business with all of the vast and powerful resources available through our company and brand."
A native of New Rochelle, N.Y., Eiseman has lived in Westchester County with her husband and two children for the past 30 years. She has been a member of the Screen Actors Guild for 35 years, and previously worked as an attorney specializing in real estate, corporate and entertainment law.
In addition to her professional experience, Eiseman is involved in a wide range of community service and charitable endeavors in leadership positions in the area. She earned her bachelor's degree from Columbia University in 1982 and her J.D. from New York University's School of Law in 1987.
"Robin will use the latest technology, marketing techniques and business strategies to meet our clients' needs with a personal touch," said Kimmelman. "She has an in-depth knowledge of New Rochelle and Scarsdale as well as surrounding areas, which is a valuable asset to the firm."
Add a comment