Is Westchester Already Experiencing a Natural Gas Shortage?
Details

Written by

Joanne Wallenstein

Hits: 2061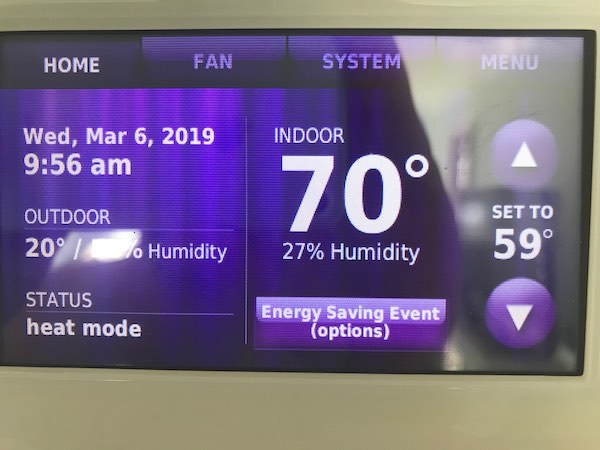 Is Con Edison already experiencing shortages of natural gas in Westchester? When Con Edison announced a moratorium on new gas hook-ups in Westchester, they didn't share just how short they were.
However on March 6 a reader sent us the following; "We participate in Con Ed's voluntary "demand response" program where they take control of our thermostats during periods of peak demand. That has always meant electrical use during the summer. For the first time in 10 years, they have on several occasions activated an Energy Saving Event during the winter. Since electrical use isn't a constraint now, they must be actively dealing with a limited gas supply."
Scarsdale10583 spoke to Bob McGee in the Media Relations Department at Con Edison and asked for an explanation, but we received no reply or update on the status of the current gas supply.
Have you seen similar messages on your thermostat? Please comment below:
Property Manager Responds to Concerns About Golden Horseshoe Parking Lot
Details

Written by

Joanne Wallenstein

Hits: 3955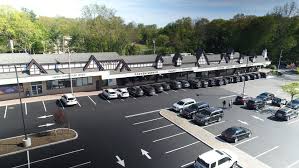 This letter was sent to Scarsdale10583 by the Property Manager of the Golden Horseshoe Shopping Center:
To the Editor: I am responding to the letter published by Ms. Levine last week regarding the Golden Horseshoe parking lot. Her primary complaint relates to the traffic patterns, so I thought I might provide the community with some background and context on the subject.

The parking lot was designed by a licensed site engineering firm – JMC (based out of Armonk, NY). They have been our site engineer for approximately 30 years. JMC has designed over one-thousand shopping centers across the country. They applied the same standards/metrics and design to the Golden Horseshoe parking lot as you would find in the vast majority of shopping centers around the country. The JMC principal who oversaw our project is one of the most experienced and well-respected traffic engineers in Westchester County, who has an expertise in traffic flow and design. Our site plan was approved by the City of New Rochelle planning board in consultation with the City of New Rochelle's own traffic engineer, and other extensive public review and hearings.

The front parking lot has parking spots that are generally 9'x18'. This is an industry wide standard size for a parking spot. The primary drive aisles are approximately 24' wide in both directions, or 12' wide per lane. These metrics are almost identical to the old parking lot pre-redevelopment. I believe these are the same metrics that you will find in the Rye Ridge Shopping Center, the Cross-County Shopping Center and Midway Shopping Center (Central Ave), which all have two-way traffic lanes. Most shopping centers in the area have the exact same patterns and metrics. I have heard many people complain about the impact that large SUVs have on their visibility when backing out of our parking spots. This is typical of all parking lots, not just in the Golden Horseshoe.

Ms. Levine (along with a few other members of the community) has suggested that we revert to a one-way traffic pattern to improve safety. However, when the drive aisles were one-way, we frequently had drivers driving the wrong way down the drive aisles which created its own problems. I believe the reason the one-way traffic appeared easier to navigate in the past was due to a reduced volume of traffic in the Center when the supermarket was closed, and for several years prior when our parking lot was only partially utilized.

I am on site daily. My traffic engineer has been on site many times both before and after the re-development (as recently as 2/26/19). Many of the safety concerns raised are typically the direct result of a portion of the customers driving in shopping centers:

• at speeds inappropriate for a parking lot
• making wider turns than necessary and cutting into lanes of oncoming traffic
• not looking when they back up
• looking at their cell phones while driving
• offensive driving rather than defensive driving
• not properly pulling forward into parking spots and leaving the back end of the car sticking out into the drive aisle
• parking in the drive aisles and blocking traffic instead of parking in designated parking spots

Two-way traffic has many benefits, such as promoting better traffic flow around the property and alleviating traffic backing up. In addition, many drivers do not expect to drive down one-way drive aisles as they are uncommon to find in most shopping centers, and end up driving the wrong way.
When any parking lot in a successful shopping center (including ours) is busy, drivers will need to be more patient as they navigate the property. If you were to go to most shopping centers on a busy day before the holidays, traffic will back up. Since Seasons opened, we have had a flagger directing traffic every Friday to assist customers, and then later in the afternoon to encourage pedestrian safety when the kids get out of school. We have also used a flagger to assist on Thursdays as needed. We are evaluating customer shopping patterns and trends to see when the flaggers are most needed. We expect to continue to utilize them on peak days such as holidays. I would encourage parents to reinforce with their kids the importance of utilizing the sidewalks throughout the property and the importance of using the crosswalk between CVS/Starbucks. The flagger on Fridays is there to encourage the kids to stay out of the parking lot and stay on the sidewalks.

I appreciate the community's interest in safety. I've offered Ms. Levine, as well as a few others, the opportunity to meet with me and my traffic engineer on site to discuss safety concerns regarding the traffic patterns. I've also suggested to concerned parties that they utilize the outside perimeter drive aisle behind Starbucks and the drive thru ATM, and then park in the lot in front of Seven Woks, the lot in front of Barry's Bootcamp, or the lot on the side of Barry's Bootcamp/by Supply Field. Those lots have less activity.

We rely heavily on our expert consultants while developing and managing the property, including our engineers. During the redevelopment our traffic engineer spent a significant amount of time reviewing our site plan and traffic flow before finalizing the plans and submitting them to the city.
We greatly appreciate the community's support of both the old and new stores and shopping at the Golden Horseshoe for the past 64 years.
Regards,
Robert Fine
Property Manager, Golden Horseshoe Shopping Center
Kids Teaching Kids: Scarsdale Sophomores Launch New Biz
Details

Written by

Joanne Wallenstein

Hits: 2490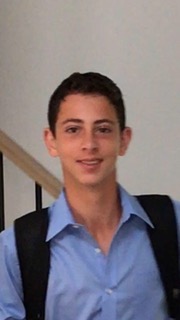 Cooper CohenIt seems you can never be too young to launch a business in Scarsdale. Three enterprising high school sophomores recently launched Talenthood to connect families with kids (K through 7th grade) with Scarsdale High School students for quality instruction in various areas. Currently, the platform has over 35 instructors with expertise across several categories including sports, music, technology, creative hobbies and academics. The platform provides Scarsdale parents with access to a talented pool of neighborhood instructors to help their children improve while at the same time providing the high school students a flexible job and an opportunity to teach the next generation of Scarsdale kids.
Talenthood was founded by Cooper Cohen (CEO) with helo from Levi Ring (COO) and Ben Assa (CMO), all sophomores at Scarsdale High School. Cooper had been asked many times over the years to teach and instruct young aspiring soccer players to help improve their game. He realized there were many Scarsdale families looking for similar instruction in various skills and recognized there was a pool of qualified high school students looking for jobs.
How much help did Cohen need from his folks? He says, "I designed and created the Talenthood website myself using wix which is a web development platform. The only things my parents helped me with were getting insurance for both the instructors and clients and and forming an LLC. Other than that, Talenthood is being run by the team and me.
Talenthood launched several weeks ago and has already arranged lessons in dance, drums, basketball, art,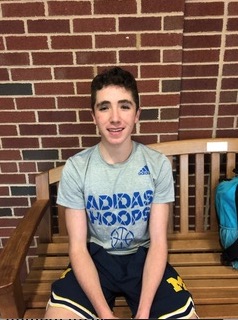 Levi Ringhomework help, gymnastics, math/reading and more. Thus far, the feedback has been excellent and many clients have already booked additional lessons. "I've had a great experience with Talenthood so far. My son has had several lessons. The instructors are engaged, reliable and relatable. In addition I have been impressed with their service and communication" - Ali S (Scarsdale mom). The high school instructors have found their experiences very rewarding as well.
When asked if he could see expanding Talenthood to other towns, Cooper responded, "It's definitely something we have discussed, but right now our immediate goal is to provide the best experience to anyone interested in Talenthood Scarsdale" noting that "just a few years ago, we were the same young Scarsdale kids that are coming to us now for instruction".
To book an instructor, parents can scroll through Talenthood's website to determine which instructor would be the best fit for their child. After choosing an instructor, parents fill out some contact information on the site and are connected to their instructor so they can coordinate a mutually convenient time, date and location for the lesson. There is no long-standing commitment (it's lesson to lesson) and parents can choose new instructors if they so choose.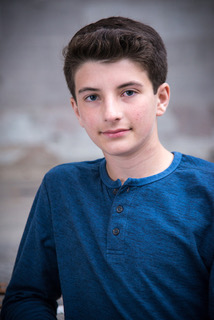 Ben AssaFor one academic tutoring session, Talenthood charges $30 for 60 minutes. For all non-academic sessions, Talenthood charges $40 for 60 minutes. Parties and group lessons (max 3) are also available. In addition to the business aspect of Talenthood, there is also a philanthropic side to the company. The company donates 25% of their gross profits to charity. Their goal is not only to teach kids how to excel in their activities, but to also teach them about the meaning and importance of giving back. After each lesson, Talenthood allows the child to decide from a list of pre-determined charities where they want to donate a portion of the lessons payment.
Learn more at their website here:
Merchants Share Perspectives On Revitalizing Scarsdale Village Center
Details

Written by

Joanne Wallenstein

Hits: 1991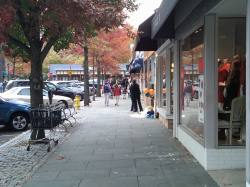 The Scarsdale Forum Downtown Revitalization Committee has released a report summarizing its recent survey of Scarsdale Village merchants, who shared their views on the current and future state of Scarsdale Village Center, and provided essential information on business needs and opportunities.
The questionnaire also asked existing downtown Scarsdale business owners about what might help them improve sales and better meet customer needs, and requested recommendations on complementary providers of products and services that might add to the vitality of Downtown Scarsdale.
A majority of respondents indicated that they perceive the village center as a generally desirable and attractive location for their business, and most intend to stay in the area for the foreseeable future. On the economic front, a majority of the merchants surveyed reported that the health of their businesses is accelerating rather than declining. Some businesses even are considering expanding their square footage.
On the other hand, business owners cited the lack of adequate and desirable parking as the overwhelming obstacle to doing business downtown. There appears to be competition among village merchants and their employees, and shoppers for limited metered parking spaces.
When asked about customer service, merchants believe that they are generally open when customers seek their services, and would be willing to add staff and increase hours of operation If there were prospects for additional sales. They also wish to expand the number of "complementary" businesses that may drive business, including restaurants and a greater variety of retail stores.
In addition, respondents cited a number of key factors that they believe would increase traffic downtown, increase sales and services, and lead to expanded hours of operation, including:
Increase the stock of available parking places for consumers, and provide incentives to encourage employees to park in garages instead of metered parking spaces;

Improve meter management to increase the stock of available consumer parking places, particularly during lunchtime and on Saturdays; and
Add a valet parking service option to leverage existing parking supply and improve consumer convenience.
The Downtown Revitalization Committee has made a number of strategic recommendations based on the survey results:
Form a subcommittee of the Downtown Revitalization Committee to review comprehensive solutions to parking issues in Scarsdale Village Center, including the group's consumer survey, 2018 traffic study, 2018 parking meter study and the Freightway redevelopment project;

Improve the number and variety of restaurants and retail establishments, by combining and comparing merchant and consumer survey results;

Improve communication related to Downtown Scarsdale projects, customer feedback and available advertising channels;

Improve infrastructure and landscaping throughout the village center, in areas such as Chase Park, Boniface Circle, and various green spaces and sidewalks, in anticipation of increased pedestrian traffic, extended evening hours and weekend use of downtown services; and

Make recommendations on how relevant portions of the October 1994 Scarsdale Comprehensive Plan should be implemented in 2019.
The committee intends to work with stakeholders and other interested parties to continue studying revitalization issues and assist in implementing its recommendations.
In commenting on the survey and report, Downtown Revitalization Committee Chair Susan Douglass said, " A thriving downtown is evidenced, in part, by the continuity and health of existing businesses. Village merchants have an established relationship with shoppers, know the market, and are committed to the community. When provided with adequate support and resources, these merchants can evolve, offering new goods and services and/or upgrading their facilities to meet the changing demands of the local community." She continued, "The survey was designed to engage the business community in the market analysis process and help us develop market-based, strategic recommendations to support business retention and expansion initiatives."
Legislators Provide Update on Educational Policy and the Scarsdale Schools
Details

Written by

Joanne Wallenstein

Hits: 2032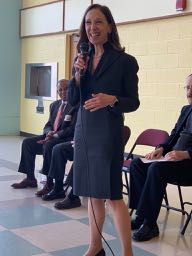 State Assemblywoman Amy PaulinIt was back to school for Scarsdale's representatives on February 1 when the PTC Council hosted a very informative Legislative Breakfast and invited federal, state and local representatives to update locals on how government policy is impacting the Scarsdale Schools. PTC Legislative Advocacy Chairs Elissa Ruback and Lauren Hertzog-Fields assembled an impressive panel to discuss educational funding, teacher evaluations, state testing, the deductibility of local taxes and more.
The panel included Congressman Eliot Engel, State Senator Andrew Stewart-Cousins, State Senator Shelley Mayer, State Assemblywoman Amy Paulin, Regent Judith Johnson, County Legislator Ben Boykin and Scarsdale Mayor Dan Hochvert. Each panelist was introduced by Scarsdale Superintendent Thomas Hagerman and gave a topline speech about what they are doing in the educational arena.
Engel said he had begun his career as a teacher and that "the bottom line in the federal government is money and the federal tax package is horrific for New York State. We give more money back to the federal government than we get… Under the new SALT law, local tax deductibility is limited to $10,000 and we have less federal money coming in."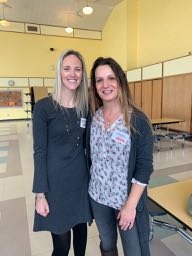 Lauren Hertzog-Fields and Elissa RubackAndrea Stewart Cousins, the newly elected Senate Majority Leader is also a former teacher. She explained, "Up until this moment my party was in the minority for a very long time. After 2016 people woke up and realized the power of their votes…. I am the first woman leader in the history of the state –which is shocking for a progressive state like NY. I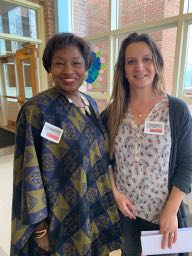 Andrea Stewart-Cousins And Elissa Rubacktook office on the 9th of January and we hit the ground running and we are not going to stop. We passed new legislation on election form, and now have early voting and will allow 16 and 17 year olds to preregister to vote. We have banned conversion therapy, passed the dream act and banned bump stocks."
State Senator Shelley Mayer Chairs the Education Committee and was excited to report the "Decoupling of state test scores from teacher performance, (APPR)." She said the "APPR tied teacher evaluations to the growth rate on student tests – it was a mistake." The vote to change this, "passed unanimously and will allow districts the power to evaluate their teachers." She said, "We are no longer teaching to the test." She called Governor Cuomo's proposal for school funding for next year too low, and said it was a "non-starter." Mayer said, it is a "Most exciting moment in Albany – people are motivated that they can make a difference."
Assemblywoman Amy Paulin, a longtime Scarsdale resident said, "I am proud to represent you." She said the new tax laws that limit the deduction of state and local taxes to $10,000 "impacts our real estate and our school budgets." She discussed plans to sue the IRS because the rules were improperly adopted and said that the Scarsdale Village Board is contemplating joining the suit. She said for many, "their house is their worth," and "this will hurt them and their families."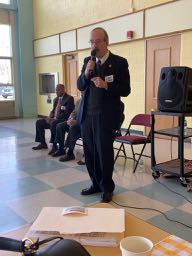 Congressman Eliot EngelDiscussing state funding, she said that Scarsdale gets very little, "5% or about $3.5 million." She said she is fighting the Governor's proposal to reduce state aid for school building projects from 19% to 5%.
Regent Judith Johnson, is a former school superintendent from Peekskill and the first African American woman to serve as a NYS Regent. About Scarsdale she said, "You are the model of what all schools should look like…. We shouldn't take dollars from you to help schools in need." Providing some information on the work of the regents she discussed funding for the arts, saying, "Every child in NYS should have the opportunity to learn music or pick up a paint brush." She also said, "We are changing the graduation standards and what it means to have a high school diploma. We are rethinking the five regents exam to earn a high school diploma…. We are working with the Yale Center for Emotional Intelligence to bring joy back to the classroom."
County Legislator Ben Boykin once served on the White Plains School Board. He said he is now the "spokesperson for all 17 legislators and also your legislator." After an inquiry from Scarsdale Mayor Dan Hochvert he said, "we are going to work on the bike path (along the Bronx River Parkway.)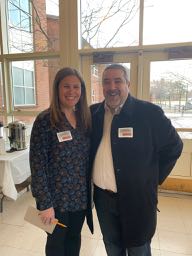 Leah Dembitzer with Scarsdale BOE President Scott Silberfein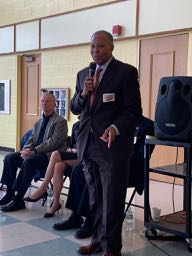 County Legislator Ben BoykinWith just a few minutes remaining, Scarsdale Mayor Dan Hochvert said, "We moved here because we heard the education system is great. The proof is that after college none of my kids came home to live – they all had jobs." He continued, "Cooperation among the people who lead you is now more important than ever. We know everyone is working to improve security – in schools and downtown. We are working together to serve people who live in Scarsdale better."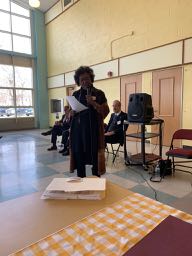 NYS Regent Judith Johnson