Creating Beauty at Home
You never know what's going on behind closed doors, and the case of the Mehta household, who could imagine that beautiful artwork was being created in an in-house studio in Quaker Ridge. Scarsdale resident Shreya Mehta is an award-winning visual artist, who strives to explore issues of identity, gender, power and spirituality in a variety of mediums and styles including paintings, charcoal sketches, and meditative practices. Her art has been exhibited across the globe from the New York Indian consulate to Prime Minister Naredra Modi.
Shreya Mehta in her studio.
We interviewed Shreya about her creative process and her personal experiences as an artist:
Did you always know you wanted to be an artist and how long have you been one?
I did not know I wanted to be an artist. I just knew I wanted to change the world. I've always been an artist because everybody is an artist whether they realize it or not. Everyone is an artist the minute they are born because creativity is a human quality.
What is the point of being an artist to you?
I create the beauty that I want to see in this world, and I explore this creative journey to understand who we are in this world and what our identity is whether it be cultural, spiritual, or gender. Once we understand this, I believe, we can have a much bigger sense of purpose and what we have to give the world. One of the biggest drives for me to create art is Art For a Cause, which is a nonprofit I launched in 2012 where I give back to charitable causes that I am passionate about. For instance, I donate a portion of my commissions to fund the education of underprivileged girls in India.
Is there a certain artistic path you take and/or principles you try to incorporate in your art?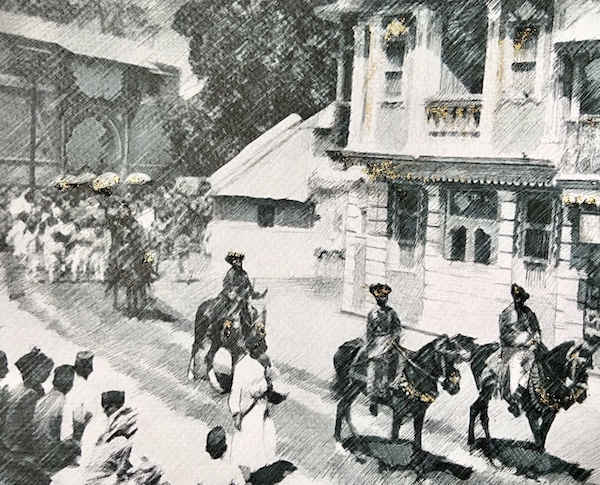 "Traces of Palanpur I" depicts a crowd gathering for a royal procession in Palanpur. It was made using charcoal, graphite and 22K gold leaf on 150 lb. Arches cold-pressed paper.
A couple of years back, I realized the making of paint, paintbrushes, and all the supplies have so much toxicity in it. There is so much animal cruelty that goes into even a tube of paint. My spiritual conscience did not allow me to work with those mediums anymore, and so I researched the natural pigments that are made from plants, minerals, and mother earth. I now use those materials in the most sustainable way possible because I think it is so important to be thoughtful about the materials we use and what we surround ourselves with.

How has your practice and your journey as an artist changed over time?
I started my practice by exploring the world as I saw it through my own eyes. In the past, I traveled to India while capturing scenes from the villages, and now even in Scarsdale, I capture the nature I see. But, with time, I have started to internalize what I am creating and move toward a more abstract way of expression. Nothing is black and white because there are all these shades and validity in the truth, which is now what I try to convey through my artwork. I feel like my practice has changed from just capturing what I see around me to a more internal, abstract way of creating art. From the raw materials to the subject matter to the time of day I create art, I've taken a more meditative route.
Do you find it hard to find time to pursue your art while fulfilling family obligations?
Such a good question! I often wonder if domestic life is the enemy of creative work?
The constant pull of family, household work, errands seems to suck out time from the day. But I have realized that it is all about balance. I plan out the most important priorities the night before and carve out time to focus on my art. I have days which are just dedicated to creating and exploring. The point of art is to unsettle and to question. To do that, I need to be present and to have that gift of time.
What advice were you given as an artist and is there anything you'd like to tell an aspiring artist?
I think the best piece of advice is "you do not need to have a signature." In other words, do not
fit your whole self into a signature style. I think it is so important to experiment and really take that time to explore different mediums and subject matters because art is not just a destination, it is a journey. I urge every young boy and girl to learn, experiment, and keep their minds open. Try to create small little rituals like taking a photo of nature with one's phone but making sure to do it daily. Art is not just about doing something once, but rather developing a creative attitude toward life and a daily appreciation for beauty.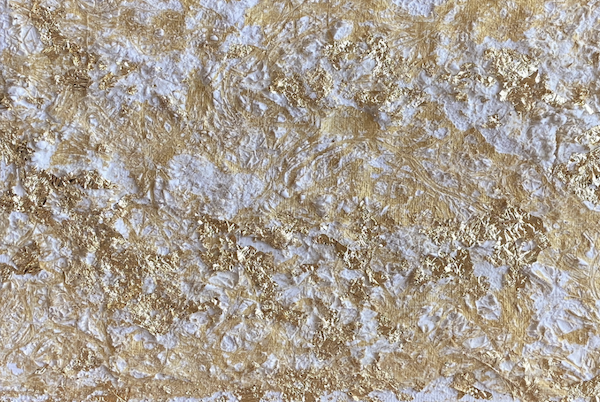 "Rivers of Gold" was made with 22K gold leaf and gold paint imprinted on handmade straw paper cemented onto primed linen canvas.
What is your favorite piece you have created?
That's like asking me which of my children is my favorite! I do not think an artist could do that.
What type of environment inspires you the most?
The time of day is very important for me. I need to be surrounded by nature and the ideal time for me to do so is early in the morning around 5-7 AM when the sun is rising. That's the time when I feel like my artwork flows the best. In the summer months, I love to sit and paint outside, but for the winter months, I have mirrored the outdoor setting indoors with plants in my studio.
What artists are you influenced by?
Mark Rothko is definitely one artist that has inspired me because he has such a strong and spiritual way of exploring color theory. Another artist growing up was Georgia O'Keeffe and her flowers. The way she blazed the trail for hundreds of female artists even inspires me to this day.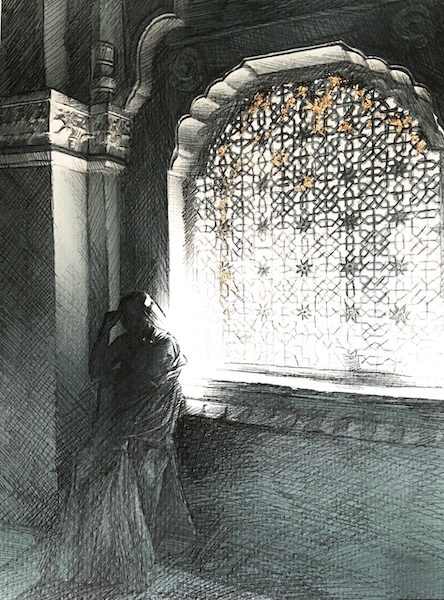 Bring the Light In

What does Scarsdale mean to you?
One of the things I am also grateful for is how beautiful the natural landscapes of Scarsdale are; it is an environment that inspires and calms me. The nature, the houses... It is a perfect little village and I just feel like it's home.
What do you want to share with Scarsdale residents?
I offer studio visits either virtually or in-person, and I would definitely love for people who are so local to come by and see a real artist's work—the mess included! I used to work in Brooklyn but since 2020 - I have transformed my guest bedrooms into 2 home studios in Scarsdale, NY.

To learn more about Mehta's art or for a virtual visit, you can follow her on Instagram @artshreya or visit her website here.