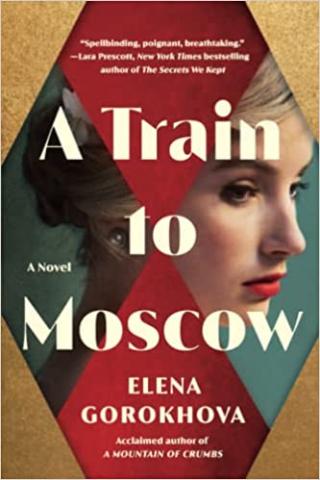 Scarsdale Library is proud to continue our Discover Outstanding Authors series. Join them to discuss their latest works, ask about their process, and to meet other avid readers. Some sessions will be virtual- to provide a wide reach- and some will be in person, for authors closer to Scarsdale.
Signed copies of the books up for discussion will be available for purchase through Bronx River Books and, of course, to borrow in print.
The featured author for this program is Elena Gorokhova, the author of A Train to Moscow.
In this novel, young Sasha is an aspiring actress who yearns for a bigger, creative life beyond her small, provincial town behind the Iron Curtain. In post-World War II Russia, and in her household, such dreams are forbidden. But her curiosity and ambition are too great to stifle and she leaves for Moscow to audition for drama school, defying her mother and grandparents and abandoning her first love, Andrei. Before she leaves, Sasha discovers the hidden war journal of her uncle Kolya, an artist still missing in action years after the war has ended. His pages expose the official lies and the forbidden truth of Stalin's brutality.
Elena Gorokhova was born and raised in Leningrad, now Saint Petersburg, Russia. After graduating from Leningrad University, she moved to the United States, carrying one suitcase with twenty kilograms of what used to be her life. Elena is the author of two memoirs: A Mountain of Crumbs and Russian Tattoo. Her work has appeared in the New York Times, the Daily Beast, New Jersey Monthly, and the Daily Telegraph, as well as on NPR and BBC Radio and in a number of literary magazines. A Train to Moscow is Elena's first novel. She lives and teaches in New Jersey. For more information, visit www.elenagorokhova.com.
You will receive an email with the Zoom link approximately 1 hour before the beginning of the event.

Monday May 16 at 7 pm
Sign up here:

Categories