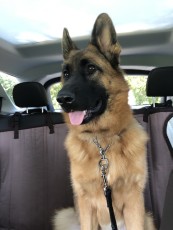 In a village of cuddly goldendoodles and cockapoos, a large agile, muscular, 70lb German Shepard named Beckett is a true standout. Shepherds were originally bred as herding dogs, but because of their smarts and loyalty they have become a jack-of-all-...
Read more:
Statement from Robin Stettnisch
Category: Shout it Out
Published: Monday, 26 September 2022 21:01
Joanne Wallenstein
Here is a response from former part time library employee Robin Stettnisch to the statement made by the Scarsdale Public Library Board on Spetember 26, 2022
FAKE NEWS!
1) On 12-15-2017 SPL Director Beth Bermel did indeed give me her word that I would get my job and salary back when the newly renovated library reopened.
And I have texts to prove it.
Lie detector test, shall we Beth?
2) In 2017, before the library closed, I earned $21,156 which averages 9.27 hours per week.
In 2018 the library was open for 6 months and I earned $13,431 which averages 11.77 hours per week.
This is a far cry from the 3.5 hours in the Board statement. And I actually would have loved to work more but seemed to me that employees who were newer and made less money were mostly offered any hours before long time employees who made more money, hmmmm...
3) Why would I formally apply for a job I already had? Beth officially rehired me at the temporary "Loft" quarters in January 2019.
I was one of the chosen few to be offered a job back because we were thought so highly of...
The one caveat, entry level salary at the Loft.
But, I trusted Beth's promise for when the library reopened, so I took it.
4) I was hired at the Chappaqua Library (which I love!) during the SCS library renovation. I worked both at Chappaqua and at the SPL Loft when I was rehired there.
Of course, since I was a new employee of Chappaqua, I had to start at entry level salary.
Which is why my decades of service and salary at Scarsdale is so critical to my family.
Scarsdale forcing long term employees back to entry level salaries is financially devastating in the present and in the future, as retirement earnings are greatly based on "final average salary".
5) SPL Library Board met on 3-14-22 (after 7 months of them still completely ignoring me) and I attended on Zoom. The Library announced they had a $1.8 million dollar surplus and the Board was absolutely ecstatic! They were falling all over themselves congratulating SPL Director Beth Bermel on her wonderful achievement! They were joyously brainstorming ideas about what could be done with all that extra money that Beth saved....
And so, I reminded them that part of the $1.8 million dollar surplus was there because of what was so unethically, immorally and heartlessly done to the staff...
I pointed out that what they saw as "fiscally responsible" was indeed "morally reprehensible".
I pointed out they shouldn't be rejoicing over money saved if it was saved by intentionally hurting long term employees and their families.
That is where the $1.8 million dollar "tongue in cheek" statement came from. And the Board knows that. Just another failed attempt to purposely, deceitfully, mislead the residents of Scarsdale.
As for me, I started out over 1 year ago in August 2021 asking the Library Board, the Mayor, and the Village Board, simply for my job and salary back as promised by Beth.
I simply asked them to stand up and do the right thing.
And they all chose, and still do, to completely ignore me.
Heartless.