A World of Summer Possibilities on Display in the SHS Cafeteria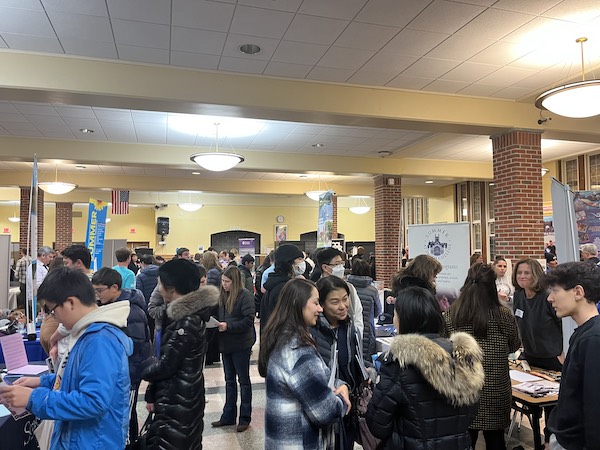 What's your fantasy summer activity? SHS parents and students explored a world of possibilities at the Scarsdale High School Summer Activities Fair held on the evening of Tuesday, January 17th in the SHS cafeteria.
During the fair, an impressive crowd of students and parents came to walk around and learn about nearly 50 summer programs, ranging from student travel, adventure, language immersion, sports program, academic enrichment and even a nationwide tour of amusement parks for those who love to ride roller coasters.
Organized by the Scarsdale High School PTA, the event include food, coffee and even music played by students from the School of Rock in White Plains
Liz Hoexter who co-chaired the event for the PTA had this to say, "The SHS PTA has hosted the Summer Activities Fair annually for many years. It is a wonderful annual tradition at SHS. It has been a big success and the community looks forward to attending it year after year, as it's an amazing clearinghouse of diverse summer activity vendors for parents & students alike to find wonderful summer programs."
"Personally, I am so happy we could bring back the fair after the 3 year Covid hiatus. I attended annually in the past with my 3 kids and loved it. As we started planning last fall, Covid presented a unique challenge as we encountered a bunch of former vendors who went out of business due to the pandemic. Thus, we were tasked with uncovering a new, diverse array of vendors through a ton of networking and research. Plus, we decided it would be a good add to include some local day camps, as many high school students are interested in seeking summer jobs."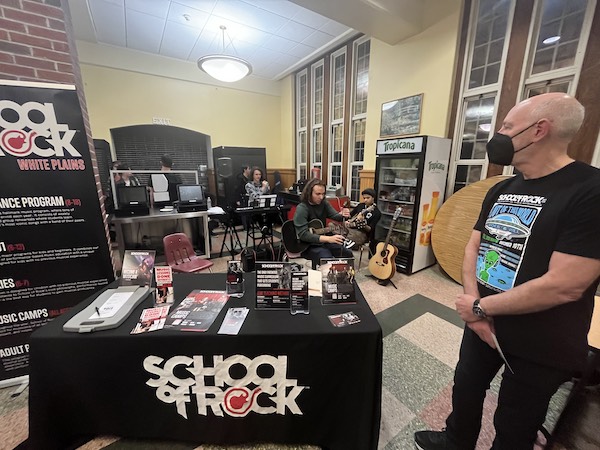 "The fair was a huge success and I'd estimate easily several hundred attended. Many parents personally told me how happy they were to see the fair back & so well attended! The Summer Discovery owner Bobby Musiker, one of our vendors, personally told me this was the best SHS fair he's been to (& 'SHS has the best fairs'). The cafeteria was jam packed for most of the evening. Vendors were saying they ran out of brochures and scored many signups. Many of our nearly 50 programs asked us on the way out to please include them on our list next year! I'm sure the free Ramblin' Coffee truck didn't hurt!"
Some notable summer programs include:
Thrill Coaster Tours - A summer program where teens get to visit amusement parks all over the country and ride cool roller coasters.
Rustic Pathways - Students can travel to over 20 different countries across the globe. During that time, students can sightsee unique locations and participate in community service projects.
Barnard Pre-College Programs - Experience a summer in New York City at Barnard. Students can take various classes while living and tasting life in the city.
Tennis: Europe and North America - Teens from all over the country will get to travel to different parts of America and Europe, meet new people, and improving their skills at tennis.
School of Rock White Plains - Kids at any music level practice together in a band, are taught popular music, and by the end of the camp, get to perform a live rock show. School of Rock White Plains offers both summer and year-round experiences.
Columbia Climate School - Provides an ivy league education to teens passionate about the environment. The program is a two-week experience based at Vermont State University to drive impact in response to global warming.
Caribbean Sailing - Students aged 11-18 learn about sailing and seamanship while living with other teens aboard a 50-foot yacht. Not only that, but students will get to explore the British Virgin and Leeward Islands, scuba and snorkel in the ocean, watersports, and more.