The Race is On: 350 Run in 15K and 4 Mile Runs on April 11
Tuesday, 13 April 2021 18:32
Last Updated: Wednesday, 14 April 2021 08:05
Published: Tuesday, 13 April 2021 18:32
Joanne Wallenstein
Hits: 430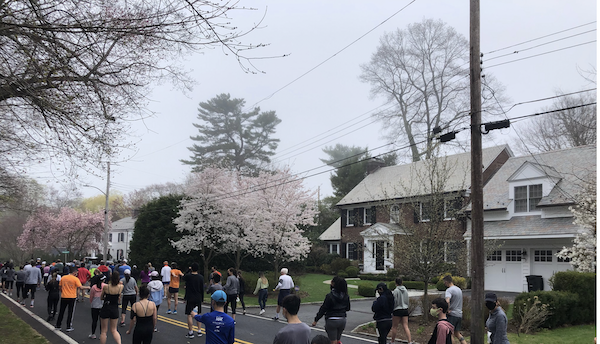 Almost 350 runners participated in Scarsdale's annual 15K and 4 mile runs on Sunday April 11 both starting on Brewster Road in front of Scarsdale High School and circling through Fox Meadow and Greenacres. Fortunately the rain held off until the run could be completed.
Seven chose the "virtual run" option and submitted their own times to avoid running in a crowd.
The event is a big undertaking for the Village and according to Brian Gray of the Recreation Department, "This run is an all hands on deck program which requires all Department of Parks Recreation and Conservation staff to put on successfully. We also could not put the program on without assistance from the Department of Public Works, Scarsdale Police department, Scarsdale Fire Department, and Scarsdale Volunteer Ambulance Corp."
The event drew runners from preteens to those 80 plus and there were winners in many categories.
The male winners of the 4 mile run was John Flannery who completed the course in 19:39, followed by Tyler Sipprelle who placed second at 25:24.
The female winners of the 4 mile run were Christine Lee at 27:48 and Lizzie Hurshman at 28:32.
For the 15 K run, the overall men's winners were Sean Luzzi at 50:31 and Jake Colman at 53:02.
The overall women's winners were Betsy Eickelberg at 56:39 and Erin Gunther at 1:06:33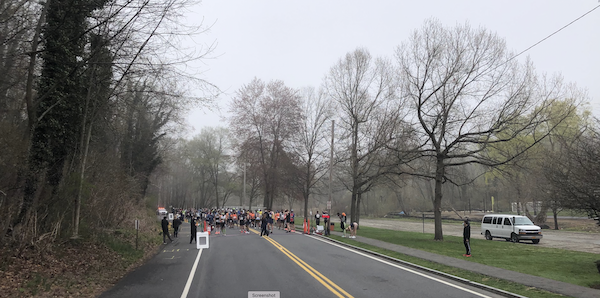 Here are the top runners by sex and age:
4 Mile Run
Men 14 and under: Rishi Shadaksharappa, 28:21
Men 15-19: Zacharie Friedman 27:15
Men 30-39: Tyler Sipprelle 25:24
Men 40-49: Josh Tenzer 29:39
Men 50-59: Carl Bauer 26:28
Men 60-69: Stewart Shabman 36:11
Men 70-79: Wayne Rubin 33:39
Men 80+ Leonard Rich 52:31
Women 14 and Under: Caroline Gilbride: 35:16
Women 15-19: Lizzie Hurshman: 28:32
Women 20-29: Zoe Zelkowitz: 36:13
Women 30-39: Leena Gyftopolous: 29:44
Women 40-49: Julie Graham: 29:15
Women 50-59: Allison Bauer 31:27
Women 60-69: Judy Rubin 32:59
15 K Run
Men29 and Under: Jake Coleman 53:02
Men 30-39: Tim Dowling: 1:00:28
Men 40-49: Shangyuan Luo: 55:47
Men's 50-59: Thomas Connors 1:02:47
Men's 60-69: Jeffrey Lehman 1:11:80
Women 29 and Under: Erin Gunther: 1:06:33
Women 30-39: Aliyah Frumin: 1:10:29
Women 40-49: Chen Zou: 1:08:35
Women 50-59: Marla Wasserman: 1:25:14
Women 60-69: Diane Calderon: 1:29:49
See all the runners and their times here: