2023 Health, Beauty & Wellness Fair Final Line-Up
Tuesday, 05 September 2023 14:56
Last Updated: Thursday, 07 September 2023 17:01
Published: Tuesday, 05 September 2023 14:56
Joanne Wallenstein
Hits: 646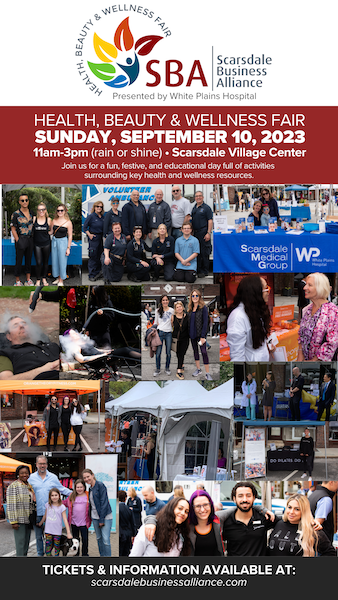 On Sunday, September 10th, 2023, the Scarsdale Business Alliance (SBA) will host its 2nd Annual Health, Beauty & Wellness (HBW) Fair, presented by White Plains Hospital. The event will take place rain or shine in Scarsdale Village from 11am - 3pm. The 2023 HBW Fair will be a fun, festive, and educational day full of activities surrounding key health and wellness resources.
Local businesses and health care providers will exhibit their services and products, offer health screenings, and demonstrate wellness techniques. The HBW Fair Demo Tent will feature fitness classes offered by Rumble Boxing (11-11:45AM), Club Pilates (12-12:45PM), and Orangetheory Fitness (1-1:45PM). From 2-3PM, be sure to stop by and test your hula hoop skills!
Have a health or wellness question? Get expert advice from a physician at White Plains Hospital's "Ask the Doctor" booth, where free blood pressure screenings will also be provided. The SBA is excited to partner with the Scarsdale Farmers' Market for this year's HBW Fair, with a finely curated selection of fifteen vendors.
The HBW Fair will be donating a portion of the proceeds to Scarsdale Edgemont Family Counseling Service (SFCS). "As a counseling agency with a mission to strengthen and support family life and to contribute to the well-being of the community, we are gratified by the steadfast support of the SBA and the many residents and community organizations of Scarsdale, Edgemont and lower Westchester. We believe families matter and that healthy families are the cornerstone of a healthy community," said Jay Genova, LCSW, executive director, SFCS. "We look forward to celebrating the ongoing health and strength of our community at this fantastic event."
The HBW Fair is a free community event, with a suggested minimum donation of $15 per adult. Kids' Activity Tickets are available for pre-purchase and will also be available on-site ($5 each, $20 for five tickets, $50 for fifteen tickets).
The SBA is thrilled to offer incredible family fun activities at this year's HBW Fair. Amazing Amusements will showcase their 30-foot racetrack in the Dine the 'Dale Tent. Come show off your remote-operated driving skills and participate in multi-car races. A dashboard of the top racing times will be tracked throughout the day, and five winners will receive trophies and an additional prize at the conclusion of the event.
Make sure to test your precision skills by competing in the multiplayer balloon blast game. The winner of each round will receive a prize. And everyone's a winner who participates in any of the fan-favorite classic carnival games, including Ring Toss, Can Smash, Hit the Bucket, Bingo Balls, Ball in a Bowl, and Balloon Pop. Be sure to visit Amazing Amusements' 50-foot inflatable obstacle course as well as their toddler interactive inflatable play center, and make your memories complete by visiting the interactive photo-booth to take home a strip of printed photos!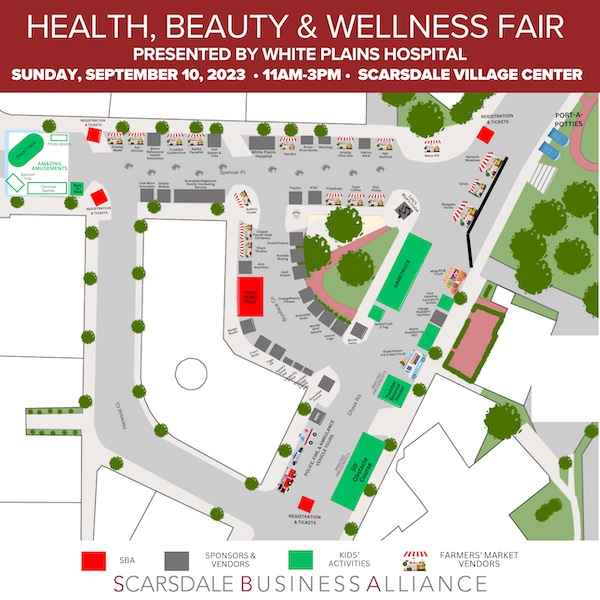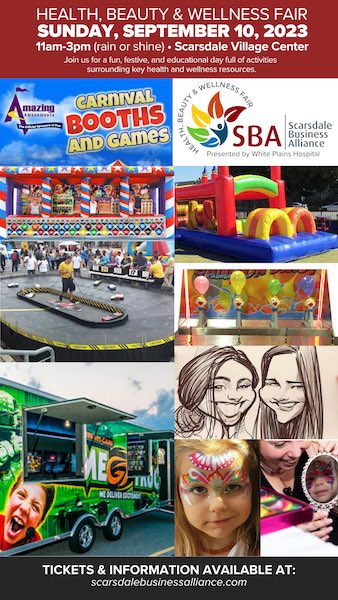 GameTruck will offer gaming sessions inside their truck, and "Just Dance" on their large screen monitor outside. In addition, make sure to try out GameTruck's new unique and exciting game, ZTAG, that promotes teamwork, communication, physical activity and problem-solving skills among players. ZTAG is a fun and immersive game that provides a unique and memorable experience for players of all ages.
Nicole the Artful Event will provide Face Painting and Caricature Artists, Bach to Rock will offer music activities, and 365NeverStopMoving will engage children with a parachute, throwing targets, jump rope, catch and paddle volley, balance stones and more. There will also be a fire truck, police vehicle, and ambulance on hand for safety tips and tours.
Lulu's Blue's Cruise Band will be entertaining the crowds at this year's HBW Fair. Lead-singer Lucien C. Smith's sound stretches from Blues, Jazz, Funk, Rock, and Reggae. Lucien has performed and recorded with legends of the industry, including Sean Pelton, Ray Charles, B.B King, Mingo Lewis, Santana, and Al DiMeola.
Thank you to our 2023 HBW Sponsors: Lead Presenting Sponsor: White Plains Hospital; Presenting Sponsors: Amazing Amusements, I Am More Scarsdale, Scarsdale Farmers' Market, Simple Wishes; Silver Sponsors: AT&T, GameTruck, Hair Saloon & Cafe, Lane Creative Co., Lulu's Blues Cruise, Metro Behavioral Health Associates, Patriot Bank, Popham Hall/New Park Management, Scarsdale Endo-Arielle Chassen Jacobs DMD PC; Supporting Sponsors: ARM Nutrition, Club Pilates Scarsdale, Mixology, Orangetheory Fitness, Rumble Boxing New Rochelle, ScentFluence, Village Kids Pediatric Dentistry.
Donation tickets and Kids' Activity tickets are on sale at scarsdalebusinessalliance.com. Tickets will also be available for purchase on-site at the HBW Fair by cash or credit card.
FREE PARKING is available in the Freightway Garage and adjacent outdoor parking lot (72 Freightway) as well as the lower two levels of the Christie Place Garage (64 East Parkway).
PARTICIPATING VENDORS (as of 9/4/23): Amazing Amusements, Anthi's Greek, Arlotta Olive Oils, ARM Nutrition, AT&T, Babka Paradise, Bach to Rock Scarsdale, Badass Bagels, Bango Bowls, Bronx River Books, Cano Coffee, Club Pilates Scarsdale, Croatian Confections, Doc. Pickle, Empabake, Ever/Body, Freshly Made, GameTruck, Hair Saloon & Cafe, I Am More Scarsdale, Ice Cream for Fun, Longevity Place, Lulu's Blue's Cruise, Metro Behavioral Health Associates, Mixology, Moxie Salon and Beauty Bar, Nandini, NeverStopMoving365, Newgate farms, Nicole, The Artful Event, Norwich Meadow Farms, Orangetheory Fitness, P + S Seafood, Patriot Bank, Popojito, Rumble Boxing New Rochelle, Sania's Brow Bar, Scarsdale Edgemont Family Counseling Service (SFCS), Scarsdale Endo-Arielle Chassen Jacobs DMD PC, Scarsdale Farmers' Market, Scarsdale Fire Department, Scarsdale Forum, Scarsdale Police Department, Scarsdale Village Dental Arts, Scarsdale Volunteer Ambulance Corp., ScentFluence, ShivaniYoga, Simple Wishes, Sova Farms, Village Kids Pediatric Dentistry, Wave Hill Breads, Wendybird Beauty, White Plains Hospital, Wing King Food Truck, YogaSix
Event Information: contact info@scarsdalebusinessalliance.com.