Synagogues Offer a Mix of High Holiday Offerings
Thursday, 29 July 2021 08:14
Last Updated: Thursday, 29 July 2021 11:02
Published: Thursday, 29 July 2021 08:14
Joanne Wallenstein
Hits: 1784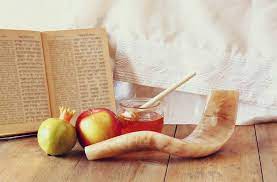 This year, the High Holidays are early, beginning directly after Labor Day Weekend. Erev Rosh Hashanah is on Monday evening September 6, with the holiday extending from Tuesday September 7 to Wednesday September 8, 2021. The Scarsdale Schools will be open on Wednesday September 1- Friday September 3, but will be closed on September 6, 7 and 8.
Yom Kippur starts with Kol Nidre on Wednesday September 15, followed by Yom Kippur on Thursday September 16. School will be closed on the 16th.
What are our local synagogues planning? Will services be in person or virtual. Masked? And will vaccinations be required? Will non-members have an opportunity to participate?
Here is what we learned:
Bet Am Shalom's "open tent" policy, welcoming all for the High Holy Days, is strongly connected to the values of our community. This year, however, we are anticipating safety-related capacity restrictions and are planning a mix of in-person and live streaming services. Check here in mid-August for registration information or call our office at 914-946-8851.

Bet Am Shalom
295 Soundview Avenue
White Plains, NY 10606
914-946-8851
www.betamshalom.org
Congregation Kol Ami on Soundview Avenue in White Plains is taking a hybrid approach to the holidays this year. They are inviting our members to sign up to attend one Rosh Hashanah and one Yom Kippur service in person. They will be holding an early and late service on both Rosh Hashanah Day 1 and on Yom Kippur Day, to ensure that all their members will be able to be accommodated in-person should they so desire. The K-6 youth services will run concurrently with the adult services and will be held outdoors on the Kol Ami front lawn. Additional services offered to members include Erev Rosh Hashanah, Rosh Hashanah Day 2, Family Services on both Rosh Hashanah and Yom Kippur, an outdoor Yom Kippur afternoon program as well as a Yizkor/Ne'ilah service.
The family service taking place at 3PM on both Rosh Hashanah Day 1 and on Yom Kippur Day will not be open to the public this year.
All services will also be livestreamed and available to members who prefer to watch from home.
Congregation Kol Ami
252 Soundview Avenue
White Plains, New York 10606
Tel: 914-949-4717
Scarsdale Synagogue on Ogden Road in Scarsdale will hold in person services and asks members to register to attend in person. For indoor services masks will be required by everyone ages 2 and up. Those 12 and up must submit proof of vaccination. Unvaccinated members ages 12 and up can attend services in the outside tent only. See all details here:
Scarsdale Synagogue will allow non-members to attend via Zoom but there is a fee. If you would like to attend via Zoom, register here. Their High Holiday schedule can be found here.
Scarsdale Synagogue
2 Ogden Road
Scarsdale, NY 10583
914-725-5175
www.sstte.org
This year Westchester Reform Temple will offer in-person services, with a number of options for their members. Congregants may choose between indoor services in their sanctuary where everyone must wear a mask - whether vaccinated or not - or outdoor services under a tent, where only unvaccinated people are required to wear a mask. They will offer a variety of services designed for adults, services designed for families with school-age children, and services designed for families with preschoolers. As in pre-Covid years, they will offer some services that are only available to members, and other services which are available to members and non-members. They will be live-streaming their services from the sanctuary on their website as well. Details about our offerings can be found on their website.
Westchester Reform Temple
255 Mamaroneck Road
Scarsdale, NY 10583
wrtemple.org
Chabad of Scarsdale's High Holiday Services 2021/5782 will take place at Lake Isle Country Club. All are welcome, no membership necessary. RSVP appreciated, walk-ins welcome. Services are free of charge.
Rosh Hashanah:
Monday, September 6
Evening Services: 7:00 pm
(Light Candles at 7:01 pm)
Tuesday, September 7
Morning Services: 9:30 am
Children's Program 10:30 am
Shofar sounding 11:30 am
Wednesday, September 8
Morning Services: 9:30 am
Children's Program 10:30 am
Shofar Sounding 11:30 am
Yom Kippur:
Wednesday, September 15
Kol Nidrei: 6:45 pm
Light Candles/Fast Begins 6:46 pm
Thursday, September 16
Morning Services: 9:30 am
Children's Program: 10:30 am
Yizkor: 11:30 am
Afternoon Service: 6:15 pm
Fast Ends: 7:43 pm
The services will be held in a safe and healthy environment. CDC, state and county guidelines will be followed.
For more information or to RSVP contact Chabad of Scarsdale at 914.365.8785, or email info@chabadofscarsdale.com.