A Candid and Informative Conversation with Mimi Rocah
Tuesday, 22 October 2019 16:12
Last Updated: Tuesday, 22 October 2019 19:08
Published: Tuesday, 22 October 2019 16:12
Amy Cooper
Hits: 3887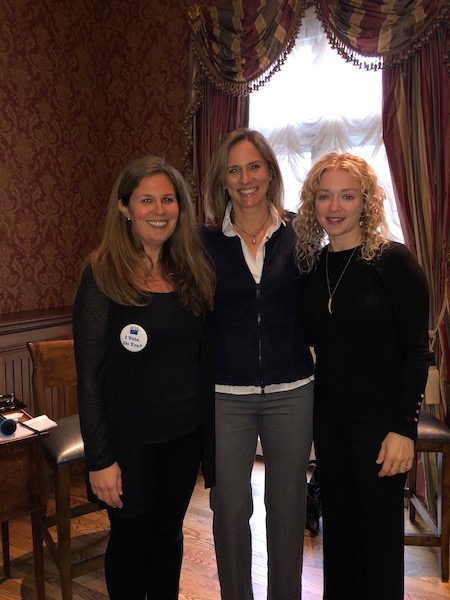 Leah Dembitzer, Mimi Rocah and Dara Gruenberg.On a rainy Sunday afternoon, legal analyst and Scarsdale resident Mimi Rocah spoke to a crowd of over 100 residents and dignitaries who filled the Scarsdale Woman's Club to capacity. Ms. Rocah is a legal analyst for MSNBC and NBC News, the current Distinguished Fellow of Criminal Justice at Pace University Law School, and a former Assistant U.S. Attorney for the Southern District of New York. The event, held on October 20, was jointly sponsored by the League of Women Voters of Scarsdale, the Scarsdale Forum and the Scarsdale Public Library.
Rocah provided an honest and in-depth conversation about many of the political and legal topics that dominate today's news headlines. Leah Dembitzer, President of the LWVS, and Dara Gruenberg, President of the Friends of the Scarsdale Library and Co-Chair of the Scarsdale Forum's Program Committee moderated the informative discussion.
Rocah briefed the audience on her background. She spent a number of years as an Assistant U.S. Attorney in the Southern District of New York. As she described: "My experience at the Department of Justice became a part of who I am as a person…The SDNY taught me from day one to do the right thing." Of particular influence on Ms. Rocah was her time at the U.S. Attorney's office in NYC on 9/11. It was a "horrible but transformative" experience. She left the SDNY in 2017, "spurred on by Trump's election." Initially, as a woman, she felt that it was not right to leave her post at the U.S. Attorney's office as it was important to stay on to mentor the younger women whom she oversaw. Eventually, after seeing what was happening in the media, particularly President Trump "slandering our institutions," Rocah thought it was important to join the media to help "push back" given her unique knowledge of the Department of Justice.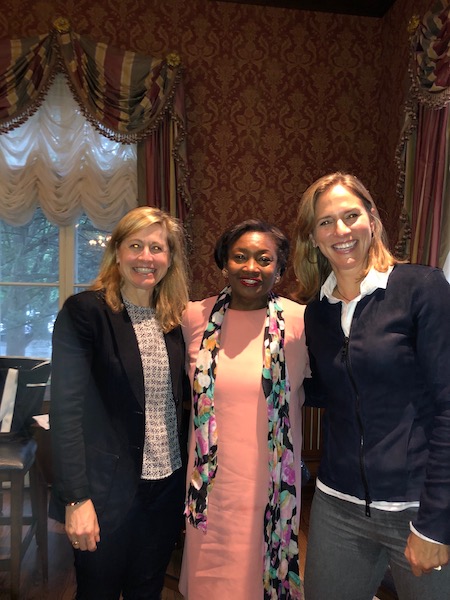 Jane Veron, Andrea Stewart-Cousins and Mimi Rocah.When asked about the influence of social media in today's political climate, she noted that she had not been on social media prior to the 2016 Election. Social media today informs people, but may also mislead. Rocah finds President Trump's use of twitter as an attempt "to normalize behavior that is really outrageous." His tweets about Russia, for example, are "not normal" of the presidency. Rocah now follows many on twitter and looks to certain people for her information. She follows Professor Ryan Goodman on twitter and views him as "reliable and smart." As a side note, Professor Goodman will be the featured speaker at the LWVS food for thought luncheon on November 8th. Click here for more details.
Rocah is particularly appreciative these days of her brother's work at the ACLU. There is a new sense of importance of the work the ACLU does to protect First Amendment rights, among another things. Donations to the ACLU have "skyrocketed" since 2016. Ms. Rocah believes that people no longer take for granted rights about which they may not have previously thought.
The very topical subject of President Trump's involvement with Ukraine was of particular interest to the crowd. Rocah thought that Bill Barr acted more like President Trump's personal attorney than the head of the Department of Justice. However, she is hopeful that state prosecutors will step in, especially in New York, to fill the void where the Department of Justice has not acted. With respect to pardons, Rocah noted that there are "very few limits." The President can pardon himself, and his family. However, members of President Trump's family could be subject to state prosecution even if they receive a federal pardon under a new law approved in New York. Double Jeopardy would not attach in these cases. Forward thinking, Rocah observed that we need more "rules" and "guardrails" on the use of "presidential power."
With respect to the current impeachment inquiry that is dominating the news, when asked "why now?" Rocah said: "This feels different. There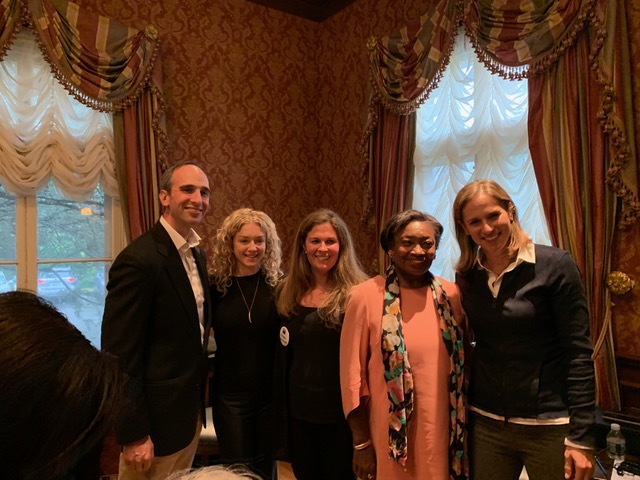 Tim Foley, Dara Gruenberg, Leah Dembitzer, Andrea Stewart-Cousins and Mimi Rocah is momentum that hasn't been there before." With the Mueller Report, "Trump controlled the narrative before it was released." However, with the issues involving President Trump and Ukraine, the information is happening "in real time." Real time information "is more persuasive." Ms. Rocah thought Nancy Pelosi waited for the right moment to start the impeachment inquiry and "putting it with Adam Schiff's committee is perfect" as he is a "former prosecutor and follows the facts."
Rocah answered questions from the audience with candor and a broad knowledge base. Her prosecutorial background has informed her well. She ended by noting the importance of pushing back on social media - "Don't give up on correcting the factual record."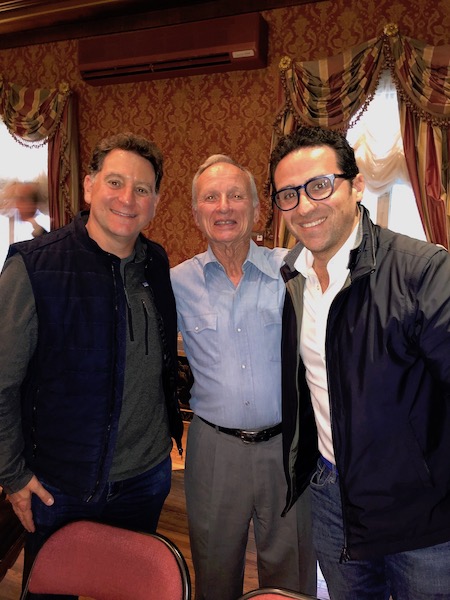 Marc Samwick, Dan Hochvert and Justin Arest.In addition to the many Scarsdale residents who attended Sunday's event, NY Senate Majority Leader Andrea Stewart-Cousins, NY Assemblywoman Amy Paulin, Scarsdale Mayor Marc Samwick, Deputy Mayor Jane Veron, and Trustees Justin Arest and Lena Crandall joined the event. Mayor Marc Samwick noted: "This was an excellent event and it was great to see collaboration with the League, the Forum and the Library. I look forward to more events like this that inform and educate us."