Vidal Succeeds Cohen as Chair of the Scarsdale Republican Town Committee
Details

Hits: 2862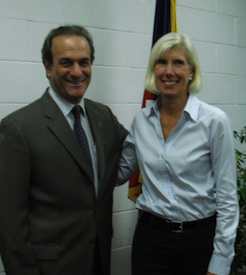 Katrina Vidal has been elected as the new Chairman of the Scarsdale Republican Town Committee (SRTC). Vidal was elected to succeed outgoing Chairman Bob Cohen at the committee's September 20th meeting. The Scarsdale Republican Town Committee is the Republican organization for the Village of Scarsdale. The Committee supports fiscally responsible candidates for Westchester County, New York State and National offices. Outgoing Chairman Bob Cohen with assistance from Vidal, was responsible for the committee's growth in size and influence during the past year. Steve Fuchs is now the Vice Chairman and will work to continue to inform the community about Republican positions and candidates.
The SRTC is currently supporting Dr. Iris Pagan's campaign for County Legislature for District 5, which includes Scarsdale and parts of White Plains and Harrison. Pagan advocates a reduction in county taxes and spending and opposes the affordable housing settlement.
League Explores Five Corners Roundabout
Details

Hits: 5207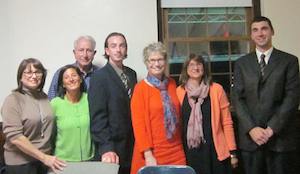 Would a proposed roundabout ease traffic at the Heathcote Five Corners or simply exacerbate the congestion? That was the question on the table at the League of Women Voters community discussion on Tuesday night September 20th at the Crossway Firehouse. The event drew a cross section of League members, former trustees, Village managers and residents who live near this difficult intersection.
Creighton Manning Engineers, the consultants hired by the Village to analyze the feasibility of a roundabout, presented their Phase II report and Peter Strauss and Assistant Village Manager Justin Datino, were on hand to answer questions. The session was moderated for the LWV by Deb Pekarek who asked for questions, rather than comments, but got some of each.
Former Scarsdale Mayor Carolyn Stevens explained that the Village Board had assigned an Ad Hoc Committee to look into a roundabout and they had hired traffic consultants Creighton Manning to do a study at an estimated cost of $35,000. The group was then shown a presentation about how a roundabout could work, including animations of traffic flow and video of a similar roundabout in Glens Falls, New York.
According to the engineers, here are some of the benefits of roundabouts:
Safest intersections -- reduce conflict points
High capacity with minimal delay
Flexible for unusual conditions
Aesthetic gateway
Environmentally sound solution - reduced vehicle emissions
35% fewer accidents
75% fewer fatal accidents
45% fewer pedestrian accidents when a roundabout is constructed
The proposed single lane roundabout design for Scarsdale would includes pedestrian islands for safe crossing and lit signage. A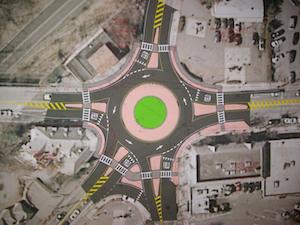 landscaped center island would add greenery and aesthetic appeal. The roundabout would be 105 feet in diameter and would require the Village to make right-of-way land acquisitions. Engineers demonstrated how the roundabout would reduce waiting time to get into and around the intersection.
The total estimated cost of the project is $1,900,000, with $1.5 million for construction, $220,000 for engineering and $175,000 for inspections. The Village hopes to fund 75% of the project through state or federal funding.
The presentation included extensive testimony from Glens Falls residents where despite an increase in traffic volume, the roundabout was found to reduce delays.
A merchant there whose business is located right on the circle was skeptical at first but now thinks the roundabout is great. Another resident said, "No one wanted it to begin with and now everyone loves it."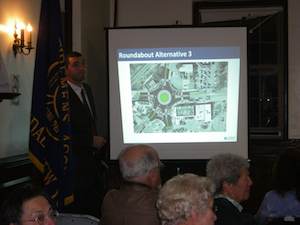 In the question period, several disgruntled neighbors voiced their concerns about traffic from the Heathcote School at Palmer Avenue and Innes Roads when school lets out. Michael Malina wanted to know how the roundabout would alleviate the gridlock near his home. A Fox Meadow woman questioned how many accidents there have been in the past few years and wanted to know why the Village would spend these funds if accidents were not an issue. Another woman wanted to know if there was data about children's safety crossing at the pedestrian crosswalks. Larry Bell questioned whether the width of sidewalks would need to be reduced and voiced his concern about a tight overlap at Heathcote Road on Weaver Street.
The group spent a considerable time reviewing the merits and demerits of the proposal and the League will hold their consensus meeting on the issue on October 3rd.
Pictured at top: Former Mayor Carolyn Stevens, Pamela Rubin (member of the Ad Hoc Five Corners Traffic Study Committee), Peter Strauss (Chair of the Ad Hoc Committee), Justin Datino (Assistant to Scarsdale Village Manager), Marylou Green (Scarsdale League of Women Voters President), Deb Pekarek (Scarsdale League of Women Voters Planning and Zoning Chair), and Steve Godlewski (Creighton Manning Engineers). Photo Credit: Angela Manson
The Search is Over
Details

Hits: 4573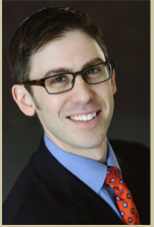 The search for a new Senior Rabbi to replace Rabbi "Rick" Jacobs at Westchester Reform Temple in Scarsdale has come full circle. WRT's own Rabbi Jonathan Blake will assume the leadership position, pending a vote by the full congregation on September 20th. The Board of Trustees of the synagogue announced their recommendation on Wednesday September 7th. Rabbi Jacobs will leave WRT at the end of the year for his new position as President of the Union for Reform Judaism.
Rabbi Blake came to WRT in 2003 from Temple Beth-El in Providence, Rhode Island where he served as Associate Rabbi and Director of Education from 2000 – 2003. In 2000 he received his Ordination from Hebrew Union College – Jewish Institute of Religion in Cincinnati where he received honors for academic achievement and homiletics. He majored in English literature at Amherst College and graduated summa cum laude.
Rabbi Blake teaches adult education at the synagogue and moderates an online forum exploring the weekly Torah portion at http://wrttorahstudy.blogspot.com/ . Beyond his role at WRT, Blake played the part of a rabbi in the 2005 film 51 Birch Street, a documentary about a son's investigation into the mystery of his parent's relationship after their 54 year marriage.
In her announcement to the congregation, Temple President Lisa Messinger wrote, "In Rabbi Blake, we have chosen a rabbi who embodies outstanding personal qualities of caring, intelligence and great integrity. For the past eight years Rabbi Blake has shared a Jewish journey at WRT with exceptional colleagues and alongside our congregation who has embraced his passion, wisdom and sense of humor. His insights into the life of WRT have been nurtured and refined here and provide him with unique qualifications for the position of Senior Rabbi. I am extremely confident that under the leadership of Rabbi Jonathan Blake, Westchester Reform Temple will continue to thrive as superbly in the future as it has in the past."
Blake is highly regarded by congregants, students and the WRT staff, and as an eight-year veteran of the temple he should have a smooth transition into his new role. Whether or not WRT will seek out an additional rabbi to step into Blake's place is yet to be seen.
James Blake to Visit Quaker Ridge Golf Club
Details

Hits: 5080
The Westchester Children's Museum (WCM) announced that tennis champion James Blake will be this year's featured celebrity pro at the Annual Tennis Outing. The event will be held at Quaker Ridge Golf Club in Scarsdale on Monday, September 19, 2011. Each tennis outing participant will have the opportunity to rally with Mr. Blake, as well as attend a buffet breakfast and lunch with this tennis legend where he will sign autographs and participate in a Q&A session.
In addition to the tennis outing, the Westchester Children's Museum will simultaneously host its Fifth Annual Golf Classic at Quaker Ridge Golf Club. This is an opportunity to tee it up on the par-70, 6,772-yard A. W. Tillinghast design – often called "Tillie's Treasure". Ranked 40th in the United States by this month's issue of Golf Magazine, Quaker Ridge is frequently mentioned when accomplished golfers are asked to name the best course in the Metropolitan New York area. As in years past, the event will feature tournament competition, on-course contests, as well as a brunch to kick off the outing. Cocktails and dinner with an auction and raffle will wrap up the eventful day. The Charity Tennis and Golf events will both raise funds for the completion of the Westchester Children's Museum exhibit designs and construction.
The event's featured pro, James Blake, is a crowd favorite that has played many historic matches at the US Open. James achieved a career high ATP ranking of number four and has won ten tournament titles. James has also been a regular member of the United States Davis Cup team. In 2007, James won the decisive match for the United States to win the Davis Cup World Group championship. James is also the author of memoir called Breaking Back, which is a New York Times Bestseller. James was born in Yonkers and grew up in Fairfield, CT. He attended Harvard University.
"We are so excited to have James Blake's support at our annual charity tennis outing," said Andrea Tucker of Scarsdale, Co-Chair of the event. "With the backing of a renowned world champion, we are more excited than ever to continue our efforts to raise funds for the Westchester Children's Museum." Now that the Museum's lease of the Rye Playland North Bathhouse has been unanimously approved construction and renovations are moving forward.
Tucker, a Heathcote mother of three, offered the following comments on how she became involved with the Museum. "I became interested in helping to bring a children's museum to Westchester after visiting the Long Island Children's Museum. My kids always enjoyed themselves when visiting and I was disappointed to learn that our community did not have a similar destination for our youth. I found that other local families were committed to developing such a place and then heard about Westchester Children's Museum. While inquiring about volunteering, I was pleasantly surprised to learn that Corinne Zola, a fellow member of Quaker Ridge Golf Club, is President of the museum. "
Tucker continues, "After becoming involved with Westchester Children's Museum, I assisted in the planning for its annual Quaker Ridge golf outing. Corinne and I strategized how best to engage the community and felt that bringing professional tennis players on board each year would be an added incentive for our supporters. Last year, our inaugural tennis event sold out; it was headlined by Jim Courier. Tennis Champion James Blake will be joining us this year. It's a once-in-a-lifetime experience to be able to interact on and off court with a top U.S. tennis player while supporting a worthwhile community cause. "
"I must also recognize the many Scarsdale residents who have volunteered their time and effort to make this event a success, from members of the tennis committee to the Board of Directors and donors. Without all the wonderful volunteers who believe in the mission of the Westchester Children's Museum, none of this would be possible. So a special thank you goes out to my fellow village residents for once again rallying behind a great cause – no pun intended!"
For more information, corporate sponsorship opportunities, golf participation or to purchase tickets to either the tennis or golf event, visit: www.discoverWCM.org/events

-----------------------------------------------------------------------------------------------------------------------------------------------------------------------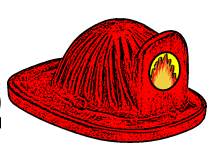 In addition, The Scarsdale Fire Department wants you to putt for pink. On Monday October 3, the Scarsdale Fire Department is holding a fundraiser for the American Cancer Society and the UFFA Local 1394 at Fenway Country Club. The scramble golf format begins at 11am that morning, the locker room opens at 9am. For $225 player fee includes greens fee, cart, complimentary t-shirt and gift bag, continental breakfast, lunch and dinner and a reception with an open bar at Saxon Grill. Caddy fee is additional.
Enjoy one of the state's premier golf courses while helping our town's bravest and the battle against cancer. Sponsorship advertising opportunities are available. For tickets and more information about the event contact Patrick Gorham at 914-740-5516 or scarsdaleputtforpink@gmail.com.
Scarsdale Girl to Perform in "13" at WPPAC this Weekend
Details

Hits: 3740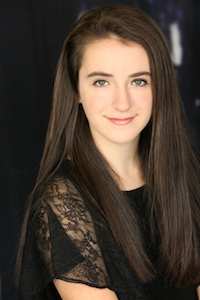 The musical "13" will be performed at The White Plains Performing Arts Center this weekend and Scarsdale 10th grader Sarah Cammarata is in the cast of the show. The story focuses on 13 year-old Evan Goldman who is forced to move from New York City to the small town of Appleton, Indiana when his parents get divorced. The move disrupts Evan's social life and Bar Mitzvah plans and he struggles to fit in with the in-crowd at his new school. Scarsdale's Sarah Cammarata plays Cassie, a "popular gossip girl" in this comical coming of age story enhanced by a terrific musical score.
Cammarata has been performing since she was seven years old and made her debut in the Wizard of Oz production at Random Farms Kids Theater. Since then she has performed in over 20 musicals with many theater companies including White Plains Performing Arts Center, Westchester Broadway Dinner Theater, Yorktown Stage, Helen Hayes Youth Theater, and Play Group Theater (PGT). She studies acting at PGT and with Jeremy Quinn at WPPAC. This summer, the cast of "13" had 18-25 hours of rehearsal per week for the past 4 weeks.
Commenting the experience of acting in "13", Cammarata said, "Acting in a big production allows me to get away from real life and put myself into someone else's shoes. The cast of 13 has become a second family to me, and I have made so many new friends. When it comes time for the show all our hard work pays off and it feels very rewarding. During the process of creating 13, the entire cast has worked together to make a really great show."
Tickets are still available for performances this weekend on August 19 and 20. See details below:
13
August 19th and 20th at 8 pm
White Plains Performing Arts Center
11 City Place
White Plains, NY 10601
$15 adults
$10 Students
877-548-3237 or www.wppac.com

The Person of the Week Column is sponsored by Johnny Rockets, Home of the Original Hamburger, recently opened for breakfast, lunch and dinner at 777 White Plains Road in Scarsdale.