The Mom Who Climbed Kilimanjaro
Details

Hits: 4821
All of us wonder what we are going to do when our youngest child heads off to college, leaving an empty nest. A friend of mine came up with a pretty dynamic response to this bump in the life cycle: Why not climb the highest mountain in Africa? Lisa Dodge asked that question and she has returned to tell the tale. Hesitantly, because she is too modest to boast, but the story she told me bears repeating
Dodge looks like many Scarsdale moms but under the appearance of a suburban matron lies fierce determination, resilience and fearlessness – some of the same qualities it took to raise her four children, but in her latest adventure she relied on these and more.
I asked her why she set out to climb the highest mountain in Africa and she explained that following a trip to Africa three years ago to tour Tanzanian villages and animal reserves she fell in love with the continent and set her sights on climbing Mt. Kilimanjaro, which is the highest free-standing mountain in the world.
She carefully planned the trip, and opted to go with the tour company she had used to go on safari during the previous
trip. They had proven to be trustworthy, well staffed and knowledgeable and she thought she would have the best chance of reaching the peak safely with Thomson as her guides. She trained for the nine-day climb for the prior three months and consulted with licensed fitness experts who recommended a training regimen customized to her age, weight, health issues, overall fitness and the weight of the pack she would need to carry up the mountain.
Dodge trained six days per week, following a routine that included time on the treadmill, 45 minute stints up and down the stairs, aerobics and outdoor hikes, some as long as eight hours in Bear Mountain State Park and the Ramapo Mountains. Her husband Warren, who had recently retired after 30 years on the job decided to join her on the trip and participated in the training and hikes to prepare for the trip.
They decided to make the climb in September as their children would be off at school and the dry weather in Tanzania in the fall was right for the climb. Since the country lies almost on the equator, the temperatures at the bottom of the mountain would range from 70 – 80 degrees – but at the top of the mountain they learned that the thermometer could go as low as zero.
They purchased what was recommended, keeping a close eye on the weight of each item as there were strict weight restrictions for the trek. A nurse by training, Dodge opted to bring along some extras including a stock of medications, a large trove of hand and foot warmers, a full face mask for extreme weather as well as ski mittens that prevent frostbite. These extra's proved to be well worth their weight and Dodge credits the hand and foot warmers with helping her to get through days where the temperature fell into the teens. Dodge's husband purchased a video flip camera to document the climb and even opted to carry a solar panel on his back that permitted him to recharge the camera as well as everyone else's cell phones. Though it added to the weight of his load, he quickly became the most popular guy on the trip.
The group convened at the base of the mountain where the Dodge's met four men and women who would be their soulmates for the next 9 days. They also greeted their 45 porters, 4 guides, 2 waiters, 2 cooks and the camp manager who would make up their climbing party.
The porters were impressive and each carried 33 pounds on their backs while climbing on steep terrain. In addition to carrying the food and equipment up and down the mountain the porters scrambled ahead of the group each day to erect the dining tent for lunch and prepare the meal, and then proceeded further up in the afternoon to set up the tents for sleeping each night.
Walking single file up the mountain, the group was trailed by "Godlove" a porter who carried a large pack of medical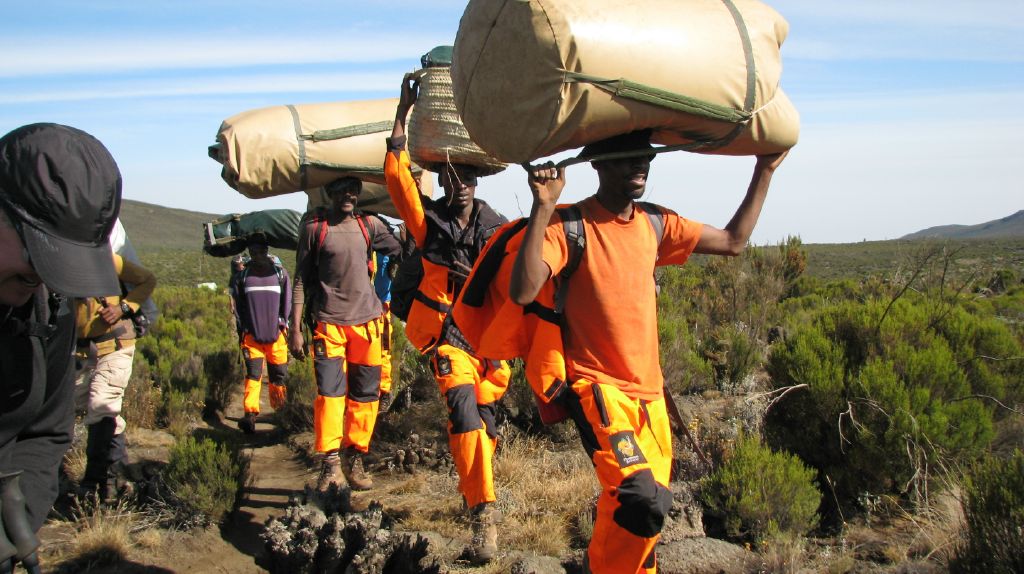 supplies including oxygen, a defibrillator and a hyperbaric chamber for those who became ill due to the altitude. The four guides have wildnerness training, akin to the EMT training done in the U.S. Given the dangers of the mountain, including the altitude and temperatures their skills are needed.
All meals were eaten in a large dining tent, with a table and comfortable dining chairs Dodge reports that the chef prepared delicious meals that included fresh fruit, vegetables, cheeses and meat that were carried up the mountain on the backs of the porters. For breakfast there was eggs, hot cereal, bacon and sausage and at lunch, homemade soups were served. Food service even included an afternoon break for tea and snacks. On one of the days during the middle of the trip, while the guests climbed, the porters took a steeper more direct path down to the bottom to restock their supplies.
At night the group gathered for dinner in the tent, wearing many layers of clothing, coats and hats. Following dinner they would be a briefed about what was in store for the following day. Since it was dark by 7:30 pm, they retreated early to their pup tents to sleep. Though the temperature fell into the teens, Dodge says she was never significantly cold at night. She was instructed to change into the clothes she would wear the next day before getting into her sleeping bag for the night. At the higher altitudes she would also sleep in her coat, hat and gloves. For additional warmth, the porters handed each climber a Nalgene bottle of boiling water to put into the bottom of their sleeping bag to serve as a heater. At some campsites a small basin of warm water was available for washing. Dodge also brought a supply of moist towelettes for daily washing.
The climb was not all in the up direction and the group ascended and descended at times to acclimate to the altitude. Though this added a few days to the trip it helped the climbers adjust so that almost all could withstand the trip to the top. Everyone took Diamox a drug that minimizes altitude sickness and each climber had to carry and drink four liters of water a day. Attached to her backpack, these Nalgene bottles added another ten pounds to the load Dodge carried each day.
The altitude proved to be the undoing of one member of the party. Out of the ten who set out on the trip, one 43 year-old man was not able to complete the journey to the top. He was extremely affected by the altitude and could not withstand the trip beyond 15,000 feet. Not wanting to miss the trip he and a guide waited at an intermediary camp on the mountain for several days while the group ascended to the top.
The total trip was nine days, with seven going up, and two to descend. Most days, the group trekked for 7 -8 hours, chatting with fellow climbers, observing the changing terrain, taking pictures and even stopping to talk with others along the path. At several points in the trip, the group encountered a party of climbers with a large movie camera who were making a documentary about the climb to be shown in Cannes in 2013.
The group began the trek in the rainforest which was lush with vegetation. As they climbed, they went through several zones with vastly different terrains. From the rain forest they proceeded to the heath zone with dramatic hanging moss. Next were the moorlands, which lead to an alpine desert of lava rocks and shale. As Mt. Kilimanjaro was formed by a volcano, the top is bare rock with no vegetation and is called the arctic zone.
During the climb the group ascended steep rock cliffs, and at one point, Dodge describes a two hour rock scramble done in the cold rain on slippery shale. Because of the danger involved, guides had to position themselves in front of and behind each guest at certain points, slowing the progress of the group.
On the sixth day of the climb they awoke to find four inches of snow on their tents. The porters beat the snow off the roofs of the tents, to prevent the tents from collapsing under the weight of the snow that made a surprise September appearance. Dodge feared that the snow would make this tough trip even harder, but it melted quickly and did not interrupt the trek.
On day seven they were slated to climb to the top and arose at 4:30 am to begin the climb to the peak. Since they could not camp at the top, they needed to allow time to ascend and descend to camp in daylight. The ten-hour trip to the peak proved to be the most difficult as the group navigated a very narrow path and had to do switchbacks to manage the steep incline. At 18,000 feet, Dodge was hit by waves of nausea and feared she would not be able to continue. Her fellow climbers gave her gel blocks and ginger chews and she quickly recovered. The weather was gray and cold but when the group reached the top the skies cleared and the sun shown down upon them.
The view from the top was magnificent, with a deep caldera to their left and southern glacier fields on their right. They
stood atop Uhuru Peak which at 19,341 feet is called "The Rooftop of Africa," and cried, rejoiced and held up photos and signs for their loved ones. Though it took 7 days to get there, they stayed at the top for just 20 minutes but had it to themselves.
The trip down took only two days due to the aid of gravity and a more direct downward trail.
What did Dodge take away from the trip? She says it's the hardest thing she's ever done and was surprised at the rugged conditions and the severity of the weather. Though she felt well prepared the trip was physically and mentally challenging but thoroughly gratifying too. She says it was a life altering experience that taught her the power of determination. She feels you can do more than you think you can do, if you just put your mind to it. Was climbing the mountain harder than raising the four kids? Dodge says yes but is ready to take on her next challenge.
The Dodge's have discovered that they love to hike and the two are already planning a trip to Peru's Inca Trail to trek to Macchu Picchu next September. And after that? Dodge hopes to travel to Antarctica to complete her tour of the seven continents of the world.
To see live footage of the Dodge's climb, click on the links below.
Meet Animator Extraordinaire J.J. Sedelmaier
Details

Written by

Joanne Wallenstein

Hits: 4650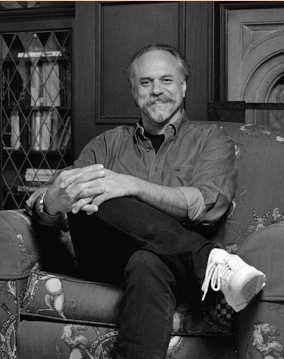 Animation Director, Illustrator and Designer J. J. Sedelmaier is well known for his work in television, commercials and print and has created animations for Saturday Night Live, Beavis & Butt-Head and Schoolhouse Rock to name a few. He and his wife Patrice Sedelmaier run J.J. Sedelmaier Productions in White Plains and are long time residents of Greenacres in Scarsdale. J.J. is creative, energetic, dynamic and fun and agreed to an interview with Scarsdale10583.com. Here is what we learned:
Where did you grow up and how did you develop an interest in art?
I grew up in Evanston, Illinois and spent just as much time in Chicago. Both my parents have an art background and I was endlessly encouraged to explore all things artistic. As a kid I read comic books and it was a strong bond between my dad and me. He kept his comic books from when he was a kid and I used to read those too.
Did your parents nurture your talent, and if so how?
There was always art material around me. My mom used to attend art fairs and I'd go with her. Both my parents were into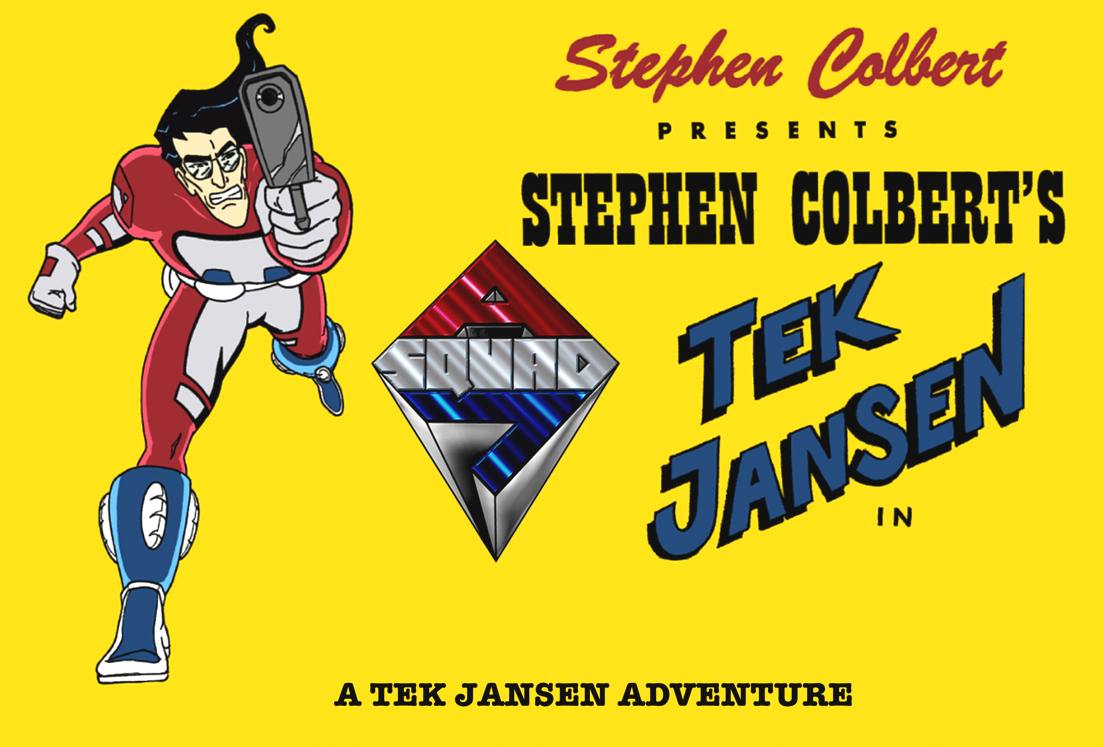 movies and film as well.
What were your activities/interests in high school and college?
Art, local history, film. . . I also worked in restaurants when I was in college and it helped me to transition into real life.
Who are some of the people who influenced you early on?
Both of my parents and a couple of teachers I had in high school and college.
How did you get into the field of animation?
I'd always drawn and was actually interested in getting into the comic book industry right out of college. I moved to New York after college, but was not encouraged by what I saw of the comic book industry. American comics in the late 1970's was a dying field. So, I decided to take my portfolio around to anyone in any related field that would spare the time to look. I had a meeting with John Anthes at Channel 13/PBS and he took a liking to me and sent me off with a list of people to see. One of those was an independent animator who took me under his wing and started feeding me work as an assistant animator. He then recommended me to a large production studio where I got a chance to work professionally on projects like "Strawberry Shortcake" and "The Berenstein Bears'. Dreadful work - but it was work and I was integrating myself into the animation industry. I freelanced for a few years and by 1984 I'd built a pretty good reputation as a dependable assistant animator. A position opened up at a studio called The Ink Tank run by a brilliant illustrator/designer, R.O. Blechman. This is where I really took off. After working there for a couple months, Blechman wanted to promote me to his producer. I had just got my fingers into actually animating and was reticent to give that up for a position that was more executive than art based. But I realized that this unique opportunity would ultimately give me more control and would open vistas in an area I hadn't had a chance to investigate yet. It could also prime me for possibly running a studio. I spent the next five years growing and absorbing more and more responsibility (as well as building a reputation as a top-notch animation producer/director), so by 1990, my wife, Patrice, and I were ready to start our own studio.
Tell us about your work – both the entertainment and commercial sides of the business.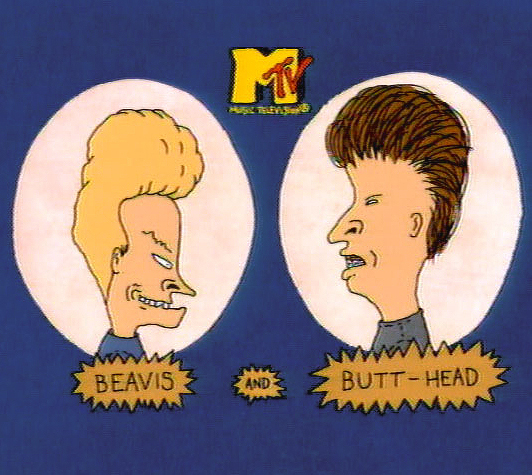 It's always been about how to use animation in the best possible way. To try and come to every project without preconceived notions or formulas. We've done work in every possible style and technique, from drawn designs to computer animation. We work with a lot of artists and illustrators that aren't animators and figure out how to translate their art into animation/film. We also help problem solve and develop strategies with both ad agencies for their ad campaigns, and with networks for their own shows. We were the studio that launched Beavis and Butthead for MTV. We co-created the Saturday TV Funhouse cartoon series (Ambiguously Gay Duo, Fun With Real Audio, etc.) with Robert Smigel for Saturday Night Live/NBC and our studio was the exclusive producer of the cartoons for the first three seasons. The Tek Jansen series on The Colbert Report came out of J.J. Sedelmaier Productions in White Plains. We recently resurrected the classic "Speedy Alka-Seltzer" icon by working with energyBBDO in Chicago, figuring out how to redesign and produce the well-known character using computer animation and live action. One of my favorite projects was when we redesigned the entire branding campaign for the Chicago Tribune that involved all aspects of its identity - TV, print, theatrical, outdoor. Being originally from the Chicago area made this especially gratifying!
Do you write scripts as well as create animations?
What I can say is whenever I do a film that has no dialog, my storyboard is the "script", but normally no I don't write the scripts. I often work closely with the writers however, to punch up the scripts and make sure they're consistent with what I think the film should be, as the director.
How has the business changed since you began?
It's all influenced by technology - animation has been that way for a century. The difference now is that the digital domain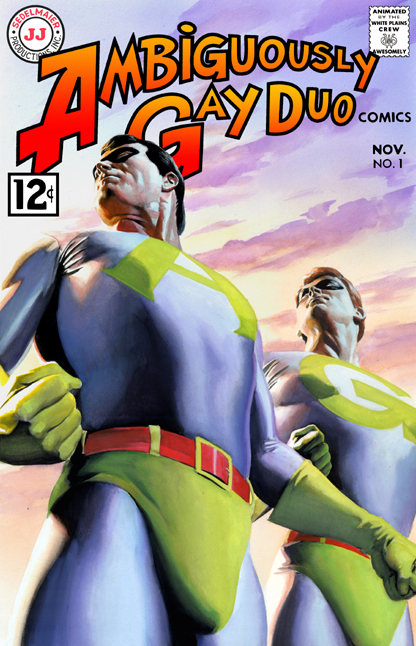 completely surrounds the entire industry and computer-generated imagery (CGI) is the favored technique. The economy has also made the advertising industry cautious and a lot of commercial projects get canceled. Young people interested in getting into animation need to have a varied background and must be versed in computer AND classic techniques if they want to work and be successful.
What are some of the latest technological advances that have impacted how you work?
So much is done over the internet now. There's no motion picture film - it's all data files. This is wonderful from the standpoint that you can change things at the push of a button. You used to have to draw on paper, paint on celluloid, photograph on film, develop and print the film, transfer the film to videotape. Now it's all done digitally. You can still draw (and should as much as possible) but it's on a tablet. Once the imagery enters "Digital Land" it's endlessly manipulated and refined until it's in its final form - all in the same domain.
What do you see happening in the future that will change the field?
I think the lines between animation/special effects (special effects are animation too) and live action will continue to blur - it already has so much. I don't think there's a movie released nowadays that doesn't use some form of digital effects. It's often seamlessly hidden and so well done that you don't realize it's been used.
I know you have many interests, hobbies and collections. Tell us about some of your passions.
I've always been interested in history - especially when it comes to design and culture. I write for the Print Magazine blog, "Imprint" ( http://imprint.printmag.com/j-j-sedelmaier/ ) and use it to share my whacked out interests. I recently curated a show on NY animation history at the Westchester Arts Center/Jacob Burns Center that I hope to take to other venues. I've been involved with the folks that do the NY and Chicago ComicCons since they started and regularly contribute to those events. Colleges and universities bring me in to do presentations, workshops, and lectures - I really enjoy these!
You also have a keen knowledge of Scarsdale history. How did that develop and what do you collect that relates to local history?
I have a tendency to become interested in any locale I spend any length of time in. I was involved with the campaign to help save the old ambulance corps NYW&B Heathcote train station. It's now a realty office and it's a gem! Our studio is in White Plains and I was so fond of our office building (The Bar Building by the Ritz-Carlton) that I got extremely involved in the efforts to get it on the National Register of Historic Places and save it from demolition. I had done the same thing in 2003 with a train station in Skokie, Illinois, close by to where I grew up. From Scarsdale I have some books, vintage postcards and an old 1920's street sign.
J.J. Sedelmaier Productions, Inc.
www.jjsedelmaier.com
Let's Get Ready Wins $500,000 from the American Giving Awards
Details

Hits: 4503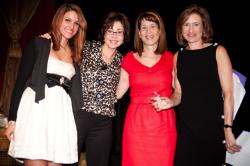 Let's Get Ready, a nonprofit organization devoted to expanding college access by providing free SAT preparation and college admissions guidance to low-income high school students, won second place and a prize of $500,000 on Saturday, December 10th in the first-ever American Giving Awards presented by CHASE. After competing against thousands of charities to become one of the five finalists, Let's Get Ready competed for the first place one million dollar prize in the American Giving Awards, a combined effort of Chase, Dick Clark Productions and Intersport, aimed at encouraging national support and volunteerism for local charities.
Executive Director Lauri Novick accepted the award on behalf of the organization at the star-studded award show broadcast on the NBC Network. Let's Get Ready will utilize the $500,000 to expand programs and serve more students. "This award is huge for Let's Get Ready," said Novick. "It will enable us to nearly double our impact, sending 2,000 more low-income students through our program and on to college. It also heightens awareness of the monumental challenges under-served students face throughout the college admissions process, and the impact organizations like Let's Get Ready have in leveling the playing field and thereby making college more accessible for these kids."
Let's Get Ready now runs 63 programs throughout the northeast, serving about 2,500 students with the assistance of 1,000 college volunteers. On average, these students see a 112 point improvement in their SAT scores and over 90% of Let's Get Ready students go directly to college after high school.
The program has deep roots in Scarsdale, as it was founded by 1996 SHS grad Eugenie Lang Rosenthal, during her sophomore year at Harvard. She recognized the need to expand college access and enable more children in under-resourced schools to break the cycle of poverty by going to college. Like so many of her classmates from Scarsdale High School, Eugenie had taken a costly SAT prep course, had college-educated parents, attentive counselors, and the help of tutors when she needed help. Eugenie decided it was time for her and her peers to "let down the ladder" for another generation of students, especially those who did not have college-educated families, or SAT courses, and who struggled in schools where the average ratio of students to guidance counselors is 740:1, (the national public school average). So Eugenie called a group of her friends, contacted churches in Mount Vernon to find space and recruit students, and within two weeks of the idea's conception, in the summer of 1997, there were 30 students and 10 volunteers in a Mount Vernon church basement doing SAT prep and college planning.
Soon after, Jeannie brought Let's Get Ready to Harvard and then (with help from the College Board and the Samuel Huntington Fund) to New York City. Jeannie left the staff in 2005 to attend business school and start a family, but remains an active member of the Board of Directors (serving as Secretary and as part of the Program Committee).
"A student who goes to college can end poverty in their family forever" says Eugenie. Indeed, a 4-year college graduate, on average, earns more than $1 million more over their lifetime than someone with just a high school diploma, and their children are twice as likely to go to college. "There are many kids who want to college and are able, but the process is so complex" she explains. "By helping kids through that critical, intricate dance right at the end of high school, you not only change their lives, you can re-write the story of their family for generations."
Many Scarsdale residents are currently involved in Let's Get Ready, from serving on the Board of Directors, to tutoring for the SAT's and acting as mentors during the college admissions process. The Board of Directors includes Scarsdale residents Stephen Karotkin, Dan Reingold, Gil Kemp, Evan Meyers, Ann Yaspan, and former Scarsdale resident Priscilla Natkins. Former Scarsdale resident Nancy Katz heads up a mentoring program that pairs college applicants with adult mentors who guide them through the college application process. Present and past mentors include Scarsdale's Jon and Nancy Alderman, Anna Decker, Shelley and Richard Effman, Nancy Karotkin, Flo Wiener, Nancy Rubini, Bud Kroll, Susan Roth, Susan Friedman, Laura Nassau and Joanne Wallenstein. In addition, at college campuses around the northeast, college students from Scarsdale are tutoring local high school students to prepare them for their SAT's.
Greenacres Says Goodbye to Linda Zayac
Details

Written by

Joanne Wallenstein

Hits: 6976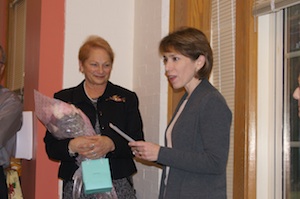 There wasn't a dry eye in the room at the reception to honor Linda Zayac for sixteen wonderful years at the Greenacres School. Students and parents of all ages gathered to honor Zayac who has been the friendly face behind the desk in the office for as long as anyone can remember. Many students started their day hearing Zayac call "Good Morning Greenacres," while she juggled forgotten lunches, mislaid homework and calmed frantic parents. Confident and capable, Zayac had a way of making everyone feel welcome, from prospective parents touring the school to old timers who returned to Greenacres to see her familiar face.
At the reception, Greenacres PTA President Kathleen Campbell said Zayac was "loved by all," and delivered Zayac her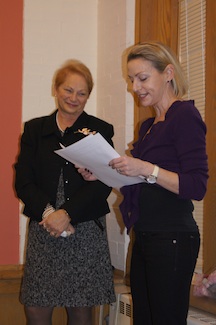 final report card, telling Zayac that she is "excellent in all that [she does]." Former Greenacres PTA President Karen Ceske credited Zayac with "inestimable grace, brightness and energy," and said that she was a friend and confidante to the parents of Greenacres. She announced a fitting gift to the school to be made in Linda's name, and showed a rendering of a lit welcome lantern that will be hung outside the school to illuminate the way. The light will call to mind Zayac's warmth, radiance and shine on the school in the years to come. Greenacres artist and mother Jessica Goldman drew a beautiful rendering of the light at the school, which was framed and presented to Zayac. Visibly moved, Zayac said, "For the first time in my life, I am speechless."
But that was not all. Melissa Boxer and Lisa Hassan announced another surprise -- 179 Greenacres parents had contributed to a retirement trip for Zayac, giving her an all expense paid vacation in Mexico's Riviera Maya.
Surrounded by a few hundred children, parents and teachers, Zayac gave hugs and goodbye kisses and everyone enjoyed refreshments and a large goodbye cake.
As a Greenacres mom myself, I honor her for her service to our community. The school will be hard pressed to fill her shoes.
Calling Future Politicians
Details

Hits: 3297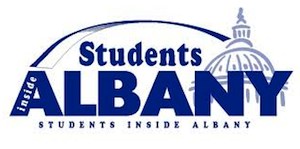 The League of Women Voters of Scardale seeks students to attend a statewide conference in Albany. Applications from high school students who are Scarsdale residents are sought for the 12th annual Students Inside Albany conference, which is scheduled to be held on March 25-28 in Albany. One student will be chosen to attend, and all expenses (including travel and hotel) will be covered. The conference, sponsored by the League of Women Voters of New York State Education Foundation, is designed to increase students' awareness of their responsibilities in a representative government and to provide the tools necessary for meeting that responsibility. This interactive conference will bring together high school students from across the state to learn about New York State government and the process by which citizens can participate in the policy-making arena. Students will also tour the Capitol and observe both the Senate and Assembly in action by spending an afternoon shadowing their legislators. The participant will receive a student membership in the League of Women Voters of Westchester, which includes an e-mail newsletter and invitations to meetings on government related topics.
For an application or more information, contact Pamela Fuehrer, Scarsdale League of Women Voters (914-472-9440 or pfuehrer@optonline.net). Application forms are also available at the Scarsdale League of Women Voters' website (LWVS.org) and must be received by January 11.