Trick or Treat Virtually for UNICEF and Give Back on Halloween
Tuesday, 20 October 2020 15:28
Last Updated: Friday, 23 October 2020 15:01
Published: Tuesday, 20 October 2020 15:28
Joanne Wallenstein
Hits: 859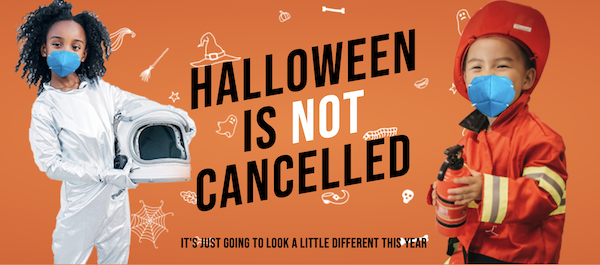 Do you ever wonder what happened to the orange UNICEF box that was used to collect pennies on Halloween? Like everything else, that box has gone virtual. According to UNICEF, only 27% of parents expect to take their children trick-or-treating this Halloween, so UNICEF USA has launched a Trick-or-Treat for UNICEF virtual experience. In honor of the 70th anniversary of this iconic, American tradition, this year's initiative will be comprised of fun, digital and interactive experiences all while teaching children the importance of giving back and fundraising for a socially distanced Halloween.
Parents and teachers can register and create an online profile by visiting trickortreatforunicef.org where they will receive a Virtual Collection Box with a customized link and QR code. By participating in fun activities and watching educational videos, children will earn Trick-or-Treat Coins that add up to real-life donations. As coins are collected, children will be able to say where they would like their earnings to go, empowering them and connecting their efforts to positive impact for children around the world.
"After a stressful year for so many children and young people, we know they need a way to have fun this Halloween, while also feeling empowered to give back." said UNICEF USA President and CEO Michael J. Nyenhuis. "Keeping children safe and healthy has always been at the core of UNICEF's mission and Trick-or-Treat for UNICEF's virtual offering enables children to safely celebrate Halloween while having fun and learning the importance of giving back."
Trick-or-Treat for UNICEF began 70 years ago as a way to help kids affected by World War II. Since 1950, the annual tradition of Kids Helping Kids® - involving donations big and small - has raised $180 million to help UNICEF support children with health care, nutrition, safe water, emergency relief and education.
Scarsdale resident Shelley Diamond is UNICEF USA's Chief Marketing Officer. She says, "For many of us, Trick-or-Treat for UNICEF was our first fundraising experience. The iconic, orange box is a powerful memory of how we were empowered as children to help other children all over the world. While Trick-or-Treat for UNICEF is virtual this year, the goal remains the same - to encourage global citizenship and teach the importance of giving back while making Halloween fun and meaningful." 
Parents and educators are encouraged to visit www.trickortreatforunicef.org to learn more.