Beautifying Greenacres – A Successful Collaboration
Details

Hits: 5249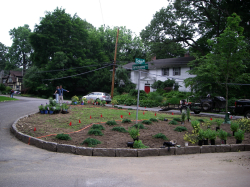 The traffic island at Greenacres Avenue and Colvin Road, which had fallen into disrepair, is now a beautiful small park. Its revitalization is a living example of how various groups can work together to improve Scarsdale Village while respecting our history.

Scarsdale neighborhoods include many green traffic islands that beautify our roadways and provide mini parks for plantings and respite.  They serve as points of interest and enhance the landscape of our town, which is sometimes called "a Village in a park."  For the most part, the Village maintains these spaces and the level of care and landscaping varies widely.

In some areas the Village plants annuals, takes care of weeding and maintains manicured lawns, while other areas are left in their natural state. A few of these open spaces have been adopted by neighborhoods and gardens have been planted and cared for by those who live nearby. Under an agreement between the Village and the Fox Meadow Association the traffic island at the intersection of Church Lane and Harcourt Roads was replanted in 2007, and it is now a lovely perennial garden, enjoyed by the entire community.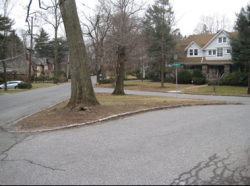 Last year, residents in Greenacres expressed a need for the improvement of several green areas.  The Neighborhood Association discussed the possibility of replanting the island at the intersection of Brewster and Kingston Roads, where there was a need for plantings that could survive without irrigation, as there was no water source.  In addition, under discussion was the landscaping of a pocket park at Brite Avenue and Sage Terrace.  Last, the traffic island at Colvin Road and Greenacres Avenue had become an eyesore, with two unsightly trees surrounded by weeds.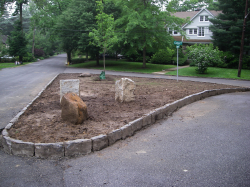 After much discussion about which project to tackle first, it was decided that the group would pursue the project at Colvin and Greenacres because there was a group of interested neighbors who would take it on.  The Greenacres Association agreed to provide some funding and a sub-committee of members began to work with Lena Crandall and the Friends of Scarsdale Parks (FOSP) to gain permission from the village to replant the island.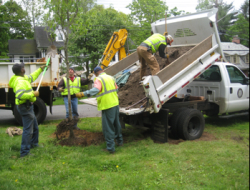 Lena confirmed that the 2009 Village budget included beautification funds and instructed the group to work on a formal request to the Village to gain permission to plant on Village property.  In the request, the group asked for Village assistance in improving the "hardscape" surrounding the island and in the preparation of the island for planting.  The two "almost-dead" trees and their extensive roots would need to be removed to make way for a perennial garden. Belgian block was needed to restore the perimeter and to contain the soil and plantings, and the soil would have to be tilled, rocks removed and mulch provided.  Since the island would include garden and lawn areas, the request included a provision for the village to reseed and maintain the lawn portion of the island.  Though the garden was to include drought-resistant plants that should not require watering, additional water would be needed for the first year to establish the garden so the group requested assistance from the Village watering truck in year one.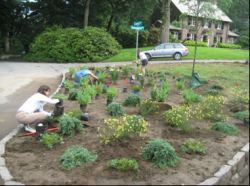 The Beautification Committee met many times to collaborate on the garden design. The goal was to create a sustainable garden using native plantings in a plan that conformed to village specifications. One requirement was that island plantings were not to exceed thirty inches in height as they could obstruct views and create a traffic hazard.  An informal survey of residents who lived near the island was done, and the committee was surprised to find that while some were concerned with aesthetics, others wanted to retain an open grassy area on which to walk their dogs. Keeping that in mind, the group decided to include a grassy section in the center, and construct free-form planting beds around the perimeter.

The formal request from the Greenacres Association, the Friends of the Scarsdale Parks and the Village Conservation Advisory Council was sent to Eric Gerringer, Deputy Superintendant of Public Works in March 2009, and he drafted a request for the Village to license the traffic island to the Greenacres Association. The licensing agreement laid out the terms of the development and maintenance of the island and gave approval to the planting plan provided by Harvard-trained landscape designer Eti Katoni, who donated her time to the project.

Simultaneously, the group requested that the Village naturalist, Mr. Woodcock, stop by the island to assess the health of the two trees.  At first he agreed that one of the trees, which was lopsided and cabled, could be cut down.  Ultimately he permitted the other tree, a sawed-off stump, to be taken down as well and confirmed that both trees were not healthy.

According to the agreement, the Neighborhood Association would maintain plants and shrubs while the Village agreed to continue to mow and care for the lawn on the island.  The Village would also provide one new tree for the island and would water the entire space through Labor Day of 2009.  The licensing agreement was considered and approved by the Village Trustees at their June 9, 2009 meeting.

With the signed agreement in place, the work began.  The Village crews arrived to cut down the trees and grind the stumps and extensive tree roots.  Their next step was to turn over the soil and add a truckload of dirt to the mix.  In accordance with the plan, the group laid out the planting beds and with the assistance of the Village crews demarcated where the beds and lawns would lie.  In the process of turning over the soil, two large rocks were unearthed.  Rather than cart these away, the group decided to incorporate them into the garden beds where they provide interest to the plan.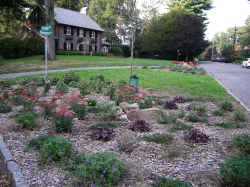 With funds from both the Greenacres Association and the FOSP, the group set out to plant the island.  It was decided that a ring of junipers should circle the outer edge of the gardens as a hedge against snow, salt, and traffic. Perennials and annuals were purchased including sedum, coreopsis, lady's mantle, lavender, salvia lantana and asters. In the hope of attracting butterflies and birds, butterfly weed and blueberry shrubs were included in the plant list.  Since the group had decided not to install a water line, native plants that could survive without regular watering were selected.

The committee took a trip to the Native Plant Center in Valhalla and visited many area nurseries to survey what was available and to locate specific species.
When the plants arrived, neighbors assembled to assist with the planting and after several sessions, the garden was installed.  The village agreed to supply mulch to conserve moisture and hinder the growth of weeds.  As the summer progressed, the plants grew and spread and a beautiful garden emerged.

In the spring of 2010, the Greenacres Association plans to form a group of residents to plant, weed and maintain the garden. Additional annuals and perennials will need to be added each year, to create a visually appealing, ever-evolving site. If the weather cooperates, the garden should be sustainable without additional watering, but if the need for water arises, a few neighbors have agreed to lend out their hoses.

Thanks go to many for their efforts … including Lena Crandall of FOSP, landscape designer Eti Katoni ASLA, Eric Gerringer, Greenacres Association President Deb Pekarek, Beautification Committee members Karen Ceske, and Barbara Feinstein and neighbors Steve Zousmer and Pearl Stark, for their tenacity, generosity and time.

The committee's goal was to create a model of a sustainable yet attractive garden that could be duplicated in other areas of town. Stop by to see the work at the intersection of Colvin Road and Greenacres Avenue and if you are interested in learning more, or taking on a beautification project in your area, contact Lena Crandall, lenacrandall@verizon.net and Eti Katoni, ASLA, Landscapes ltd. at etikland@aol.com.
Toys and Gifts Donated in Holiday Drive for WJCS
Details

Hits: 4332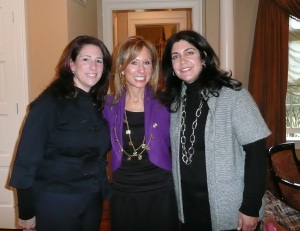 For the past five years, Linda Plattus, a Scarsdale resident and WJCS Board member, has sponsored a luncheon at her home to benefit the Have-a-Heart for the Holidays Gift Drive, which provides gifts to children throughout the county who are served by Westchester Jewish Community Services (WJCS).  Ms. Plattus invites her neighbors and friends to contribute toys and gift certificates for children in need. This year, Beautiful Stranger.tv (www.beautifulstranger.tv <http://www.beautifulstranger.tv/>)
Co-CEO Abby Wallach generously provided "loot bags" for the guests. Following the theme of her online media brand, which hits the streets in search of real people with great style, the bags featured donations by Fusion Beauty, Tarte Cosmetics, Landsberg Jewelers, The Look and Favors by Lu. The event generated toys and gift certificates totaling more than $3,000. For more information about WJCS, go to www.wjcs.com <http://www.wjcs.com/> . Anyone interested in contributing to the WJCS have-a-Heart for the Holidays Gift Drive can contact Meryl Lewis at 761-0600 X222 or mlewis@wjcs.com.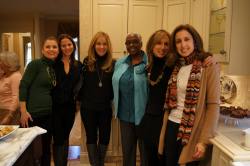 WRT Holiday Boutique December 3rd
Details

Hits: 5446

The Women of Reform Judaism of Westchester Reform Temple, 255 Mamaroneck Rd., Scarsdale are sponsoring their Annual Holiday Boutique with the help of over 35 specialty vendors offering a panoply of irresistible items for sale.  Affordability, easy one-stop shopping, handcrafted, local and international items were key goals in planning this free-to-the-public event.
In the spirit of the season, all proceeds generated by the vendor of South African handicrafts go directly to a pediatric HIV/AIDS clinic in Durban.  Much of WRJ's profit benefits local designated charities over the course of the year.  And displaying goods from local merchants to Israeli-made items gives the shopper an opportunity to support a personal worthwhile interest as well.

Children's gift items include toys and games; clothing such as embellished sweatshirts, accessories, T-shirts and yoga pants, hand-crocheted ponchos and capelets; fleece blankets;  perfect gift baskets for babies, young children and teachers; and whimsical as well as 14K and 18K jewelry for girls – baby to 'tweens.  

For women, there is made-to-order clothing, sportswear, pashmina jackets; belts, shawls and scarves; exotic Turkish and Moroccan tunics and tea sets; handbags and evening bags; unusual jewelry --hand-crafted from Israel, costume and antique, cuff bracelets, and one-of-a-kind beadwork.

For the family: spa and food gift baskets; table linens; exquisite hand-made items from South Africa; French candles, cheese spreaders; découpage, one-of-a kind items such as jeweled wine gift bags, beaded pens and letter openers, stationery and note cards, and must-have handbag hangars. Handmade, unique prayer shawls and other Judaica items are especially discounted. Hand-crafted almond toffee and patisserie baked goods will also be sold.

Holiday Boutique
December 3rd - 10 am - 4 pm
Westchester Reform Temple
255 Mamroneck Road
Scarsdale, NY
914-723-7727
Create a Gift and Donate A Coat
Details

Hits: 3604

Here are two ways to get into the holiday spirit through giving: The Afya Foundation, the Yonkers New York based organization that collects surplus medical and humanitarian supplies from this country and delivers them to help people in need in developing nations has announced an Adopt A Box program for the Holiday season.
Supporters are invited to come to the warehouse and decorate a box that will be shipped to African nations– in essence they decorate and personalize a gift of needed items that will improve the quality of life for people less fortunate.

Those not able to come to Afya, may also support a box through an on-line contribution and select a message and design that we can put on your box.

In the words of Danielle Butin founder and director of Afya" This is a fabulous opportunity for people to get together, have fun and help us send desperately needed humanitarian supplies to people in developing nations"

All Adopt a Box supporters will be listed on a roll of honor on the Afya web site

Where:    510 Nepperhan Avenue, Yonkers, NY
When:    December 3, 7, 10, 14, 17, 21, 24, 28, 31 from 10am-4pm January 4, 7, 11, 14 from 10am-4pm
(Or, call to schedule your own group visit)
Drop in or Call to Reserve: 914-338-7034
$50 tax-deductible donation per box

PROMOTING GOOD HEALTH THROUGH GIVING
510 Nepperhan Avenue Yonkers, New York 10701
phone: 914-338-7034 fax: 914-338-7035
info@afyafoundation.org
www.afyafoundation.org

Coat Drive at Julia B. Fee

Julia B Fee Sotheby's International Realty is proud to be conducting a Coat Drive for children and families in Head Start and Early Head Start.  These two White Plains programs are run by Family Services of Westchester, a 55 year-old non-profit agency that offers more than 50 social services and mental health programs for individuals and families across the county.

Coats, hats, gloves and mittens will be accepted.  Items can be dropped off at our Scarsdale Office, 28 Chase Road through January 1st.