Boys LAX Team Wins Third Consecutive Section Title, Tennis Team Triumphs in Binghamton
Category: The Goods
Published: Thursday, 01 June 2023 12:29
Sajiv Mehta and Joanne Wallenstein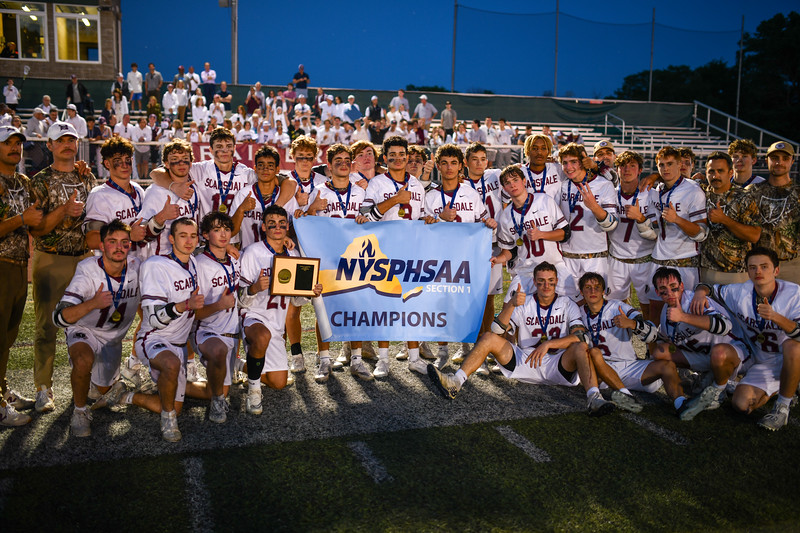 The Scarsdale Boys Varsity Lacrosse Team has done it again. For the third year in a row they clinched the Section 1 Class A championship, beating Mamaroneck 10-7 at Yorktown Heights on Wednesday May 31, 2023.
Kudos to Senior goalie Andrew Lehrman who made 13 saves in the game along with:

Jake Goldstein made two goals and three assists
Nate Seslowe scored two goals in just 46 seconds and had one assist.
Jared Hoffman scored two goals, and one assist.
Ryan Ornstein scored three times.
Jack Ramsey scored one goal.
The team, under the direction of Coach Synowiez will next play against Section 2 winner, Shenendehowa at Mahopac at 10 am on Saturday June 3, 2023. The winner of that match will advance to the state final four. For some seniors, the timing will mean that they will miss the weekend festivities for seniors following the prom on Thursday night June 1, 2022.
But that's the price of success!
Boys Tennis Team

The Boys Varsity A Tennis team, meanwhile, are having themselves a run in the state tournament.
After a 6-1 performance in the sub-regional round, the team had another dominant showing at the regional round last Thursday, May 25th. They routed Ithaca, 6-1, at the Binghamton University Tennis Courts, with only number 1 player Sam Saeed dropping a match. He'll look to get on track and lead the team to another dominant performance in the next round.
At 10 AM on Saturday, June 3rd, the team will play at Billie Jean King National Tennis Center in the state semifinal game. If if they win, they'll play for a state title at 4pm and complete one of the best runs in Scarsdale Boys' Tennis history.
Photos by Jonathan Thaler - See more here.