Two Openings Celebrated in Scarsdale Village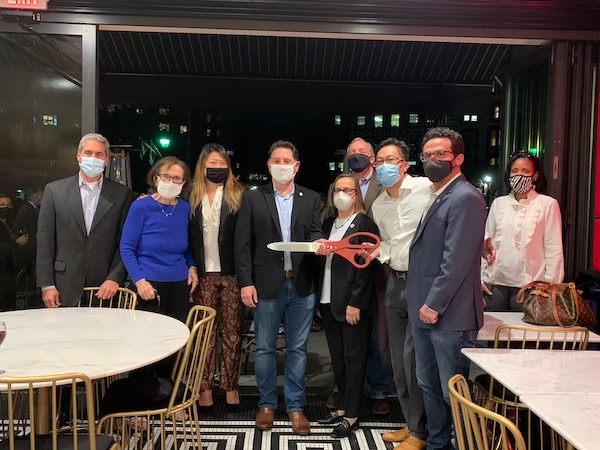 Akai Lounge Ribbon CuttingThough the dining tent in Scarsdale Village will come down this week, things are looking up for shopping and dining downtown.
This week Scarsdale celebrated the opening of two new businesses. On Thursday, a unique aroma design studio called Scent Fluence opened in the former location of Imagine Candy at 22 Harwood Court and the long-awaited Asian Fusion restaurant Akai Lounge held an opening reception in their location formerly occupied by Lange's of Scarsdale.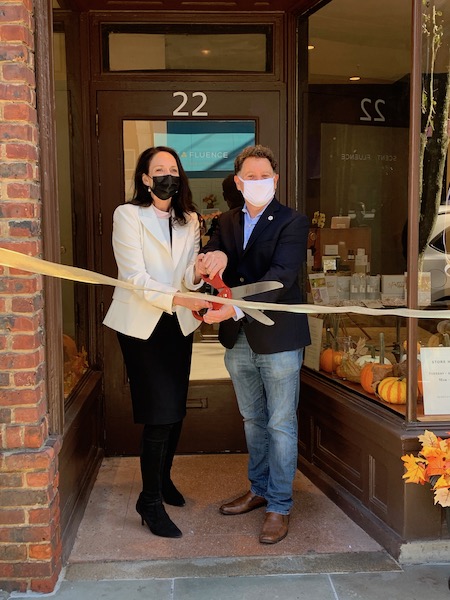 Caroline Fabrigas and Scarsdale Mayor Marc Samwick Open Doors at Scentfluence
On Thursday November 6, Village officials, realtors and business leaders gathered for a ceremonial ribbon cutting at Scent Fluence. The studio is owned by Scarsdale resident and former beauty and fragrance executive Caroline Fabrigas who has formulated custom scents for hotels and luxury retailers and is now offering a wide range of scents and diffusers for home use. The beautifully designed store is a jewel box of aromas. Stop by and take a whiff of what's in store or ask them to design a custom blend for you.
It's an intriguing concept and will make for one of a kind holiday gifts for friends and family this season.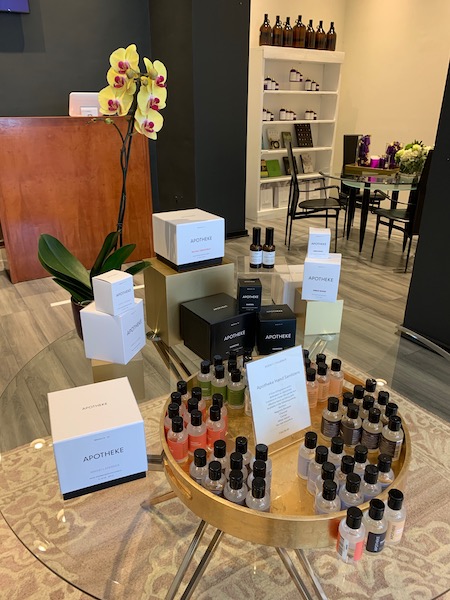 On Monday evening November 9, James Du and Lillian Pien held a ribbon cutting and reception for trustees, realtors and supporters at their new Asian Fusion restaurant Akai Lounge at 57 Spencer Place in Scarsdale. The space has been fully renovated in bright red, chrome and glass. The weather cooperated and allowed the restaurant to open their glass doors fronting Spencer Place to spill out onto the sidewalk. Guest sipped lychee nut sangria and sampled sushi appetizers including tuna tartar and agedashi tofu. The restaurant is holding their soft opening this week and will be in full swing next week. Attendees were thrilled to have another dining option in the Village.

Owners James Du and Lillian Pien were introduced to Scarsdale by Evelyn Stock. Stock had a delicious dinner at one of their restaurants in New Jersey and met the owners and encouraged them to open here. After they expressed an interest, Stock introduced the two to Rush Wilson and a match was made.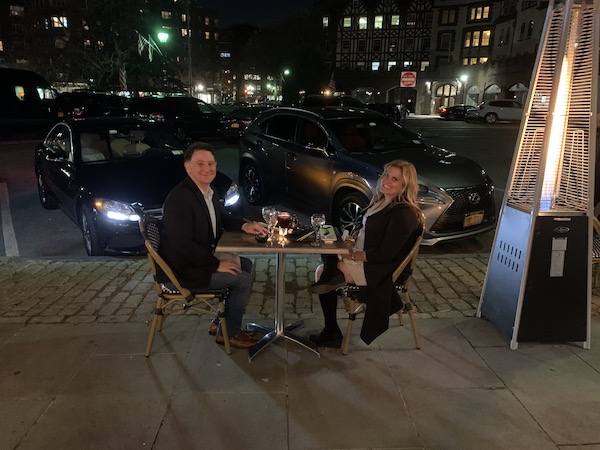 Marc and Cynthia Samwick sampling fare at the new Akai Lounge.
Sadly, the dining tent will be taken down this week. However the outdoor picnic tables will remain. Upon hearing that the tent was going down, reader Anthony Leone said, "Wish the dining tent at Spencer Place would remain (with heat lamps if legal). It's been a welcomed addition to town."
The Scarsdale Business Alliance encourages you to continue to shop and dine downtown and purchase raffle tickets to win prizes from local businesses and support the Village. Purchase raffles here: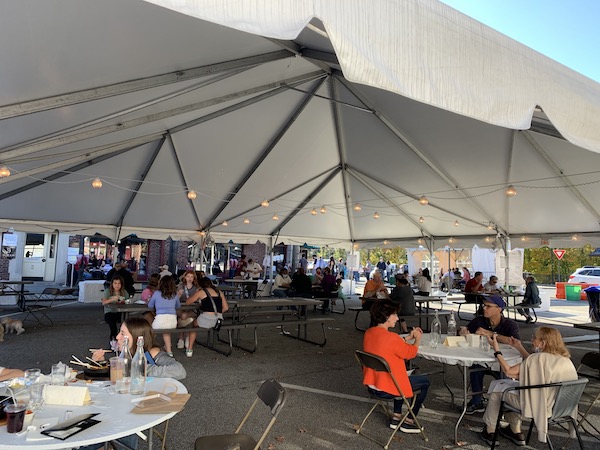 The dining tent on Spencer Place will come down this week. The picnic tables will remain.