Over 400 Residents Pick Up Free Compost Made from Scarsdale's Food Scraps
Details

Written by

Joanne Wallenstein

Hits: 1265
Scarsdale's food scrap recyclers reaped the rewards of their work at free compost give back day at the Scarsdale Recycling Center on Saturday April 24. In a testament to local enthusiasm for their gardens an estimated 400 people turned out to take home their share of two truckloads of compost that was produced from Scarsdale's food waste. They know that the organic composition of this mix is a rich supplement to their soil. See photos below of everyone throwing in their shovel including State Assemblywoman Amy Paulin and Scarsdale Village Trustee Jonathan Lews.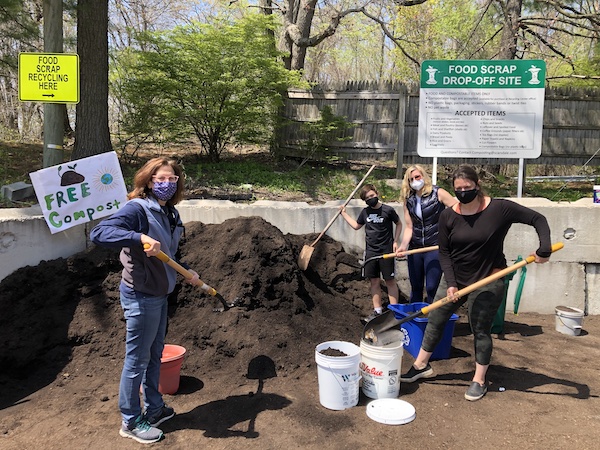 CAC Chair Michelle Sterling said, "Scarsdale's annual free compost give back day on April 24 was a fantastic day! There was a terrific turnout as residents came throughout the day to pick up compost for their gardens. It was a great opportunity for residents to see and use the finished product from our food scraps. In addition to the compost there were also volunteers there throughout the day with educational materials and starter kits available for residents to sign up. If you'd like to be a part of this terrific program that safeguards our environment please email composting@scarsdale.com and a volunteer will sign you up and get you started!"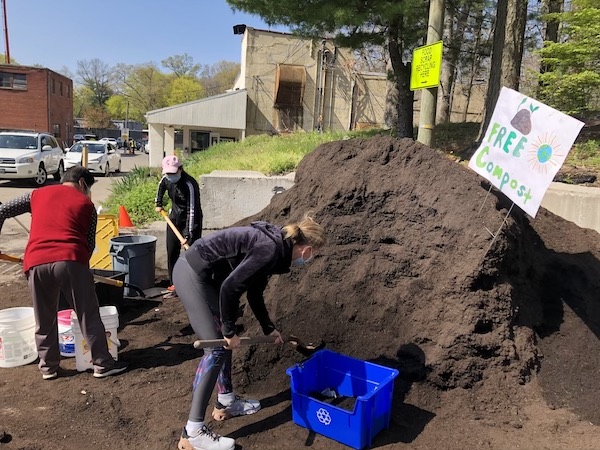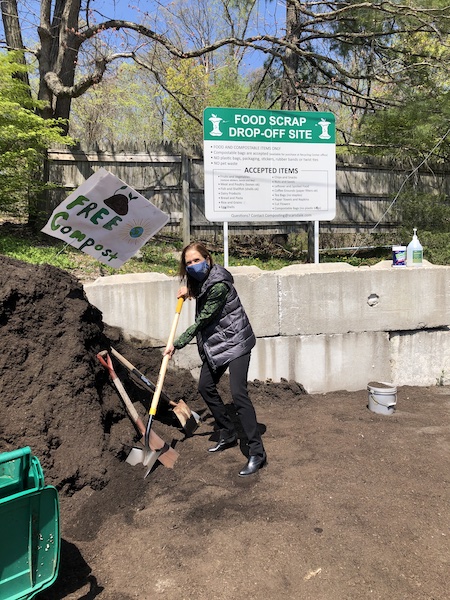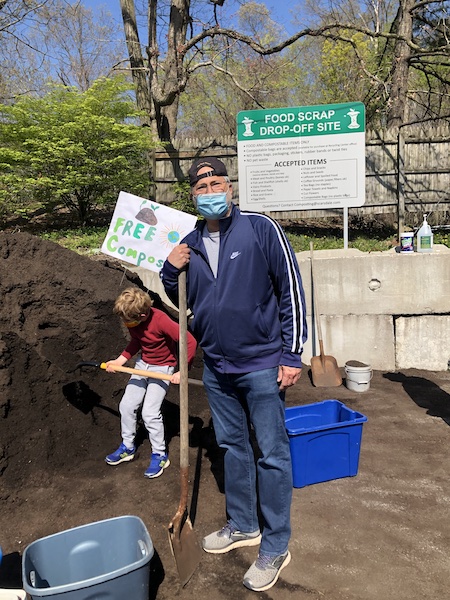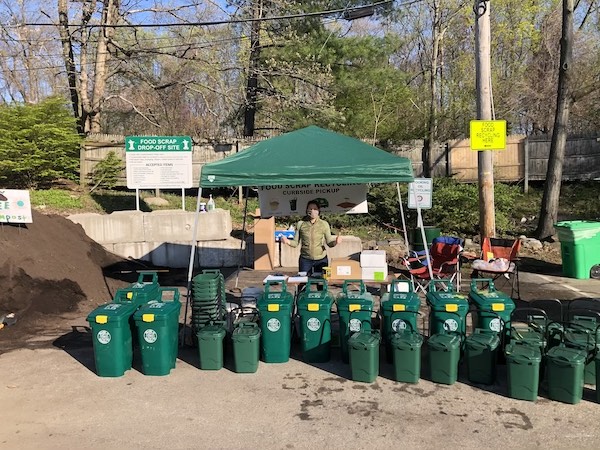 From the Village: Vaccines Available to the Homebound, Recreation Department Moving to Supply Field
Details

Written by

Joanne Wallenstein

Hits: 636
The Scarsdale Volunteer Ambulance Corp is partnering with the Westchester County Department of Health to provide COVID-19 vaccinations to homebound Scarsdale residents 18 years of age or older, free of charge. If you are not a homebound Scarsdalian in need of a COVID-19 vaccination, please share this information with anyone you believe may benefit from it as they would like to help as many homebound Scarsdalians as possible.
To learn more or to schedule an appointment, contact SVAC either by phone at 914.722.2288 or by email at covid@scarsdalevac.com.
Please also note that SVAC offers COVID-19 testing for all Scarsdale residents. Any resident needing a COVID-19 test, either rapid or molecular, may schedule an appointment online at www.scarsdalevac.com/covid, or by calling 914.722.2288.
Parks, Recreation, and Conservation Moving to Supply Field
The Scarsdale Department of Parks, Recreation, and Conservation (PRC) is moving from their first-floor location in Village Hall to the former Library Loft location at Supply Field, 244 Heathcote Road. The move will consolidate all PRC staff in one location and help to improve operational efficiency and enhance resident service experiences when visiting their office.
All PRC phone numbers, email addresses, and operating hours will remain the same.
Their new physical address takes effect on Tuesday, April 27. However, their offices will be closed for in- person business beginning at 2:00 PM on Friday, April 23, through Monday, April 26, to facilitate the final stages of their move. Although the physical office will be closed after 2:00 PM this Friday afternoon and all day this coming Monday, PRC business will continue to be conducted by phone, email, and online.
PRC personnel look forward to seeing you at their new Supply Field location, starting on Tuesday, April 27.
Mayor Jane Veron Announces New Village Board Structure at First Work Session
Details

Written by

Sammy Silberberg

Hits: 1627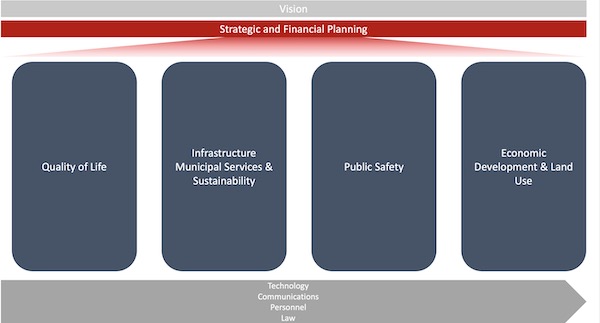 At her first meeting as Mayor of Scarsdale on Tuesday April 6, 2021, Trustee Jane Veron outlined a new structure for Board work and committees to facilitate an ambitious agenda for her term. Along with Mayor Veron, this was the first meeting for newly elected Trustees Sameer Ahuja and Karen Brew. Trustee Justin Arest will serve as Deputy Mayor.
The work session helped orient the new members on the Board's rules and regulations and provided an opportunity to Mayor Veron to convey her vision to the public.

Mayor Veron introduced her vision and new Board structure that is designed to engage all Board members and will evolve as time goes on. She explained her plans saying, "The Village Board is excited to introduce this new framework to guide our strategic and financial planning. We have articulated Four Pillars of government: 1. Quality of Life 2. Infrastructure, Municipal Services & Sustainability 3. Public Safety 4. Economic Development & Land Use. We have also identified key Enablers: Technology, Communications, Personnel, and Law. Each of these Pillars and Enablers will receive close attention from the Village Board as we carve out priorities for the coming years. The Board is determined to integrate strategic and financial planning and will also reevaluate the budget process as well as the underpinnings of strong financial management. The Board will meet in public work sessions over the next two months to drill down on the detail. There is a tremendous amount of Board enthusiasm to lead the Village in reimagining the future at this important juncture in Scarsdale's history."
In addition to the four pillars, she outlined Special Assignments including 1. The Pool Complex, 2. Complete Streets / Village Center, and 3. Village Manager Search. When speaking about the Complete the Streets/Village Center category, Mayor Veron said that she hopes to both make streets safer and more sustainable and complete ongoing roadwork and construction projects. There are also four categories of "Underpinnings" which includes Technology, Communications, Personnel, and Law. Each issue area will have a Chair, a First Vice Chair, and a Second Vice Chair, with the exception of the Underpinning teams, which do not have a Second Vice Chair. Below are the Trustee assignments for each committee.
Strategic & Financial Planning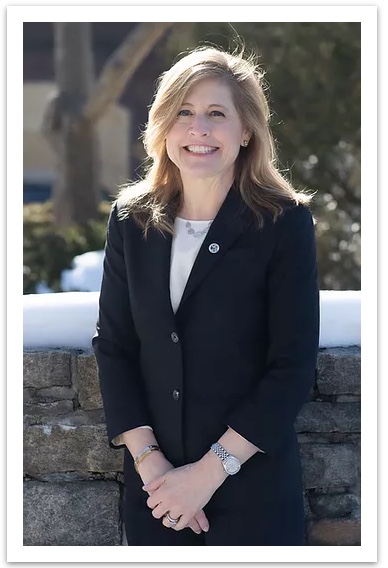 • Chair: Mayor Veron
• First Vice Chair: Deputy Mayor Arest
• Second Vice Chair: Trustee Lewis
Quality of Life
• Chair: Trustee Whitestone
• First Vice Chair: Trustee Crandall
• Second Vice Chair: Trustee Ahuja
Infrastructure, Municipal Services & Sustainability
• Chair: Trustee Crandall
• First Vice Chair: Trustee Lewis
• Second Vice Chair: Trustee Brew
Public Safety
• Chair: Trustee Lewis
• First Vice Chair: Trustee Crandall
• Second Vice Chair: Trustee Brew
Economic Development & Land Use
• Chair: Deputy Mayor Arest
• First Vice Chair: Trustee Lewis
• Second Vice Chair: Trustee Ahuja
Pool Complex
• Chair: Mayor Veron
• First Vice Chair: Deputy Mayor Arest
• Second Vice Chair: Trustee Ahuja
Complete Streets / Village Center
• Chair: Mayor Veron
• First Vice Chair: Deputy Mayor Arest
• Second Vice Chair: Trustee Lewis
Village Manager Search
• Chair: Mayor Veron
• First Vice Chair: Deputy Mayor Arest
• Second Vice Chair: Trustee Whitestone
Technology
• Chair: Trustee Ahuja
• First Vice Chair: Trustee Lewis
Communications
• Chair: Trustee Whitestone
• First Vice Chair: Trustee Ahuja
Personnel
• Chair: Trustee Brew
• First Vice Chair: Trustee Whitestone
Law
• Chair: Trustee Crandall
• First Vice Chair: Trustee Brew
This new committee structure received high praise from the Board members, who believe that this model will help them achieve goals more efficiently. Deputy Mayor Arest commented that although Manager Pappalardo will be missed, the search for a new Village Manager presents an opportunity to bring in new ideas and cultivate best practices. While Manager Pappalardo was supportive of Mayor Veron's ambitious agenda, he also urged the Board to take a cautious and practical approach as to what can be accomplished within a realistic timeframe.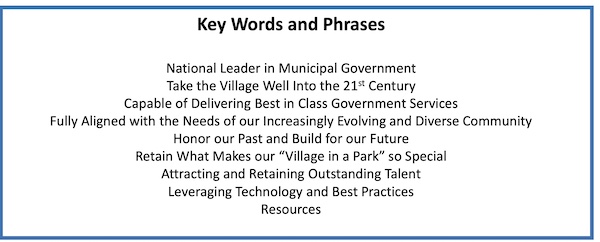 Mayor Veron reviewed her Culture and Values Presentation and stated that the pillars of the Board must be integrity, trust, respect, open mindedness, and assume best intent. In order to achieve progress, she said that the public must have visibility to important issues and regular updates of ongoings of the board. Additionally, work sessions will continue to be used for discussion and deliberation for best outcomes. She requested that all issues and concerns be raised with her in the hopes of bringing matters to the public in a timely matter without blindsiding anyone. She also emphasized the importance of the Board being prepared for unanticipated challenges on top of the usual business of the Board.
Trustee Lewis noted how wonderful it was to have over 100 people participate in the forum last week on the proposed leaf blower legislation. He said the Board should always raise issues that deeply concern the community in work sessions. He also suggested the development of a Scarsdale app that would give community members easy access to Scarsdale information and services. Trustee Crandall added that the work session is the best forum for the public to challenge the Board. Trustee Whitestone also commented that the Board must try not to be static when it comes to discussing issues; he suggested creating a queue of issues that the Board is thinking about that may or may not be discussed in meetings. This queue can be flexible, and it would be an indication to the public about what the Board has on its mind.
Also at the meeting, Village Attorney Pozin reviewed the legal guidelines that govern the Board. He highlighted that any gathering of four or more members where business is transacted on behalf of the village constitutes a Board meeting. If there is an official meeting, then the public must be provided notice and have permission to view. Certain matters, such as issues pertaining to law enforcement, current and future investigations, and collective bargaining, can be discussed privately in Executive Session. Attorney client privilege is also an exception to the public meetings law, however these meetings must be limited to legal advice. While Board of Trustee meetings legally must be held in person, Governor Cuomo issued an Executive Order that temporarily allows Scarsdale to hold virtual meetings due to the pandemic. This Executive Order is in place until April 20th and may be extended at the discretion of the governor.
Village Manager Pappalardo reviewed general guidelines related to meeting agendas, Executive Session, press calls, policy versus operational matters, and resolution assignments. While a Board member may be assigned to present a resolution, that does not mean that person must agree with the contents of the resolution. When presenting the resolution, members have the option to read them verbatim, but Manager Pappalardo stated that it is more impactful for members to understand the contents and summarize the resolution for the public. He also emphasized that the Trustee Statesmanship Policy is to represent the Board with integrity and honor.
Manager Pappalardo emphasized that the Board has the capacity to remove the Village Manager at any point if they find the manager to be non-responsive or ineffective. Scarsdale is currently searching for a candidate to replace Manager Pappalardo when he retires this summer. Pappalardo stated that the manager works at the pleasure of the Board, and that person can easily be replaced by the Board if his or her work is unsatisfactory.
Understanding Your Real Estate Taxes: Answers from Scarsdale Assessor Victoria Sirota
Details

Written by

Joanne Wallenstein

Hits: 2358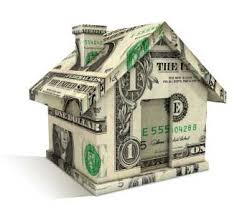 Do you have questions about your real estate taxes? How will the increase in sale prices affect your taxes? What does the equalization rate mean and will Scarsdale have another reassessment? We asked Scarsdale Village Assessor Victoria Sirota for some answers and here is what we learned.
For the first time in many years Scarsdale has a 100% equalization rate. Can you explain what that means?

At its simplest, an equalization rate is a measurement of the overall level of assessment relative to the full market value at which a municipality is assessing all of its real property. Equalization rates are calculated annually by the appraisal staff at the Office of Real Property Tax Services (ORPTS) and are used for a variety of purposes including but not limited to the apportionment of the county tax and distribution of state aid. The 100% equalization rate determined by ORPTS for the 2021 assessment year is Scarsdale's most current level of assessment. Since Scarsdale is not considered to be an annual reassessment municipality, the equalization rate of 100% is merely a reflection of the assessments to their market value based on the state's market measurements. It does not mean that the municipality is assessing properties at 100% of their market value. Being a non-reassessment municipality means that assessments are not annually reviewed and adjusted to reflect the market on a town wide basis. As such, the Assessor will not have the authority to reassess any and all inequitable assessments. The assessor will utilize this year's equalization rate, as in prior years, to determine the assessed value of new improvements as well as to determine the market value of a property when conducting an assessment review at the homeowner's request.
The chart below shows the equalization rate since 2016. Keep in mind that an increasing equalization rate denotes a declining market and vice versa.
How will the hot home sales market affect Scarsdale taxes?

The property tax is an ad valorem tax, meaning that it is based on the value of real property. In order to levy and collect property taxes, the value of each individual property in the town must be determined. This is the job of the assessor. Assessors have no control over taxes as taxes are not a function of the job of the assessor. Taxes are determined by county, school, village and town boards. It is important to know that Scarsdale does not gain increased revenues when assessments increase as assessments are revenue neutral. Furthermore, if the aggregate assessed value increases and the tax levy remains unchanged, the tax rate would decrease. The "hot" home sales market in Scarsdale has highlighted the fact that assessments have become outdated since the last town wide revaluation as the spread between assessed values and market values has increased in the past year. This trend will likely be a consideration for the Board of Trustees in planning for the next reassessment project.
When can a home be reassessed? After a sale? After renovations?
In a non- reassessment municipality like Scarsdale, the assessor is bound to strict rules, regulations and procedures set forth by New York State whereby they are obligated to determine the market value of all real property based on annual building permits and assessment review requests. In a reassessment municipality, the rules, regulations and procedures slightly vary in that the assessor has the additional authority to reassess any and all inequitable assessments. Under the state's strict guidelines, assessors are not allowed to adjust assessments (either up or down) based on sales price. However, it is the assessor's job to review and reduce assessments, if necessary, at the homeowner's request.
Do you expect that Scarsdale will have to do revaluations again on a more regular basis or will the grieving process keep assessments in line with the market?

While assessment review requests enable the assessor to review the assessment of a single property, this process does not create assessment fairness and equity throughout the municipality since the assessor does not have the ability to correct any and all inequitable assessments. For example, if assessments are lower than market value, homeowners typically would not challenge the assessment. To ensure that all properties are assessed fairly, assessors should conduct periodic reassessments. A reassessment is the comprehensive review and updating of all property values in a community. By adjusting the "assessed value" of each property to reflect full market value, assessors do not raise or lower the property tax for a community, but rather "level the playing field" so that all properties are fairly assessed and pay only their fair share of taxes. It is important to note that if the aggregate assessed value increases and the tax levy remains unchanged, the municipal tax rate would decrease.

Do you expect more/fewer grievances this year?

As is the case every year, if residents believe that their assessment is unfair, they are encouraged to speak to their assessor and/or formally challenge their assessment by filing an assessment review application. There is no cost to review an assessment and one does not need to hire a lawyer. The body that hears assessment grievances and determines their outcome is the Board of Assessment Review, the members of which are appointed by the Town Board. Pursuant to New York State law, assessment challenges can be filed with the Assessor's office between June 1st and the third Tuesday in June, or June 15th for this year's statutory grievance deadline. To reiterate, the job of the Assessor is to ensure that assessments are fair and equitable and to help the public understand their assessment and adjust it when necessary. It is important to remember that taxes cannot be grieved with the assessor, only assessments. If the property can be sold for the assessor's estimate of the full market value, the assessment is most likely to be fair.

The chart below indicates that the number of grievances filed in each of the past five years has been declining.



Procedure Committee Seeks Volunteers
Details

Written by

Joanne Wallenstein

Hits: 601

Join the Procedure Committee
The Procedure Committee, which administers the nonpartisan village election process, is seeking qualified Scarsdale voters who wish to serve on the committee. In addition to the recently graduated CNC class, 11 new PC volunteers will help administer the November 2021 neighborhood elections of a new class of 10 CNC voting members. The full 30-member CNC will then deliberate and choose a nonpartisan slate of candidates to run for the open offices of village trustees in 2022. All qualified voters are encouraged to apply to be part of this nonpartisan tradition of representative democracy inScarsdale. Recommendations on potential PC members are welcome from all civic and volunteer organizations operating within the village. Contact Becky Bach, PC Chair at beckyhbach@gmail.com; or Richard Pinto, PC Vice Chair at rpinto10583@gmail.com.