Appeals Court Rules in Favor of Scarsdale Village in Case Regarding Placement of Signs in the Right of Way
Details

Written by

Joanne Wallenstein

Hits: 1355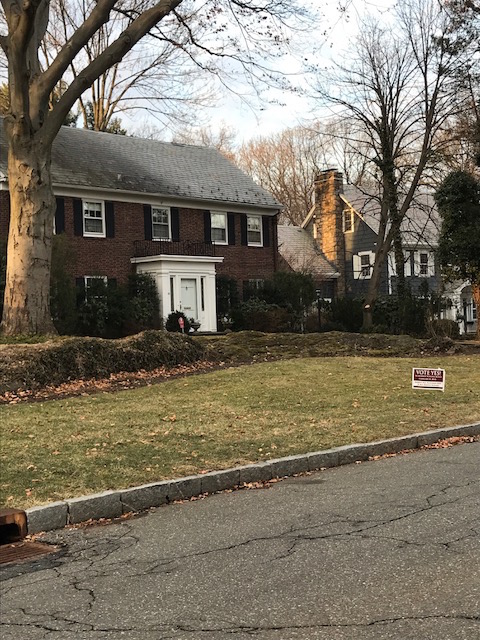 The saga over the placement of political signs in the Village right of way continues this week with a new ruling on an appeal to the U.S. Court of Appeals for the Second Circuit. Now more than three and a half years after police removed signs supporting a controversial bond referendum from the Village right of way, which is the first 13 feet from the curb, on December 3, 2021 the Court of Appeals issued their judgment in the appeal of Robert Berg vs. the Village of Scarsdale and the Village of Scarsdale Police Department.

In November 2020, the US District Court for the Southern District came out with a mixed decision on Berg's case, finding that the Scarsdale Police Department violated the First Amendment by selectively enforcing signposting laws but denied the remainder of Berg's motion that the Village's signposting laws violated the Fourteenth Amendment's Due Process Clause and the First Amendment. The 14th amendment states "no state shall deprive any person of life, liberty or property without due process of law."

Berg appealed this decision to the U.S. Court of Appeals for the Second Circuit who evaluated Berg's claim that the Village's signposting violated the Fourteenth Amendment's Due Process Clause and the First Amendment.

The relevant code "bans any person from "post[ing], attach[ing] or display[ing] any sign, notice, placard, poster, or other advertising medium to or upon or over any sidewalk, tree, stone, fence, wall, pole, railing or other object in, along, upon, or over any street, park or other public place in the village." Special App'x at 35. Section 281-2 defines "right-of- way" as "[g]enerally, the space owned by the Village extending approximately 13 feet from each curbline."
The court determined that the code was not vague in that a person of ordinary intelligence could be able to understand it.

Berg also argued that Village Code Section 256-1 is unconstitutional because it lacks sufficient enforcement standards. However, the court found that the Village code does not authorize or encourage arbitrary or discriminatory enforcement.

Additionally the court denied the claim that the Village code violated Berg's right of free speech, finding "The Village Code is a content-neutral regulation because it prohibits "any" and "all" signposting on public property. "Content-neutral regulations may limit the time, place, or manner of expression—whether oral, written, or symbolized by conduct—even in a public forum, so long as the restrictions are reasonable, are narrowly tailored to serve a significant governmental interest, and leave open ample alternative channels for communication of the information."
The district court found that the provisions are "narrowly tailored" to advance the substantial government interests identified above.
Lastly, the court found that the Village's regulations leave ample opportunity for protected speech because signs can be posted on private property. In this case, signs posted on the Village right-of-way could simply be moved further back from the curb line until they were on private land. Therefore, the Village's sign ordinances are permissible content-neutral time, place, and manner restrictions and do not violate the First Amendment.

Finally, Berg argued that the provision was selectively enforced as it barred the placement of political signs at the same time it was permitting commercial lawn signs. The court determined a plaintiff must show a "pattern of unlawful favoritism." Thomas v. Chi. Park Dist., 534 U.S. 316, 325 (2002). Berg's claim that the Village unlawfully favored commercial signs, while enforcing the Code against political signs, cannot survive summary judgment.
The ruling says, "Although Berg has submitted photographs of commercial signs that were not removed from the public right-of-way in that later timeframe, there is no evidence that there were complaints about the location of those signs that were brought to the attention of the police, and that any such complaints were ignored. In short, based upon the uncontroverted evidence, no rational juror could find that the Village was engaged in a "pattern of unlawful favoritism" towards commercial signs based upon its enforcement of the Village Code. Thomas, 534 U.S. at 325.1.

Therefore the court found Berg's arguments to be without merit , reversed the district court judgment and found in favor of the Village.
Village Announces the Launch of Redesigned Website, Scarsdale.com
Details

Written by

Joanne Wallenstein

Hits: 1047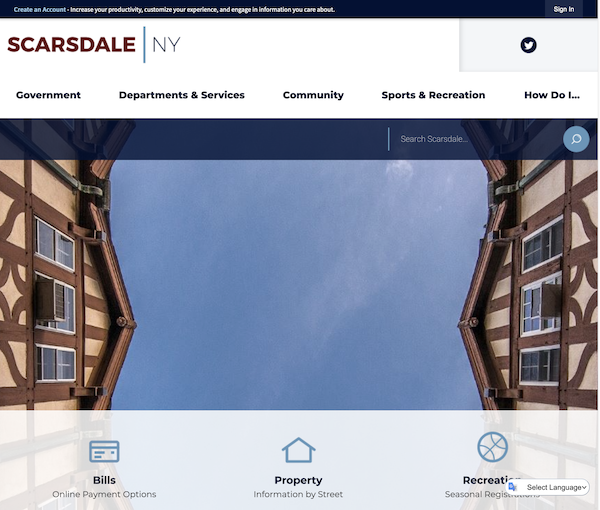 The Advisory Council on Communications (ACC) and Village Staff are excited to announce the launch of Scarsdale's streamlined government website, Scarsdale.com, which has been redesigned to enhance the visitor experience.
The new site features streamlined and edited content as well as reorganized pages based on Google analytics. Highly trafficked areas of the site were moved to the forefront to make them more accessible for users.
To build the new site, the ACC for collaborated with staff to make the website more user- friendly. A site is also not complete without a visual language, a look and feel. They hope that users will agree that the new scene-setting photos, taken by former Scarsdale resident Jay Cohen, telegraph a sense of place that is authentic and appealing, true to our hometown. Local photographer Andi Schreiber kindly shared her work too, adding vibrancy to the site.
A website is never really done. The committee is still aware that the Sports & Rec registration platform need improvement. They will continue to finetune the virtual experience to make it easy to find what you need on the site-- whether it's paying a bill or checking the compost pickup schedule.
They hope that the new design leads to a better user experience for everyone. However, if you do find any issues report them to the team at communications@scarsdale.com.
Commenting on the new site, Trustee Sameer Ahuja, Liaison to the ACC said, "I want to commend the Advisory Council on Communications led by Dara Gruenberg and our dedicated Village staff on the successful redesign of the Scarsdale website. The website is our digital billboard to the world, and the site now showcases all that is unique and special about Scarsdale. Also, the modern, simple interface makes using the site a much easier, more intuitive experience for residents, business owners, and Village staff."
Village Manager Rob Cole added, "One of the defining characteristics of the Scarsdale community is its residents' robust participation in civic affairs, including exemplary commitment to volunteerism and collaboration in support of governmental excellence. The Village of Scarsdale, benefits immensely both financially and operationally from the many residents who lend their professional expertise and generously donate their personal time. Our recent website redesign is a product of such admirable volunteerism and collaboration. Kudos to the Advisory Council on Communications and Village staff for an outstanding deliverable, one that will not only benefit the members of the Scarsdale community, but also serve as a refined portal through which Scarsdale is experienced by non-resident visitors, including persons contemplating making this wonderful community their home or new place of business."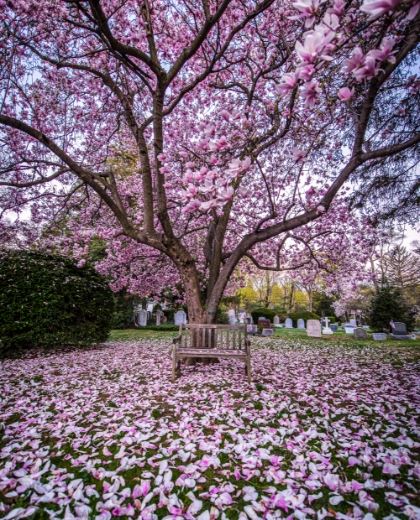 Advisory Council on Communications Chair, Dara Gruenberg said, "We are thrilled to announce the launch of the redesigned Village website which has been a true labor of love for the members of the ACC for the last year. This effort was a partnership with Village staff and demonstrates what good work can occur when our volunteers and paid professionals collaborate for the betterment of Scarsdale. A special thanks to the ACC Website Redesign Committee, led by Jisha Dymond, and to Chris O'Brien, the Village's IT Director and Village Manger, Rob Cole, for their extraordinary efforts. Thanks to our trustee liaison and former ACC member, Sameer Ahuja, whose help has been instrumental. The purpose of this redesign is to make our Village website more user friendly for our residents, to encourage community engagement and to create more transparency within our government.
Website Design Subcommittee Chair, Jisha Dymond said, "We live in an increasingly digital world with most of us getting news and information from digital sources. And that includes our Village's website. I'm proud to have worked with a group of fantastic women, Elyse Klayman, Jill Serling, and Lauren Rubino, - all volunteers - to design our Village's website to be informative, intuitive, and visually appealing. Our collaboration with talented town employees represents the best of community partnerships."
Village Board Reviews Heathcote Bridge Rehabilitation, Sidewalk Cafes and the Potential for Cannabis Sales
Details

Written by

Joanne Wallenstein

Hits: 1251
A lively Village Board meeting on Tuesday November 9, 2021 included an update on the rehabilitation of the Heathcote Bridge, a hearing on Sidewalk Cafes in the Village, a response to the demolition of a historic Fox Meadow Tudor home and lengthy public comments urging the Village to opt out of cannabis dispensaries and lounges before December 31, 2021.
Demolition at 41 Hampton Road
The Mayor, Village Manager and Deputy Village Manager all commented on the demolition of a good portion of a historic Tudor style home on Hampton Road in Fox Meadow. An application to demolish the home was before the Committee for Historic Preservation, who appeared poised to preserve it based on the expert opinion of architectural historian Andrew Dolkart. However, before the committee could vote to preserve it, the homeowner filed an application with the Board of Architectural Review to demolish 50% of it, received approval and proceeded.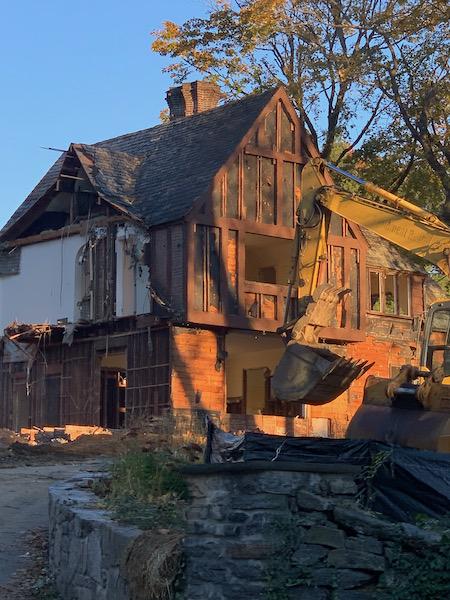 The Village received many inquiries about the home and Mayor Jane Veron said that since the Board of Trustees serves as the appeals authority for cases decided by the Committee for Historic Preservation, they could not comment. However she said, "We are listening and [the board will then] take the appropriate steps to understand the issue being raised and craft any solutions our examination of the issue may determine necessary."
Village Manager Rob Cole said they are "investigating, listening to the facts and will chart a path forward." He said, " We will see if changes to our policies are necessary." Justin Arest, Deputy Mayor, said, "There are times when we realize that we need to change or strengthen our code." He related this history of a change made to the historic preservation law a few years ago to allow the Committee for Historic Preservation to preserve historic properties.
Heathcote Bridge Rehabilitation
The Board received an update on plans for the rehabilitation of the Heathcote Bridge, which was built in 1910 and includes three traffic lanes and sidewalks on both sides. The 140 foot long bridge that traverses the Heathcote Bypass, currently has a 3 out of 7 structural rating, and is inspected every year. Two red flags, currently inactive, highlight the importance of repairs. The flags are for the south abutment, where four girders are supported by a temporary structure and the piers load rating resulting in load posting of 8 tons.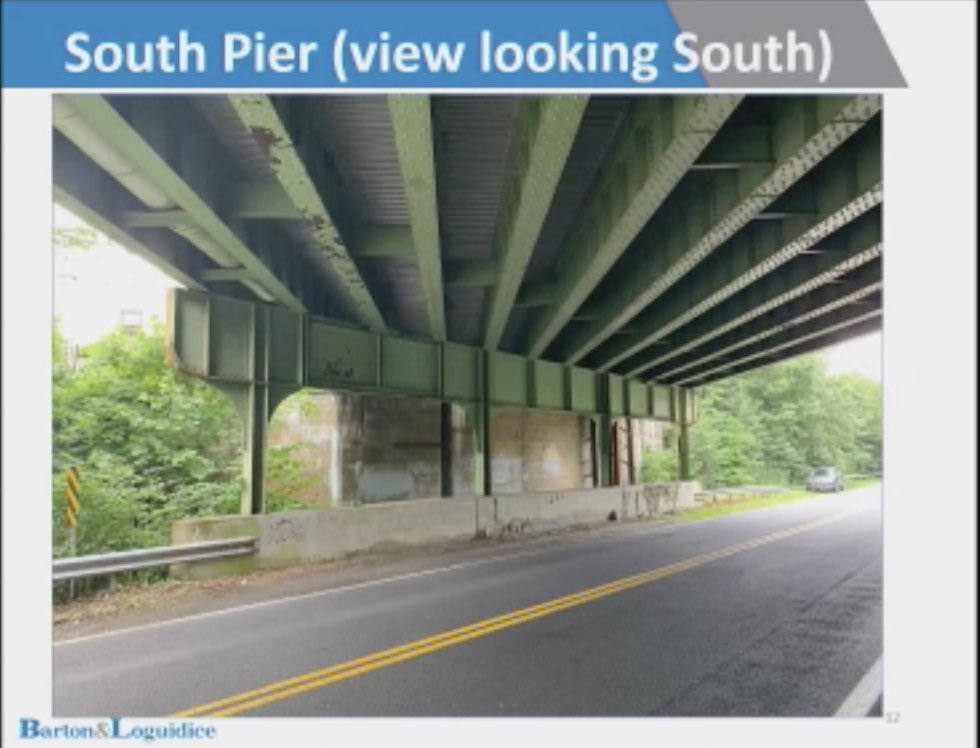 In 2018, the Village received a federal grant of $1.68mm to repair the bridge. The Village is required to match this funding by paying an additional 5%,
At the meeting on November 9, 2021, Jeremy Bordeaux, an engineer with Barton and Loguidice, was invited to provide an overview and status update of the work. The project's priorities are to address the structural issues, however superstructure repairs and additional repairs (including cleaning and painting the whole structure (which are not feasible under current BridgeNY funding) are lower priorities.
The repair work will bring the bridge to a rating of 5. In order to reach the highest rating, 7, the bridge woud need to be fully replaced. The bridge will remain open to traffic and pedestrians during the work.
Questions and concerns were raised on the durability of the repairs, the limits of the budget and the potential adverse impact, ranging from construction noise to air pollution, on the neighboring community during the construction.
The schedule aims for construction to begin in June 2022, with a completion by the end of that year, pending final design approval in February 2022 and bidding in April of that year.
Sidewalk Cafes and the Dining Tent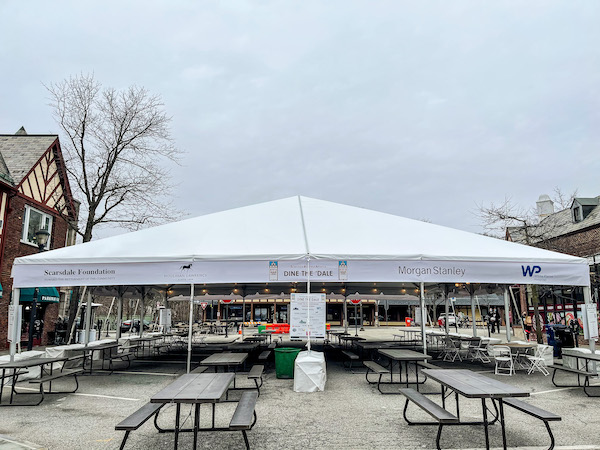 Two resolutions were presented for public hearing together, the first - a local law amending Chapter 245 of the Scarsdale Village Code entitled Sidewalk Cafes, allowing the outdoor dining tent in Scarsdale Village to be maintained year round, and a local law amending Chapter 256 of the Scarsdale Village Code, entitled streets, sidewalks and public places. This amendment would allow businesses to display and or sell goods, wares and merchandise on or directly above Village-owned rights of way. These resolutions will be voted on at the next Village Board Meeting , on November 23rd, at 8:00 p.m.
Susan Douglass, who is the Vice President of the Scarsdale Forum, and Chair of the Downtown Revitalization Committee whose objective is to "make downtown a destination" spoke in support of the amendments. Ms. Douglas stressed that sidewalk cafes and outdoor display wares "gives people more interest to come to the downtown and to stay in the downtown and spend time there."
Public Comments
Cannabis Sales

A significant portion of comments were focused on the proposal to opt out of the new state Marijuana Regulation and Taxation Act (MRTA). If the Village does not opt out, cannabis retail sales and smoking lounges will be permitted. Most comments passionately pushed to opt out. Listen to the comments here:
Anne Hintermeister, commenting "as a resident and not on behalf of the Scarsdale Forum," raised concerns over what "state regulatory and licensing regime looks like, to see to what extent local governments will have any control before making a decision to have a cannabis store." She said, "the interests of the state Cannabis Board do not necessarily align with ours," and that the Village's local governance may not have as much control. She warned, "Is there any benefit we would lose by opting out now and opting in later?"
Susan Douglass, highlighting the Scarsdale Forum's position to opt out, underlined concerns over retail appearance. She spoke on behalf of DJ Petta, a landlord owning about 80% of commercial space, and quoted him: "We believe the Village should take the position of opting out at this time." Ms. Douglass voiced her concern over how cannabis would be marketed, "trying to rack up sales by luring in children, precisely what happened in the vaping industry."
Darlene LeFrancois Haber, a doctor and internist, spoke at length about the negative health impacts of recreational usage of marijuana. She emphasized the health issues, that "long term risks are mainly concentrated in adolescents," and urged the Village Board to opt out.
Abby Fine, adding her voice to the opt out option, shared her concern "about pollution and safe disposal of any, you know, objects that may be used from these cannabis stores."
Weinberg Nature Center
Brian Rosenthal spoke about the Weinberg Nature Center, praising its role in his children's life, and the "magnetic personality" of Executive Director Sam Weinstock. Mr. Rosenthal pushed for Mr. Weinstock's role to be made full time, adding that the Forest Preschool program doubled the revenue for the center, even though Mr. Weinstock is part time. Mr. Rosenthal's comments and wishes were supported by several other speakers who asked for additional fiscal support for the center.
Eugenie Rosenthal called the center "a critical respite," and "an excellent counterpoint to a community of "competition, materialism and consumerism." She called it a "healthy, healthy, healthy" place that "makes Scarsdale a destination." She said, "programs like this are the reason some of the people moved here."

Janice Montefiore also supported increasing Mr. Weinstock's salary.

Scarsdale Village Ambulance Corps
David Raizen, President of the Scarsdale Village Ambulance Corps, detailed the extensive work done this year including vaccines for homebound residents, COVID tests, and a paramedicine program to treat people at home. He appealed for more volunteer members and offers EMT training. He also asked for residents to support the fund drive as it is thanks to "the generosity of residents and corporations that we're able to do what we do without tax dollars being put to use directly." His work was met with extensive gratitude by the Village Board.
Bob Harrison highlighted many letters on repairing the Scarsdale Pool, stating we need to "modernize the municipal pool … the pool is one our community's greatest assets and we don't need to change it and change its design."
Noise from Fenway Golf Club

Lisa Singer from Hazelton Drive, the final speaker, brought up noise complaints against Fenway Golf Club, claiming they have "parties every weekend, sometimes even on Sundays, it's all outside. It reverberates through the neighborhood. We hear it.... I don't know what to do. I can hear what the DJ says in my master bedroom. ... maybe you can do a decibel test? It's just not fair."

Resolutions
Deputy Mayor Justin K. Arest introduced two resolutions, on the placement of a Menorah in Chase Park and a lighting ceremony, and the placement of Menorah in Boniface Circle. Both resolutions were approved.
Trustee Randall B. Whitestone introduced two resolutions regarding an intermunicipal agreements with Westchester County for youth programs. The first resolution would provide a positive youth development program, entitled "Youth Sports Program," and the second resolution would provide a positive youth development program, entitled "Community Youth Service Project." Both resolutions were adopted.
Mr. Whitestone introduced a final resolution for a professional services agreement with the Humane Society of Westchester, Inc. D/B/A New Rochelle Humane Society, to provide "proper care for all animals for the village." The resolution was adopted.
Light the 'Dale
The Village will hold their annual Light the "Dale celebration in Scarsdale Village on Friday December 3rd from 5-7 pm. Everyone is encouraged to attend.
Comments from Mayor Jane Veron
Here are opening comments from Mayor Jane Veron that shed light on the issues above and more, including continued work to find a location for a dog park:
You've heard our board speak regularly about improvements to Village strategic and financial planning and the new framework to guide the process. We are thrilled tonight that after articulating where we want to head, we reach another important milestone. Earlier this evening in our public work session, we met with our auditor, as we do annually. But this year was different. Instead of a review of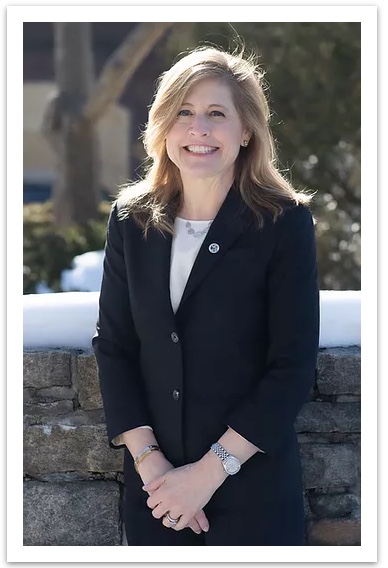 the financial statements in the format we have historically used, we examined our financials as an Annual Comprehensive Financial Report. To those not close to these matters, you might think it semantics; but in fact, our new approach enables us to forecast and manage capital spending in a way that affords much greater transparency. You will also hear, in just a few minutes, an overview of the reengineered budget process. Please join us in upcoming work sessions as we engage with department heads well before they finalize their plans. We will collaborate on goals and objectives, have constructive give and take, and align on resource requirements.

Work sessions through year-end will include not only our pre-budget meetings but also matters that we've been previously discussing.

First, there are legal matters:

On Tuesday, November 16, we will again be reviewing our telecom code. We have gone back to our attorneys with board and community feedback from our October work session. We will review revised language that affords Scarsdale the maximum amount of permissible control. Our goal is to update our code in short order. Thereafter, we will seek to close coverage gaps as they impede public safety and resident convenience.

We have two other pressing legal matters this month. With the Board's consent, we plan to hold public hearings on November 23 to discuss whether Scarsdale should opt out of permitting two types of cannabis businesses, retail dispensaries and/or consumption lounges, within Scarsdale's borders. This issue has generated a lot of community interest, and the Board has received many emails, reports, statements, and calls from individuals and community groups. The public hearing will provide the community an additional opportunity to express views before the December 14 Board vote. On Nov 23, I will also ask the Board to share their preliminary thoughts having had the time to digest materials from both prior work sessions. The Board must take action by December 31 in order to have any possibility of opting out. The decision to opt out now does not preclude the ability to opt back in later.

The Board is also proposing a related law that will restrict smoking of both tobacco and cannabis products in Village facilities, recreation spaces such as fields, playgrounds, parks and Village parking lots, Village vehicles and also in Village business districts. In these places, we seek a smoke-free environment for members of the public and for Village employees.

Finally, tonight, we offer you the opportunity to comment on proposed code changes to make permanent sidewalk cafes and to extend the selling of wares on sidewalks in Scarsdale retail hubs. One of COVID's silver linings was our ability to offer creative solutions for outdoor dining, and the community embraced our efforts. Thank you for taking this leap of faith with us, and now we have the chance to codify it. We will also continue to test the use of sidewalks for selling wares and evaluate for the next calendar year.

In addition to legal matters, Quality of Life and Infrastructure initiatives keep percolating. Next week, it is our hope that we continue our dog park conversation. We know many residents are eager for us to provide a place for dogs to run and for dog owners to congregate. The biggest issue is location. Staff have persisted in exploring options, and they will update the board and community. In subsequent weeks, we also plan to discuss the Ida After Action Report, Water Rate Study and signs.

This is the time of year for remembrance and celebration. We will be honoring our veterans this Thursday, November 11 at Veteran Memorial Park at 10:30 am. Please join us to pay tribute. And please mark your calendar for the return of Light the 'Dale, in person, on Friday Dec 3 from 5-7 pm. We look forward to a decorated, spirited and fun-filled community-building event.

Before I conclude, there has been community talk regarding a land use matter, specifically related to 41 Hampton. As some of you may be aware, the Village Board serves as the appeals authority for cases decided by the Committee for Historic Preservation. As such, we must refrain from making comments that could be viewed as an effort to influence the CHP's review process. That said, the Village Board and staff also have a responsibility to be responsive to public concerns – to let our community know that we are listening, and then to take the appropriate steps to understand the issue being raised and craft any solutions our examination of the issue may determine necessary. We take these responsibilities quite seriously.

Even when we cannot speak specifically, I do find it helpful to share the process used to investigate and resolve matters of public concern. This process relates to matters such as those I highlighted earlier, such as telecom regulations or marijuana establishments, this particular land use issue and a myriad other examples.
Village Board Examines Changes to Strengthen Telecommunications Code
Details

Written by

Joanne Wallenstein

Hits: 1904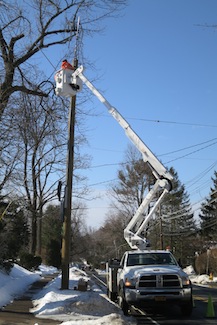 At a work session on Tuesday November 16, the Village Board focused on changes to the telecommunications law that would strengthen the code, regulate antenna placement and ensure compliance. The Village Attorney, Village Planner and a telecommunications consultant recommended these updates to the code and addressed technical, legal, aesthetic, and health related issues.
Daniel Pozin, the Village Attorney, explained that the changes to the code would ensure the Village maximizes local authority, and "makes the process and implementation of the law easier and more consistent and also to be legally compliant." He explained that there are now two laws, one regulating telecommunications equipment inside the Village right of way and the other outside the Village right of way. However, he said the two laws would be combined under the same heading and chapter. The Planning Board will be the review authority for all applications and the Zoning Board of Appeals would act as the appellate authority. Currently permits for telecommunications equipment are granted for 10 years, but based on feedback, the legal team decided to shorten the permit length to five years.
Village Planner Greg Cutler gave a presentation of the substantive proposed changes as outlined here:
-Currently a special use permit is required. In the new law, an encroachment permit from the Planning Board would be required to place an antenna in the Village right of way.
-For compliance with RF (Radio Frequency) standards, pre-testing, post testing and annual monitoring will be required, all to be done by an independent RF (Radio Frequency) consultant.
-Eligible facility requests will be handled by the Planning Board.
For placement inside the right of way, here are some of the new requirements:
-Location criteria: a preference will be given to existing facilities. There will be a disincentive to have the infrastructure located inside the right of way, within the Village Center, or the Five Corners area. In terms of the lighting criteria, there are more prohibitions within the design requirements.
-Height: The height or any new poles will be required to be 35 feet or less. The old code has no height provisions.
-Setbacks: The new law imposes setback requirements for equipment inside the right of way:
-500 feet from schools or daycare facilities
-100 feet from residential structures
-200 fee from other wireless telecommunications located within the street.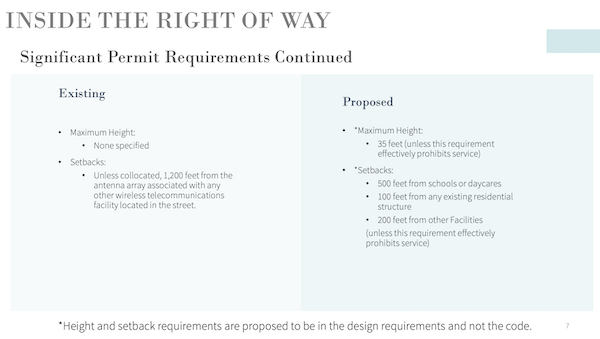 Outside the right of way the provisions are similar:
-A wireless permit will need to be issued by the Planning Board.
-The RF compliance will be the same as inside right of way.
-While the previous law had no location requirements for outside the Village right of way, the new law includes location requirements, gives the Planning Board discretion on the design and prohibits on floodlights.
-The height is limited to 35 feet unless it prohibits service.
-Setbacks will be the same as inside the right of way: 500 feet from schools and daycares, 100 feet from residential structures and 200 feet from other wireless facilities, while the existing code is 350 feet from all of the above.
Trustee Comments and Questions:
Several Trustees spoke after the presentation, asking for clarification or commenting on different aspects of the project.
Trustee Ahuja inquired about the cost and transparency in selecting a consultant. Village Planner, Greg Cutler, assured him that the consultant will be chosen wisely and all costs will be reviewed and tracked.
Trustee Crandall brought up concerns with regards to noise from the antennas, the need to respect the tree laws during the installation of antennas, and the preservation of parks and green spaces. She also voiced concerns about radiation and the need to hire outside consultants to do inspections so that Scarsdale employees are not exposed to any potential radiation. She also wanted to be sure that the permittee would pay for these inspections and any legal costs. In addition, Trustee Crandall brought up concerns about compliance and legal penalties for installation without a permit.
Daniel Pozin reaffirmed that a 48 hour notice to the company, for inspections related to compliance issues, was reasonable. Gerard Lederer, the Village's telecommunications counsel, confirmed that there is "no mandate for us to allow small cells within our parks," and there is no need to add that provision in the draft code.
Finally, Mrs. Crandall, emphasized issues of future liability, the need for the lease agreements to be tight, and the expectation that it is the responsibility of the permittee to follow all of the FCC regulations concerning human exposure.
Mayor Veron inquired about the 100 foot setback in residential areas. Gerard Lederer responded that due to different levels of density, it may be more challenging to conform to the setback, hence the 100 foot setback minimum threshold for setbacks.
Trustee Whitestone voiced support for the process. He raised concerns about the code change causing an additional workload for the Planning Board and a potential work backlog from the revisions? Cutler responded by saying he doesn't "foresee the code creating any additional work for the Planning Board," or any backlog.
Trustee Lewis underlined the importance to have the consultants lined up at the same time that the new code is implemented in case work needs to be done on short notice. He also voiced disagreement with the low penalties ($1,000 a day and 15 days of jail time.) He reasoned that due to the size of these telecommunications companies, the penalties should be more meaningful, (suggesting "10 grand a day") and the person liable for jail time should be specified. Finally, Lewis iterated similar concerns as Trustee Crandall in regard to the 48 hour notice timeframe, arguing that the timeframe should be shorter, especially "should there [be] something really bad going on something that I guess meets or threatens imminent harm." Pozin and Lederer responded that a requirement for a letter of credit and collateral could be added to the code to increase the penalties for non-compliance.
Village Manager, Robert Cole spoke about a prioritization scheme suggested by Zoe Berg. He said, "The telecom company should demonstrate that there's a coverage gap whether that's vis-à-vis a propagation map," to prioritize coverage. He said, "Co-location at an existing site should be prioritized along with deployment at state, county or arterial streets rather than residential streets."
Deputy Mayor Arest stressed that "Schools need to be involved -- they've already told us they want to be involved or at least have the ability to comment and have input."
Trustee Brew suggested setting a time to review the new code, perhaps six months down the road to see how it is working.
Public Comments
Jeffrey Steinberg brought up concerns about new rules, asking if the placement of his antenna on the roof of his house would be grandfathered as he is an amateur radio broadcaster. Mr. Lederer responded that the rules will be tightened, with more clarity, but that the intent is to "apply rules across the board to all wireless devices, but to specifically exclude both OTARDS which are over the air receptacle devices" and amateur radio. He assured Steinberg that he would not be subject to the new rules.
Robert Berg, criticized the process, claiming it is being rushed, and that there is not adequate time for the public to comment on proposed changes. He was pleased that the attorney had taken his suggestions for code revisions. However, he said, "there are no provisions for public hearings on the applications." He asked neighbors to have more notice and the opportunity to comment on the potential placement of antennas. Additionally, Mr. Berg pushed back on the installation of antennas in residential areas and asked for larger setbacks. He said that 5G service was not necessary for high speed internet in Scarsdale and questioned the need for these antennas in residential areas. He said, "residents flip out" when they see the installations.
In contrast to Berg, Jeremy Gans spoke in favor of the antennas. He lamented the poor service in many parts of the town, and the importance of reliable wireless for the residents and medical needs: "People need to dial 911, people need to get in touch with caregivers." In addition, Mr. Gans strongly pushed back against health concerns surrounding the antennas, drawing from a New York Times article in 2019, debunking many of the health scares, and another article from the same paper, proving the claims to be mostly Russian hoaxes. Mr. Gans concluded by saying: "I think that there's a balance here that delivers wireless service to our residents, keeping the residents first, not the interest of wireless companies to residents who have been begging for years for improved wireless service, while at the same time balancing aesthetic and health concerns."
The Mayor concluded the discussion by highlighting the importance of changing the code in a helpful way and moving the process forward to address residents' concerns. It is the "overarching goal we need to improve cell service in our town. It is you know 2021 [...] and that is precisely why we are having this discussion."
Recycle Your Pumpkins—It's Easy
Details

Written by

Joanne Wallenstein

Hits: 606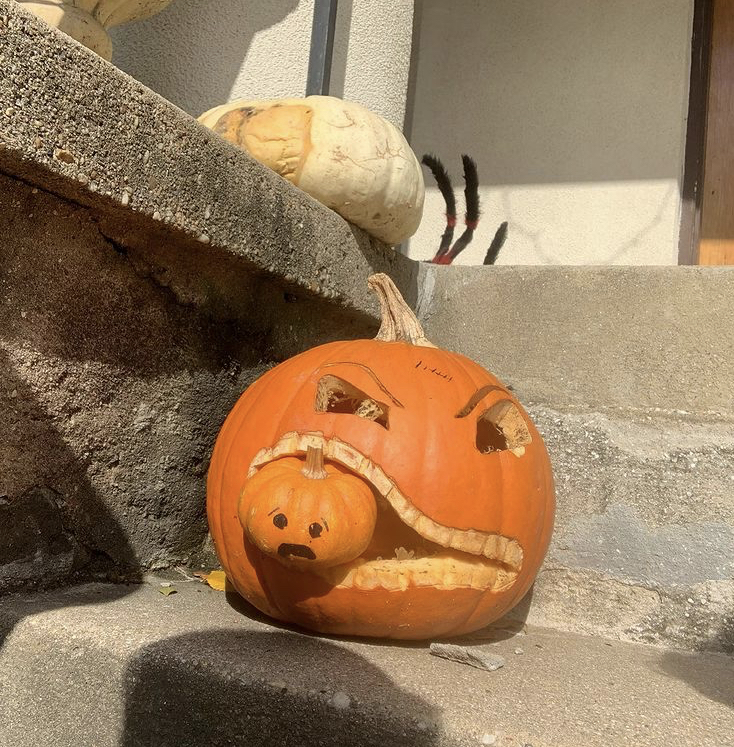 All those pumpkins and gourds that have been sitting on your front steps or that will decorate your Thanksgiving table can have another valuable use after the holidays--being turned into compost! There are several easy ways Scarsdale residents can recycle pumpkins and gourds:
• Place them in, on or next to your food scrap recycling bin (Need one? Email composting@scarsdale.com or register here

• Bring them directly to the Food Scrap Drop-off Site at the Recycling Center, 110 Secor Road (Please put them on or in front of the wall behind the food scrap collection bins.)

• Place them with your yard waste or leaf pile

By sending our pumpkins and gourds to be composted, we are helping nature recycle her bounty and returning nutrients to our earth!