Edgewood PTA Delivers 180 Thanksgiving Pies
Details

Written by

Joanne Wallenstein

Hits: 880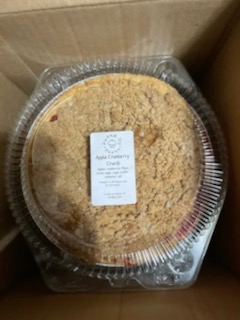 The Edgewood Elementary School Fifth Grade Committee sweetened many Thanksgiving tables this year by delivering pies from Baked by Susan in Croton-on-Hudson directly to homes across town. 180 pies were sold and delivered with proceeds to benefit the Edgewood PTA and Fifth Grade Committee.
The most popular offering was apple pie followed by a tie for pumpkin pie and pumpkin bread. We had the apple cranberry and it was delicious.
The committee raised $2,000 which will be used to host special events for the fifth graders in their final year at Edgewood Elementary School.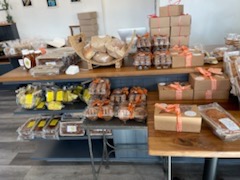 District Releases Results of Survey on Substance Usage Among Scarsdale High School Students
Details

Written by

Joanne Wallenstein

Hits: 1791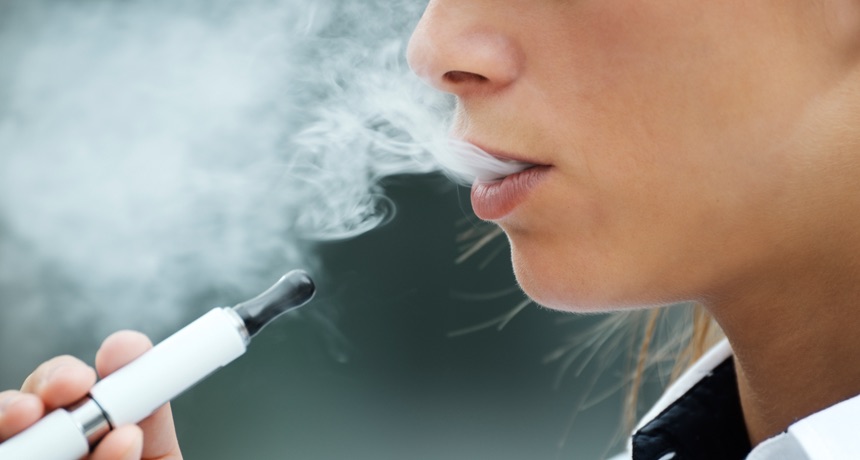 How has the pandemic impacted substance abuse among Scarsdale teens? A new survey released by Scarsdale High School shows that usage habits are remarkably unchanged since the school conducted the same survey in 2017.
The survey, called PRIDE, has been used since 1982 to collect information from adolescents across the county on substance use and perceptions of the risk substance use. It also measures the power of protective factors such as good grades, participation in sports, school attendance and appropriate behavior in school.
The community uses the data to identify areas of concern, trends and patterns, and to evaluate substance use prevention efforts.
This year, the voluntary and anonymous survey was given during the school day on March 25 and 26, 2021. Both parents and students were given the opportunity to opt out. In 2021, 75% of high school students or 1,140 participated which is down from 1,268 who participated in 2017. Participation was highest among ninth graders, though 67% of the senior class took the survey.
The survey primarily measures substance use in the past 30 days, and you can see these core measures in the chart below.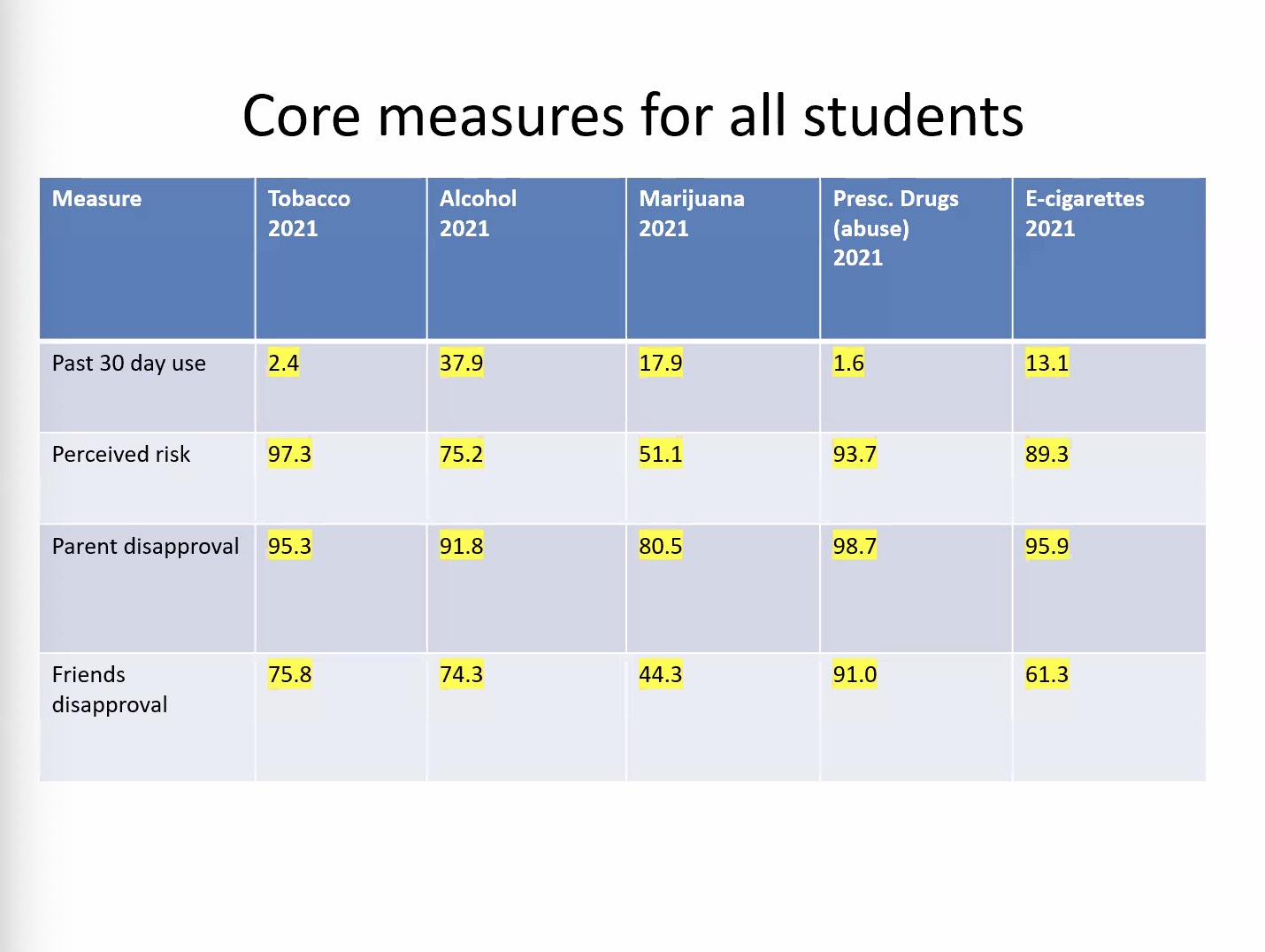 Overall, use of alcohol fell slightly from 39.7% in 2017 to 37.9% in 2021. Marijuana usage also decreased from 20.3% in 2017 to 17.9% in 2021. Notable was an increase in the use of e-cigarettes and atomizers to 13.1%.
Interpreting the data, Assistant Principal Chris Griffin said, "As expected, usage increases with age and older students are more likely to drink at home on the weekends." Marijuana usage is also more prevalent among older students as only 3.6% of ninth graders report usage in the past 30 days as compared to 28.5% of seniors.
See below for a chart showing protective factors against substance use and risk factors that could increase abuse.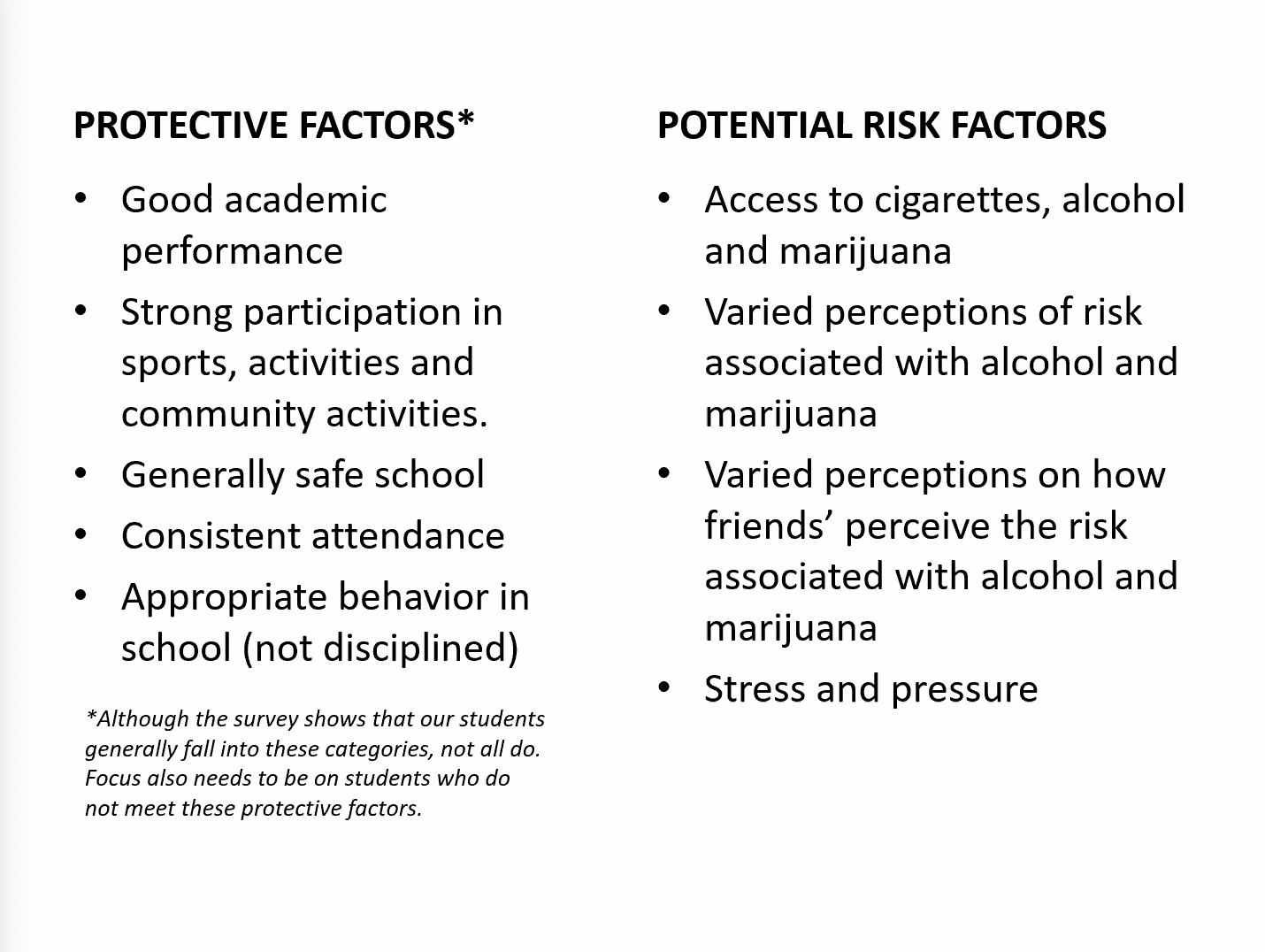 And also see below for the important takeaways from the data.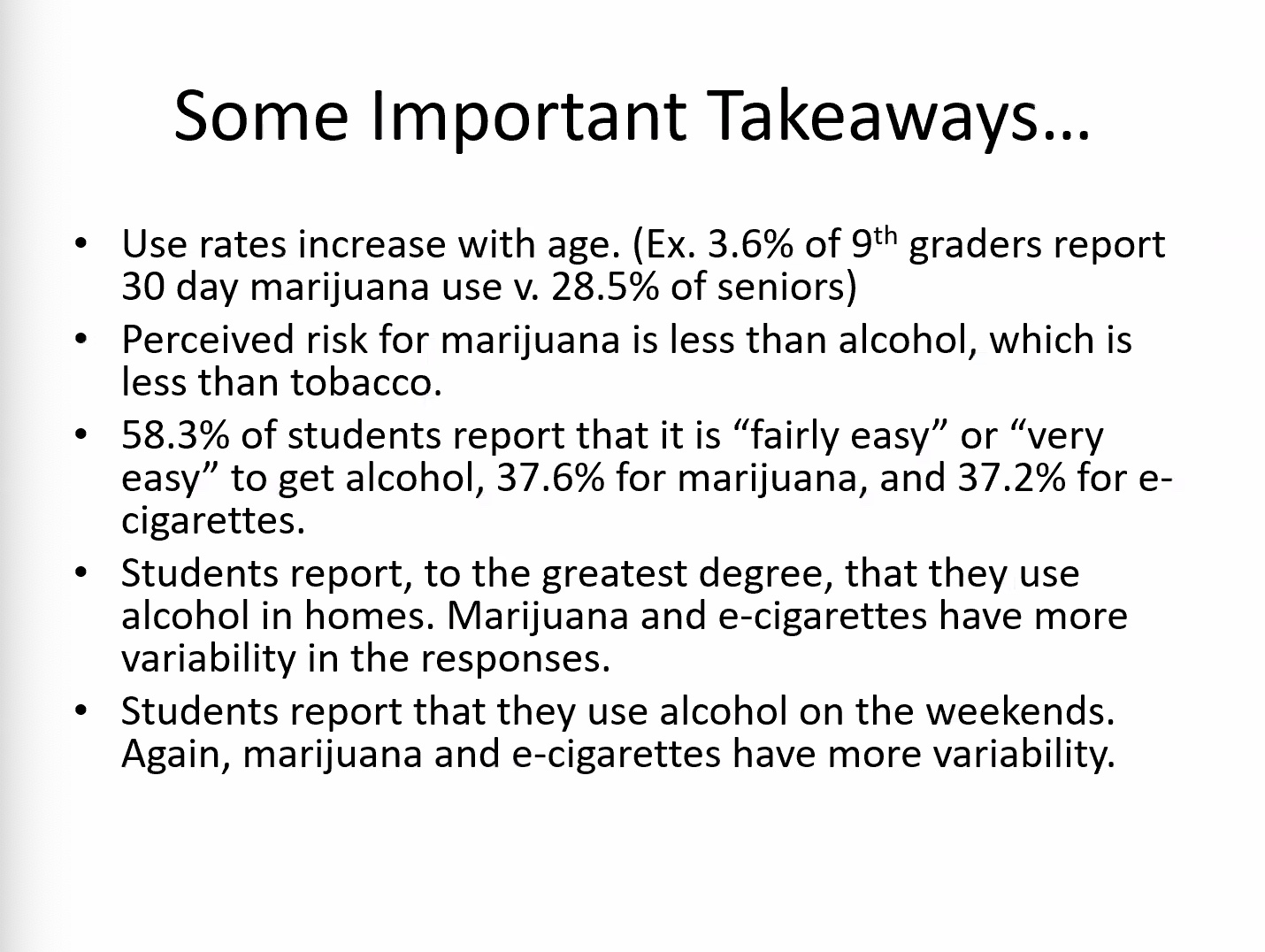 Griffin said that the survey data will be shared with school administrators, youth outreach workers, the Drug and Alcohol Task Force, parents and students so that the current situation can be assessed, and the community can examine the effectiveness of current prevention programs and make modifications if needed.
Scarsdale Boys' Soccer Secures Semifinal Date With Arlington
Details

Written by

Adam Katcher

Hits: 848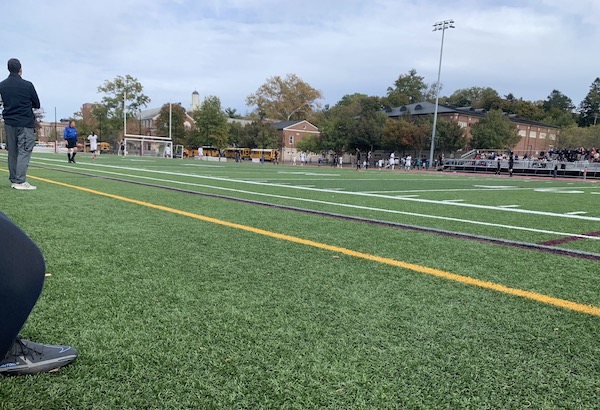 Third-seed Scarsdale punched their ticket to the semifinals in front of a large crowd following a 3-0 quarterfinal victory over sixth-seed North Rockland.After an excellent 11-2-2 regular season for the Scarsdale Boys' Varsity A Soccer Team, which included securing a League I – B title thanks to a Senior-Day victory over Mamaroneck, the Raiders had to forget about the thrill of the victory over the Tigers to turn their focus to the playoffs. The first-round clash against 14th seed Ketcham on October 21st (Scarsdale the third seed) appeared to be an easy game for Scarsdale at face value. Nonetheless, the Raiders needed to take care of business, and they did so with an impressive, albeit expected, 4-1 victory.
In the quarterfinals, the Raiders came up against a more daunting opponent: sixth-seeded North Rockland. This was guaranteed to be the Raider's final home game of the season because their first playoff opponent would be Arlington, a higher seed, with the home field advantage.
For the final game against North Rockland, the 12th man provided by the crowd helped give Scarsdale an extra edge throughout the tightly-contested affair.
In the first half both teams had a similar number of chances, with neither side really gaining an upper hand for a prolonged period. Goalkeeper Rowan Haffner did well to prevent a one-on-one breakaway for North Rockland from turning into a visitors' lead, as Scarsdale's co-captain rushed to the feet of the attacker to cut off an angle for a more dangerous shot.
A brutally honest halftime team talk was given, with coach Marcos Monteagudo and team seniors emphasizing the adjustments that needed to be made to give the Raiders the extra edge.
The second half took on a completely different complexion. Despite strong opposition, Scarsdale's attack became freer flowing. The deadlock was broken thanks to a brilliant play by freshman Lorenzo Galeano. Senior Eli Gelblum played the ball to Galeano, who picked it up about 30 yards away from the net on the left-wing. His first touch directed him towards the box, giving him a one-on-one with one of the opponent's center-backs, who subsequently fell over thanks to the Scarsdale winger's fancy footwork. Galeano danced around the fallen player, cut the ball onto his right foot to evade two onrushing defenders, chopped the ball forward to get out of the reach of the back-on-his-feet center-back, and fired the ball into the bottom corner of the net, just beyond the goalkeeper's outstretched right arm.
Galeano was once more involved when the Raiders doubled their lead. From a set-piece routine, Lorenzo assisted his brother Nico with a delicate ball over the top of the opposition's high defensive line. Scarsdale's third goal saw freshman Leo Khang whip in a pinpoint corner for an unmarked Gelblum, who still had a lot of work to do to remarkably tuck his volley into the top-left corner of the net. There was a slight bit of controversy late on as a North Rockland player was shown a red card for spitting at Scarsdale co-captain Kian Batliwalla.
The 3-0 final score in favor of the hosts was no less than what they deserved. The Raiders officially completed the season undefeated on their home fields (Quaker Ridge and Butler Field).
The Raiders are scheduled to kick off their semifinal clash at Arlington at 2 pm on October 27th. One of Scarsdale's two losses this season came in their regular-season match at Arlington, with the team from Dutchess County emerging as 2-1 victors in that clash. The Raiders will be hoping to get their revenge to punch a ticket to the section finals on October 30th against the winner of the match between John Jay East Fishkill (first seed) and Mamaroneck (fifth seed). Regardless of what happens, this year's Scarsdale Boys' Varsity A Soccer Team has been the best team it has been in recent memory, so there is already so much to be proud of. Nonetheless, the players know its a win-or-go-home scenario and they will do everything they can to avoid tasting defeat with this team ever again.
Order Thanksgiving Pies to Support the Edgewood PTA
Details

Written by

Joanne Wallenstein

Hits: 1099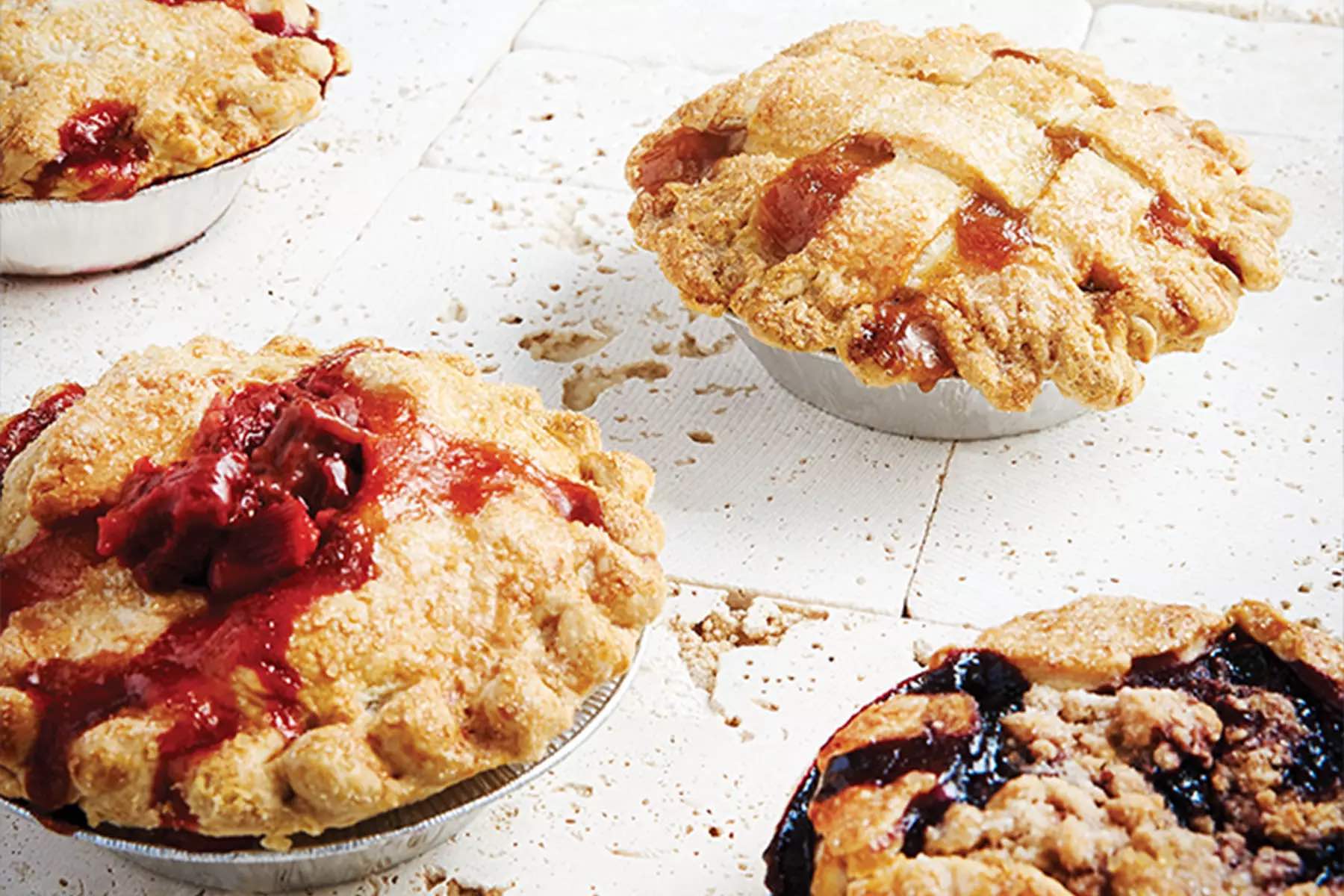 Avoid long lines at the bakery this Thanksgiving! Edgewood Elementary is partnering with the famous Baked by Susan in Croton-on-Hudson to offer homemade pies to our Scarsdale community just in time for the holiday. Baked by Susan is known for their high quality baked goods made from organic ingredients. Pies are $30 and varieties include all the Fall favorites. We even have fresh baked pumpkin bread for $12.50. The Edgewood Elementary PTA will deliver pies straight to your door Thanksgiving week. Local Scarsdale orders only please. Eliminate the stress of holiday dessert and don't wait, order now. We only have until Monday November 8 to place our orders with Baked by Susan. Your purchase supports the Edgewood PTA and our 5th Grade Committee.
Click here to place your order now. See Zelle payment instructions on the order page. Deadline is Monday, November 8. Pies will be delivered on Monday 11/22 or Tuesday 11/23. We can only accept orders for local Scarsdale delivery. See the list of Thanksgiving pie options here.
Girls Varsity Tennis Team Starts the Season 3-0
Details

Written by

Joanne Wallenstein

Hits: 1301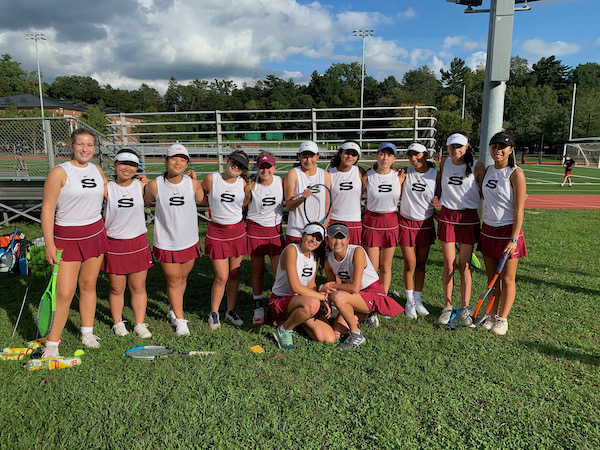 The SHS Girls Varsity A Tennis Team at their third match of the season.The talented Varsity A girls tennis team is off to a stunning start, barely dropping a set in the first three league matches of the year.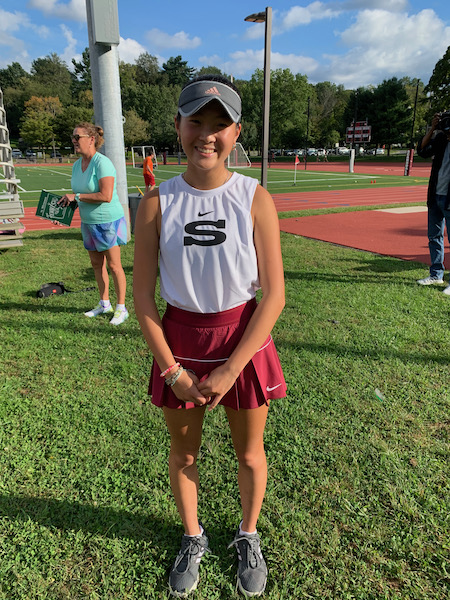 Junior Natalie HuWith nine seniors graduating last year, this year's team is a mix of 2 freshman, 3 sophomores, 4 juniors and 4 seniors. They are strong, skilled and strategic on the court.
The team's captains are first singles player Natalie Hu and first doubles player Laura Mendez. Dressed in their team uniforms of maroon skirts and white and black T's, they greeted rivals Mamaroneck for their third match of the season on Monday September 20, 2021.
After breezing by Fox Lane 7-0 and Ursuline 7-0, Coach Jennifer Roane said that the team expected a challenge from Mamaroneck who have always been among the most capable teams in the league. But they rose to the challenge and came away with impressive results.
At first singles, junior Natalie Hu played against Regan Aylett, a player she appeared to know. Hu came out strong, serving aces that her opponent couldn't touch. She hit deep baseline shots, wonderful net shots and came off the court quickly with a 6-0, 6-0 win.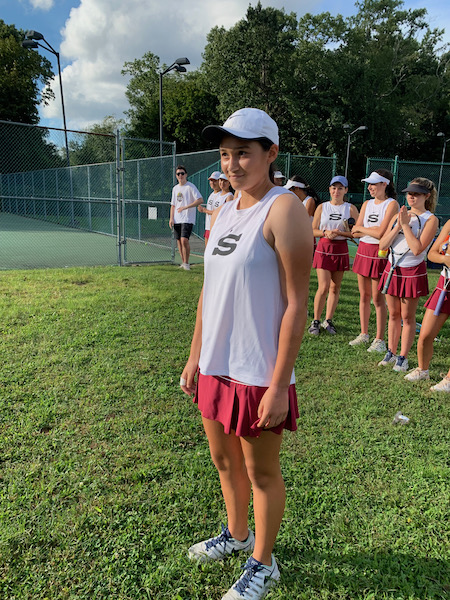 Freshman Giana Marks
Only a freshman lefty Giana Marks plays second singles for the team. She is tough and consistent and I saw one 20 hit rally, before she bested her opponent 6-0, 6-1.
Playing third singles was junior Maya Cukierman, another aggressive hitter with a strong serve. She sent her opponent running from corner to corner, beating her 6-0, 6-0.
Playing first doubles for Scarsdale are senior Laura Mendez and junior Campbell Alin. In past years Mendez partnered with her sister, but now that her sister is in college, Laura has a new teammate. They played Mamaroneck's Annabelle Reddy and Ann Donoghue and won 6-4, 6-3.
At second doubles is the powerful team of sophomore Maya Vora and Yelena Sahakyan. They hit deep shots to the baseline and triumphed 6-1, 6-2.
In third doubles Madison Lee was paired with Lara Wellen. We couldn't see too much of that match from the sidelines but saw Lee hit a beautiful down the line backhand, passing her opponent at the net. The third doubles team dominated their match 6-2, 6-1.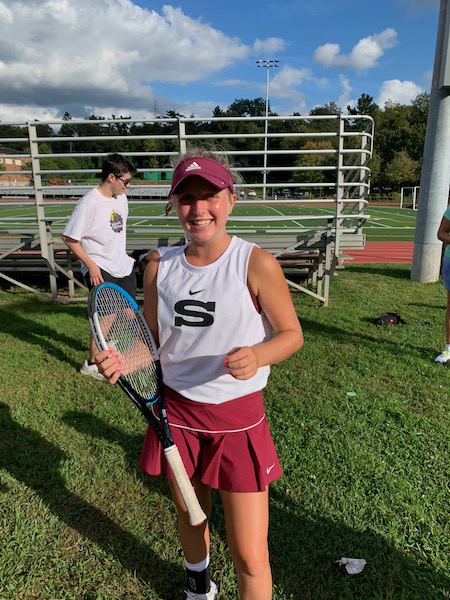 Maya CukiermanThe fourth doubles team of Natasha Pereira and Kay Cottrell had to wait until Natalie Hu was off the court. They came away 6-3, 6-4.
New this year, if the team qualifies for the states, the entire team will go, not individual players. The way they are playing now, they should have a good chance of competing.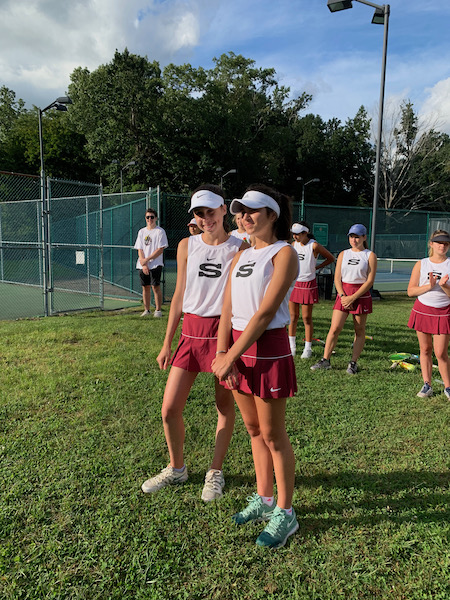 Campbell Alin and Laura Mendez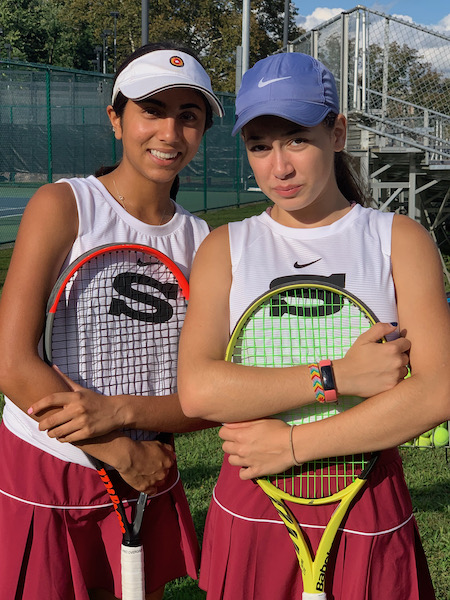 Maya Vora and Yelena Sahakyan.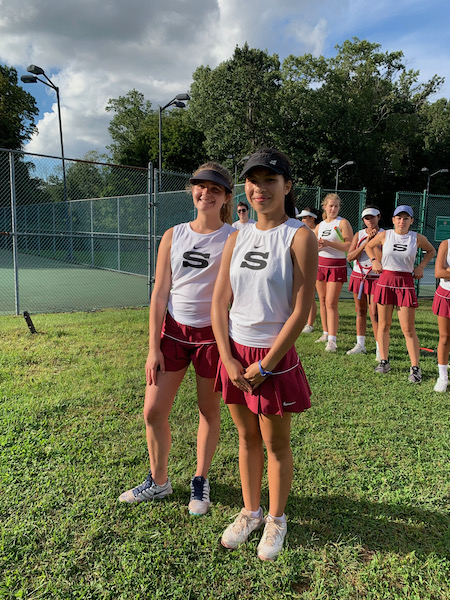 Lara Wellen and Madison Lee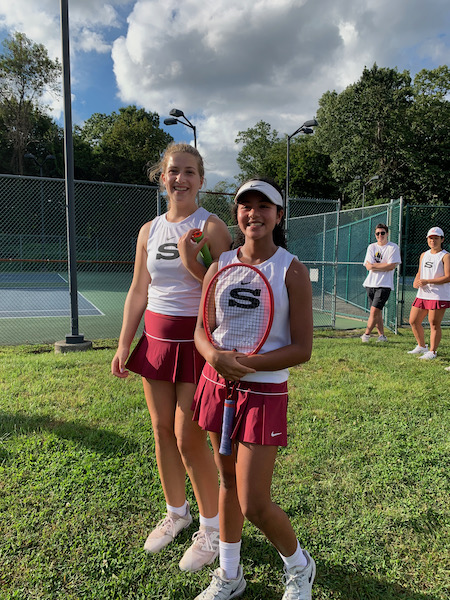 Natasha Pereira and Kay Cottrell