Karen Ceske Leads First Board of Ed Meeting as President
Details

Written by

Sammy Silberberg

Hits: 1358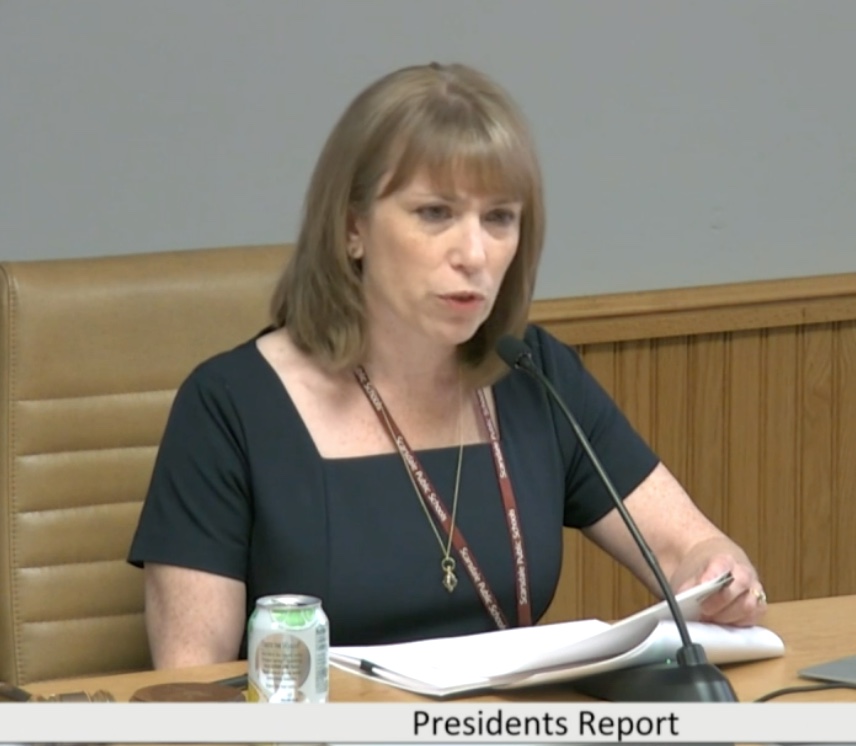 After the votes for School Board President and Vice President were finalized last week and Karen Ceske and Amber Yusef secured their leadership roles, President Ceske immediately began her work and led the first Business Meeting of her term.
During her remarks, Ceske said she was thankful for the opportunity to lead the Board and excited to get started working on the District's strategic plan and upcoming initiatives for this school year.
In his opening statement, Superintendent Hagerman congratulated the entire staff and student body on a very successful high school graduation ceremony. He welcomed new Board members Jessica Resnick-Ault and Jim Dugan and said he is optimistic about the village's recovery from the trauma of the past 16 months. While he acknowledged that the COVID-19 Delta variant is an area of concern, the administration is keeping a close watch over the situation and will take any necessary mitigation efforts to keep students and staff safe.
The first item on the agenda was to approve the recommendations for various administrative positions, including the District Clerk, Claims Auditor, Section 504 Coordinator, Title IX Coordinator, Employees Coordinator, Records Access Foil, and District Emergency Coordinator. These positions were assigned to various members of the school board and district administration.
Next, district consultants, district attorneys, and designated depository banks were approved, and the Board was authorized to manage the Audit Committee. Following this, the Board renewed several pending authorizations, including the authorization for reimbursement of meal and lodging expenses, the authorization for milage reimbursement authorization of education travel, and the authorization of petty cash funds.
Code of Conduct

The Board then moved to review the Scarsdale Code of Conduct. The administration noted that this year's code contained few changes from previous years and that it was reviewed by a committee comprised of administrators, high school student representatives, two Board members, PTC representatives, and the District Attorney. All students have a version of the code available in the appropriate language for their reading level available in their yearly Scarsdale agendas. New Board member Jessica Resnick-Ault found an inconsistency and noted that while the code states that visitors do not need to report to security personnel before attending PTA meetings in the high school and middle school, she does not believe that is reflected in our current procedures. Superintendent Hagerman said that this issue will be reviewed.
Textbooks

Next, the Board approved several new textbooks for the upcoming school year. The first was The Night Diary, by Veera Hiranandani, for 7th grade English. The book takes place after the partition of Pakistan and India in 1947 and tells the story of a young refugee's search for home and her own identity. The administration noted that the English and Social Studies departments collaborate to ensure that students learn the historical background of the partition necessary to fully understand the historical context and significance of the book. The second textbook was History Lessons, by Dana Lindaman and Kyle Ward for 12th grade AT history. This book teaches U.S. history by examining historical events from the perspective of countries around the world. For example, the textbook teaches the Nigerian perspective on the European slave trade. The third book is Unlocking the Potential of Post-Industrial Cities, by Matthew E. Kahn and Mac McComas, for the high school City 2.0 course. This book examines the economic failures of six cities and asks how public and private sectors can create policies and make investments that allow a city and a population to thrive. The last approved book was Simon vs. the Homo Sapiens Agenda, by Becky Albertalli, for the 10th grade English skills class. This book is the basis for the popular film Love, Simon, and tells the story of a high school boy growing up and coming to terms with his sexuality.
After reviewing textbooks, the Board approved the food services contract renewal with the Compass Group, which is an extension of the emergency contract from this past year. The Board then adopted the 2021-2022 tax levy, the proposal for athletic training, the physical therapy and concussion management services for interscholastic athletics proposal, the CSEA transportation memorandum agreement, and the CSEA custodian memorandum agreement.
District Safety Plan

The Board then briefly discussed the district safety plan. Board Member Jessica Resnick-Ault asked if they could review the plan within a committee before approving it, however, Superintendent Hagerman emphasized the importance of having the plan approved and in place as soon as possible. He stated that the administration is committed to answering any questions and reviewing Board suggestions, but that it is important that the Board not delay the approval. Member Ron Schulhof and others noted that they would feel comfortable approving the safety plan so long as it is a living document and members can bring it up for discussion and recommend changes at any time.
Public Comments

Finally, the Board heard from resident Jennifer Zola, who was the only person to speak during any of the three public comment opportunities. She congratulated the new board members and officers, and she singled out the efforts Karen Ceske and Ron Schulhof have made this past year to keep the community informed and involved with Board work. Ms. Zola also said that she would prefer if, in the future, Board of Education meetings would focus more heavily on agenda items, and less so on using the meetings as a means of communication with the community. These meetings tend to be attended by very few members, and she pointed out that there are likely far more effective means of disbursing information to the village at large.
The Sun Sets on the Scarsdale High School Class of 2021
Details

Written by

Joanne Wallenstein

Hits: 2754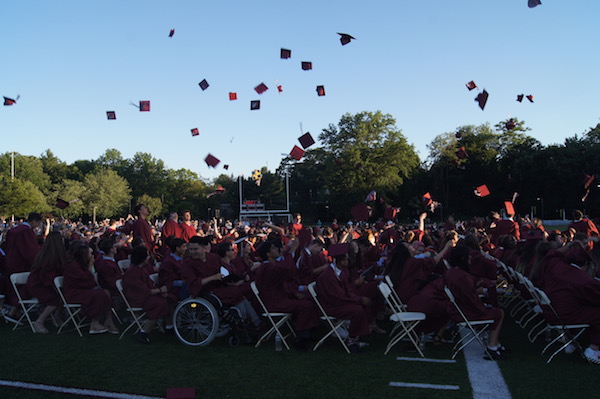 Nothing was business as usual for the Scarsdale High School Class of 2021, including their graduation, which was held on the evening of June 24th under clear skies on the high school football field. Departing from the traditional morning ceremony on Dean Field, the setting sun over the SHS field was a scenic backdrop for the commencement of over 400 graduates.
You never would have know that this was the first time the school held the ceremony at this new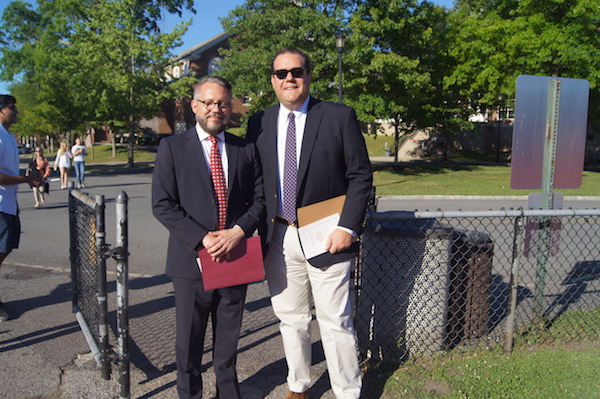 Scarsdale School Superintendent Thomas Hagerman with Scarsdale High School Principal, Kenneth Bonamo. venue. Under the direction of Assistant Principal Andrea O'Gorman and the team of deans, the event was flawless. Students formed two lines led by their class advisors Carlos Bedoya and Vincent Licciardello and marched onto the field, accompanied by the high school band. The class looked resplendent in their maroon gowns, and for the first time ever, many had decorated their mortarboards, giving the processional and even more festive air.
Board of Education President Pamela Fuehrer opened the program, acknowledging that the class was "leaving the school in a way never done before." She said that during her tenure as Board President she has seen an "increase in student voice," and credited the class with stepping up and making an impact. She said, "This class has shown us that you know how to be good citizens….that you know how to live with people who live differently than you." She encouraged them to "continue to be curious and explore different things… to be brave and say yes even when you're not so sure…. so much happens just outside your comfort zone. Go there.
Senior Class VP Anya Kornfeld also noted the unusual year. She said, "This year has been far from traditional. And yet we bent in a way so that we did not break…. We were truly able to make the most of Scarsdale High School. " She continued, "A principal theme was resilience and the ability to adapt to any situation." She thanked her teachers who "never shied away from a challenge and helped us each to create our own unique path to success."
Social Studies Teachers and Class Advisor Carlos Bedoya said, "While it is natural at this time to look back nostalgically at what has been, even to feel a sense of loss, it is important to remember that endings create possibilities for new beginnings. You, the class of 2021, understand most acutely, that all things change.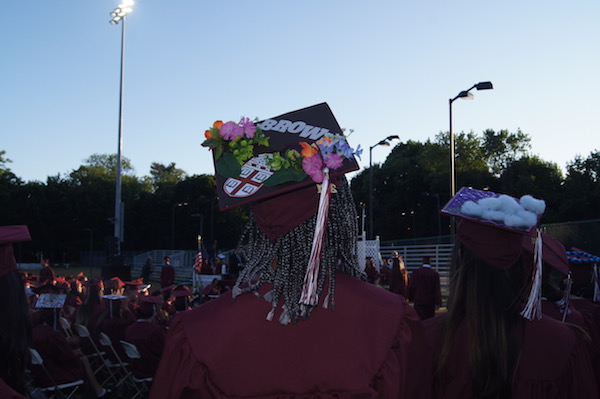 Vincent Licciadellos said, "As some of you know, I have the great pleasure of teaching physics. And, in my class, one of the first things we address is how our universe is a dynamic one. That is, in our universe, things change. A particle is here and then it is not. It moves at one velocity and then another. It possesses one set of energies and then another. But, it is not just the physical universe that changes.

In this past year, we have all shared in the incommunicable experience of a global pandemic. This experience presented your class with unique challenges, thrusting changes on all of you that were neither expected nor coherent, creating unanswerable questions no classroom activity could solve. We hope that through all of this, you may come to understand that while knowledge is gained through studious-ness, diligence, and focus, wisdom is earned from lived experiences and the quiet navigation of the uncertain."
"Great change also happens in the social universe. Indeed, we - your faculty, staff, administrators, and caregivers - have watched you all change over the last 4 years. We have seen you become better critical thinkers, as shown by your ability to answer the increasingly complex questions we have posed of you. We have seen you become more adept at helping others, as shown by what you have accomplished through government, clubs, and beyond. And, we have seen you become more resilient, as shown by how you negotiated this most unprecedented of academic years."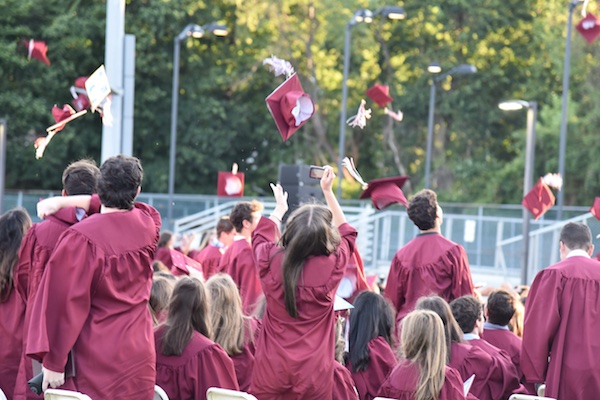 "And now even greater change awaits you. It will be precipitated by confrontation with even more complex questions, by an even greater need to help others, and by even more resilience in the face of adversity to overcome it."
Bedoya continued, "So to that charge, we are excited to see what changes all of you will bring into the world. As you confront the challenges ahead that your generation must address, you will be faced with many questions. We only ask that you heed the words of the poet Marie Rainer Rilke, who reminds us to "have patience with everything unresolved in your hearts, and try to love the questions themselves. Don't search for the answers, which could not be given to you now, because you would not be able to live them. And the point is, to live everything. Live the questions now. Perhaps then, someday, far into the future, you will gradually, without even noticing it, live your way into the answer."
Senior Class Treasurer Emily Aaron introduced class co-presidents Emmet Goldstein and Aaron Wasserman. She said, "These were years marked by drive, grit and flexibility…We have created many new senior traditions. I am proud to be part of this year's senior class… No task was easy, but our class presidents handled them with ease and grace."
Goldstein and Wasserman said, "We all knew how challenging this year was but we appreciated it. We realize how much we treasure this year and each other… In the aftermath of the confusion our class came together like never before. We salvaged our senior events and made them feel normal…. We entered school on April 19 … we tore up the floor at Prom… and we performed an awesome senior class play.
We cherished reuniting with our class. We cherished spontaneous conversations before class…. And a botched parking job!
As we look ahead to our adult lives we are prepared in many ways. Our school motto Non Sibi taught us the importance of community. We practiced resilience and not only survived Covid, we thrived. We have proven that we are ready for each of life's challenges.
In a short period of time we will each go our separate ways but we will stay connected, even when apart."
SHS Principal Ken Bonamo provided parting words, before School Superintendent Thomas Hagerman certified the graduation and diplomas were distributed.
Bonamo said, "Today is a special day marks the culmination of your childhood education and the beginning of adulthood. We hope we have given all that you need to succeed and we are filled with anticipation of what the future holds."
"How truly wonderful it is to be together on such a wonderful evening…. Please let us pause to let the beauty of this instant sink in."
"Sometimes the business of life detracts from what is most important. I urge you to make a healthy balance between time spent with others and time spent with yourself."
"Scarsdale values active citizenship, civic engagement and respectful debate. Critical thinking, global dependence, a genuine love of learning are the goals that have guided us."
"As you confront the challenges of our world I hope you will endeavor to make the world a better place. It should be clear that regardless of what side you take of any issue, you will need courage. You will continue to find your voices. You will need to stand up, even to stand out."
I urge you to build a legacy filled with love. Infuse love into your work, your relationships and your self-regard. You should look at yourself and love what you see … an intelligent, responsible curious person poised to take on the challenges of life."
With that, Superintendent Thomas Hagerman asked, "Have these seniors met the requirements for high school graduation imposed by the Regents of the State University of New York, the Commissioner of Education and the Board of Education?" He certified them as graduates of Scarsdale High School, bid them to go forth and with that, the distribution of the diplomas began.
Perhaps an evening graduation will be the legacy of this era, as it was a beautiful time of day to celebrate the class.
If you would like to add your photos to our galleries, please email them to scarsdalecomments@gmail.com.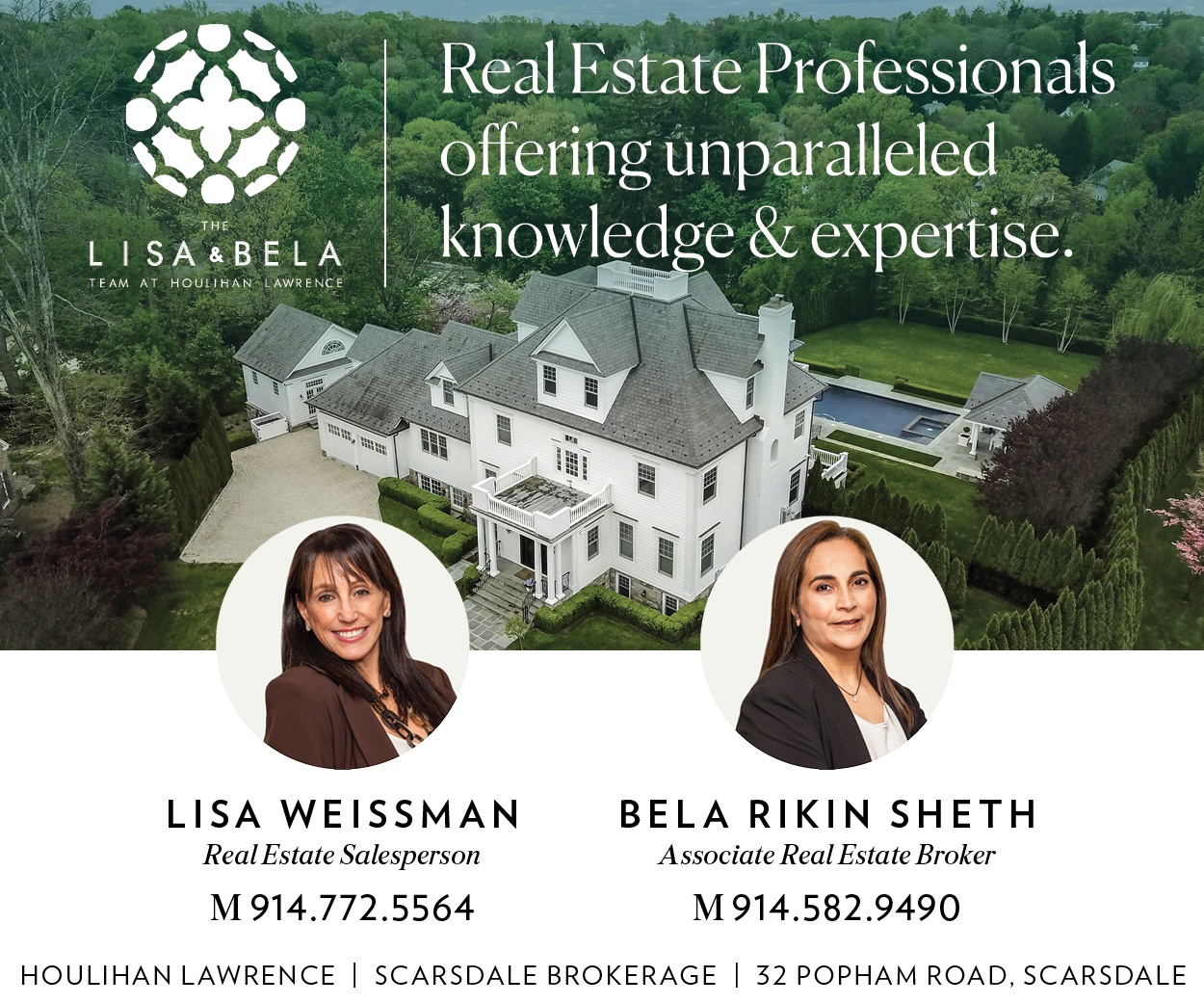 Coverage of the Class of 2021 Scarsdale High School Graduation was sponsored by Lisa Weissman and Bela Sheth of Houlihan Lawrence in Scarsdale.
Who Will Lead the 2021-22 Board of Education? Plus Updates on Masks and DEI
Details

Written by

Sammy Silberberg

Hits: 1304
Pam Fuehrer and Alison Singer will complete their terms on the BOE at the end of the school year.The Board of Education is preparing for the summer transition to next year's board, where it will seat new members Jessica Resnick-Ault and Jim Dugan and say goodbye to President Pam Fuehrer and Vice President Alison Singer. While traditionally the Vice President assumes the role of President, this year is different as Singer was not re-elected for a second term. The new President and Vice President will be elected by the 2021-2022 Board at the July 7, 2021 Reorganization Meeting. Current members Karen Ceske and Ron Schulhof have expressed interest in the presidency, and Amber Yusuf has spoken about potentially seeking the vice presidency. Member Carl Finger indicated that he is interested in either position. During the reorganization meeting, members are openly nominated and voted on for these two positions.
During one of the last full meetings of the current Board on June 7, members and administration staff reviewed key village Covid-19 metrics, welcomed a new cohort of teachers, and spoke about the district-wide Diversity, Equity, and Inclusion (DEI) policy.
COVID Report

On the Journey Forward Update, the administration reported that the district is trending in the right direction for active Covid-19 cases. Scarsdale is at Level 2, and to reach Level 1, the village must see a seven-day average of under 10 cases per 100,000 people. Currently, there are only three active cases in Scarsdale and 14.06 cases per 100,000 people over the last seven days. The daily rate has dropped to 1.8.
Currently, ceremonies of 500 or less are allowed without testing measures or proof of vaccination under New York State guidance. As a result, this year's fifth grade Moving Up Ceremonies will be held outdoors and by individual classes. For the high school graduation, because the event will be attended by over 500 people, proof of vaccination or a negative Covid-19 test will be required. Finally, Governor Cuomo announced that schools do not need students to wear masks outdoors. Because of this guidance, Scarsdale removed outdoor mask requirements for all students, however the indoor mask rules remain in place.
Personnel

For the Personnel Report, the administration announced that five new faculty and one returning staff member were hired in probationary positions. Many of the new staff attended the meeting and were there in-person when the measure was adopted. These new staff members include Lauren Armstrong (Speech teacher, Heathcote), Jennifer Cronk (Computer teacher, SMS), Trisha McNeil (Special Education teacher, SMS), Dana Kani (Special Education teacher in charge, Elementary), Alyssa Kuefner (Returning Speech teacher, SHS), and Hanna Walton (Strings, elementary).
Diversity, Equity and Inclusion
Next, the administration updated the Board on the work of the Compact Committee in implementing the new DEI policy. Over two meetings, the committee established the goals of DEI for the elementary, middle, and high school levels using the NY state education framework and rigorous standards. While the goals for each education level were developed by independent teams, there was considerable overlap in the choices.
The DEI elementary school goals:

• Assess the physical environment of the classroom and school to determine whether a variety of diverse cultures, languages, orientations, and identities are reflected, represented, and valued. Promote a variety of perspectives that represent the diversity of the state of New York beyond designated icons, historical figures, months, and holidays.
• Build rapport and develop positive relationships with students, and their families, by learning about their interests and inviting them to share their opinions and concerns. Find opportunities to address and incorporate their opinions and concerns.
• Create opportunities to allow different groups and ideas to become part of the fabric of the school community by organizing proactive community-building circles and activities that promote positive relationships among individuals from diverse backgrounds. Include students, teachers, school staff, leaders, families, and community members in these opportunities.
The DEI middle school goals:

• Build rapport and develop positive relationships with students, and their families, by learning about their interests and inviting them to share their opinions and concerns. Find opportunities to address and incorporate their opinions and concerns.
• Create opportunities to allow different groups and ideas to become part of the fabric of the school community by organizing proactive community-building circles and activities that promote positive relationships among individuals from diverse backgrounds. Include students, teachers, school staff, leaders, families, and community members in these opportunities.
• Feature and highlight resources written and developed by traditionally marginalized voices that offer diverse perspectives on race, culture, language, gender, sexual identity, ability, religion, nationality, migrant/refugee status, socioeconomic status, housing status, and other identities traditionally silenced or omitted from the curriculum.
The DEI high school goals:

• Review of district policies (codes of conduct, curriculum reviews, community engagement, etc.).
• Identify and address implicit bias in the school and community environments.
• Create opportunities to allow different groups and ideas to become part of the fabric of the school community by organizing proactive community-building circles and activities that promote positive relationships among individuals from diverse backgrounds. Include students, teachers, school staff, leaders, families, and community members in these opportunities.
Each of the three teams will meet with affected groups over the summer and reconvene in the fall to set metrics for success. Member Ron Schulhof inquired why each level did not have matching goals. Superintendent Hagerman answered that each school was independently able to choose the goals that work best for that education level, and that each group will meet with the 189 people across the district involved in DEI work before setting their success metrics. While Dr. Hagerman acknowledged the need to neaten the district's DEI materials and create a separate DEI tab on the website, he stated that "all of that is on the back of the brain while we focus on the content work right now."
Assistant Superintendent McIntosh announced that the district narrowed the search field for DEI consultants down to four experts. Each candidate will create proposals for the district and interview with the leadership team and Teacher's Association representatives. Depending on these interviews, the school may engage some or all of these consultants in ways that match their expertise.
During public comments many questions were asked about the DEI policy.
Jonathan Rothenberg asked, "What specific failures have been identified? What are the barriers to achieving DEI?... The goals seem generic, what are the tangible implications? What will actually be changing? How can community members get more insight into DEI work? Will the proceedings be open to the public? How can we participate in creating the metrics?"
Mayra Kirkendall-Rodriguez said, "Metrics are very important… you should encourage transparency in the Compact meetings. Are there minutes from these meetings? Can we receive an agenda from them? It is unclear how these objectives were chosen. I am grateful for the June 22nd meeting. A lot of parents were involved in DEI work for years so I am glad to be included. Given the number attending, will there be documents to read ahead of time? Teachers should post syllabi online."
About the Board's successions plans she said, "Thank you to all four BOE members who are volunteering to lead the BOE. Three of the people who have expressed interest did not run in a BOE trustee election. You were selected in a closed-door nominating committee process. Hence voters did have the opportunity to vet you. Much remains to be done to re-integrate our students after the severity of this pandemic. We do not know what academic, emotional, or mental challenges will arise. It is unclear to me how assessments are being undertaken to determine gaps. We really need strong and inclusive leadership. I urge all of you in the new Board to really conduct your due diligence about the potential leaders. Who of these people has previous Board or leadership experience that would be relevant to the new Board now? What is their track record other than these last two years on the Board? During your time at the Board, you certainly have seen that many of us care about what goes on in our schools."
Rachana Singh said, "I am thankful for DEI work. I don't want internal HR work, I want it to be community based work. It's about the school's efforts but I want community-based work; climate surveys in each building would be very telling. Who will be responsible for creating metrics? How is the compact committee diverse? I would like to see more about neuro-diversity."
The administration will hold a Collective DEI meeting on June 22nd to solicit input from the community on how to implement the policy moving forward. This meeting will serve as a springboard for continued work over the summer.
Maroon and White Celebrates Senior Athletes
Details

Written by

Joanne Wallenstein

Hits: 1898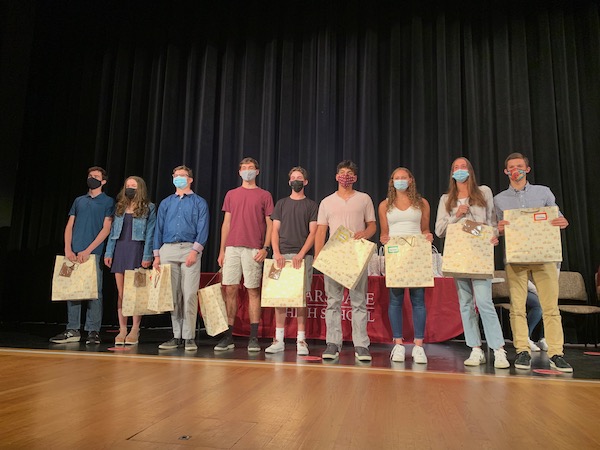 Iron man awards were given to four year, three season athletes.Though there was no barbeque this year, there was a joyous celebration for outstanding athletes and scholars in the Scarsdale High School Class of 2021 on Monday June 14, 2021. At a ceremony in the SHS auditorium, which is still adorned with plexiglass shields, Maroon and White and the high school athletic department recognized the achievements of seniors who had distinguished themselves during their high school careers
Athletic Director Ray Pappalardi and Assistant Athletic Director Joe DeCrescenzo from the high school, along with Kevin Hooey and Joe Feldman, filling in for David Alin, from Maroon and White presented the awards to the students.
Pappalardi acknowledged it was a difficult year, but was pleased that 58% of Scarsdale High School athletes were able to participate in team sports. He said, "Though we knew it would not be perfect, it was far better than the lost spring season of 2020.
Kevin Hooey thanked Maroon and White members and said that the booster organization is now in its 53 year. Their primary objective is to support Scarsdale student-athletes when certain equipment and team needs go beyond the school budget.
The first awards were given to Raider's Iron Men -- student athletes who participated in three seasons of high school sports from grades nine through twelve.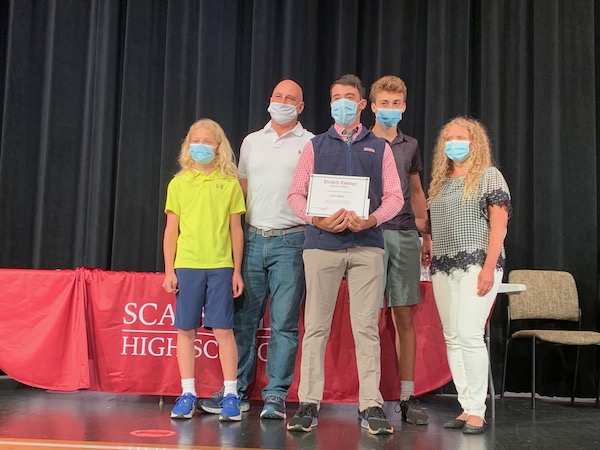 Football team manager Aaron Zoland received the Timberger Award
Receiving the Iron Man awards were:
Walter Jake Coleman
Hudson Crane
Shan Daniel
Alexa Doyle
Edward Eforo (not pictured)
Alex Friedman
Benjamin Hoexter
Bradley Kauffman
Madelyn Seltzer
Abigail Talish
Michael Waxman
Recognizing students who plan to play a sport in college, Maroon and White called out the following athletes: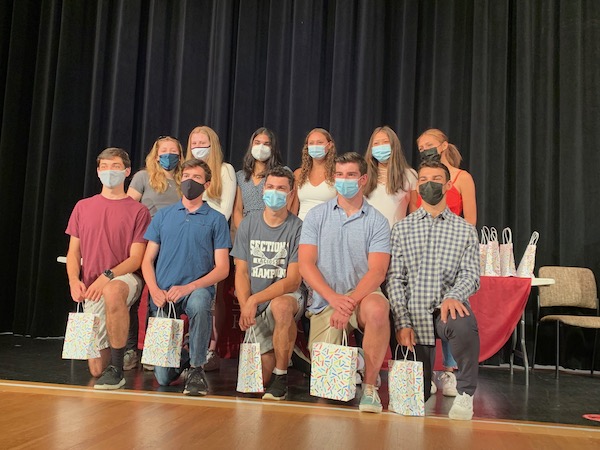 Athletes recruited to play on college teams.Charles Berridge will play golf at Berkeley
Jake Coleman will run track at UC San Diego
Shan Daniel will run track at Case Western
Justin DiSanto will swim for Bucknell
Danielle Eforo will swim at Wesleyan
Julian Higgins will play football at Case Western Reserve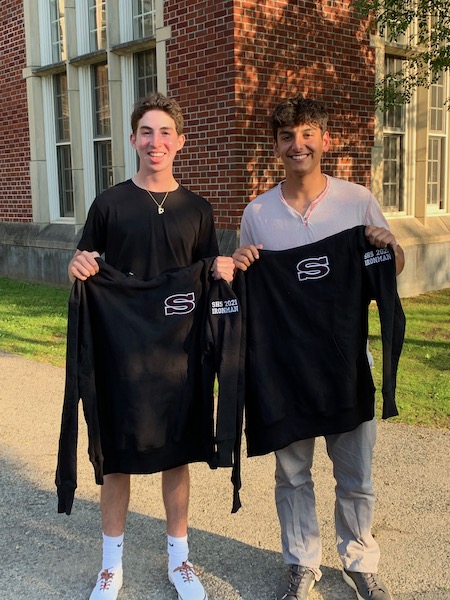 Iron men Ben Hoexter and Bradley Kauffman show off their Raiders sweatshirts.
Joy Jiang will swim at University of Pennsylvania
Brendan Knopp will play football at Franklin and Marshall
Melissa Lass will cheer at Lafayette College
Megan Lee will swim for Amherst
Steven Lee will golf for the University of Pennsylvania
Ben Miller will play football and lacrosse at Bates College
Anya Pabby will swim for NYU
Maddie Seltzer will swim and dive for Princeton
Emily Ann Tsai who will play tennis at Franklin and Marshall
Van Eer Yurami will run track at Union College.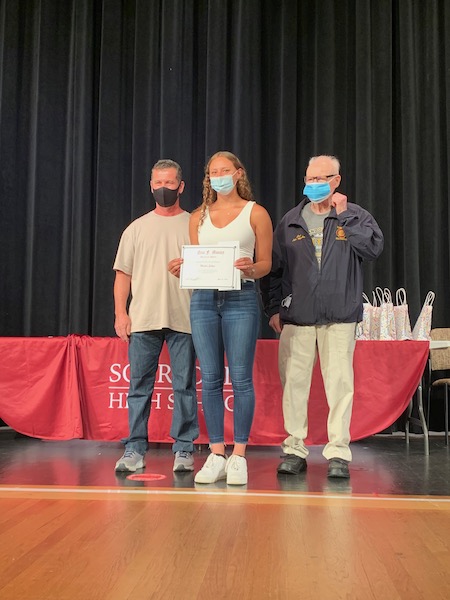 Maddy Seltzer received the Mooney AwardThey moved on to the Timberger Award, named for Elizabeth Timberger who served on the board of Maroon and White and was an enthusiastic rooter on the sideline. She died at young age. This award honors someone who help the team, whether they be a manager or a sports writer. This year, the award was given to Aaron Zoland who managed the Boys Varsity Football Team. Zoland was said to be a person of few words, always calm who was focused on the team's success and would do whatever he could to make things better for the team.
Joe Feldman presented the Nina Mooney award for Mooney who passed away at the age of 54 in 1991. According to Feldman, she lived a "boisterous, happy, existence," and had a "perpetually open house on Bradley Road. She was both "fun and feisty, and loved organizing Maroon and White events. "If you knew her you were part of her family."
The winner of the award, Maddy Seltzer, was called a team player who excelled in her individual role and as a great role model. She was a Civ Ed advisor, won the Con Edison award, and was an all-American swimmer. She graduated with a 3.8 GPA and will attend Princeton.
Kevin Hooey, surrounded by members of the Knopp family, presented the Knopp Award in honor of Mary Knopp who lived in Scarsdale for 20 years. She cheered on four sons from the sidelines and showed unwavering support for athletics as a member of Maroon and White for ten years.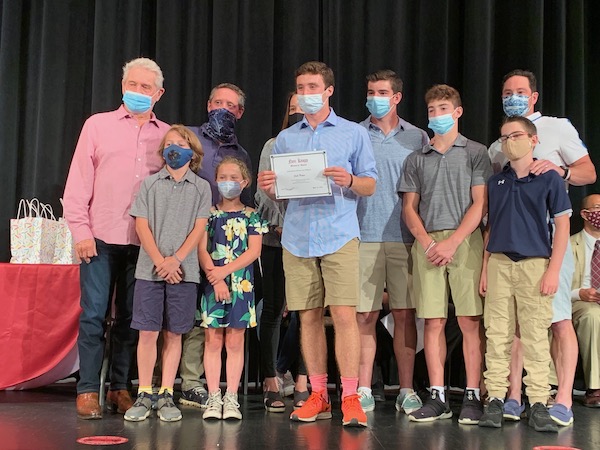 Jack Porter with the Knopp Family
The Knopp award is given to a male senior varsity player for dedication, spirit, enthusiasms, concern for others and a positive work ethic.
As it was daunting to select only one athlete, this year, two Knopp awards were given to track star Jack Porter and to Mary Knopp's grandson and football standout Brendan Knopp.
The Grant Geiger award recognized athletes who are dedicated to their sport and also dedicated to their studies. The award is given to athletes who earned a 3.5 GPA or higher. This year's awardees are Victoria Wilson and Adam Wasserman.
Ray Pappalardi presented the Athletic Director's awards, giving the Raider award to Ben Miller for his work ethic, resilience, leadership and being an athlete "anyone would want on their team." He said that Miller, "refused to lose, never quit and led by example."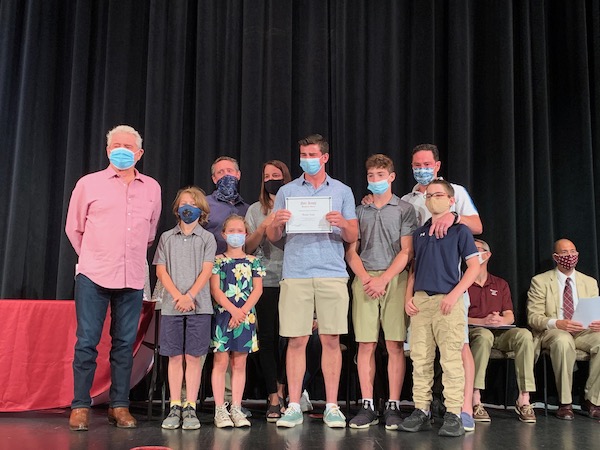 A proud moment for the Knopp family, as Brendan receives the award.Also recognized by the Athletic Department was Scarsdale Tennis Team captain Zoe Tucker, for embracing the role of captain and getting along with everyone.
The Peppers award, named for former SHS Assistant Principal Sue Peppers and her husband Jerry who raised four girls in Scarsdale is given to a male and a female athlete who is a team player with strong academics. This year's winner was Abigail Talish, who graduates with a 4.1 GPA, is a national merit finalist and a three sport team captain. On the basketball team she was a starter for three years and led the team. She will attend Columbia University.
Michael Waxman, a three season athlete and President of the Scarsdale High School student body took home the Peppers Award as well. He was described as "kind, caring, disciplined, polite and a great kid to have on the team." With a 4.1 average he is in the honors society and won the Principal's Award. He will attend Harvard University.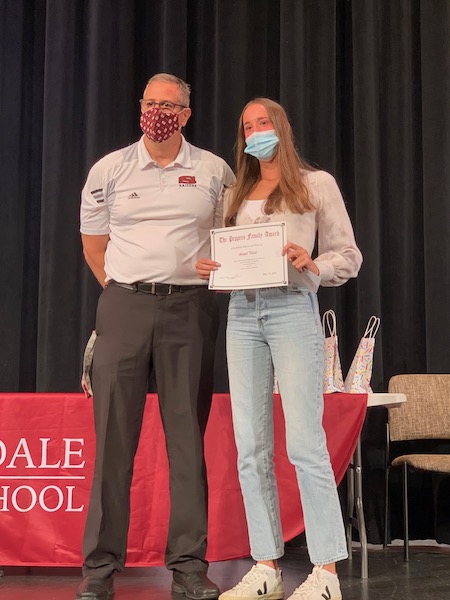 Athlete and honor student Abigail Talish with the Peppers Award
Though Maroon and White did not have the chance to honor all the spring athletes this year, they were pleased to be able to hold the ceremony and carry on this SHS tradition.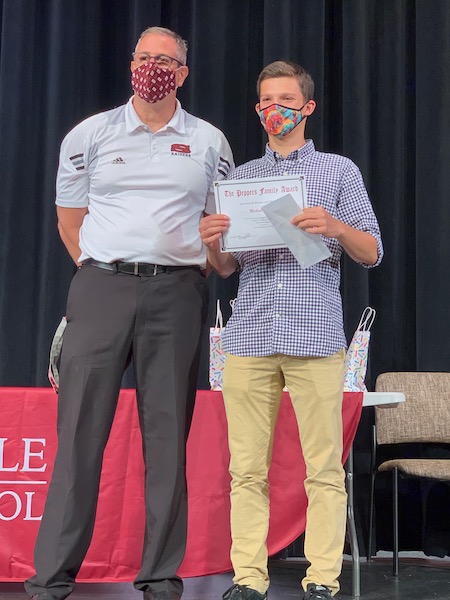 School President, three season athlete and Harvard bound Michael Waxman won the Peppers Award.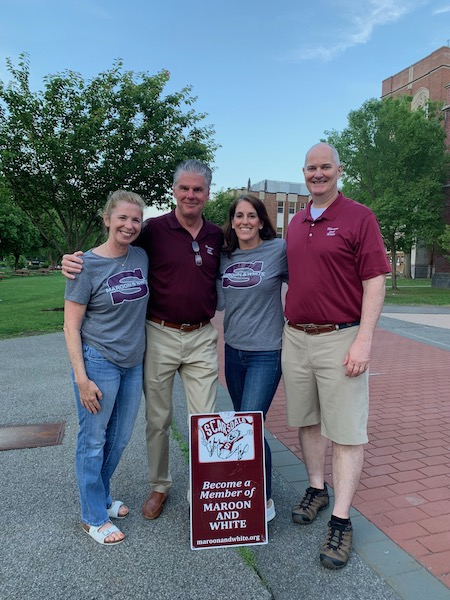 Deb Franco, Kevin Hooey and Kate and Matt Conlan from Maroon and White
District Administrators Field Questions About Their Response to the Lockout at SHS
Details

Written by

Sammy Silberberg

Hits: 1413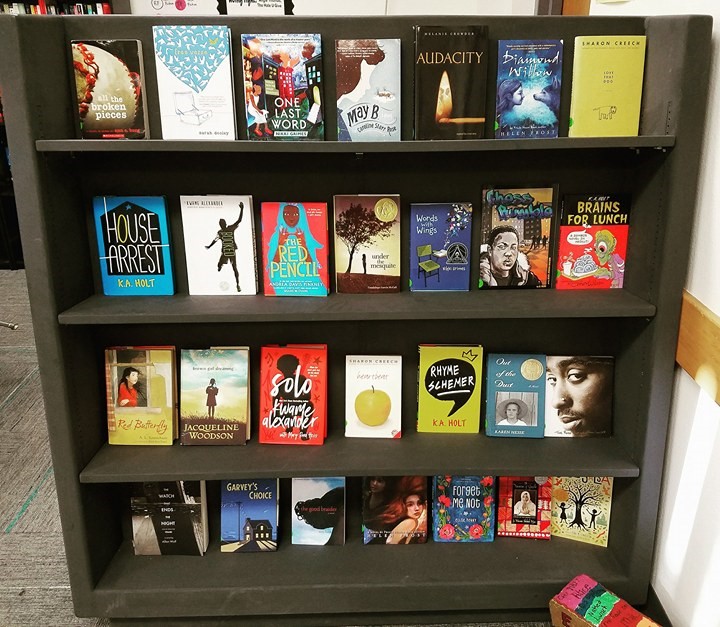 Just days after an unnamed threat closed Scarsdale High School, the Board of Education heard a debrief on the administration's handling of the incident and posed questions about the response and protocols. Also on the agenda was an education report outlining new initiatives in the curricula at all grade levels.
Superintendent Hagerman began the meeting with a tribute to longtime elementary and middle school teacher Marianne Madoff, who passed away last week. You can read more about her dedication to Scarsdale Schools here. Hagerman described her as someone who "ignited learning and inspired students… she lived her values." During her memorial, high school senior Samantha Wachs remembered Ms. Madoff as someone who was "always a guiding light… her kindness, openness, and passion for teaching will forever be remembered by her students and the surrounding community."
The Incident on May 21
Next, the administration addressed the event at the top of everyone's mind – the May 21st incident at the high school and subsequent lockdown. The exact nature of the threat remains under wraps.
Assistant Superintendent Rauschenbach reviewed the timeline and stated that a verbal threat was reported to a staff member on Friday morning, and the Threat Assessment Team immediately assembled. The team announced the lockout at 11:05 AM, called in police presence, and decided on an early dismissal around midday. About students who left the school during the lockdown, Rauschenbach said, "We determined that if students were finished with their school day they could leave through one of our marked entrances." At 1:05 the entire school was dismissed en masse.
During this time, the Scarsdale Police Department (SPD) investigated and attempted to directly contact the source of the threat. They ultimately reached the source later in the day. Several announcements were made about the lockdown over the school PA system and six emails were sent to parents over six hours. Unfortunately, there were technical difficulties in activating the Blackboard Connect emergency text system to reach students.
Dr. Hagerman recognized the frustration many in the community feel about the lack of transparency, and he reviewed the guidelines that prohibit the administration from revealing details surrounding the event. He added that threats against schools are usually made by students, parents, or other community members. As a result, the administration must be extra cautious when sending out written communications, as there is a high probability that the person making the threat will also receive the message and could use the information to further put the safety of students at risk.
He reassured parents that fire drills, bus evacuations, lockdown and lockout drills required by the state have been done with the students, despite the COVID closures.
Board member Karen Ceske inquired about the failure to send out text communications, which the administration says is fully functional but was not applied correctly during this emergency. Board Member Amber Yusef asked why, if the school was in a lockout, students were permitted to go in and out of the building. The response was that, because the police had identified the source of the threat, it was determined that students could go in and out of the building. She also wanted to know if students were on the District Emergency Response Team (DERT).
Both Board members Karen Ceske and Carl Finger pointed out where the District Safety and Security policy could be found on the district website. Please find it here.
Vice President Alison Tepper-Singer asked how well the actions on Friday aligned with the protocol. While specific figures remain unknown at this time, the administration stated that it was a very effective lockout and dismissal was smooth. Dr. Hagerman added that he was pleased with the district's coordination with the police during the incident.
Board member Robert Klein asked the administration to elaborate on the phrase "out of an abundance of caution," which the administration used frequently when describing their actions. Klein stated that this can be confusing because while the SPD may be called as a precaution, to some, a police presence may make the threat seem more dangerous than it is. He highlighted that not everyone feels protected by the police to begin with. Superintendent Hagerman stated that they use that expression to indicate that they are aware there is something to investigate. He said, "That while there can be a misalignment between the intention of "an abundance of caution" and reality, overall, the police bring a calming presence to the situation. "
Rauschenbach added that this phrase is used to assure the community that everyone is safe, but they are taking some extra steps.
Ron Schulhof suggested that one of the members of the Board of Education sit on the DERT team, but Pam Fuehrer said that since the team hasto be available to respond quickly, there would not be time to call in a Board member to participate.
During public comments, resident Michelle Sterling said the cell service at the school makes it difficult for kids to get calls or send texts which poses problems in an emergency situation. She asked for this to be addressed.
About the administration's response on Friday Sterling said, "One of the things we teach our children is that you don't always do everything right. People make mistakes, and when you do make a mistake, to own up to it and learn from it." She said, "It is important for the administration to own up to their mistakes." She recalled a similar incident two years ago at the middle school that had several technical and protocol failures, and she chastised the administration for not correcting these same mistakes. She said, "It's very painful to never hear a mea culpa from our Superintendent." While Sterling stated that she understands why certain information cannot be shared publicly, she criticized what she saw as "zero empathy" in the communications from the school. She concluded by asking the Superintendent to take ownership and apologize for the failures that occurred on May 21.
Dr. Hagerman responded that students who have Wifi should have no trouble communicating, despite the fact that the school is in a dead zone. About empathy, he said, "It is certainly our goal to be empathic in these communications. We go through an active process of debriefing."
Education Report:
The next action item of the evening was the presentation of the last Education Report of the academic year entitled Re-energizing our Educational Goals Aligned to Scarsdale's Strategic Plan.
Nancy Pavia, the Elementary Math Coordinator, presented the steps taken at the elementary level to improve math instruction. Next year, 51 teachers will pilot three new programs with the intent to adopt the most successful strategy for the 2022-2023 school year. While the current program Primary Math meets content standards, educators determined it does not meet practice standards. Examples of practice standards include "using appropriate tools strategically," "reasoning abstractly and quantitatively," and "looking for and making use of structure." Board Vice President Alison Tepper-Singer pointed out that often programs that focus on language density are very challenging for children with special needs. Ms. Pavia assured her that each pilot program is problem-based and will engage students without being word-heavy.
Elementary Science Coordinator Jenn Kylie presented an upgraded science learning plan for our youngest students. This upcoming school year, a new science curriculum will continue to be piloted. The biggest shift is that these new standards no longer require students to memorize scientific facts in isolation. Board Member Carl Finger later highlighted the impressive work the schools are doing. He stated that the last curriculum was implemented only eight years ago, and that "constant thought about what we are doing keeps us ahead of the curve and [maintains] a good educational experience."
Next, Middle School Principal Meghan Troy presented on the classroom libraries project at the middle school. Teachers are shown to be the strongest influence over what students read, and giving middle schoolers fingertip access to a wide range of books through classroom libraries will increase reading rates. The middle school is currently working to expand these libraries and provide increased professional development opportunities for faculty. Board member Karen Ceske asked how the libraries are set up to engage reluctant readers or students who may feel overwhelmed with options. Ms. Troy again emphasized the importance of teacher recommendations, and the strong influence individual teachers have over what their students choose to read.
High School Principal Kenneth Bonamo spoke about the school's Advanced Topics (AT) review. The AT program was created in 2007 to give teachers more flexibility in designing the most challenging curriculum offered at SHS. This program review began in 2019 to analyze course expectations and learning experiences, and evaluate how the AT curriculum promotes critical thinking. Educators from the Tri-State Consortium will be coming to the high school this winter to consult on the data collected through this review. These consultants will compare AT courses with more traditional AP courses and evaluate what best suits the needs of students.
Additionally, Mr. Bonamo addressed some college admission uncertainties. While many colleges made standardized testing optional during the pandemic, some institutions are moving away from these tests more permanently. Mr. Bonamo speculated that this may increase the emphasis on AP exams, as APs are not scored on a bell curve and every student has the opportunity to maximize their score.
Finally, Principle Bonamo stated that the administration will review the way high school assessments are conducted. Next year they will pilot a new schedule for the third marking period with no specific testing days to see if this increased flexibility improves students' experiences. They will also explore using a rolling grade book instead of the dedicated marking period system (quarters). The school will work with the Technology Department to gauge the effectiveness and future use of new assessment tools that were used during the pandemic. Going forward, the staff will prioritize performance-based assessment practices by examining current assessment strategies and creating collaborative opportunities among the faculty.