Letter from the PT Council: Thank You to the Board of Education
Details

Written by

Joanne Wallenstein

Hits: 257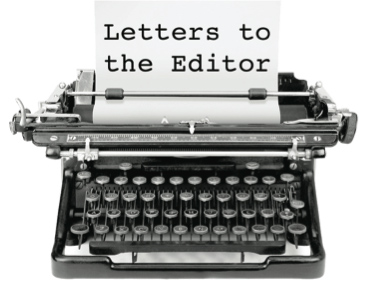 To the Editor: This year, New York School Board recognition week is taking place from October 17-21. Each year, this week serves as a time to highlight the work of dedicated volunteer School Board members. Scarsdale PT Council would like to publicly recognize the incredible dedication and immense scope of volunteer service of the members of the Scarsdale Board of Education. These seven community members dedicate tremendous time and effort to maintain and enhance the education of our community's children. They serve a significant role as fiscal stewards and advocates, in addition to engaging with and working alongside district administration, school groups and the broader community.
PT Council would like to express its deep appreciation of our Board of Education members and their commitment to moving our remarkable school system forward. A donation has been made to the Scarsdale High School PTA Scholarship Fund in honor of the Board.
Sincerely,
The 2022-23 PT Council Executive Committee
Niche Ranks Scarsdale High School #13 in the State
Details

Written by

Joanne Wallenstein

Hits: 895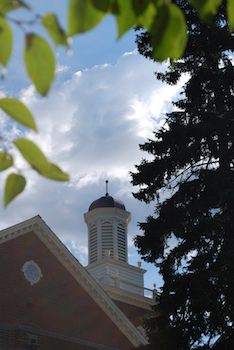 According to a new poll from Niche, Scarsdale High School has been rated number 1 in the county and number 13 in the state.
According to Niche, "the Niche Best Public High Schools ranking is based on rigorous analysis of academic and student life data from the U.S. Department of Education along with test scores, college data, and ratings collected from millions of Niche users."
Their data shows that 99% of students graduate from high school, the average SAT score was 1400 and the average ACT score was 31.
Scarsdale Football Team Triumphs 27-21 Over Arlington
Details

Written by

Ethan Fader

Hits: 466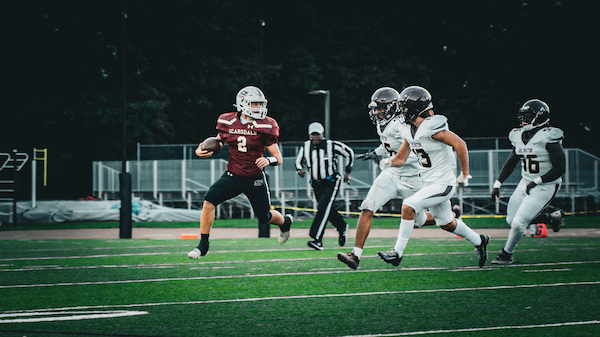 The Scarsdale Varsity Football Team beat formerly ranked team Arlington in a thrilling upset on Friday night. Senior and captain Colby Baldwin (pictured above) scored the winning touchdown, leading the Raiders to victory, 27-21.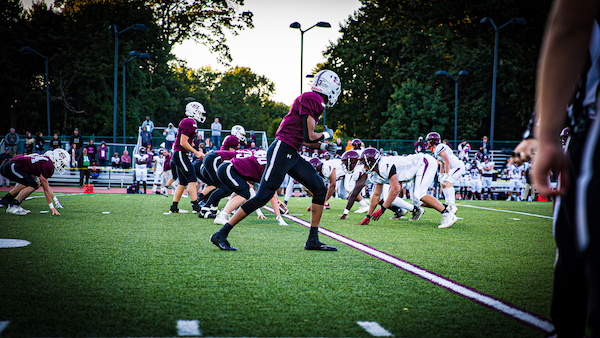 The SHS Raiders charged against Arlington's powerful defense during their first home game of the season on Friday night Setpember 23, 2022.

The team is now 3-0.
SHS Class of 1961 Celebrates Reunion with a Galaxy Forum
Details

Written by

Elisa Perednia

Hits: 509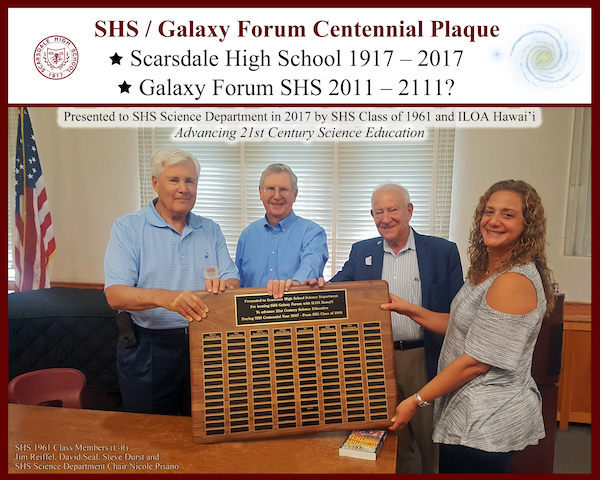 Scarsdale local history and future visions were in focus at Scarsdale High School (SHS) at the 60th- 61st class reunion weekend for SHS alumni class of 1961. Held in-person from September 30 - October 2, the event was inaugurated by ILOA Galaxy Forum SHS 2022 and followed by a discussion lead by SHS Principal Ken Bonamo, and a tour of SHS facilities.

Opening the class reunion on September 30 was ILOA Galaxy Forum SHS 2022, the 10th such Galaxy Forum at Scarsdale High School. Galaxy Forum 2022 highlighted the SHS Centennial Plaque which was dedicated to the school in 2017 and hangs outside the Science Department. It was presented to Science Department Chair Nicole Pisano and the SHS Science Department for advancing 21st Century science education and for hosting the Galaxy Forums since 2011.

The plaque honors the first 100 years since the schools' founding (1917-2017), and the SHS Galaxy Forum program future Centennial, projected to be held annually at the school (2011-2111), with metal nameplates set for engraving through 2111 and beyond. It acts as a living time capsule, being added to each year symbolizing long-range commitment and future visions of science / space education excellence.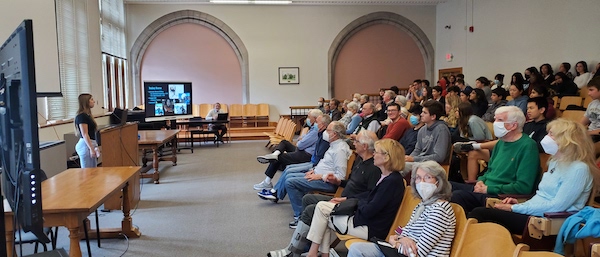 The annual SHS Galaxy Forum program is sponsored by SHS Class of 1961 Alum Steve Durst, founder of Hawai'i-based International Lunar Observatory Association (ILOA).

This year Durst spoke during the SHS Galaxy Forum about Milky Way Galaxy 21st Century Education and the ILOA precursor astronomy instruments set to land on the moon in the Spring of 2023 aboard Intuitive Machines IM-1 mission via SpaceX Falcon 9 rocket. The payload will aim to capture the first ever pictures of the Milky Way galaxy from the surface of the moon with Aloha.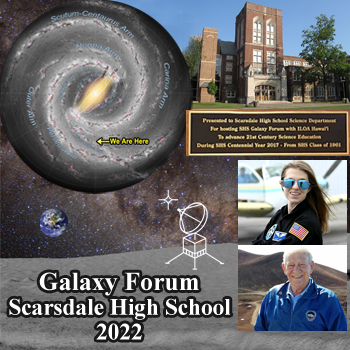 Bailey Burns, a Systems Engineer at Paragon Space Development Corporation, was the featured presenter for SHS Galaxy Forum 2022 and discussed her work and company efforts to advance the Artemis Generation (the next-generation of lunar explorers after Apollo missions), the emerging Cislunar Space Age, and the return to the Moon – for good!

Inspiring the students at SHS to aim for the stars, could the Galaxy Forum program and Centennial Plaque help distinguish SHS and enable Scarsdale on the moon in this century?
Bailey Burns, Steve Durst and Nicole Pisano
Board of Ed Asks for Your Participation in Superintendent Search Process
Details

Written by

Joanne Wallenstein

Hits: 504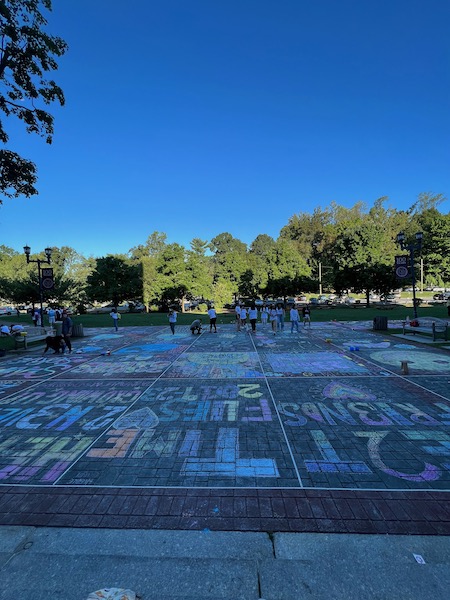 (Here's a reminder from the Scarsdale Board of Education)

Dear Scarsdale Community,
This is a reminder that the Superintendent Search Survey closes in 2 days, on September 23, 2022 at 5 p.m. If you haven't already, please follow this SURVEY LINK to provide your input.
The final Community Forum is tomorrow, Thursday, September 22, 2022, at 7:00 p.m. (via Zoomlink).
Whether you complete the survey, attend a focus group, or do both, the Board urges you to take the opportunity to provide your input. Your participation is essential for a successful Superintendent search!
For additional details, please see our September 8th communication regarding community engagement or visit our superintendent search page.
Thank you for your input in finding an exceptional Superintendent to lead the Scarsdale Schools!
Sincerely,
The Board of Education