Girls Tennis Team Wins NYS Championship
Sunday, 07 November 2021 13:51
Last Updated: Monday, 08 November 2021 12:34
Published: Sunday, 07 November 2021 13:51
Joanne Wallenstein
Hits: 1502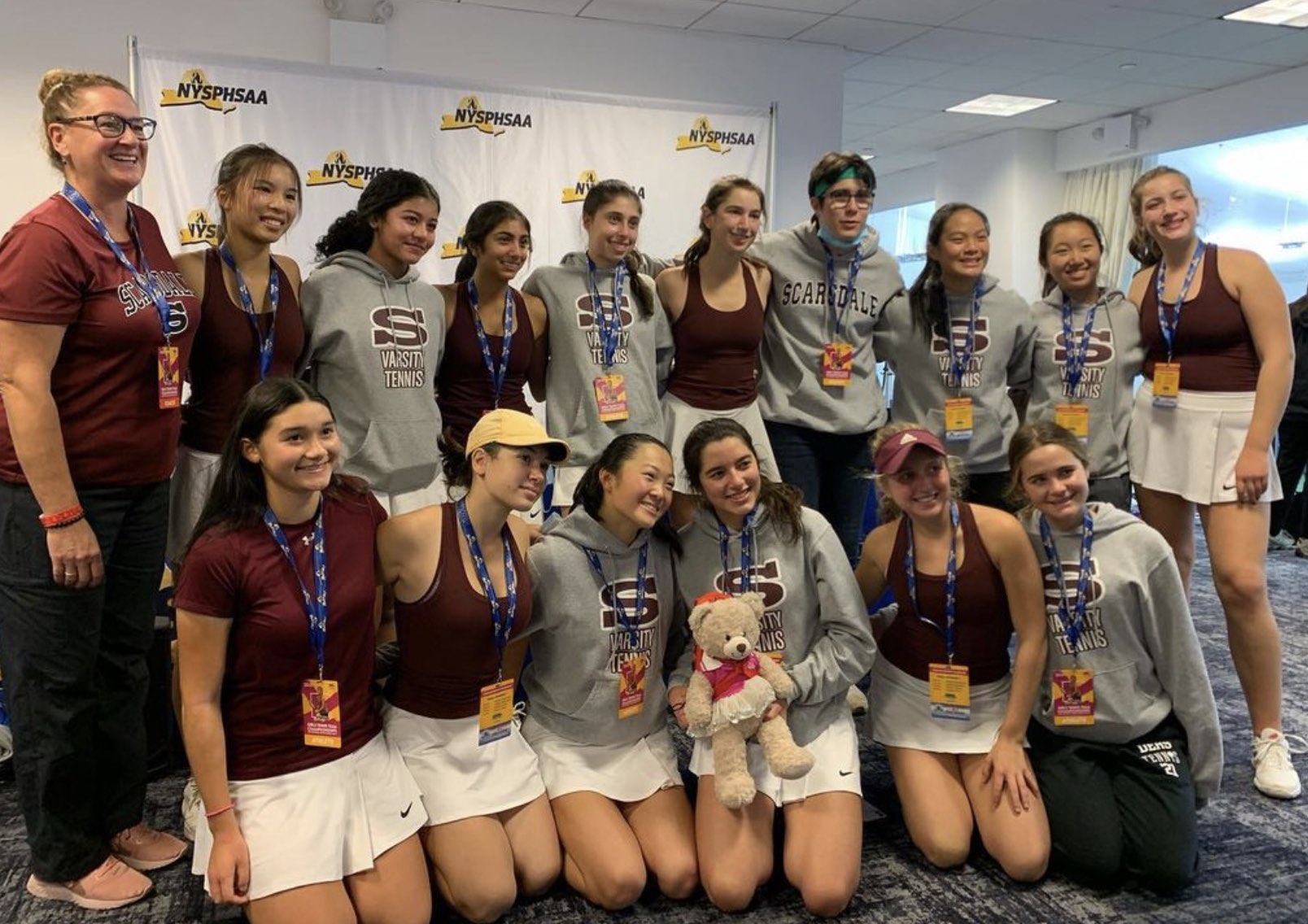 The Scarsdale Girls Varsity A Tennis Team won the New York State championship, in a tense final set on the fourth doubles court at the USTA Tennis Center in Queens on Friday November 5, 2021.
The team became regional champs in Binghamton and then traveled closer to home to indoor courts at the Billie Jean King Tennis center to play two final matches on Friday November 5th.
At 11:30 am they met another regional champ from Brighton High School near Rochester, and in usual fashion, swept the courts in a 7-0 victory. That triumph qualified them for the finals at 4:30 pm that same day, when they played against a tough opponent, Syosset High School, from Long Island.
In the long break between the two matches, the parents walked into Flushing and enjoyed a Chinese lunch. The girls took time to tour the tennis center and pose for photos in the Grandstand Stadium.

Though Scarsdale had dominated all fall, and were undefeated in the regular season, they met their match against the Long Island team. As Scarsdale Coach Jennifer Roane said in an interview after the match, "we were really pushed … they gave us a run for our money."
The girls were required to wear masks when they played, and the matches were livestreamed and recorded on video. Back at Scarsdale High School, some of the teachers livestreamed the matches into their classrooms so that students could watch.

The rules changed the night before, and each player was permitted to bring one parent. The scoring changed as well to no ads and a super tiebreaker in lieu of a third set.
What happened? Scarsdale's three singles court all won, and Scarsdale first, second and third doubles teams all lost. That left the team 3-3, with the match to be decided by the outcome on the fourth doubles court, where freshman Kay Cottrell and sophomore Natasha Pereira edged out the first set in a tiebreaker.
In the second set, Cottrell and Pereira were leading when Coach Roane came by and warned them about the noise from the stands and the cheering, advising them to tune it all out and stay focused. Did they want to know the scores of the other matches? Natasha said yes and Kay said no.

Despite the pressure, Cottrell served the final game, hitting a down the middle forehand that took the match and secured the championship for Scarsdale, winning the final over Syosset 4-3 and making history as Scarsdale's first team state champions.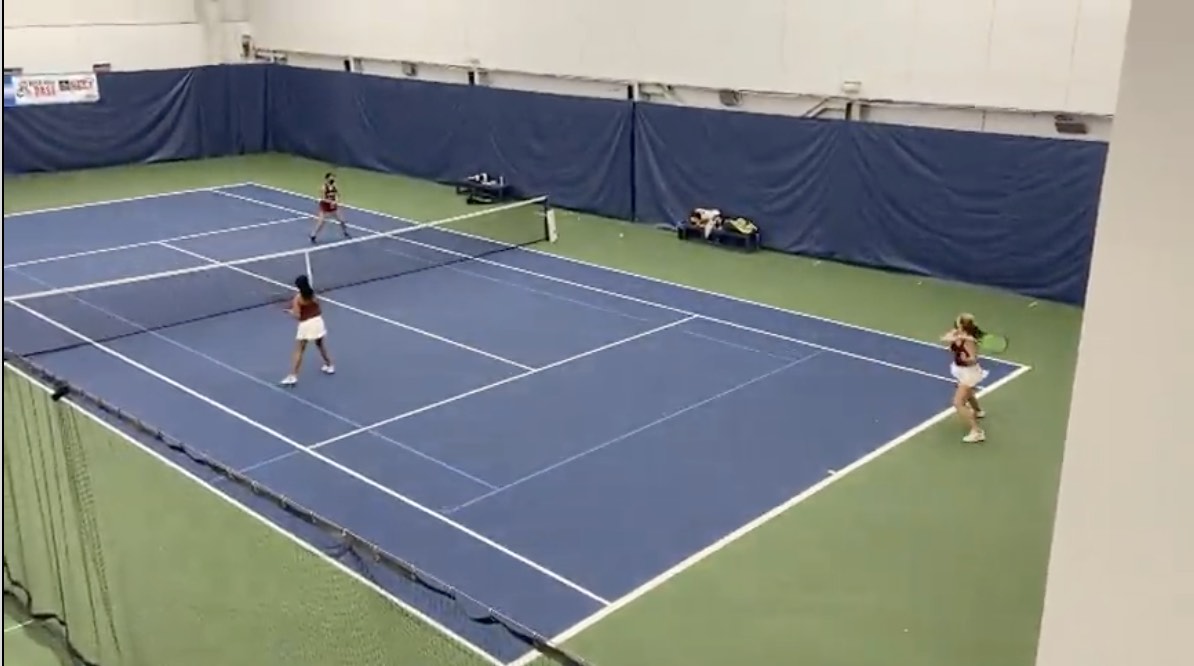 Commenting on her match, Cottrell said, "We won the second set 6-3. I did not know it was our match that was the deciding match on the last game we played, when I was serving. I wasn't really calm at all. I was overwhelmed with everyone cheering and screaming. During the match, I kind of zoned out in attempt to not get nervous or anxious, knowing that the championship was on me and my partners shoulders. I would not have gotten through it without knowing that my whole team was there, supporting us and cheering us on. They were all so supportive and excited! On the last point, I was so nervous I was shaking, but it was all worth it when everyone rushed onto the court and we all screamed and celebrated. That was the highlight of the whole match!"
Team Captains Natalie Hu and Laura Mendez called the match "an emotional roller coaster," and said, "We had many new players this season, but the more time we spent together the stronger we got." Coach Jennifer Roane said, "I have been at coaching tennis for 27 years this is a really special moment."