Emma and Willow
Details

Written by

Joanne Wallenstein

Hits: 1587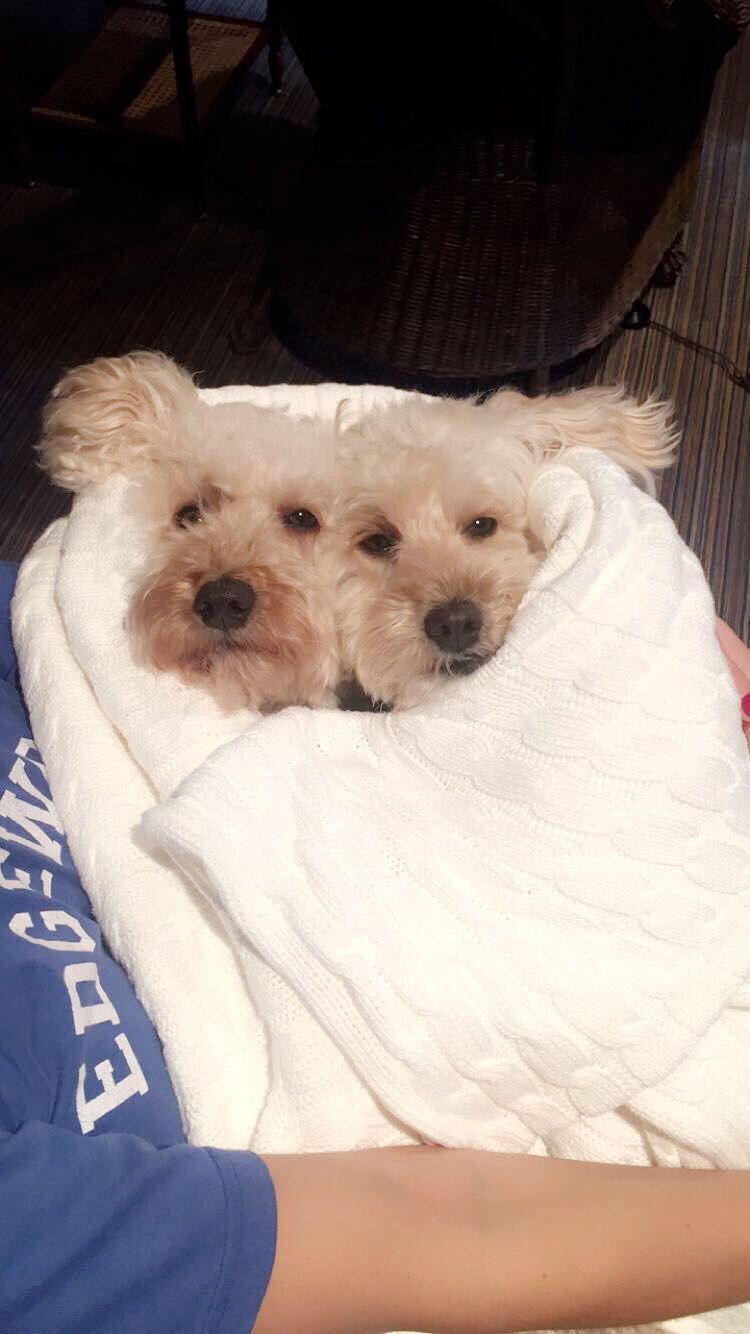 This week, we have two pets of the week: Meet Emma and Willow, sister petite mini golden doodles, originally from Wisconsin. The two of them together weigh around 30 pounds! They used to live across the street from each other in Heathcote, but now Willow lives in NYC. They love to visit each other and cuddle when they do. Emma dressed up as a TY stuffed animal for Halloween.
Share a story about your pet and a picture too. Email us at scarsdalecomments@gmail.com.
Add a comment
Is This Your Rabbit?
Details

Written by

Joanne Wallenstein

Hits: 2284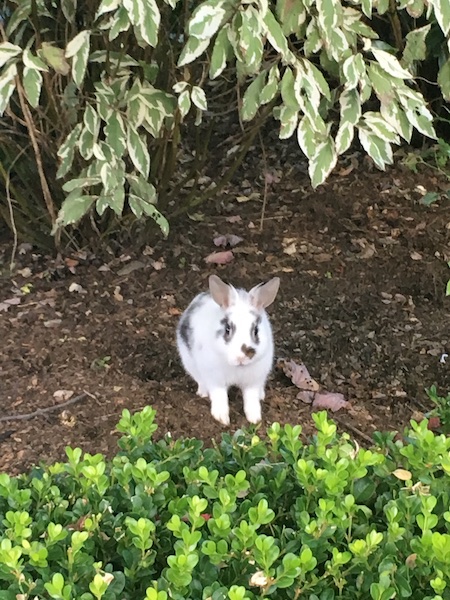 A domestic white bunny with dark gray spots was found in a yard in the vicinity of the library pond. If you are the owner please contact the Weinberg Nature Center at 914-722-1289 or info@weinbergnaturecenter.org.
Add a comment
Pet of the Week: Meet Trixie
Details

Written by

Joanne Wallenstein

Hits: 2686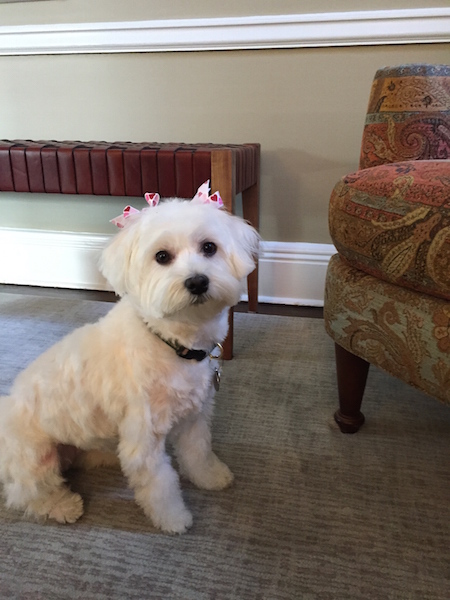 carsdale10583 is launching our Pet of the Week column. Here's the first entry from Susan Jureller, owner of Trixie. Please share photos and stories about your own pet with Scarsdale10583 for publication in upcoming weeks. Email us at scarsdalecomments@gmail.com.
Trixie:
The kids graduated, moved out, and sadly we had to put down our yellow lab of 11 years. The empty nest was incredibly empty.... too empty. So, after waiting the appropriate year, and finally vacuuming out all the shredded hair- along came Trixie a 13 lb. white Havanese.
She 's friendly, perky, loves attention and a bit of a flirt. Anyone who will give her a belly rub becomes her best friend. Playing fetch with her is pretty much a one-way game. We are working on the separation anxiety, but we love her and she has refilled our empty nest!

Add a comment
Pet of the Week: Biscuit from Beech Hill
Details

Written by

Joanne Wallenstein

Hits: 1720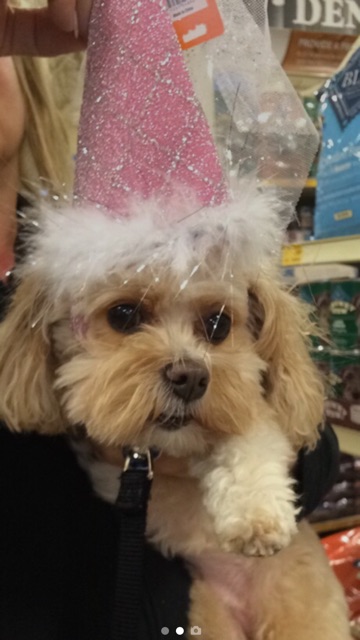 Meet Biscuit from Beech Hill
This week's pet of the week is Biscuit. According to her adoring owners she is an outstanding dog who is great with kids and a fabulous watchdog to boot!
Biscuit is a Cavapoo. Her mother is a King Charles Cavalier Spaniel and her father is an apricot colored Toy Poodle. She is 7 1/2 pounds of adorable.
Her family found her at Critter Comforts, a pet shop that was formerly on Weaver Street in Scarsdale.
Feature your pet on Scarsdale10583.com. Email a photo and a few lines about him/her to scarsdalecomments@gmail.com.
Add a comment
Library News: Scarsdale Library Receives Grant and Unsold Books Donated to Charity
Details

Written by

Joanne Wallenstein

Hits: 2047
The Scarsdale Foundation's $50,000 grant to Scarsdale Public Library for its transformative renovation helped the Campaign for Excellence reach a new milestone with over $5 million committed in gifts and pledges. "A great Village needs a great library!" said Foundation President Emily Sherwood, "so it seemed only right that the Scarsdale Foundation partner in advancing a project that defines the spirit of Scarsdale." The Scarsdale Foundation's mission supports institutions and individuals that encourage educational and human development and mutual understanding. The grant will be matched by generous donors effectively doubling its impact with construction scheduled to begin in 2018.
Where Do Unsold Book Sale Materials Go? To Numerous Charities
Every year the book sale organized by the Friends of the Scarsdale Library sells thousands of books to raise funds to support expanded library programs. And every year there are unsold copies as our community donates many books. This year, the Friends along with Steve and Barbara Kessler came up with a plan to donate the unsold books to not-for-profits and senior citizen homes. Steve is a Library Trustee and Barbara is a former librarian and current library volunteer.
Members of the Friends and Library Trustees are contacting charities they know to see if they would like donated books. The response has been wonderful and bookshelves in numerous locations will have many additional fiction and non-fiction books.
The books will be available to all not-for-profits through Friday, September 22, and can be picked up at the Scarsdale Library.
Among the organizations and institutions receiving books are: P.S. 43 in the Mott Haven section of the South Bronx, White Plains Hospital, The Riverdale Atria, The Denver Jewish Community School. The Bronx VA Hospital is being contacted.

"Both Barbara and I have a keen interest in the wonderful library we are fortunate to have in Scarsdale that provides extensive programs and services for people of all ages in the community," Kessler said. "We thought it would be a marvelous idea for the Friends to organize a program to donate the books to organizations and institutions whose users truly appreciate having the books."
"The Friends of the Library Book Sale is a major event every year in Scarsdale and being able to expand its reach and provide books to a variety of worthy not-for-profits is wonderful," said Kathy Gray of the Friends.
For additional information contact Gray at kgrayclapp@aol.com.
Add a comment