New Documentary Sparks a Community Conversation About Anxiety
Details

Written by

Lauren Rubino

Hits: 4471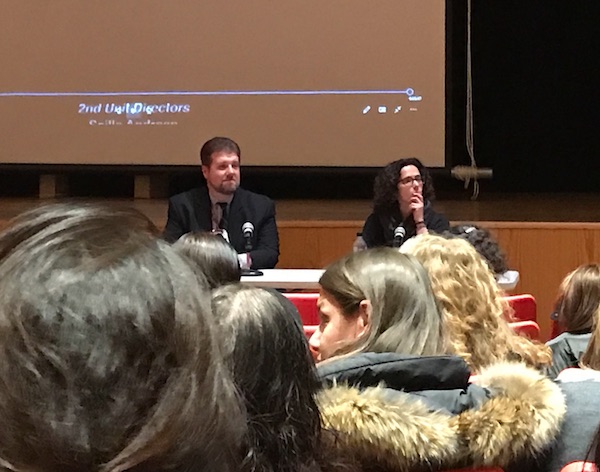 According to the World Health Organization, anxiety is one of the most common psychological complaints in the world. And it doesn't discriminate: It affects adults, teens, and children as young as four years old. It's also an issue that more and more Scarsdale families are facing due to social pressures, school demands, and the pervasiveness of technology.
To raise awareness about anxiety and start a community conversation about mental health, on Tuesday, January 9, Scarsdale C.H.I.L.D. and the PT Council sponsored a free screening of the documentary Angst, a film that explores anxiety, its causes and effects, and what we can do about it. Held at the Scarsdale Middle School auditorium, the screening drew a large audience of Scarsdale parents, demonstrating the importance of this issue in the community.
The eye-opening film features candid interviews with kids and teens dealing with different forms of anxiety and what they experience as a result. One teen in the film describes what happens to her when anxiety attacks: "My hands start to shake. I feel like I can't breathe. I kind of, start to breathe really rapidly and can't slow my breathing. So then my body starts to think that there's no oxygen and that I'm dying."
Angst also delves into the science behind anxiety and the most common reasons—or what's referred to as "core fears"—that cause it: inadequacy, abandonment, rejection, and judgment by others. The film goes on to talk about different coping mechanisms, from distraction in the form of breathing exercises or journaling, to exposure therapy—doing the very thing that scares you.
Showing that anxiety affects everyone—even the most accomplished of people—Angst features a cameo by Olympic swimmer Michael Phelps, who has struggled with anxiety and depression throughout his life. Finally seeking help after years of pushing people away, he explained, "I understood that it's okay to not be okay." He also emphasizes that opening up about his feelings instead of bottling them is what finally got him the help he needed.
Following the screening, Scarsdale Middle School principal Meghan Troy led a moderated discussion with panelists Eric Rauschenbach, Scarsdale Schools Director of Special Education and Student Services, and Sandra Pimentel, Ph.D., Chief of Child and Adolescent Psychology at Montefiore Medical Center and the Albert Einstein College of Medicine. They answered questions from parents in the audience about how the school system is preparing teachers to deal with mental health issues, how they are helping students who are dealing with stress and anxiety, and what to do if you think your child is struggling with mental illness.
Rauschenbach commented that they have noticed an increase in anxiety in students and are working to educate teachers and staff so they can identify children who may be dealing with mental illness. At the elementary level, school psychologists regularly visit classrooms to talk to children about different issues they may be facing, and at the middle and high school levels, the schools are making wellness a priority by looking at what causes stress, making sure the workload is reasonable, and ensuring that kids have the tools to deal with daily anxieties at school.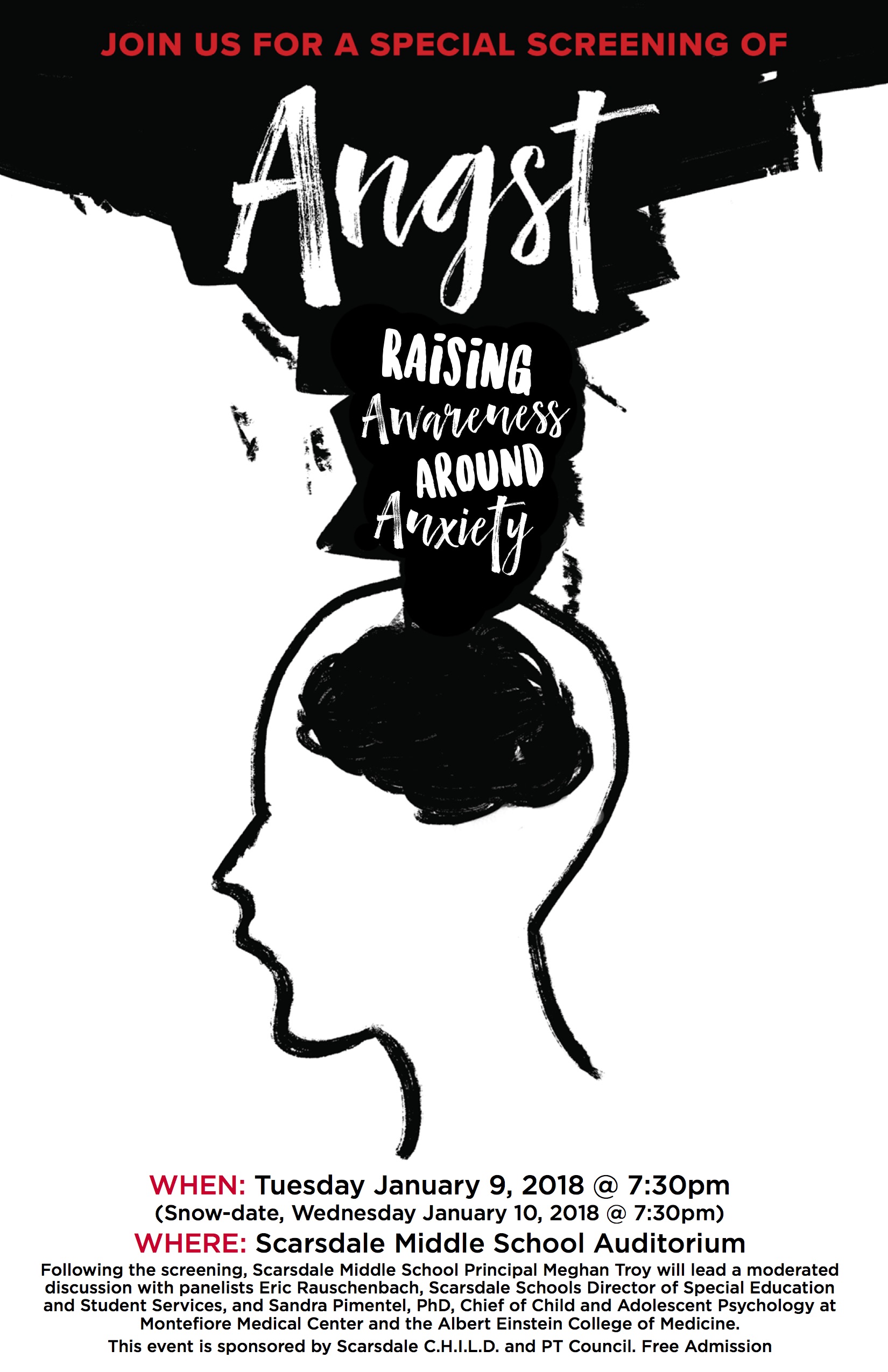 For parents who think their children may be struggling with anxiety, Dr. Pimentel expressed a sentiment that was hammered home at the end of Angst. "Get help, seek help," she said. "Start the conversation." For Scarsdale families wanting to do just that, both panelists recommended seeking professional help from a pediatrician, as well as reaching out to school administrators, the school psychologist, or Scarsdale C.H.I.L.D to get children the support they need.
Lauren Rubino has over 10 years of experience working in marketing and communications. She has held a variety of roles in the book publishing industry and at startups, and is currently working as a communications consultant for a nonprofit organization and a freelance writer. Originally from the Boston area, she lives in Quaker Ridge with her husband, two children, and little dog.
Schools Closed Friday Too!
Details

Written by

Joanne Wallenstein

Hits: 3192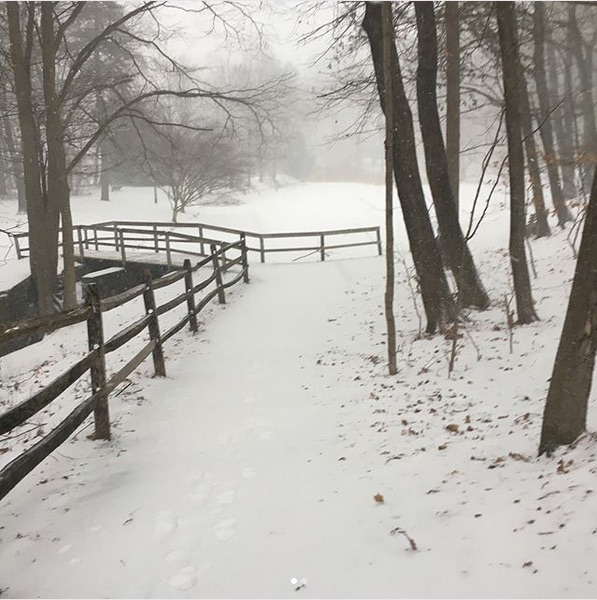 (Updated Friday January 5, 2018) The Scarsdale Schools are closed for a second day in a row on Friday January 5 due to extreme cold and concerns about exposure. The temperature at 8 am Friday was 8 degrees, and is not expected to rise above 12 degrees for the day. The Scarsdale Schools were closed on Thursday January 4 due to severe conditions from winterstorm "Bomb Cyclone Grayson."

As of 1 pm on Thursday, police report that call volume is relatively low. With most people at home the streets are virtually empty and there have been very few car accidents, though there are a few power outages due to fallen tree limbs. Sanitation is currently out plowing but the wind continues to blow snow onto the roads.
The following local organizations and businesses were closed on Thursday:
Advocate Brokerage
Eye Q Optometrists
JCC of Mid-Westchester
Scarsdale Library
Scarsdale Medical Group
Scarsdale Synagogue
Westchester Reform Temple
Yoga Station

Send your snow photos to scarsdalecomments@gmail.com for publication and enjoy your snow day.

Raiders on a Roll: Basketball and Hockey News
Details

Written by

Jordy Love

Hits: 2688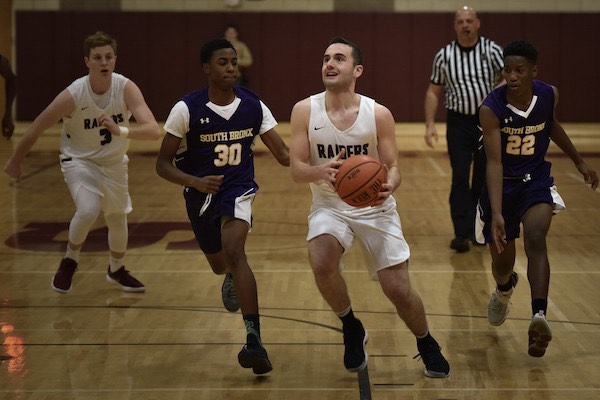 The Boys Varsity basketball season is off to strong start. The Raiders earned their first two wins on the road, first with a 60 - 41 victory on Long Island over Southside then a 62-34 victory at Carmel. They added a 69-35 win against Bronx South HS in their first home game last Friday night in the SHS Kari Pizzitola tournament. Scarsdale will face Tappan Zee in the championship game at a later date. The tournament has been postponed due to snow and is being rescheduled.

Led by Senior Captains Will Hoffman, Nash Goldman, Leo Katz and Jared Shulman, the Raiders are ranked second in Section 1 and fourth in Westchester County. According to Goldman, the Raiders " are 3-0 so far. We are playing well together and having fun out there. I'm excited for the rest of the season."
Their next game is on 12/16 versus Rye at Manhattanville College at 3 pm.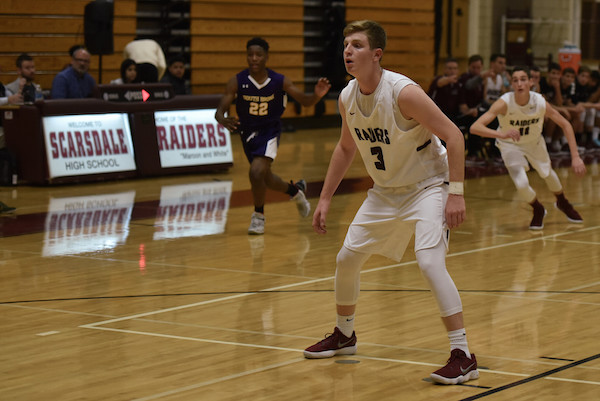 The team will travel to Miami over the December break to compete in the Jr. Orange Bowl Basketball Classic.

The remaining game schedule is as follows:

12/18 @ Horace Greeley 6pm
12/20 vs. Clarkstown North 4:15pm
1/5 @ Spring Valley 5 pm
1/11 vs. New Rochelle 4:15pm
1/17 vs. Mamaroneck 4:15pm
1/19 @ White Plains 4:30 pm
1/20 @Tappan Zee vs. Pearl River 5:00pm
1/23 vs. Mt. Vernon 4:15pm
1/29 vs. Yorktown 4:1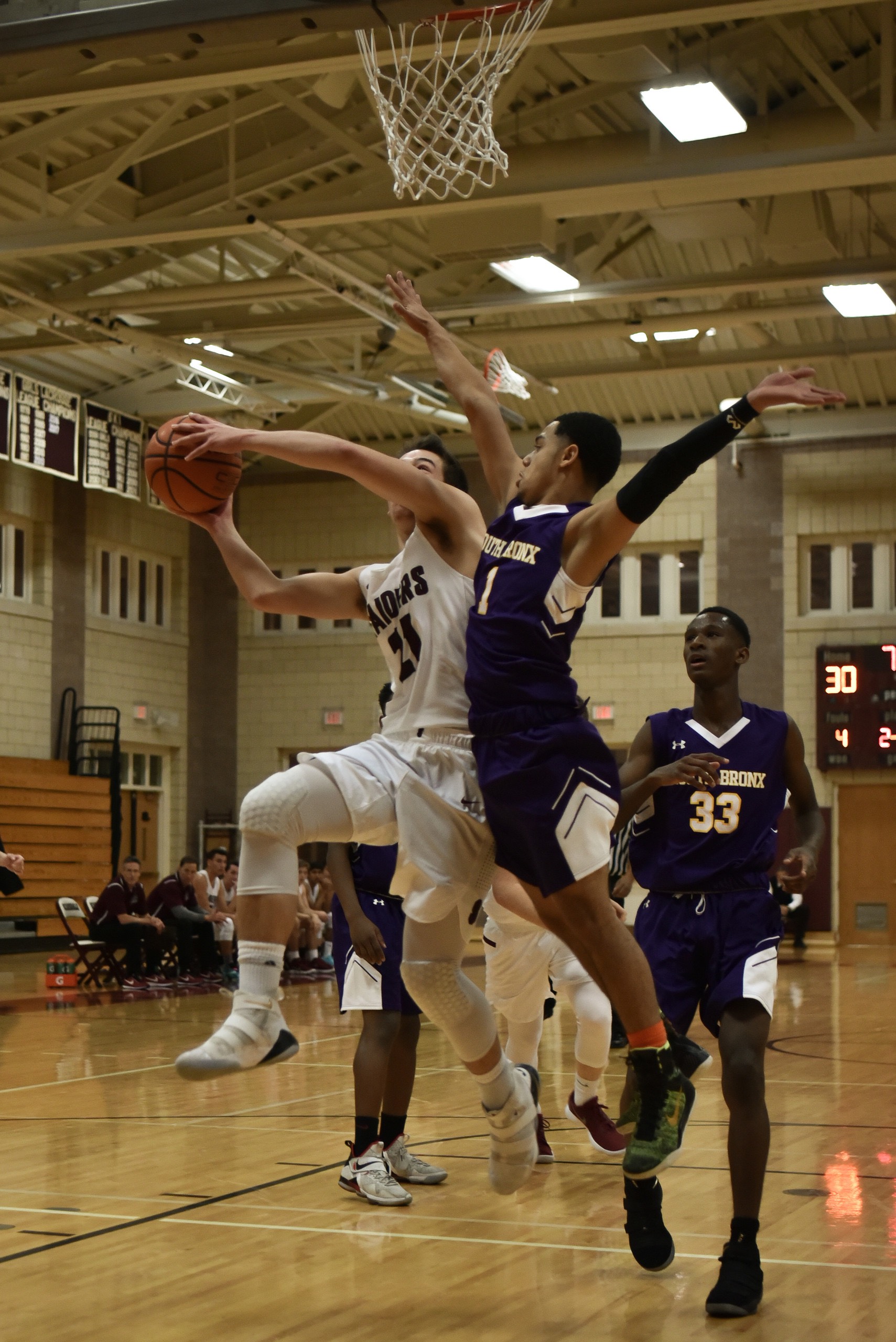 5pm
1/31 @ New Rochelle 4:15 pm
2/6 vs. White Plains 4:15pm.
2/8 @ Mt. Vernon 4:15 pm.
Photos by Jon Thaler. See more here.

Ice Hockey
The Scarsdale Raiders Varsity Ice Hockey team lost to the Niagara Wheatfield Falcons 4-0 on Saturday (12/9/17) afternoon at The Ice Hutch in Mt. Vernon.
This was the Raider's second game of the season,losing a heartbreaker to Fordham Prep the night before.
Nikolai Karabanov got his 2nd career varsity start in net and made 14 saves to keep the game close. The Raiders next take on rival Mamaroneck is at the Ice Hutch on Saturday at 6:50pm. For the full schedule, please visit ScarsdaleVarsityHockey.com. Photos by Jon Thaler. See more here.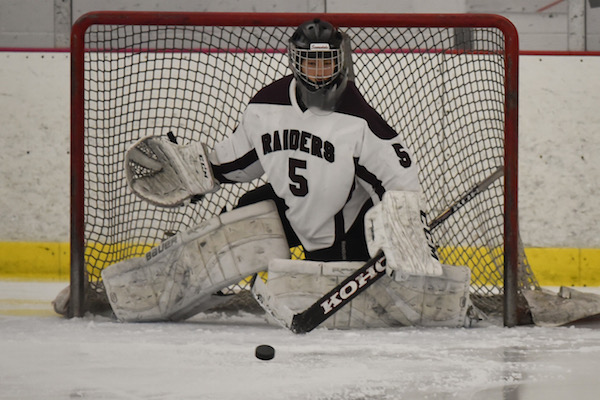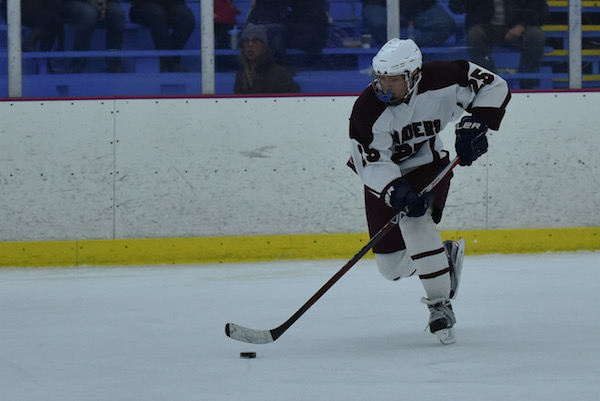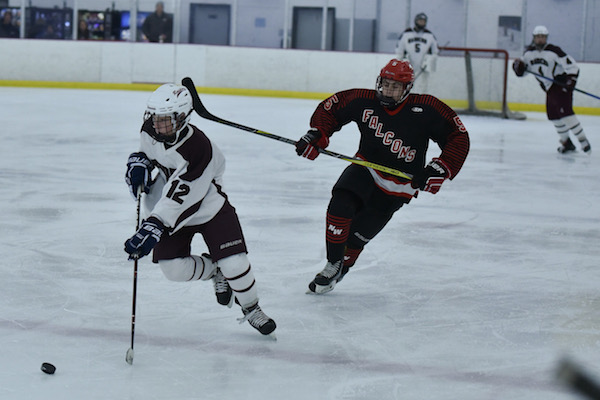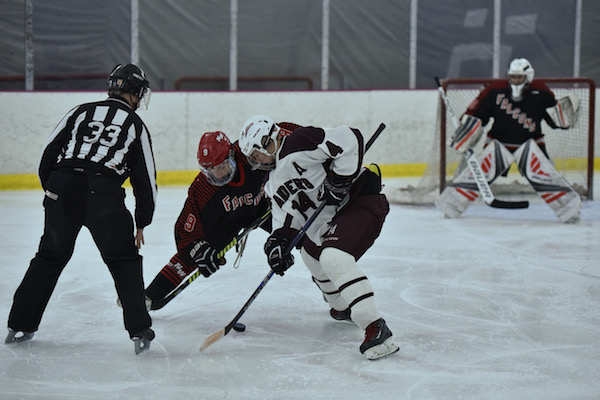 Scarsdale Ice Hockey Team Scores First Win of the Season
Details

Written by

Joanne Wallenstein

Hits: 2668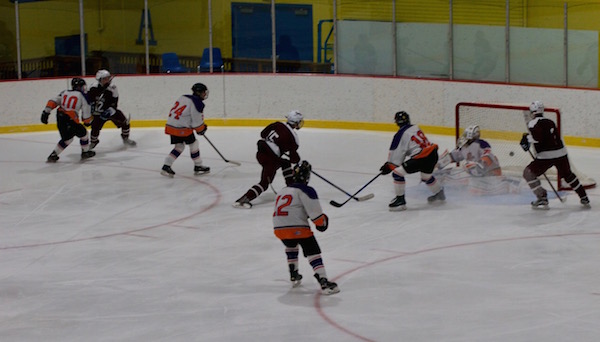 The Scarsdale Raiders Varsity Hockey team won their first game of the season with an epic comeback against the combined Stamford/West Hills High School team at Terry Connors Ice Rink in Stamford Connecticut on Monday December 18.
The Raiders were down 2-0 heading into the second period, but got on the board with a goal from Junior Alternate Captain Ben Schwartz, with Senior Jeremy Wolfe making the key assist. Senior Matthew Hyman tied the game with a quick shot from the slot, after receiving a pass from Freshman Josh Bock. After giving back the lead at the end of the period, the Raiders tied the game late in the third period with a hard fought goal by Junior Ryan Collins, with assists from Senior's Jacob Kahan and Loic Harousseau. Senior Captain Sam Seltzer kept the Raiders in the game making 41 saves until there were 30 seconds left in the eight minute overtime period and Junior Alternate Captain Jack Brosgol punched in a loose puck in front to win it for the Raiders, with Schwartz and Wolfe assisting.
Although the Raiders had to kill off five penalties and only managed 14 shots on goal, they played their best game of the year. The win followed an impressive tie against rival Mamaroneck, last year's Section 1 Champs and a favorite to repeat this year. The Raiders record now stands at 1-2-1 and will have three more games prior to the winter break. For more information on the Raiders Varsity Ice Hockey Team, visit ScarsdaleVarsityHockey.com.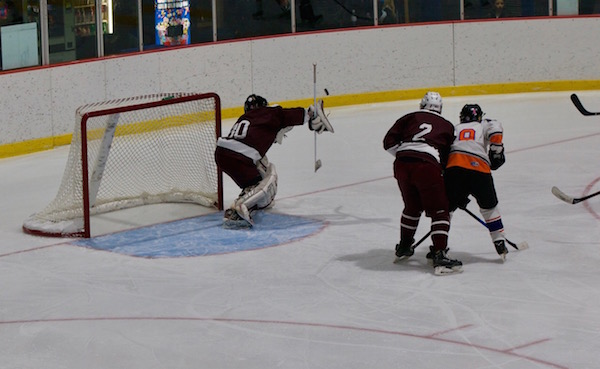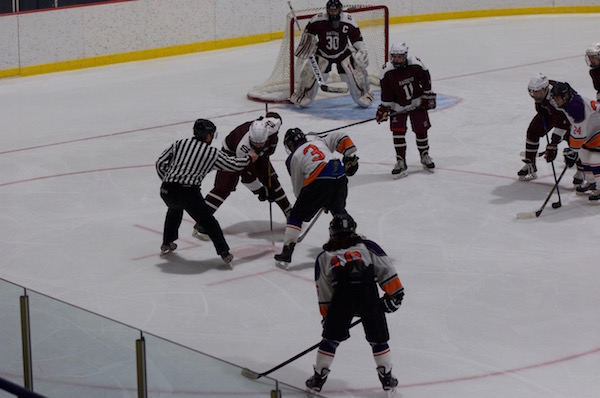 Kari Pizzitola Basketball Tournament on December 7, 8 and 9 at SHS
Details

Written by

Jordy Love

Hits: 2604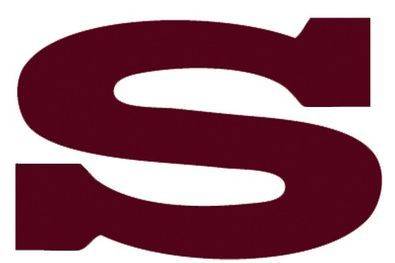 Support the Scarsdale Raiders Varsity Basketball Teams!
Come Support the Scarsdale Raiders Varsity Basketball Teams
Scarsdale's Maroon and White athletics and physical education booster organization will sponsor the 8th annual Kari Pizzitola basketball tournament on December 7th - 9th at Scarsdale High School. This holiday tournament honors the memory of Kari Pizzitola, a longtime Scarsdale resident and former Maroon and White President who passed away in 2008.
There will be free giveaways on both Friday and Saturday nights and mini "Scarsdale" basketballs to first 150 kids who arrive on Saturday Night. Additionally there will be a DJ Music and performances by Scarsdale High School Acapella groups. Half Time entertainment, and food will be provided as well as various incredible raffle prizes such as gift cards to Polpettina, Buon Amici, Amazon and Flatiron Hall, an Amazon Echo, Beats wireless earphones, a Candy Rocs gift basket and some personal training fitness sessions.

Schedule:

Thursday, December 7th:
4:00pm (Boys) Tappan Zee vs. Somers
6:00pm (Girls) Fox Lane vs. Truman
Friday December 8th:
4:30 (Boys) Bronx Science vs. Scarsdale
6:15 (Girls) TBA vs. Scarsdale
Saturday, December 9th:
4:00pm Girls' Consolation Game
5:00pm Girls' Championship Game
6:00pm Boys' Consolation Game
7:00pm Boys' Championship Game