Promising Start to Raiders 2018 Season
Details

Written by

Joanne Wallenstein

Hits: 1880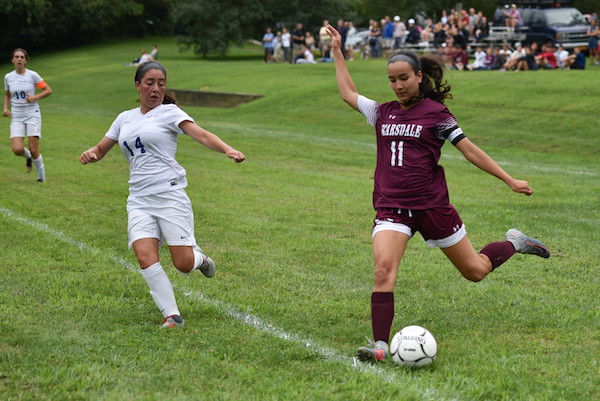 Co-captain Nayumi Parente-Ribeiro prepares to cross the ball during the first halfThe Scarsdale Girls Varsity A Soccer team has high expectations for the 2018 season, with a surfeit of talent returning amid hopes for a deep run in the Section 1 playoffs. The team began the season on a promising note with a 9-0 victory in its opening game against an overmatched Port Chester team, followed by a tough 3-1 loss against Somers High School.

The Port Chester game was played on Friday, August 31 at Scout Field. While the entire team played well, there were noteworthy performances by junior forward Olivia Bryant and senior mid-fielder Ella Ansell, each of whom tallied multiple goals, and several effective crosses by senior forward Nayumi Parenti-Ribeiro. Senior goalie Christina Coco played the first half and junior reserve goalie Sophia Caione played the second half. Neither one of them was tested. Every player on the Raiders' roster saw meaningful playing time, enabling head coach Mindy Genovese to showcase the depth of talent that is the cause of so much optimism about the team's prospects this season.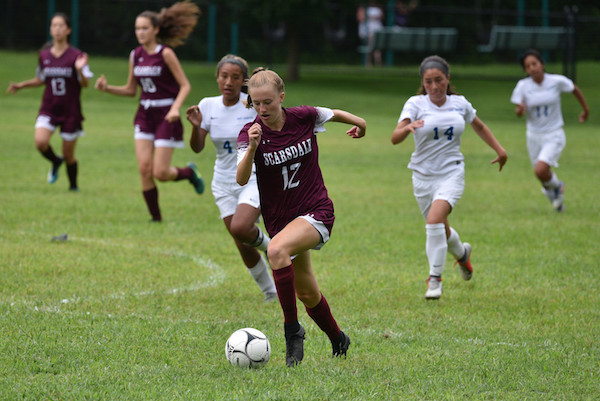 Junior forward Olivia Bryant races down the field with a Port Chester defender in pursuit

The team faced a sterner test in its game against the Somers Tuskers on Wednesday, September 5 at Scout Field. Somers is a perennial top team in Section 1 and the Raiders knew they were facing a tough opponent. The contest was played in 90 degree heat and high humidity, with several dozen spectators in attendance. Throughout the game, Coach Genovese rotated players in order to ensure that everyone on the field was properly rested and hydrated. Scarsdale scored first, on a beautiful combination started when midfielder Ansell received a pass and sent a beautiful ball down the right side line to a streaking Kelly Rutherford. Rutherford was fouled as she closed in on the goal. The foul in the box resulted in a penalty kick and junior forward Olivia Bryant dutifully placed the ball in the top left corner of the net for a 1-0 Scarsdale lead. The game remained 1-0 at halftime. Shortly after the second half whistle, Somers scored on a header off a corner kick to knot the score at 1-1. About five minutes later, mid-fielder Allison Stafford sent a rifle shot from the top of the box toward the upper left corner of Somers' goal, only to be thwarted as a Somers defender standing at the goal line managed to jump and head the ball just over the crossbar. Several minutes later, Somers took the lead on a misplay by the Scarsdale defense that led to a breakaway. Ansell had a chance to tie the score with a few minutes remaining in front of an empty net off a rebound in front of the Somers' goal, but the shot went just wide. Somers scored late on a defensive miscommunication. Overall, the game was evenly played with neither team dominating in terms of possession. It was a game the Raiders could have, perhaps should have, won and there was some consolation in that the team demonstrated that it is capable of playing with the top teams in Section 1.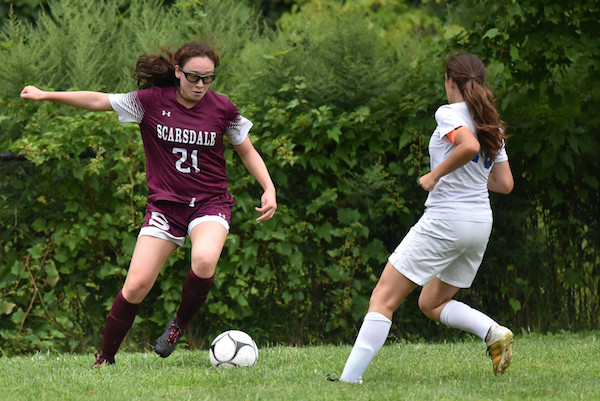 Senior mid-fielder Kelly Rutherford takes on a Port Chester defender one-on-one

The next game will be against Section 1, Class AA rival North Rockland at 4:30 p.m. on Friday, September 7 at Scout Field. North Rockland traditionally poses one of the Raiders' sternest challenges each season and this year promises to be no exception. Scarsdale10583.com will be there to follow and report on the action.
Photos by Jon Thaler – see more here: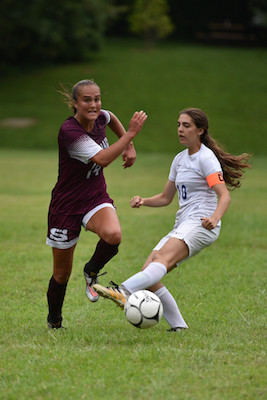 Co-captain Allison Stafford battles for possession against Port Chester
Co-captain Paige Barlow dribbles the ball up the left sideline
Kindergarten Enrollment Remains Low as Scarsdale Opens the 2018-19 School Year
Details

Written by

Joanne Wallenstein

Hits: 3607

The Scarsdale Schools will officially open next week with the lowest student population in a decade. Currently district-wide enrollment stands at 4,689 students, down 80 students from the 2017-18 count of 4,769. In 2014-15, district enrollment was at 4,821, 132 students higher than this year.
The majority of the decrease in the number of students is in kindergarten, where only 255 students have registered, which is 69 students shy of the demographers projections of 324 students and down 70 students from the 2017-18 kindergarten class of 325 students. As of the July 10, 2018 meeting 236 had registered for kindergarten, and Assistant Superintendent Drew Patrick hoped that more would move in during the summer –- but to date that number only climbed to 255 – another 19 students.
The population at Scarsdale Middle School was projected at 1,130 and now stands at 1,118, down 12 students. At the high school, projected enrollment was 1,519 and is three students over at 1,522.
The total number of elementary school sections remains at 103. The loss of new students is spread around the district, with Edgewood, Greenacres and Heathcote to have two kindergarten classes rather than three this past year and Fox Meadow to have three sections as compared to four last year. At Quaker Ridge, the number of kindergarten classes will remain at four.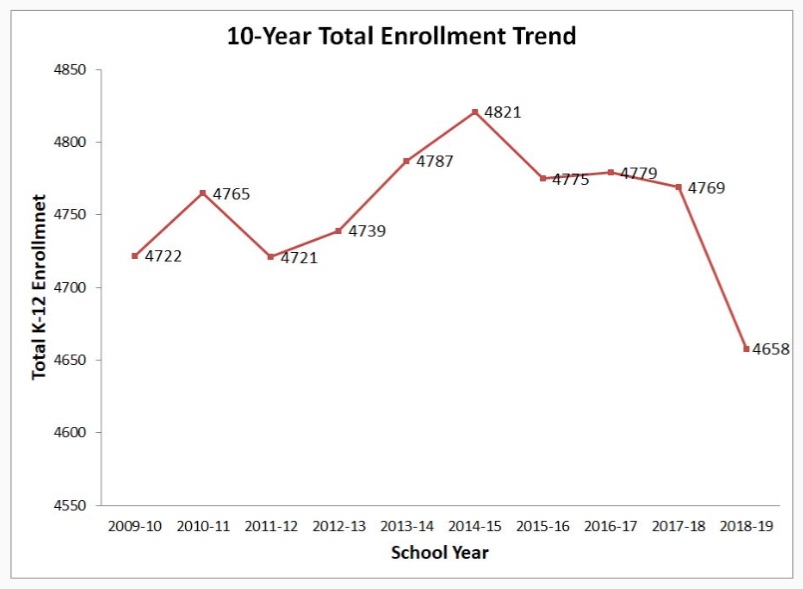 Enrollment Projection as of July, 2018. Enrollment now stands at 4,689 students for 2018-19


We asked Assistant Superintendent Drew Patrick for his thoughts on the numbers and here is what he shared:
What do you think are the factors behind this decrease in enrollment?
Hard to be certain, but it seems as if the change in the tax law may have stalled or delayed some people deciding to make a move to Scarsdale. Some real estate folks (through the grapevine) have indicated this may be a reason.
Will the sections be smaller? Why are there still 103 sections?
Our K-3 sections cap out at 22, and 4-5 at 24, so that drives the number of sections. The 103 represents where we were in June and in July, so this is consistent. We are down 3 from projected (106). Class sizes vary- where we have, say 52 kids, that demands three sections of 17, 17 and 18 (students), where if we have 43, that will be 22 and 21. I will give a full update on the September 17, 2018 Board of Education meeting.
Were any teachers laid off?
No. This was accomplished through attrition, though we did have to let go of 2 1-year leave replacement teachers. They were never promised more than a year, though.
Will the elementary schools be able to repurpose the space – and if so how will it be used?
That would have to be directed toward the schools- I can't speak for them. However, keep in mind this represents only 3 fewer classrooms total across 5 schools.
In other district news, Assistant Superintendent Stuart Mattey responded to our questions about the results of some ground testing at Greenacres that was done this summer in advance of the construction.
According the engineers, testing found the following:
-No groundwater encountered to a depth of 10'-0" below grade; and
-No changes to plans are required; and that
-Soil conditions are adequate for a typical foundation design.
Scarsdale Schools Education Foundation: Fostering Innovation in the Scarsdale Schools
Details

Written by

Joanne Wallenstein

Hits: 2367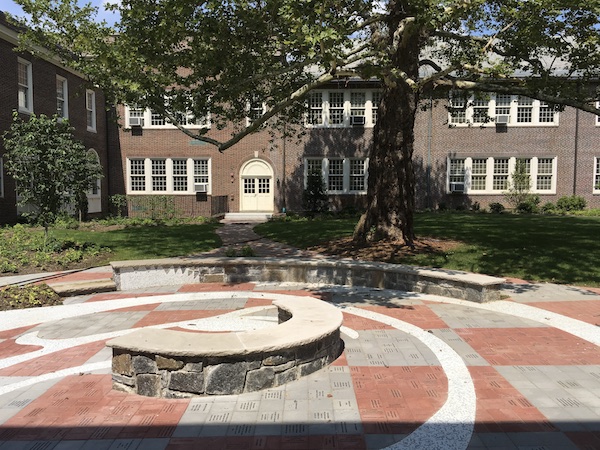 The SHS courtyard is lined with pavers enscibed with the names of donors.Now that the Scarsdale Schools Educational Foundation's (SSEF) first major campaign is complete, will they continue to support the Scarsdale Schools? In September, the foundation will celebrate the opening of the Design Lab and Fitness Center at Scarsdale High School, both built with over $2.25 million in funds that the SSEF raised from the community. Grants from SSEF were used to fund these two projects in combination with an $18.1 million bond to finance extensive capital improvements throughout the Scarsdale Schools. This was the first time in Scarsdale's history that private funds were combined on this scale with public financing to improve the schools.
The capital campaign was the second initiative for SSEF who initially provided $90,000 in grants that were used to build Makerspaces in Scarsdale's elementary schools, to implement a Gaming and Simulation curriculum at Scarsdale Middle School and to fund a programming and coding project, HackScarsdale, at the High School.
So what's next for the foundation? We met with the foundation's Executive Director Steve Seward to learn more about the foundation's goals for the future.
It turns out that students will benefit immediately from the foundation's grants when they return to school this fall. For the first time, in September 2018, two sections of a new AT class in Entrepreneurship will be offered in the high school Design Lab. The classes will be taught by Lisa Yokana and Brian McDonald, and both sections are already fully subscribed. Funding for curriculum development for the class was provided by the foundation last year in support of a class that served as a prototype for the new courses.
At the elementary schools and the Middle School, Seward said the foundation's Grants Committee is seeking ideas from administrators and teachers for innovative projects that fit the foundation's overall mission to support programs at all levels of education in existing and new spaces. "We seek to supplement the District budget by providing funds for initiatives that do not fit within the constraints of the District's operating budget," Seward said.
The foundation will continue to look to the District's Center for Innovation for worthy projects. As Seward put it, "we see the Center for Innovation as an ideal incubator for good ideas and new projects. We welcome the opportunity to be the accelerator for those projects district-wide."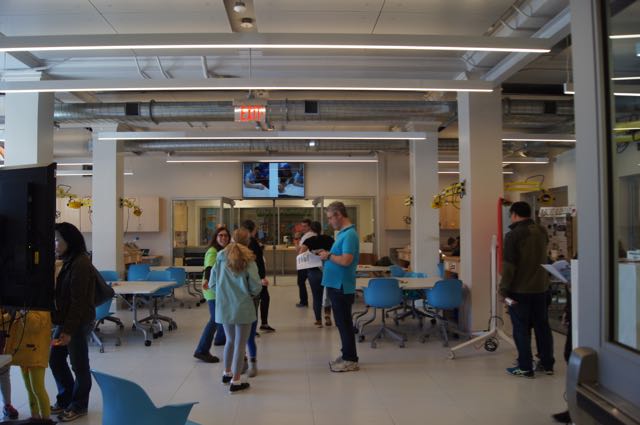 The new Design Lab at Scarsdale High School
With ever increasing pressure from the state and taxpayers to limit tax increases, funding from the Education Foundation can help to drive innovation and keep the Scarsdale Schools at the forefront of education nationwide.
The Foundation has proven its value to the community and will continue to innovate in the years to come. This summer they welcomed four new board members: Elinor Etkes, Seema Jaggi, Megan Simon and Scott Zemachson.
The entire community is invited to a celebration of the design lab, the fitness center and the paver courtyard at Scarsdale High School on September 27 at 7 pm. Mark your calendar to join the party.
Advice on Standardized Testing from a Recent Scarsdale Grad
Details

Written by

Natalie Isak

Hits: 3880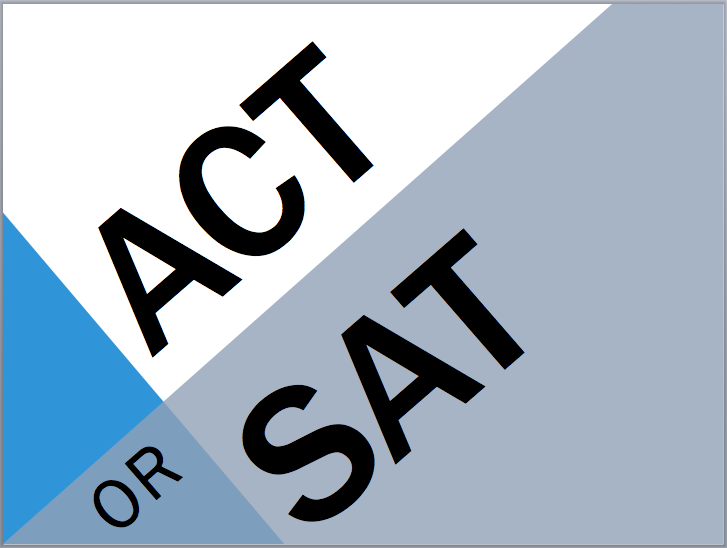 As the new school year approaches, many students are beginning to contemplate a dreaded part of high school: standardized testing. In this article, frequently asked questions about the SAT, ACT, and SAT II's are answered, such as, "When should I take the SAT/ACT?" and "What SAT II's should I take?" This article provides advice and answers specific to Scarsdale students.
Although standardized tests can be daunting, with the right guidance and preparation, students can be significantly less stressed and more successful.
SAT and ACT

How do I decide between the SAT and ACT?
This decision is completely personal. Most students take a diagnostic SAT and ACT a couple of months before they plan on taking the test. Usually, there will be a difference in scores, which will make this choice easier. Stefanie Lob, Partner at Private Prep Westchester, comments, "Private Prep recommends that all of our students take a full-length SAT and a full-length ACT diagnostic test to evaluate and compare the student's performance, and help guide the SAT vs. ACT decision in a diagnostic review. This is a very personal choice and we elicit student feedback, compare data section by section and evaluate other factors, like short-answer accuracy on the math sections of the SAT or timing on the ACT."
If the diagnostic test isn't enough, here are the pros and cons of each exam:
SAT PROS
More time per question (fewer questions)
SAT CONS
(Generally) harder questions
Fewer test-prep resources (this is a newer test than the ACT)
Certain colleges require all scores be sent (e.g. Barnard College, Georgetown University, Cornell University, Syracuse University)
ACT PROS
Score deletion
After receiving your score, it is possible to request the deletion of your score. This means that even colleges that require all scores be sent will not see this score
Easier questions
Some schools do not require SAT II's with this exam
ACT CONS
Less time per question
During some months (February and July in 2019), the ACT is not offered in New York. However, sometimes Scarsdale students will chose to take this test in Connecticut or New Jersey instead.
Another factor to consider is that the SAT has two math sections (calculator and non-calculator), whereas the ACT has a science section in lieu of the non-calculator section on the SAT. Depending on your math skills in comparison to your ability to analyze scientific passages and data, this could be important.
If you are still struggling with this decision, a helpful question to ask yourself is: "Do I prefer harder tests with more time, or easier tests with less time?" Oftentimes students with better time-management skills prefer the ACT while more slow-paced and thoughtful students prefer the SAT.
Should I take a test-prep class or get a tutor?
When making this decision, there are two main factors to consider: your schedule and your learning preferences.
If you have a busy junior year in regards to extra curricular activities and/or academic classes, attending a test-prep SAT/ACT class may be difficult. Tutoring sessions are generally more flexible since they can be rescheduled.
If you prefer to learn by discussing concepts with your peers, you may benefit from being in a classroom environment. If you find individual attention to be more beneficial, then tutoring would be the better choice.
When should I take the SAT/ACT?
The SAT is offered in August, October, November, December, March, May, and June. The ACT is offered in September, October, December, February, April, June, and July.

Students who take the test in the fall/winter of their junior years usually do so because they have time during their summers and want to spend the school year focusing on their academic classes. Other students chose to take the ACT/SAT during the spring of their junior years to face the test with the benefit of additional knowledge from junior year.
How many months/years do students need to be tutored for the SAT/ACT? How many times should the exam be taken?
According to Lob, "While every student has their own timeline, most will start their preparations 4 months out of their first exam and will plan to take the exam twice. While some opt to take the exam a third time, others may reach their goals on the first shot."
What are some local recommendations for test prep?

Tutoring Companies:
Private Prep
Advantage
Varsity Tutors
Jump Start Tutoring
Huntington Learning Center

Classes:
JCC (https://jccmw.org/teens/academic-center-college-prep/act-prep/)
CCB School of Westchester (http://westchesterccb.com/2018-summer-act-prep-course/)
For extra practice, Bespoke (https://www.bespokeeducation.com/) offers mock exams.
Are there any new test sections/test changes on either the ACT or SAT that are currently being tested?
The SAT recently underwent major changes. For example, the essay became optional and less of an emphasis was placed on memorizing vocabulary. However, many people are unaware of the small changes being made to the ACT. Here, Lob gives an inside view on these shifts, "Beginning with the December 2016 ACT exam, the math section has increased in difficulty substantially. Students are now asked a variety of high-level topics which can pose a confidence issue. However, the curves are more generous and students are able to answer more questions incorrectly while still achieving the same score. Starting in June 2016, the ACT also eliminated a science experiment, dropping from 7 to 6. Our curriculum team and tutors welcomed this change as students now have fewer experiments to analyze and we have continued teaching the same strategies with a great deal of success. Coming this September, the ACT will start introducing a regular experimental section. More information to come after that is administered this fall."
SAT II
Should I Take An SAT II?
In recent years, SAT II's are becoming less important in the college admissions process. Most colleges do not require SAT II's at all, and many other colleges will not require SAT II's if an ACT score is submitted.
However, a number of colleges will require SAT II's. Take a look at here for a list of colleges that require SAT II's.
If so, which one?

There are twenty SAT II tests available to students. At Scarsdale, some tests are more popular than others: biology E/M (freshman), chemistry (sophomore), math II (junior), and English literature (junior).
If you are a freshman or sophomore and are not sure where you want to apply yet, it is usually not worth taking an SAT II unless you feel confident in the subject. For instance, if you are in honors biology or chemistry and getting an A- or above, then taking the respective SAT II would be a good idea. Lob concurs, "When speaking to families, we consider what level class the student is taking, how the student is performing in this class and what classes the student may be taking in future years. Typically we suggest exploring the SAT Subject Test if a student is in an honors level class or higher, and will not be continuing on with the subject matter in subsequent years."
In addition, if you are fluent in a foreign language, SAT II's are available in Spanish, French, Chinese, Italian, German, Hebrew, Latin, Japanese, and Korean.
Finally, if you are taking AP classes your junior year, taking an SAT II in the same subject is an easy way to kill two birds with one stone. Many students in AT US History taking the AP exam will also take the US History SAT II.
Natalie Isak is a 2018 graduate of Scarsdale High School who is headed to Cornell University.
Police Chief Andrew Matturro Weighs in on Police Presence in the Schools
Details

Written by

Joanne Wallenstein

Hits: 2940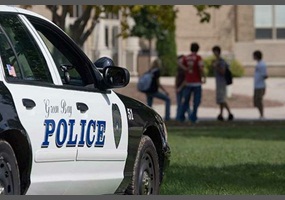 How much security is necessary to keep our schools safe? That's what some parents are debating and was the subject of a recent survey posted online at www.SROSurvey.com. The survey was designed to assess community views on hiring law enforcement officers, i.e. police, to be on site at district schools and residents are welcome to complete it.
As background, the Scarsdale School district has retained the Altaris Consulting Group who has assessed Scarsdale's emergency plans, response times, practices, policies and procedures, and provided an updated emergency management plan. The 2018-19 school budget also includes $250,000 for a district Director of Security, a newly created position in the administration. However some parents feel that these measures alone are not enough and are calling for a police presence in the schools.
What does Scarsdale Police Chief Andrew Matturro think about the idea? Is he in favor of posting police at district schools? And if so, what about religious schools, nursery schools and other facilities where children take classes?
We called Matturro who expressed his concern on the issue and detailed many ongoing initiatives to prepare for emergency situations. However, he believes that the question of a police presence in the schools is one for the district and community to decide.
In Matturro's view, the School Board, the administration and parents need to determine their comfort level with the current security protocols and with the idea of having armed police at the schools. Do they want security officers or police? And if they want extra security, do they want armed or unarmed guards or retired law enforcement personnel? How many would be enough to secure some of our large and sprawling facilities?
He says that the police are actively training to deal with emergency situations – and if they arise, police are prepared to act. The department works with all the schools and Village organizations to help them design security plans that are appropriate for each building. However Matturro says that he lacks the authority to impose the presence of police in schools. He questions whether this is the most effective solution and also whether residents would favor it.

Furthermore, the current force is not staffed for full-time placement in the schools. There are currently 45 officers employed – and an initiative to guard the schools full time would require additional funding to hire a significant number of patrolmen. This decision would have to be approved by the Village and funded by taxpayers.
So does Matturro favor police in the schools? His response is that it's up to us to decide.