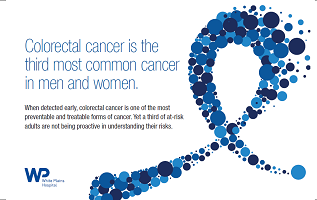 THIS EVENT HAS BEEN CANCELLED
Colorectal Cancer is the third most common cancer in men and women. When detected early, colorectal cancer is one of the most preventable and treatable forms of cancer. Yet a third of at-risk adults are not being proactive in understanding their risks.

Join our multi-disciplinary team of clinical experts to learn the latest screening recommendations and simple steps you can take to help reduce your risk for the disease.

For more information, contact Jamie Bocchino at (914) 681-2628, or click here.
Colorectal Cancer Symposium
March 27, 2020
9:00AM-1:00PM
White Plains Hospital Center for Cancer Care
2 Longview Ave
White Plains, NY 10601
Cost: Free
Categories