Palmer Road Retail Building Approved Plus This Week's Home Sales
Details

Category: Real Estate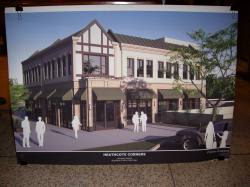 The last meeting of the Board of Architectural Review chaired by Maggie Stern included discussions about the design of the new retail building at 1 Palmer Avenue and several private home renovations and the final review of the design for the new retail building at 1 Palmer Avenue.
An architect from Perkins Eastman presented a revised design of the new retail building at 1 Palmer Avenue. At a previous meeting the BAR had asked the architect to create a design with a more historical look to relate to the rest of the neighborhood. The architect returned to the meeting with a rendering of an enlarged window above the entrance and the addition of half timbers on the façade to mimic the Tudor style buildings at the Five Corners.
However, after some discussion, it was decided that the timbers detracted from the design and the BAR moved to approve the building without them. It should also be noted that main entrance to the building is now facing the current Balducci's parking lot. Since the entry and exit to the lot will be via Secor Road, the new tenants requested that the entrance be moved adjacent to the parking lot, rather than at the intersection of Heathcote and Palmer Roads as originally planned.
Though the name of the tenant was not revealed, it was reported that the tenant would rent the entire space, which is 11,000 square feet.
Also on the agenda was the design for a home on the existing foundation at 50 Ogden Road. The current home is a ranch that sits on the last parcel of Ogden Road before it slopes down to the high school. Plans call for the demolition of the ranch and the construction of a large Tudor style home in its place. In response to requests from the BAR and neighbors, the house will have a slate roof, copper gutters and half timbers to mimic the Tudor homes on the street. The BAR suggested adding tiles to the chimney as well.
A neighbor, Karen Zachem, attended the hearing and voiced her concern about the proposed building materials and lack of trees to screen the house. She called the house a "faux Tudor" and feared that the new house would "change the whole feel of the neighborhood." The BAR chairman said that the builders are making a "substantial investment in materials" and that the design now looks "authentic." The BAR approved the revised plans.
In other real estate news, here are two homes that recently changed hands – one to be demolished:
26 Innes Road: New Colonial style Heathcote home to be built on level property. 4,759 square feet including seven bedrooms, five and a half baths. High ceilings, custom finishes, lovely moldings. Available for pre-construction purchase with personal customization. Work with highly respected local builder known for quality construction and exceptional finishes. Developer available for one-on-one attention to detail throughout building process and beyond
List Price: $2,590,000
Sale Price: $2,375,000
Real Estate Taxes: n/a
Here is a picture of the home currently on the lot at 26 Innes Road:
24 Richbell Road: This white stucco home built in 1926 was recently approved for demolition by the Committee for Historic Preservation. Here is a description of the home as it was:
Quality built 1926 home located on almost two acres in the heart of Murray Hill with inground swimming pool and three patios. This home has a wonderful layout, gracious sized rooms, 8 bedrooms and 5 1/2 baths. Entrance Foyer is front to back with double dutch doors, sunken living room with fireplace, library with floor to ceiling bookshelves.
List Price: $3,995,000
Sale Price: $3,625,000
Real Estate Taxes: $61,528

71 Griffen Avenue: Seven Acres in Quaker Ridge: Rare opportunity to purchase 7 plus acres of natural serenity and privacy. Exceptional views of pond and pool from mid-century modern home with walls of glass to outdoors. Landscaping includes bridge over the Sheldrake River. No subdivision. A new residence can be built. Deed restrictions apply. Flood zone. Land in Towns of Mamaroneck and Scarsdale.
List Price: $2,395,000
Sale Price: $2,395,000 (Conditional Contract)
Real Estate Taxes: $114,729
This listing provided by Rebecca F. Spitzer, Coldwell Banker Residential Brokerage, 914-723-3340
Planning Board Reviews Two Projects for the Five Corners
Details

Category: Real Estate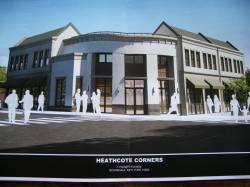 Developers from both sides of the Heathcote Five Corners appeared before the Scarsdale Planning Board on Wednesday March 16, at the last meeting that was lead by outgoing Board chair Beverly Sved. On the agenda was one approved project on the site of the gas station on Palmer Road, and another prospective project to be built on the parking lot of the Heathcote Tavern at 2-4 Weaver Street.
First up were Doug Brout and Brad Perkins requesting clarification on who was responsible for building a cul-de-sac and improvements to Secor Road that were shown on an approved site plan for the project at 1 Palmer Avenue. Brout and Perkins already have approval to build an 11,000 square foot retail building on the site of the gas station at Palmer and Weaver Streets. However, in order to ease traffic in the area, the Village asked them to design the parking lot so that cars enter and exit via the Balducci's lot on Secor Road. This would require reconfiguration of curbing and landscaping of Secor Road. In addition, a cul-de-sac is to be constructed next to Balducci's to block cars from entering the lot from the adjacent residential neighborhood and to serve as a pass through for pedestrians and cyclists.
When the Planning Board approved the site plan, it was their understanding that the developers would pay for this work which is estimated at $100,000-$180,000. However Brout and Perkins came before the Board on 3/16 to say that it was unclear that these renovations were their responsibility and that they wanted to share the cost for improvements with the Village. In their eyes, these are enhancements to Village property over 200 feet away from their new retail building.
Sved contended that when the Board gave approval for the site plan it was conditional on the construction of the cul-de-sac, but Perkins argued that, "we agreed to it but did not agree we would pay for it. It has nothing to do with our project."
Village Planner Liz Marrinan explained the history of the project, saying, "the project had a long and tortuous history. It was originally introduced in 2008. And it was originally just the 1 Palmer Avenue plan. In 2009 the Village approached the developers about a combined site plan to include Balducci's. There was no discussion of using Village dollars. The applicant amended the plan to include the cul-de -sac. Typically the site plan that is submitted is the one that the applicant intends to build. After the environmental evaluation the applicant came back with the single plan in March 2010 and it was approved. But they agreed to work with Balducci's on the combined project. In May 2010 they received final approval on the whole kit and kaboodle."

Brout and Perkins then asked for a business meeting with the Village Manager and Board of Trustees to seek financing for the improvements. However, the Planning Board, Village Planner and the Village Attorney all agreed that since the approved site plan indicated that the cul-de-sac was the developers responsibility, they could not proceed. If the developers wanted to go ahead with the retail building without the cul-de-sac and improvements to Secor Road, they would need to file an amended site plan for review by the Planning Board.
At the end of the meeting, Sved said the Board would discuss the issue and make a ruling. Following the meeting, the Planning Board denied Brout and Perkins' request for an amended site plan to exclude the cul-de-sac and improvements to Secor Road.
Also before the Board on March 16 were developer Steven Oder and architect Richard Behr to discuss a 30,000 square foot, four-story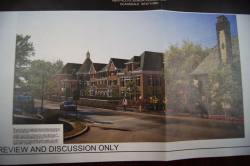 residential building with 10 apartments to be built on the parking lot at 2-4 Weaver Street. They came before the Board to review the project and get an initial reaction. Oder and Frederick Fish had originally sought to purchase the strip of Village owned land that serves as the driveway to the Tavern parking lot to expand the scope of the project. However since the Village turned them down, they are now proposing a smaller project that could be built on the land they own. Had they been allowed to purchase the driveway they would have built 14 units, but now the project has been scaled back to 10 units.
In order to build the project they would need variances for side yard and rear setbacks, however they argued that since neither the side nor the back abuts residential property these variances should not be an issue. They also claimed that if the Village could not grant the variances they could "shoehorn" the building onto the smaller plot.
The project would include 20 parking spaces for the 10 residential units, to be built one level up from the restaurant parking lot. Current Village code calls for one parking space for every 750 square feet of leasable space so technically they would be required to build 40 spaces and would require a variance for the smaller number of spaces.
The developer did not provide an updated rendering of the design of the building and used drawings from the prior proposal so that the Board could not get a fix on the appearance or bulk of the proposed new building. One Board member noted the 11-foot ceilings and questioned why the building was so tall.
Oder explained that luxury housing required high ceilings. They also answered that if the Village had sold them the driveway they could have spread out the building and made it lower. But without the extra land they needed to build up.
Sved suggested that a new Board of Trustees and Planning Board would be in place soon and suggested that Fish and Oder reapply to purchase the Village driveway. To that Oder replied, "we need to find a way to get this accomplished. If it is simple, okay. If not, no. We already use the land (the driveway). It would be a better piece of architecture with the Village driveway. It has been a long journey."
Board member Jane Veron reminded Oder that the project had originally included senior housing and asked Oder what he thought about that now. Oder replied, "it is now a financing problem. Banks are not approving loans for restricted housing." And about affordable housing, they said, "these are big units and we cannot afford to do affordable." However the Village is now considering a change in code to require any developer constructing a residential building in any area of the village zoned for multifamily housing to make 10% of the units 'affordable', so Fish and Oder may have no choice.
As this was simply a pre-application conference, no decisions needed to be made by the Board at this time. It will be interesting to watch the evolution of this new proposal as it makes its way through the newly appointed Planning Board and Board of Architectural Review.
Was This Home Designed by Stanford White?
Details

Category: Real Estate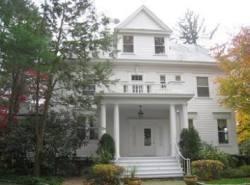 A unique Scarsdale home is now on the market near Scarsdale Village on Rochambeau Road. Rumor has it that the house was designed by Stanford White and we did a little work to see if this claim could be confirmed.
First stop was Village Hall where Village Planner Elizabeth Marrinan pulled up the microfiche where old house plans are stored. Unfortunately though the house was built in 1907, the first plans on record at the Village pertain to a renovation that was made to the house in 1937. So without the original plans, it is difficult to confirm the provenance of the design.
Next, we visited the house and spoke to the current owner as well as Susan Field, the listing agent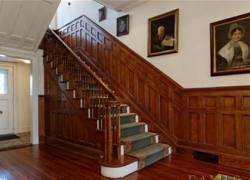 with Coldwell Banker. The current owners moved to 10 Rochambeau from another house down the street 12 years ago. They purchased it from a family who had moved to town from South Africa and raised a family of nine boys in the house … the last two were twins! It is easy to imagine how a family of eleven could fit into the spacious house with its 32-foot living room, seven bedrooms, 11 ½ foot ceilings on the first floor and 10 ½ foot ceilings throughout the house. The house sits on almost an acre and the large yard has plenty of room to run around. The previous owners claimed that the house was designed by Stanford White.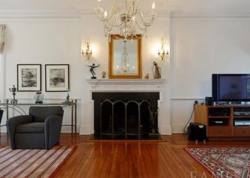 A look at the architectural features of the house and the dates of White's life neither confirm or rule out the possibility that he designed it. Typical of his work, the house features grand columns, porticos, symmetry and balance. There are three large pillared porches, wood wainscoting that extends up the grand stairway, plaster-relief rosettes, pocket doors and leaded glass windows. The current owner reports that the foyer originally housed two small phone booths and that a fireplace was uncovered when they renovated the kitchen.
As for the timeline, the famous story of White's murder dates his death to June 25, 1906. White was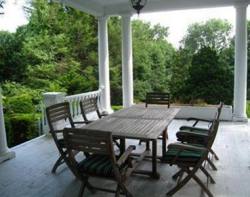 involved with model and chorus girl Evelyn Nesbit and her husband Harry Kendall Thaw shot Stanford White at a performance at the Madison Square Garden roof theatre in a fit of jealousy. Whether or not the plans for the home were drafted by him before his death is anyone's guess.
Now the house is ready for a new family to move in. You can see the complete listing and schedule a visit to the house by clicking here .
10 Rochambeau Road
List Price: $2,647,000
Real Estate Taxes: $36,164
Here are a few more homes that closed this past week: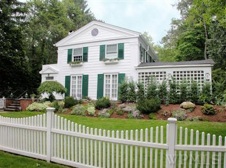 72 Walworth: Classic Federal Colonial filled with charm. Beautifully renovated with great care taken to preserve its original architectural integrity. Spacious, open floor plan with French Doors. Inviting sun-filled rooms. New eat-in kitchen with hardwood floors, granite counters, Viking refrigerator, 6-burner stove and wine refrigerator. Bosch dishwasher, charming patio. level fenced-in yard off kitchen. Separate garage with rec space.
List Price: $1,395,000
Sale Price: $1,300,000
Real Estate Taxes: $22,775
20 Jefferson Road: Elegant Colonial situated on a tree-lined street. Gleaming hardwood floors welcome you into this spacious 4 bedroom 2 1/2 bath home. Large rooms with a multitude of windows overlooking the property fill this gracious home with abundant sunshine. Charming sunroom/family room with sliding glass doors to a private slate patio. The kitchen features a center island and view of the backyard. Great flow for living and entertaining both inside and outside.
List Price: $915,000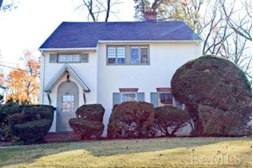 Sale Price: 882,500
Real Estate Taxes: $17,956
Spring Sales
Details

Category: Real Estate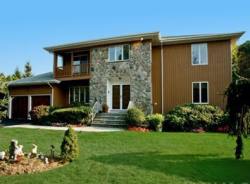 It's the opening of the spring selling season. See the three homes that closed this week: 14 Gatehouse Road: Well maintained house with large entry foyer, family room, bright eat-in-kitchen, sliding door to deck, four large bedrooms, finished basement with office with full bath. New furnace and central air, two zone heat, two zone CAC. Wood floors throughout Large rooms for entertaining. Located on the Marx Estate.

List Price $1,199,000
Sale Price $1,050,000
Real Estate Taxes: $26,891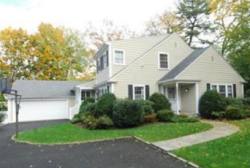 5 Wayside Lane: Charming Center Hall Colonial in very prestigious neighborhood nestled away offering complete privacy. This home features wide entrance hall, large living room with fireplace, updated eat-in-kitchen with breakfast bar, family room, master bedroom with bath on the first floor, playroom with high ceilings and door out to beautifully landscaped yard, two car garage.

List Price: $925,000
Sale Price: $1,053,000
Real Estate Taxes: $32,396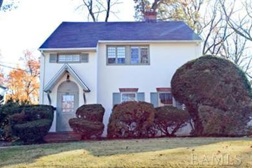 20 Jefferson Road: Charming well-maintained Colonial. Living room, formal dining room with built in cabinets, modern kitchen with stainless steel appliances(Wolf range, Bosch dishwasher), family room off kitchen, powder room. Second floor: master bedroom with full bath, two additional bedrooms, hall bath. Lower level with play area, laundry, and storage.
List Price $765,000
Sale Price: $750,000
Real Estate Taxes: $16,672
More Demolitions, Notable Homes on the Market and Sales
Details

Category: Real Estate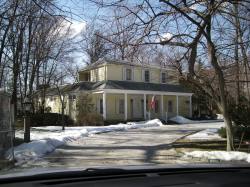 Two more homes may be headed for demolition. The agenda for the Committee on Historic Preservation for March 15, 2011 shows that there are applications to take down two additional Scarsdale homes. The first is located on a flag lot at 21 Morris Lane. The home was built in 1968 and is enclosed by a wrap around porch. The second is yet another ranch on Sheldrake Road, backing onto Fenway Golf Course. Check these out here.
A couple of stunning homes are on the market:
10 Rochambeau is described as a rare find believed to be designed by renowned architect Stanford White. The Neo-Classical colonial offers architecture, history, picturesque property and location. Noted for balanced proportions and light-filled rooms, this jewel has been sensitively renovated to merge authentic elements with new amenities. It boasts porticos, arched leaded-glass windows, high ceilings, wainscoting, plaster-relief rosettes spotlighting chandeliers, and three private porches with beautiful views.
List Price: $2,647,000
Real Estate Taxes: $36,164
34 Eton Road is a large country Colonial perched atop a hill on park like property in the Grange. The property is just under two acres. While the interior is expansive at nearly 5500 square feet, five fireplaces contribute to its cozy intimate warmth. Dream master suite has its own fireplace, a 15-foot cathedral ceiling and office loft, huge walk-through closet and Jacuzzi bath with amazing shower.
List Price: $3,495,000
Real Estate Taxes: $50,416
… and some lovely homes were sold this week: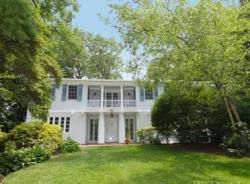 70 Greenacres Avenue: Charming, sun-filled Colonial in a prime Greenacres location. Hardwood floors throughout, spacious and open floor plan. Fabulous kitchen, family room and rear patio ideal for entertaining. Artist studio/playroom above garage. Invisible fence, satellite dish, new central air on first floor and lower level. 445 bottle wine closet.
List Price: $1,735,000
Sale Price: $1,675,000
Real Estate Taxes: $30,952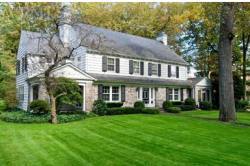 17 Harcourt Road: Classic stone front Colonial in Fox Meadow; offers spacious and elegant rooms. Large entry hall, living room with fireplace with doors to porch, formal dining room with doors to screened porch, study with fireplace, family room/breakfast room, updated kitchen with pantry and laundry. 6 bedrooms, 4 1/2 baths, wood floors, huge floored attic, finished playroom and basement and slate roof complete a home perfect for family and friends.
List Price: $1,590,000
Sale Price: $1,525,000
Real Estate Taxes: $31,381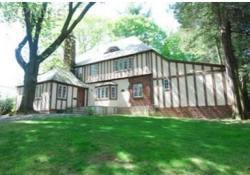 2 Wynmor Road: Sun drenched Tudor has lots of space and charm. Features include hardwood floors, two fireplaces, renovated kitchen with granite counters, cherry cabinets and center island. Living room, adjacent to family room, den or office. Generous Master bedroom with fireplace. Two additional bedrooms with California closets. Updated bathrooms. Large, flat backyard is ideal for entertaining and play. Steps away from tennis and Heathcote school.

List Price: $799,000
Sale Price: $775,000
Real Estate Taxes: $17,794