Edgemont High School Graduation in Pictures
Details

Hits: 5927
Edgemont High School graduation was moved inside on Thursday night June 23rd when stormy weather prevented the traditional outdoor ceremony. The 144 graduating seniors were greeted by classmate Adam Asher, followed by comments from school principal, Barry Friedman. Gerald Stoughton delivered remarks on behalf of the Board of Education and faculty member Dr. Ken Rosenberg was chosen by the senior class to speak.
Headed for NYU in the fall, Justin Arnold,, a.k.a. Danny Zuko, gave parting remarks to his class and Senior Class Officer Jeremy Stern, who plans to attend Washington University in St. Louis spoke as well. Arnold spoke of the place Edgemont will hold in his heart, saying, "Edgemont is not where we grew up, heck it's not even it's own town. Edgemont is us. And each of us brings it to where ever we may be in the fall, whether that be New York, Hong Kong, California, or our own backyards. The last 18 years of our lives have been walking through doors to Edgemont, and the rest of the years of our lives will be bringing parts of it with us, through new doors, to the real world."

With that, School Superintendent Nancy L. Taddiken presented the diplomas and the Class f 2011 marched off into a bright future.
Photographs by Mariela Dojovne Melamed
Lindsay Elected President of the County League of Women Voters
Details

Hits: 4030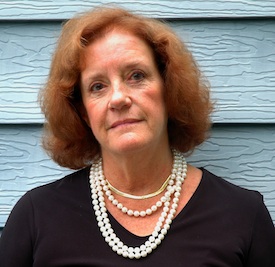 At it annual convention on June 2, 2011, long-time Scarsdale resident Sharon Lindsay, was elected President of the League of Women Voters of Westchester County. Lindsay, a former litigation attorney at Milbank, Tweed, Hadley and McCloy and former head of Litigation and Dispute Resolution at JP Morgan, retired in 1996. She has since served as Trustee and is currently a Trustee Fellow of Fordham University, President of the Westchester Symphony Orchestra, President of the Greenacres Neighborhood Association, Chair of the Scarsdale Board of Appeals, and Trustee and Deputy Mayor of the Village of Scarsdale. Lindsay holds a Bachelors and Masters degree from Fordham and a JD from Harvard Law School. Lindsay and her husband George live on Mamaroneck Road and they have been residents of Greenacres for 29 years. The Lindsay's have two children; Kim, a litigator at Gibson Dunn in New York will be married on October 15, and Will is a venture capitalist in the film industry in Venice California.
Speaking about what lead her to the presidency of the Count League, Lindsay said, "While a long time member, my involvement with the Scarsdale League of Women Voters was limited due to my holding public office throughout my membership. I was asked to join the Executive Board of the County League last June and, in that role, have facilitated the establishment of a 501(c)(3) Educational Foundation for the League and participated in County legislative sessions on affordable housing and the budget."
Lindsay explained the role of the Westchester County League of Women Voters, saying, "The League is a strong force both locally, and at the County, State and National levels. We register millions of citizens to vote, defend voting rights, monitor government activities, sponsor candidate debates and public issue forums, undertake issue oriented studies, develop positions through consensus, educate our constituents, and then advocate via lobbying, testifying and all other means available to ensure our points of view are heard. Westchester County has over a thousand members and eleven local Leagues."
Furthermore, she provided information on the League's agenda for this year; "To be most effective, the County League must prioritize what issues we will work on in the coming year. The program adopted at Convention earlier this month was quite ambitious and is available on our website. It calls for increased Voter Services, more extensive County Budget analysis and public comment, continued monitoring of County government activities with particular emphasis on implementation of the Housing Stipulation and Order of Settlement for fair and affordable housing and countywide property tax reassessment, options for replacement of the Tappan Zee Bridge, and environmental and health issues. In addition, we will be monitoring the work of the County Charter revision commission, revitalizing various Advisory groups in the educational and corporate arenas, sponsoring a seminar for local League leaders, and taking a close look at opportunities for consolidation of municipal services, the impact of the State tax cap legislation, if enacted, and the County Board of Legislators elections in November. And, I have barely scratched the surface!"
She ended by crediting League volunteers, both new and experienced, saying, "This is a lot of work, but it is challenging and the League takes the lead in making it happen. Needless to say, we need dedicated Board members and volunteers to work together to stay informed, spotlight issues and prepare appropriate responses. I am blessed by the fact that the County League has a core of talented and dedicated long term Board members, who have been and remain committed to our mission and our programs and from whom I have much to learn and I am delighted to report that fellow Scarsdalians Carolyn Stevens and Beverley Sved were elected to the Board at Convention and Michelle Lichtenberg and Kitt Rosenthal have returned. I would be delighted to have even more participants and encourage anyone interested to visit the County League's website , give me a call at 472-9568, or email me at swlind@aol.com."
Fife and Kaplan Serve Up State Doubles Crown
Details

Hits: 4093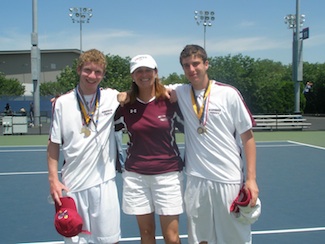 Ben Fife and Austin Kaplan have accomplished a feat no other Scarsdale doubles team has accomplished since 1994 – winning the NY State Public High School boys state title. Fife and Kaplan became the first duo to capture the crown since Jeff Weiser and Jason Beckman were able to do so in '94. After finishing second in last years state tournament, Fife and Kaplan had the confidence and composure to make it to the finals yet again. This time, however, they were able to beat a very strong Byram Hills team to add a state title to their illustrious and thrilling high school tennis careers.
Emotions were flying for Fife and Kaplan after the match. Extremely jubilant, Kaplan commented, "To play at the National Tennis Center is great, but to win it all – this is truly unbelievable." The Byram Hills team they faced in the finals, is in fact a very familiar opponent. Jordan Kaufman and Kyle Rosen of Byram Hills beat Kaplan and Fife in the 2010 doubles state tournament. Just days before the state tournament began this year, Fife and Kaplan defeated Kaufman and his new doubles partner, Kyle Berman, to win the section in a hard fought three set match. Fife added, "As tough as it was constantly competing with these guys, it is a shame that this high school tennis rivalry has to end. These have been some of the best matches I have ever played." As juniors, Fife and Kaplan have next year to do the very same thing if they wish to do so. Unfortunately, Jordan Kaufman and Kyle Berman are graduating and will not be able to compete next year.
One frequently overlooked aspect of high cchool tennis is the influence of the coaches. Coach Jennifer Roane, the Varsity A tennis coach for both boys and girls, has known Fife and Kaplan for some time now. As she saw the first set of the finals slipping away, she knew she had to intervene and speak to her soon-to-be state champions. "Berman and Kaufman came out blazing," Coach Roane continued, "We looked asleep. We were not coming up to net and we were not being aggressive. I told them they need to have variety with shots in the middle and shots in the alley. It seemed to work pretty well." It certainly did. After dropping the first set 4-6, Kaplan and Fife were able to pull off the unthinkable, defeating the Byram Hills team in three sets, winning the final two 6-4 and 6-3.
When asked about preparation for next year's states, Coach Roane responded, "It has already started. Ben is talking about next years states conflicting with the prom." Regardless, Fife and Kaplan should have an exhilarating year playing high school tennis."
Pictured at top: The victorious doubles team of Austin Kaplan (left) and Ben Fife (right) with Coach Jennifer Roane

Scarsdale Dad's Second Act: From Trader to Teacher
Details

Written by

Joanne Wallenstein

Hits: 10753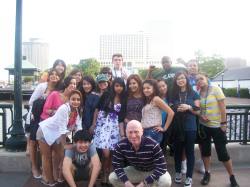 It's not everyday that you meet a man who gave up a successful career as a commodities trader to become a teacher…especially a man who has a wife, three children and a house in Scarsdale. Even more surprising is his choice of schools … rather than opt to teach in a private school or suburban public school setting where children are well-behaved, directed and motivated, he took a job in a Manhattan public high school where kids have none of the advantages he has given his own three kids at home.
On the surface, Scarsdale's Evan Meyers seems like many of the Scarsdale dads you'll find on the train or the playing fields. After graduating from college in 1984, Meyers got his first job on the floor of the commodities exchange in Manhattan and ended up staying there for 17 years. In 1992, he took it one step further and launched his own trading firm, York Commodities, which, by 1999 had grown to be the biggest commodities firm on the COMEX. He loved the fast paced environment and thrived in a place that many find too stressful.
Despite his success, in 2001 he began to lose interest in the field and to consider a second career. He left the exchange and relocated his work to Scarsdale, joining a domestic hedge fund that operated out of Scarsdale Village. The move gave him time to bike, spend time with his kids and most importantly to mull over his next steps. Since he had grown up in a divorced family, he put a high value on time with his children and ended up coaching and eventually serving as President of the Scarsdale Little League.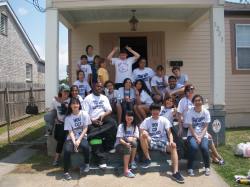 During that time he also got involved with some charitable organizations including Facing History in Ourselves where he volunteered and eventually became a member of the Board. The group helps fight discrimination and bigotry in classrooms and communities, addressing issues like bullying, racism and injustice. His work with the group lead him to the realization that he wanted to be a teacher. He loved working with young people and sensed that he might have teaching in his blood as his father was a college math professor.
He toyed with the idea and after considerable thought decided to apply to Columbia Teacher's College. Much to his surprise, he was admitted and from the moment he began the program he knew he was in the right place. His course work included student teaching and in the fall of 2008 he found himself teaching 25 students during the day and going to class in the afternoons and at night. After two summers and a full school year, Meyers had his Masters in Education and was ready to lead his own class. He found a position at a brand new public high school on Irving Place in Manhattan, where he was hired to teach Global History to ninth and tenth graders. He spent the next summer taking a course at Concordia to give him additional preparation to teach history and began work in September 2009.
The children he teaches are very different from his own. Meyers reports that some of the students in his class are "to varying degrees raising themselves." Their parents are uninvolved, or don't speak English and some of them work around the clock to support their families. With little help at home, some are not as academically prepared as students in Scarsdale and at the beginning of each year it is a challenge to get them to do their homework. He is amazed, he said, "at all that can happen to a student before 9 am," and has visited some at home to see what they are up against. These home visits made him realize the impact he could have on their lives.
He has few discipline problems as the children respect him and he has been able to set up a very creative classroom. Without the benefit of textbooks or easy access to the Internet, Meyers has chosen to set up interactive experiences for his students, for example addressing medieval history by turning the classroom into a European feudal manor replete with lords, knights, and serfs, or studying ancient geography by re-creating a Greek city/state. Though his students are required to take the regents, he has been able to teach the curriculum his own way.
After his first year on the job, Meyers spent the summer thinking about ways he could offer his students opportunities beyond the classroom that are available to his own kids. He decided to start a community service club and was successful in involving a strong group of volunteers. During the year, kids worked at a soup kitchen serving AIDS patients and at the Angel Food Ministry where they provide food to the needy and sold bulk food at discounted prices. At POTS, (Part of the Solution) kids worked at a soup kitchen that had been converted into a restaurant where they served, wiped down tables and cleaned up. Most recently, the students organized a clothing drive and some travelled an hour on the subway to school carrying bags of used clothes.
Building on the success of the club, Meyers took it one step further. He had gone on a mission to New Orleans with his own daughter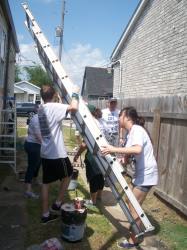 a few years ago to help with the Katrina clean up. Though it was ambitious, he decided to see if he could raise enough money to take a dedicated group of students to New Orleans on a similar trip. Using his contacts he was successful in finding a donor to finance the trip.
Eighteen of his most committed volunteers were selected to go on a trip that included a tour of the levies with an environmental group and painting houses with The Beacon of Hope. As a treat, they took a riverboat cruise. For just $14,000 he took the kids on the trip of a lifetime, and several were on a plane for the first time in their lives. While in New Orleans they studied the hurricane, what happened and why.
Back from the trip, and coming to the finish line of his second year of teaching, Meyers learned that the school's community service club had been selected to receive an award from Mayor Bloomberg. Seeking to encourage service in the public schools, the Mayor has created a "Remarkable Growth in Service Award' and Meyers and his students are the recipients of a $3,000 grant which will be used for photo and printing equipment for the club. They are set to go to Gracie Mansion on June 29th to receive the honor.
Now a veteran teacher, Meyer says he never regrets his decision to leave the financial world. What will the future hold? Meyers says he can't be sure if this will be his last career, but for now he is enjoying working with young people and learning about their lives. He's set to return to the Washington Irving campus next year where undoubtedly another group of fortunate teens will benefit from his guidance.
The Person of the Week Column is sponsored by Johnny Rockets, Home of the Original Hamburger, recently opened for breakfast, lunch and dinner at 777 White Plains Road in Scarsdale.
SHS Senior Designs Her Own Prom Dress
Details

Hits: 4151

This story was sent to Scarsdale10583 by SHS Senior Chelsea Hoofnagle: As part of my Senior Options I designed and sewed my prom dress. For a couple of years I have been taking pre-college classes at the Fashion Institute of Technology. This semester I took a draping class that inspired me to make my own prom dress. I used my dress form and muslin to drape the bodice and the skirt of my dress. I also referred to several draping and pattern making books. After finishing my practice prom dress, I went to Mood Fabrics in the city to select the fabrics for my real dress. The lace took me about 18 hours to hand sew. I could not use a machine for the lace because the beading would have broken my sewing machine needle. The skirt is made of chiffon. I wanted my dress to be elegant and give off a vintage vibe.