Congratulations to the Adult B'nai Mitzvah Class of 5771
Details

Hits: 6139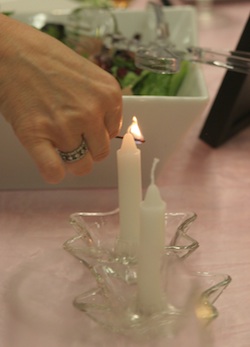 Seventeen special women became Bat Mitzvah at Westchester Reform Temple on Friday night May 23rd. The ceremony concluded three years of the study or Hebrew and torah and was a proud night for the women, their teachers and families. The women who participated missed the chance to have their own Bat Mitzvahs when they were young -- as in many communities women were not offered this opportunity. Shepherding their own children and grandchildren through the process they realized how meaningful becoming a Bat Mitzvah could be.
All seventeen stood at the bima and read from the torah in a moving ceremony. An Oneg to celebrate this rite was held following the service.
The night was even more special as WRT's Rabbi Jacobs will be moving on to become President of the Union of Reform Judaism and this is the last year he will lead the B'Nai Mitzvah class.
An additional 13 women and one man will become B'Nai Mitzvah on June 17th.
Pictured here: Valerie Abrahams, Sindy Croen, Anne Ellman, Diane Gluck, Susan Klugman Gorobetz, Barbara Josselsohn, Erika Kill Flink Dorothy Matza ,Tracey Lane Novick Anne Meltzer Wang, Caryl Orlando, Debra Radov, Nina Ross, Kathy Sheinhouse, Fran Scheffler-Siegel, Stephanie Sernau, and Linda Simon.
Also shown Rabbi Richard Jacobs, Cantor Jill Abramson, Hebrew teachers Nancy Abraham and Jane Roberts
Scarsdale Prom Update
Details

Written by

Joanne Wallenstein

Hits: 4960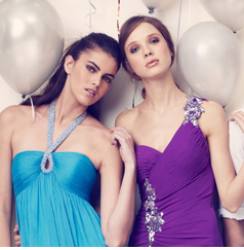 The Scarsdale Prom is coming up on June 2nd. Here's what's going on behind the scenes from Scarsdale senior Julia Goodman: We hear you are involved in the planning of the prom -- what is your role and who else is on the committee this year?
Planning the prom this year involved much less work and fewer choices this year than in prior years because this year the school did not offer as much money to support the prom. Last year the School Board paid for the buses to and from the prom however this year, due to budget constraints, they could not fund the transportation. So with a pretty limited budget there were not many choices available. We basically were left with the location that was cheapest. My role was to assemble a prom committee of 22 students, tour different locations, choose a location, choose flowers, candles, tablecloths, etc. We also need to choose a senior gift to give out on prom night but haven't gotten to that yet!
Where will the prom be held? Did you look at a few places before your chose the venue — where else did you consider?
The prom is at the Surf Club in New Rochelle. It is a decent location-not as great as last year. We looked at about four places but really didn't have much of a choice because many far exceeded our budget. There are a bunch of clubs on a strip along the water in New Rochelle and we looked at all of them. The Surf Club is nice -- it has a beautiful outdoor area on the water and has a big entertaining room. It is also offering us great deals on food.
How many students will come this year? Did you sell the usual number of tickets? How many seniors vs. underclassman?
There are about 400 students in our class and a great deal of those are taking younger or older dates. Tickets sold in an instant. The price went up about $25 each week which incentivized everyone to buy as soon as possible. I'm assuming there is a majority of seniors but there are definitely a substantial amount of underclassmen going. A lot of girls in my grade are taking younger or older dates so many boys were left to ask underclassmen.
How much are the tickets this year?
Tickets started at $150 and increased about $25 each week.
Will buses take everyone from the school to the prom?
Yes, it is mandatory that everyone take the bus.
What are you planning for food and entertainment at the prom?
The Surf Club offered us great deals on food. We are considering having different food stations rather than one predetermined sit-down meal.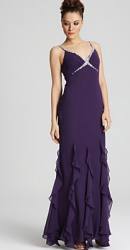 There will be more options to eat this year and the desserts will be more extensive as well. We are hiring a DJ and students in government are putting together lists of preferred songs to make sure the music is to everyone's liking.
Are there many pre-prom parties planned this year?
Yes! Most people go to pre-proms at friends' houses before the red carpet at the school. I am actually hosting a pre-prom party at my house this year. It is easier to take pictures and talk with friends at a smaller pre-prom party instead of only meeting at the school before the buses take off.
What is in style and what colors are in? Are most wearing short or long dresses?
The vast majority of girls are wearing long dresses. It is generally a tradition that senior girls wear long dresses and underclassmen and juniors wear short dresses. I personally am wearing a long dress because I figure I really won't have another opportunity to wear a long gown for a very long time! Gowns make prom feel much more special! A color that is very prevalent is black this year which is kind of surprising for a summer event. Other than black, many people are wearing bright colors. Patterns are not very popular this year. My dress is a deep purple. Many people have gotten their dresses from BCBG Maxazaria this year. It's a popular brand because of its moderate prices and pretty dresses.
Do you think kids are planning to go into the city after the prom?
I think it is inevitable that kids will be going to the city. However, definitely not everyone will be going. A lot of people hangout with friends after prom at someone's house.
Westchester County Yom Hashoah Commemoration at Kol Ami
Details

Hits: 4831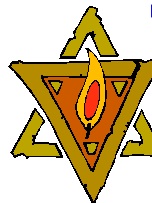 Cantor Mo Glazman of Congregation Kol Ami will be joined by distinguished speakers and choirs to commemorate the Holocaust on Sunday May 2, at 2 pm at Congregation Kol Ami in White Plains. Among the speakers are: Westchester County Executive Rob Astorino; Melvin Federbush, a Holocaust survivor who was at two concentration camps and escaped from a cattle car while being transported by the Nazis; Susan Rothschild, who witnessed "Kristallnacht" at age 10; Tina Strobos, whose family saved nearly 100 Jews by hiding them in a special room her father built inside their Amsterdam home, and Barbara Tartell, a daughter of Holocaust survivors who lives in Scarsdale. Public officials from around Westchester are also expected to attend.
The program will include songs led by Cantor Mo Glazman (also the child of a Holocaust survivor) of Congregation Kol Ami, who will be joined by the Congregational Choir and Or Chadash Choir of Kol Ami as well as the Dallas-based Temple Emanu-El Choir, led by Cantor Richard Cohn.
The program is organized annually by the Holocaust and Human Rights Education Center (HHREC) and is co-sponsored by the Westchester Jewish Council and Congregation Kol Ami. After the ceremony, guests will be invited to visit The Garden of Remembrance, located in front of the Michaelian Office Building at 148 Martine Avenue in White Plains. The Garden was created by HHREC.
"It's now 66 years since World War II ended, " said Donna Cohen, executive director of HHREC. "With each passing year, there are fewer Holocaust survivors to tell the world first-hand about what they saw and about the dangers of bigotry. As time marches on, these stories become more and more vital to the history of the Jewish people -- and serve as a constant reminder to the world about the critical importance of respect for human rights everywhere."
The event is free and open to the public.
Congregation Kol Ami
252 Soundview Avenue
White Plains, NY 10606
Sunday May 1, 2:00 PM

Earlier that day, at 9:15 am Kol Ami is hosting an Open House to welcome prospective temple members. This is an opportunity for visitors to see the school in action, meet the rabbis, cantor, the director of the Early Childhood Program and Religious School Principal. Childcare and a light breakfast will be provided. For more information contact Janet Hershey at 949-4717 ext. 115.
For the Joy of Making Music
Details

Hits: 4311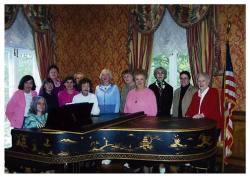 Scarsdale Community Baptist friends, neighbors and the community are invited to attend a delightful program on May 17th sponsored by the SCBC Woman's Society. The event will begin at 11:30 AM with a time for inspiration and sharing led by Dr. Everett Goodwin, Senior Pastor of the Scarsdale Community Baptist Church. At 12:15, bring a sandwich, and have lunch in the warmth of fellowship and participate in the lively afternoon program which follows. Lunch will be followed by a short time of devotions and brief business meeting.
At 1:15, The Scarsdale Woman's Club Choral Singers will present an afternoon program of Broadway music as part of the Scarsdale Community Baptist Church's Women's Society meeting. Accustomed to presenting musical programs "in house" three to four times throughout the year, the Choral Singers, on this special occasion, will be heard outside their Chase Road clubhouse. Founded in 1982, the group has been active without interruption since that time. Membership has varied throughout those years, but performances have been steadily maintained. All current singers are active members of the Woman's Club whose membership includes women from many communities throughout Westchester. The public is warmly invited to hear this special group of amateurs (only the accompanist is a professional) who sing for the joy of making music and for the fellowship that it provides.
Childcare will be available. The Church is conveniently located at the corner of Popham and Autenrieth Roads, just one block away from the Scarsdale train station. Please call for additional information at (914) 723-1734 or email your RSVP to scbc01@aol.com .
To find out more about this vibrant church community go to: www.scbcny.org .
Examining the Big Questions at Westchester Reform Temple
Details

Hits: 3570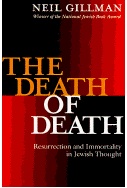 Beginning Monday, April 25th, Rabbi Jonathan Blake will begin a five-part course entitled "Death, Immortality, and Afterlife in Judaism." For five Mondays (concluding May 23rd), he will explore several questions: What does Judaism teach about death and what happens after we die? Can Jews believe in heaven? In a "soul?" In resurrection? Rabbi Blake will take participants through the many centuries of texts and traditions framing these questions and responses to them. All texts will be presented in English.
This program is free and open to the public. All session begin at 7:15 am and will be held at Westchester Reform Temple, 255 Mamaroneck Road, Scarsdale. Students are encouraged to bring a Jewish Bible (TaNaKH). A secondary text, Neil Gillman's "The Death of Death: Resurrection and Immortality in Jewish Thought" (Woodstock, VT: Jewish Lights Publishing, 1997) will also be used. This book will be purchased in bulk and sold through the temple office. To register please contact Suzanne Saperstein at: 914.468.0524 or Suzanne.Saperstein@wrtemple.org. For more information, please see  www.wrtemple.org.
On Tuesday, May 3 at 1:15 PM, members of Westchester Reform Temple's Women of Reform Judaism will welcome Rabbi Richard Jacobs as the speaker for their Spring Luncheon. Rabbi Jacobs was recently nominated to become the fourth president of the Union for Reform Judaism (URJ), but few know very much about this important pillar of American Reform Judaism. Join Rabbi Jacobs for a lively introduction to the people and issues that have shaped the Reform movement in his lecture, "From Isaac Mayer Wise to Rick Jacobs: A Short History of the URJ". A luncheon, which begins at 11:45 AM, will precede Rabbi Jacobs' talk.
This lecture is open to the public. Reservations for the luncheon portion of the program are requested by April 26th at a cost of $20 per person. This event will take place at Westchester Reform Temple, located at 255 Mamaroneck Road in Scarsdale, NY. For directions or to register in advance, please call the Temple at 914-723-7727, email to office@wrtemple.org, or visit www.wrtemple.org .