Rhodadendron Opens On Harwood Court
Details

Hits: 3831
Is a turnaround in site in Scarsdale Village? One retailer is betting on a recovery. Rhodadendron, a new apparel, jewelry and gift store has opened next to the Renaissance Bakery at 7 Harwood Court. Similar to the original store in Chappaqua, the boutique offers an appealing array of clothing for moms and daughters at very reasonable prices. In fact, some of their summer merchandise is on sale for as little as $8.
The store opened in early August and features a complete line of hip summer clothing including tops, sun dresses, party dresses, skirts, and tanks. In addition to the clothing, you'll find a wonderful selection of costume jewelry – eye-catching necklaces, colorful bangles, dangling earrings and accessories – all moderately priced and starting as low as $20.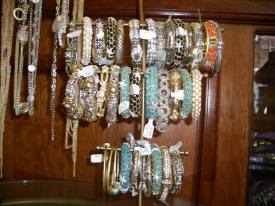 Rhodadendron is also a great spot for gifts. They have a full line of cosmetic bags, scarves, pashminas, clutches and bags that appeal to all. Some of the summer selection is on sale now and fall merchandise is set to arrive soon. There's something there for you – and everyone you know.
Jackie, pictured here, is inviting and casual and welcomes you to stop by, just to take a peak at what's in store.
Rhodadendron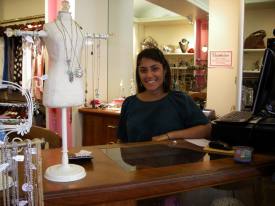 7 Harwood Court
Scarsdale
(914) 472-2220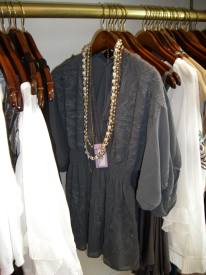 Trustees Hear Your Pleas
Details

Hits: 2894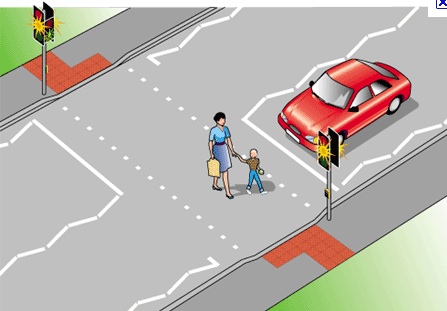 In response to recommendations in the Village Comprehensive Plan and a letter to Scarsdale10583.com , the Scarsdale Village Trustees are doing their part to increase the number of restaurants in Scarsdale Village.
One impediment to prospective restauranteurs in the Village has been parking requirements and Village fees that have made it too expensive for some to open. The Village Zoning code regarding Off Street Parking was last amended in 1989 and is now due for an update.
At the August 10th meeting of the Scarsdale Village Board, a resolution was passed to study amendments to the code. The Trustees have charged the Planning Board with looking into regulations from other municipalities and examining industry standards to come up with recommendations for new shared parking regulations.
In other news, new pedestrian signals will be installed at the intersection of Fenimore and the Post Roads as well as Mamaroneck and the Post Roads to make it easier to cross this busy street. In response to resident's concerns about these intersections, Assemblywoman Amy Paulin made a request to the NYS Department of Transportation to install these pedestrian traffic signals and they agreed.
In order to do so, the state will need to use a small piece of Village land for installation of a traffic signal pole. The Village has granted the state the easements for the land and in exchange the state is paying Scarsdale $16,800.
It's a win-win situation for residents and the Village.
Take Our Survey On Scarsdale Real Estate Taxes
Details

Hits: 3102
Scarsdale residents: do you think you are paying your fair share of real estate taxes? Property values in Scarsdale have not been reassessed since 1969. As a result, there are wide disparities in the tax assessments of homes of similar market value. Due to these disparities, the Village has received a record number of tax grievances this year from homeowners who believe they are unfairly assessed.

Village Management and the Village Trustees are currently considering a Village-wide reassessment that would bring assessments in line with current home market values. Advocates for the revaluation contend that it would result in a fairer, more transparent system. The projected cost of the revaluation is estimated to be $1,750,000 and though the Village would not accrue additional revenues from the reassessment, they could save money in the future if the number of tax grievances falls. Historically, after a reassessment, taxes on one third of properties increase, one third stas the same and one third are reduced.

Do you think it's time for a revaluation? Please take this short confidential survey and let us know. We'll publish the results when they are in.

Click here to take the survey: or copy this URL into your browser to begin:
http://survey.constantcontact.com/survey/a07e2zchcnfgc6f9qg0/start
A Successful Sidewalk Sale in Scarsdale
Details

Hits: 3214
The 2010 Summer Sidewalk Sale in Scarsdale Village on July 30, 31 and August 1 was better than ever. Three sunny days brought many local residents down to the Village to stroll, chat and enjoy great bargains. Local merchants displayed their goods in front of their stores and many area businesses and organizations took tables around the village and greeted passers-by. Lange's set-up a full barbeque outside and served hotdogs and hamburgers, while firemen offered free ices in many flavors.


On Saturday, entertainers joined the fun. DJ Paul Vito of Music Mixers was on hand and balloon artist Scott Kazan delighted kids and adults too. An entire petting zoo was brought to Chase Park by The Nature of Things from North Salem, and kids could meet a big snake, turtle, ducks, and bunnies.

Retailers were also pleased with the turnout this year. According to Jennifer Flores of SpaceNK, "The weather was spectacular, we had more vendors than last year, and there was something for everyone -- from great deals to our petting zoo in Chase Park. Saturday was an especially great family day. Kids enjoyed petting the animals and wearing their balloon creations. The DJ kept the vibe upbeat and there was even a couple dancing in Boniface Circle! I don't think we could have asked for anything more. "
Federal Monitor Says Housing Plan Lacks Specifics
Details

Hits: 3730
Federal Monitor James Johnson has reviewed Westchester County's revised affordable housing implementation plan and found it lacking. Westchester County has been ordered to spend $51.6 million to build 750 units of affordable housing over the next seven years as a result of the settlement of a 2009 lawsuit filed by the Anti-Discrimination Center of New York. The County's first plan was submitted on January 29, 2010 and the Monitor found it to be unacceptable as it "lacked specificity with respect to accountability, timeframes and process."

The County submitted a revised plan on March 12, 2010 and in his most recent report the Monitor says, "Though the County has made progress …..the revised submission still falls short of a true plan to comply with either the Stipulation's specific terms or its overarching goal of building a more integrated Westchester."

Specifically, the monitor says the plan lacks:
Long-range timetables
Medium and long-term strategies for land acquisition, infrastructure improvement, construction, acquisition and other development costs.
Allocation plan of the types of units including foreclosed properties, and new construction
A system for tracking the number of units in progress
Strategy for how units will be allocated throughout eligible municipalities and how it will maximize units in cities and census block with the lowest concentrations of African Americans and Hispanic residents.
Remedies for overcoming resistance from municipalities
Details on leveraging the $51.6 million and planned usage of financing
In addition, the monitor has asked that the County market expand their marketing plans to promote these homes to residents of New York City boroughs where there are higher percentages of minorities, and that the county and the developers share responsibility for outreach. Furthermore, the next plan should include plans for "housing counseling" for those making the move to "high opportunity" areas.

The Monitor urged the County to consult out experts regarding housing finance, zoning and marketing and to create an independent advisory panel including community, religious, and labor and employment leaders.

The report also discusses the stipulation's requirement that Westchester County ban "source of include" discrimination in housing." A bill to this end passed the Westchester County Board of Legislators in June, but County Executive Rob Astorino vetoed it. Consequently, the Monitor report that "Mr. Astorino's message is troubling, to say the least."

In response. Rob Astorino's office provided the following statement:

""The monitor's thoughtful comments are welcome. This is an evolving process and we are committed to developing an implementation plan that will deliver on the goal of bringing 750 units of fair and affordable housing to the market within the next seven years."

In the past three months, the county has held 14 meetings with municipal officials and 31 meetings with private landowners to discuss possible developments in Larchmont, Yorktown, Dobbs Ferry, Eastchester, Lewisboro, Cortlandt, Irvington, North Salem, Bedford, New Castle, North Castle, Rye Brook, City of Rye, Briarcliff and Pleasantville.

On July 13, the county Planning Board asked the county Board of Legislators for funding approval for 18 fair and affordable housing units in the City of Rye. The project was originally proposed as exclusively for seniors. However, at the request of the county, the age restriction was removed by the City of Rye so that the project could comply with the settlement.

The Rye project, made up of homeowner-occupied townhouse units, is being called Rye Cottage Town Homes. The town homes will be marketed at a price between $150,000 and $165,000. The county's proposed contribution totals $2.4 million, two thirds of which comes from the $51.6 million settlement fund and one third from federal funds. This project is an example of how municipalities are working with the county to meet the obligations of the settlement.

We are making progress – more than 40 meetings in 90 days is a clear demonstration of how we are moving forward. People should not lose sight of the fact that the implementation plan is simply a tool to help guide the process. Critical to our success will be building relationships with the municipal officials, developers and the communities involved, and that's where we have been spending the bulk of our time to date."

The settlement could not have come at a harder time for Westchester County. Budgets are strapped and huge deficits are projected. The cost to build the homes, compounded by the administrative costs to draft plans, produce quarterly reports, liaise with communities, oversee the process, and market and promote the properties will far exceed the allotted $51.6 million. County Executive Astorino inherited the settlement from Spano and clearly has a challenging task ahead.

Scarsdale was apparently not on the short list for the first fourteen community meetings, but we'll continue to monitor the Monitor and the process and keep you informed.