Greenacres Girl Scouts Donate Supplies to Steve's Camp at Horizon Farms
Details

Written by

Rachel Kessner

Hits: 2195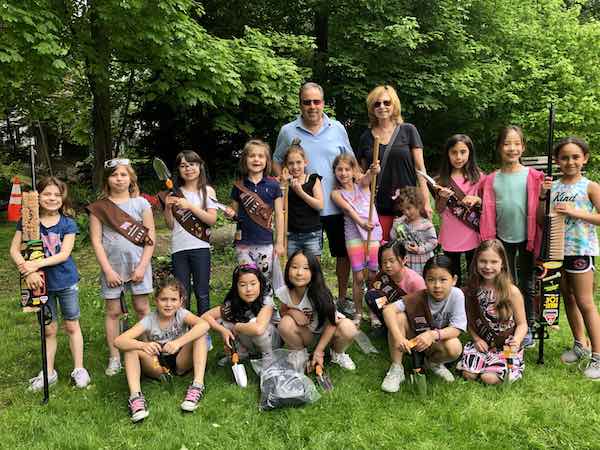 On Friday, May 17th, the second grade Greenacres Girl Scout troop presented Steve and Cheryl Kessner, Scarsdale residents and grandparents to two of the troops members, with an array of gardening equipment to benefit their not-for-profit organization, Steve's Camp. Every summer, the camp provides life changing experiences to about 200 underprivileged young teens through programming that helps them realize their true potential outside the confines of their inner city communities.
Following months of hard work selling cookies online, door-to-door and at Cookie Booths, the troop was able to raise over $12,000. The girls gathered, discussed and voted on the most worthwhile causes to donate a portion of their proceeds to and choosing a local organization with ties to their school community felt like the right way to go.
At their last girl scout meeting of the year, the girls presented Steve and Cheryl Kessner with items such as shovels, trowels, loppers and hoes to help maintain the camp's garden which helps teach the campers about harvesting food and healthy eating. Steve thanked the troop for their hard work and generosity, letting them know how much their donation would help the campers. Then cookies were enjoyed by all!
About Steve's Camp:
Steve's Camp at Horizon Farms revolves around the idea that an intense residential experience can provide the spark that ignites a lifetime of change for youth from chronically underserved communities in NYC.

Participants first spend two weeks on our 100 acre campus deep in the Catskill Mountains where they begin the cycle of change by exploring the interconnected concepts of healthy body, healthy heart, healthy mind. The camp experience can be life changing, but like with tinder where fire catches easily, this spark can go out quickly.

The spark grows into a tiny flame through the school year Afire programs. Campers are encouraged to participate in all three 6-week workshops which cover topics of interest - like Health + Wellness, Arts + Discovery, and Critical Issues - and build on concepts introduced over the summer.

That small fire is fanned into a blaze of enthusiasm, with Evolutionary Leadership. Campers have the opportunity to pursue mentorship programs, job training for roles with increasing responsibilities, and college readiness guidance that grow confidence and develop life skills.
For more information, click here to visit their website.
LWVS Luncheon Speaker Outlines Effort to Fight Hate Crimes
Details

Written by

Joanne Wallenstein

Hits: 2485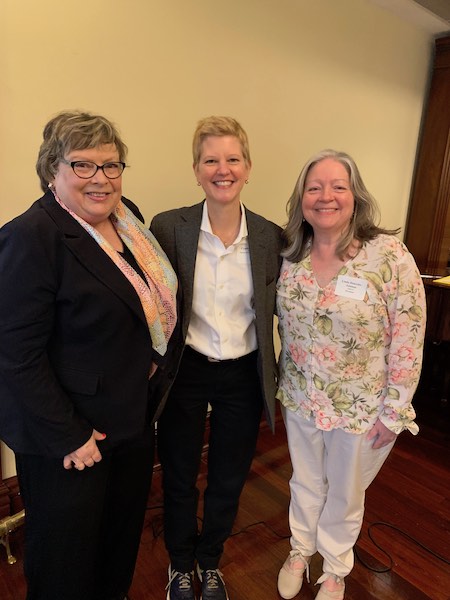 Cindy Dunne, Cynthia Deitle and Linda Doucette-AshmanAn illustrious crowd of mayors, trustees, legislators, representatives from Village organizations and current and former League members were in attendance at the League of Women Voters Annual Luncheon on Friday May 10 at Scarsdale Golf Club.
This year, as in the past, the guest speaker focused on an issue of importance to all; hate crimes and victims rights. Former head of the FBI Civil Rights Unit and current Programs and Operations Director of the Matthew Shepard Foundation Cynthia Deitle shared stories and pivotal learnings from a lifetime of defending victims of bias.
Deitle was introduced by league member Cynthia Dunne who met Deitle twenty years ago when Dunne was an Assistant United States Attorney in the Southern District of New York. She called Deitle "professional and inspirational."
Deitle reviewed some of the pivotal cases that cemented her commitment to protecting victims and becoming a crusader in the fight against hate crimes.
She discussed Kent State where the Ohio National Guard fired on unarmed students protesting the bombing of Cambodia, killing four innocent victims. Deitle was very young at the time, the slaughter impacted her for the rest of her life.
She recounted the story of Abner Louima who got into a fight after leaving a nightclub in Brooklyn in 1997. He was picked up by police who beat him and sexually assaulted him in a horrific display of police brutality. Deitle visited Louima every month for two years and hoped to get him to be an advocate against police brutality. However she later concluded, "It was selfish of me and conceited of me to want to use him after what happened." Louima wanted to rebuild his life, rather than spend the rest of it reliving that night.
Sometimes Deitle was called in after the death of a victim. This was the case of Zoron Teodorovich who was arrested for trespassing after he grilled a steak on a neighbor's barbeque. While in prison, he got into a disagreement with prison guard Paul Cote who pounded Teodorovich's head into the cember floor multiple times with his boot. As a result, Teodorovic went into a coma and died. It took Deitle more than a year to find the victims family overseas and bring his sister here to get justice for the death of her brother.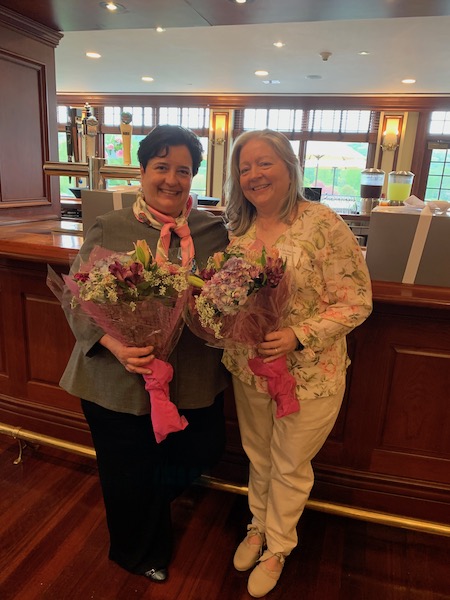 League Presidents Janice Starr and Linda Doucette-Ashman
Finally she discussed the murder of Matthew Shepard, a gay student at the University of Wyoming, who was beaten and tortured –possibly due to his sexual orientation in 1976. His case shown national attention on hate crimes and ultimately spurred the passage of new legislation to address hate crimes, "The Matthew Shepard and James Byrd Jr. Hate Crimes Prevention Act."
From these and other cases that she reviewed, Deitle shared what she learned:
-First impressions are often wrong
-Not all victims will be advocates
-Some victims just want to be heard and understood – the role of law enforcement is also to listen.
-Sometimes the victims are the bad guys, but they need to be protected too.
-Even if the victim has already died, the law should "do justice by people you may never meet."
-Referring to the parents of Matthew Shepard, Deitle said, "Some advocates change the world."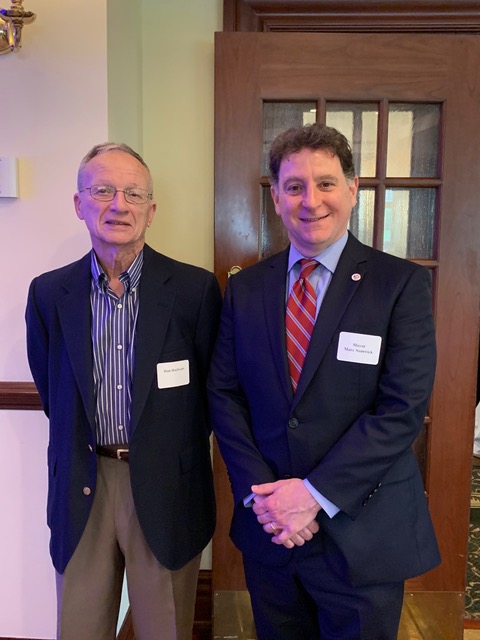 Former Scarsdale Mayor Dan Hochvert with Scarsdale Mayor Marc SamwickIn her present role, Deitle is collaborating with Matthew Shepard's parents Dennis and Judy Shepard, the Department of Justice, the Anti-Defamation League, NAACP and other non-governmental agency stakeholders to enforce the Hate Crime Prevention Act of 2009. She trains state, local, and federal law enforcement officials to recognize hate crimes and enforce the law.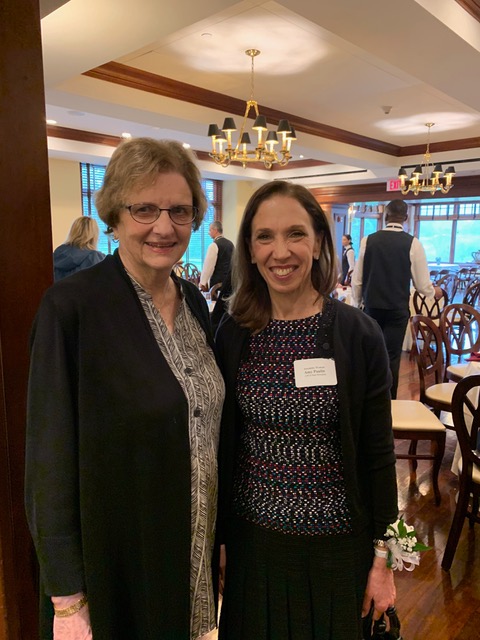 Barbara Jaffe and NYS Assemblywoman Amy PaulinHow can we make the world a better place? Deitle encouraged the audience to ""Be the change you want to see," saying "You are all advocates and allies and forces for good." She challenged the people in the room with these words: "What is your cause? What makes your heart beat? What gets you up in the morning? Whatever that thing is, get out there and try to push the needle forward. Do something. Anything."

Photo Credit: League of Women Voters of Scarsdale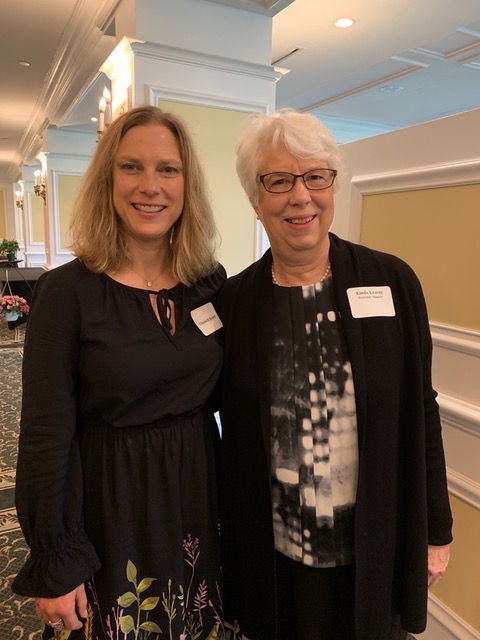 Library Director Elizabeth Bermel with Former Scarsdale Inquirer Editor Linda Leavitt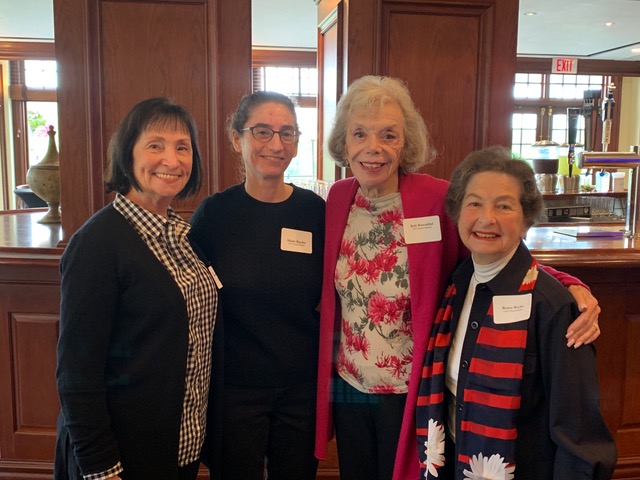 Barbara Chesler, Diane Baylor, Kit Rosenthal and Renee Baylor
Celebrating Arbor Day - in the Rain
Details

Written by

Joanne Wallenstein

Hits: 2324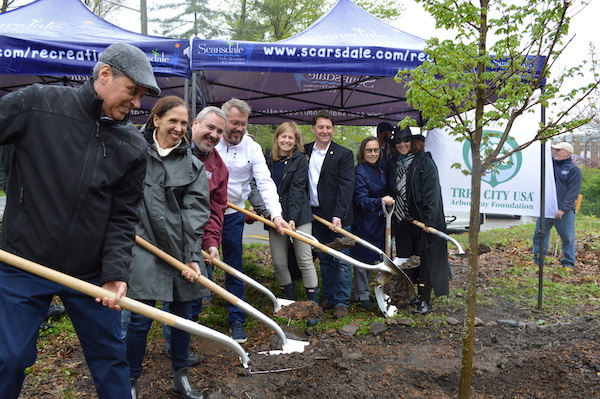 Why were the School Superintendent, President of the Board of Education, Village Manager, Village Mayor, former Village Mayor, Village Trustees, Friends of the Scarsdale Parks and Assemblywoman Paulin huddled under a small tent, ankle-deep in mud on Friday April 26? No it's not the beginning of a mystery based in Scarsdale; but a gathering for a very rainy celebration of Arbor Day -- and the fact that Scarsdale was named a "Tree City" for the 36th year in a row and received it's first ever Tree City USA Growth Award.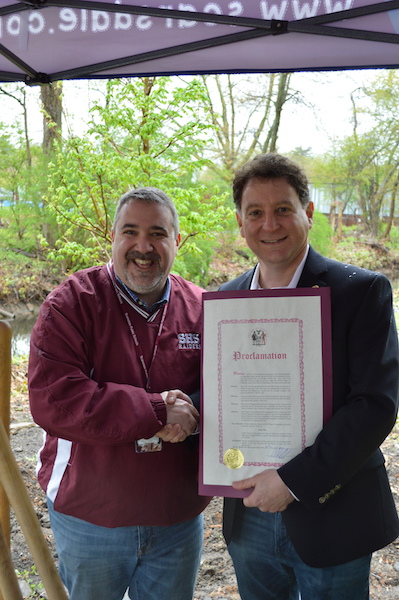 The Scarsdale schools and village cooperated to plant three new trees along the watercourse at Harcourt Woods – an oak, a maple and a fringe tree. The watercourse extends from George Field in Greenacres down through the high school, eventually emptying into the Bronx River. It has helped to alleviate flooding in the high school parking lots. The Friends of the Scarsdale Parks has planted over 1000 trees and shrubs in Harcourt Woods and cleared miles of invasive knotweed.
School Board President noted the collaboration between the Village and the Schools to eradicate the knotweed and congratulated the Village on its designation as tree city.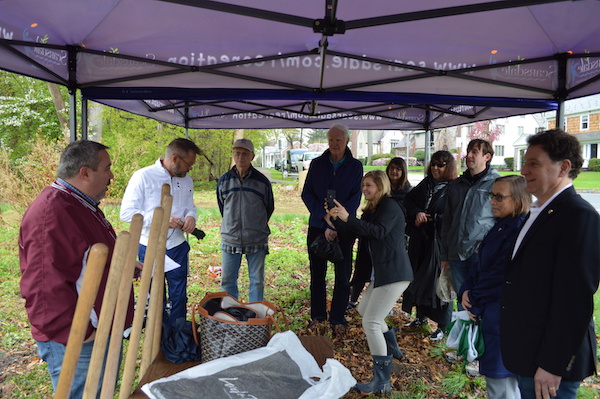 Health, Beauty and Wellness Fair Brings All Generations to the Village
Details

Written by

Jamie Robelen

Hits: 2419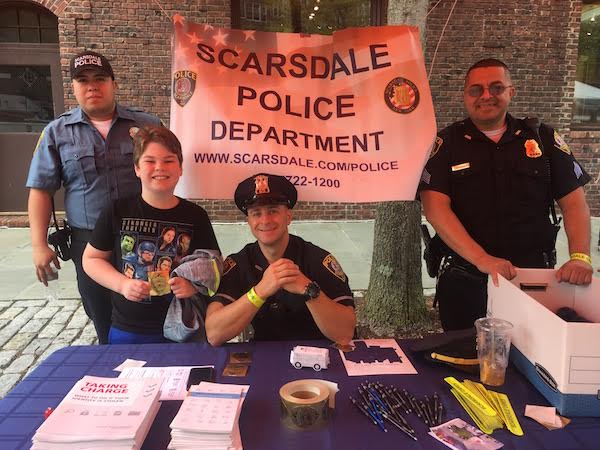 On Saturday, May 4th, local businesses gathered in Scarsdale for the Scarsdale Business Alliance's first Health, Beauty, & Wellness Fair. Admission for the fair was free, and people of all ages were welcome. At check-in, attendees were given a gift bag filled with information and promotions from participating businesses. Among these "goodies" were a coupon for a free class at The Bar Method, a gift card to Greenwich Medical Spa and more. White tents and tables lined Boniface Circle with representatives from Bronx River Books, Equinox, The Child & Family Institute, Elder Care Homecare, Westchester Parenting, and more. Many of these booths offered giveaways, pamphlets, or coupons.
Also in attendance were Scarsdale Police Department, Scarsdale Fire Department, and Scarsdale Volunteer Ambulance Corps. There was an ambulance, fire truck, and police motorcycle for people to look at and even go inside. Kids were able to see the cab of the fire truck, and go inside a real ambulance. Also for kids, was a bouncy castle and face painting sponsored by Houlihan Lawrence. At the Scarsdale Volunteer Ambulance Corps, there were a few students helping out who are training to become EMTs for their Senior Options projects.
Throughout the day, businesses gave presentations open to all in the fair's central tent. In the morning, Club Pilates, Orange Theory Fitness, and The Bar Method offered free sample classes to everyone. The Child & Family Institute offered a panel of professionals to discuss Cognitive Behavioral Therapy. Nordic Edge held a demonstration of their cryogenic fat-freezing. Later, there were presentations by Metro Behavioral Health Associates, Scarsdale Ambulance Corps, and Scarsdale Integrated Medicine.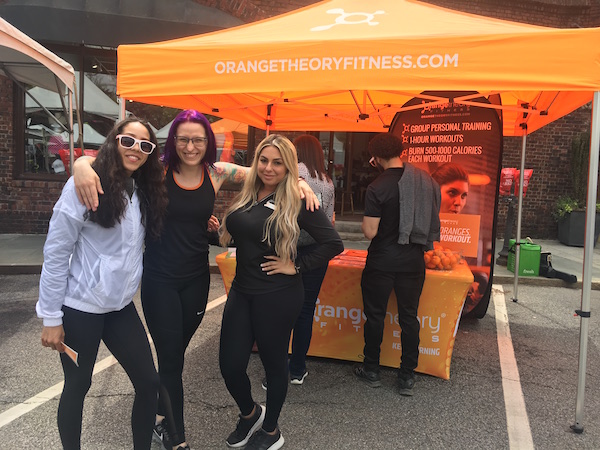 Attendees could buy food from two different food trucks. DoughNation offered a variety of personal pizzas for people to buy, and Graziella's Italian Street Fair Truck served burgers, sliders, pasta, and other Italian favorites. Bango Bowls, a local acai bowl restaurant, had a table at the fair and offered free samples of their bowls, which people could purchase at their store one street over. Additionally, people walked around the fair modeling clothing from local boutiques such as LF, Mixology, and BLVD.
Overall, the fair was full of fun for all who participated. There were activities for people of all ages, and everyone who attended learned a lot about Scarsdale businesses. What may have started out as a grey, cloudy day definitely turned into a day of sunshine and smiles for Scarsdale residents.
SHS Seniors training to become EMTs help out at the fair.
The fair ends with a presentation by Scarsdale Integrative Medicine.
People gather in the main tent for a presentation by The Child & Family Institute on cognitive behavioral therapy.
Locals start their morning with a sample exercise class by Orange Theory Fitness.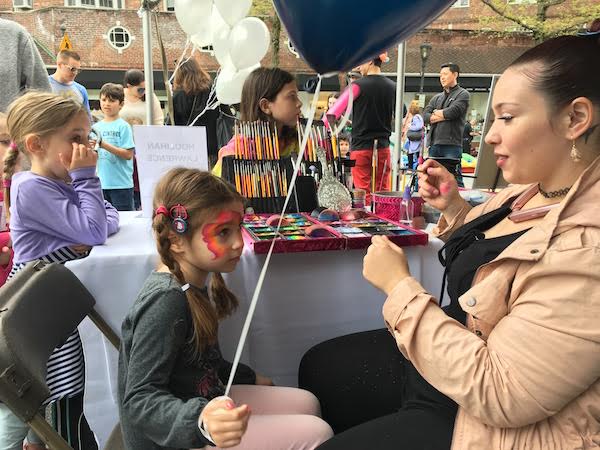 Kids flock to Houlihan Lawrence's face painting booth for colorful, sparkly designs.
A young girl looks at the books on display at Bronx River Books' table.
SMS Students to Donate Hair
Details

Written by

Joanne Wallenstein

Hits: 2119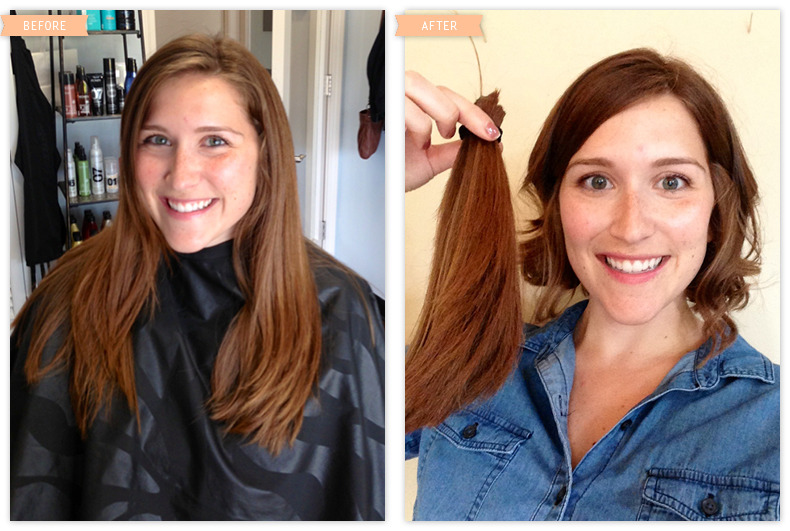 The Scarsdale Middle School Gym will be transformed into a hair salon on Friday afternoon April 26 at 2:45 pm when 12 students and their teacher will cut their hair to donate to others who have lost their own hair due to medical challenges.
The event, "Covering Young Heads To Heal Young Hearts," is the brainchild of SMS Health teacher Alyssa Saltzman who explained, "I've had long hair my entire life and this is something I've wanted to do for many years. I thought it would be a great way to connect with students by inviting them to join me in this endeavor."

"In caring for a sick family member, I was inspired to think about small ways we could all help people who may be experiencing hardships. I'm always looking for ways to remind my students that small actions of kindness can have a tremendous impact on others. This is a tangible opportunity for students to give a piece of themselves to benefit another child's well-being."

"As a health teacher, I try to instill within my students an element of gratitude for their own health. Reaching out to others in this way can benefit students by serving as a reminder that health can be fragile and something we must be grateful for and work to preserve."
On Friday, those with at least eight inches of hair below a ponytail holder are invited to donate their hair. A hairdresser will measure and cut, though participants will need to schedule their own haircut later for styling.
The hair will be donated to Children With Hair Loss", a non- profit organization that provides human hair replacements at no cost to children and young-adults facing medically related hair loss. http://childrenwithhairloss.us/
Saltzman says, "All are welcome to come watch and support us. Perhaps this may inspire people to donate in the future or reach out to others with acts of kindness in other ways."