Majority Leader Stewart-Cousins Pays a Visit to Scarsdale
Details

Written by

Joanne Wallenstein

Hits: 3183
Andrea Stewart-Cousins, the first woman and the first African American woman to serve as majority leader of the NYS Senate paid a visit to the Scarsdale Forum on December 11, proud to announce that this was the most productive session in the history of the NYS Legislature.
She reported that though the legislature is still dominated by men, the majority conference this year is very diverse and includes a Salvadorn senator, two Colombian senators, a Costa Rican, a Taiwanese, a southeast Asian and the Senate's first Muslim senator.
Stewart-Cousins proudly said, "We demonstrated that we could govern, keep the promises we made to voters, pass an on-time budget, and be progressive. With a Democratic majority in both houses, the legislature passed 935 bills, many that she called "substantive and historic" that generally take a year to get through.
Among the bills that passed were the Reproductive Health Act which legalized abortion at any time "when necessary to protect a woman's life or health or in the absence of fetal viability. The act allows licensed health care practitioners other than physicians to perform abortions if doing so falls within their lawful scope of practice.
Also passed was the Child Victims Act that extends the statute of limitations for a survivor of child sexual abuse in criminal and civil cases in New York. This means there is now more time for a survivor of child sexual abuse to press criminal charges. And, in civil cases, the CVA extends the period of time during which a survivor of child sexual abuse can file a claim for money damages.
Another groundbreaking bill enacted into law was the Green Light Law which restored the right to obtain a license, regardless of immigration status, that existed prior to 2001. According to Stewart-Cousins this legislation will allow undocumented immigrants to drive legally and foster economic growth and make roads safer. She said, "This is the right step forward for New York State as we continue to advocate for comprehensive immigration reform on the federal level."
Upcoming issues before the NYS State Senate will be the $6 billion deficit in the upcoming state budget, which is largely due to an increase in the state's Medicaid costs.
Stewart-Cousins discussed an upcoming state census which will largely be done online – and will determine future representation in the state. She also noted that the date for the state primaries has been moved to June from September to align with the federal primaries. This means that the session for the state legislature will be condensed.
Rocah Announces Bid for Westchester County District Attorney
Details

Written by

Joanne Wallenstein

Hits: 3865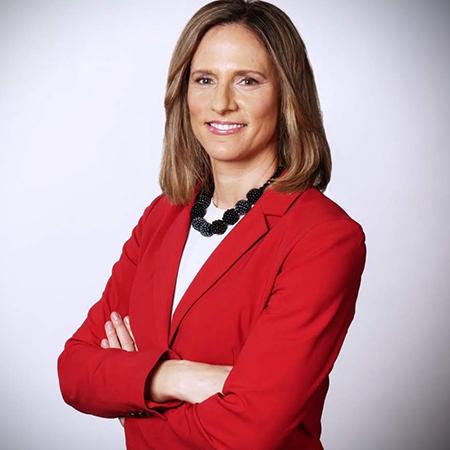 Scarsdale's Mimi Rocah, who has developed a big following from her appearances as a legal analyst on MSNBC, announced that she is running for Westchester District Attorney against Anthony Scarpino who is currently in his first term.
Announcing her bid on Twitters she said, "It's time for people to get off the sidelines and fight for what they believe in. That's why I've made a huge decision -- I'm running to be Westchester's next District Attorney!"
In an interview on "Morning Joe" on December 4, Rocah said, "Only 24% of prosecutors around the country are women and we need to change that. I was a federal prosecutor for 16 years and I put away gun dealers, drug traffickers and child predators. For the last two years I have been speaking out about the rule of law and about this this lawless administration. We have a criminal in the White House and a corrupt Attorney General who just today said that if communities don't show the proper respect to law enforcement they won't get the protection that is their right under the law and our democracy. These are the type of criminal messages that are coming from Washington. So I want to be part of what is happening on the state and local level, pushing back against these policies of hate and complete disrespect for the rule of law."
About the local scene she said, "In Westchester County we have an opioid crisis, sex trafficking and gun violence. Parents are afraid to send their children to school because of gun violence. These are the things I can work on and help push back against the Trump Administration."
Jim Scarborough noted that another television personality, Jeanine Pirro from Fox News, also held the job of Westchester County District Attorney. About her, Rocah said, "She will not be my role model."
Thanksgiving: It's Not About the Show
Details

Written by

Laura Halligan

Hits: 2649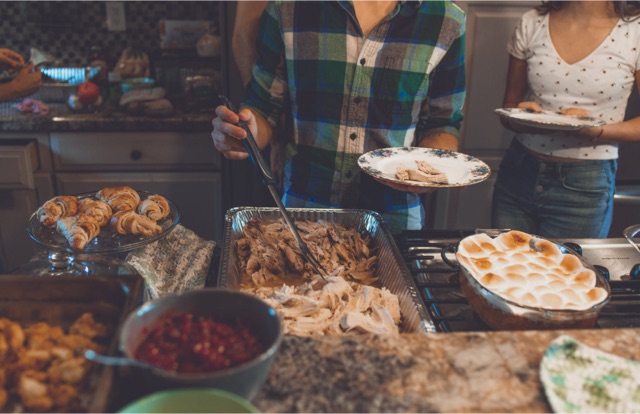 (This was contributed by Scarsdale's Laura Halligan) What's the "perfect Thanksgiving anyway?" Is it the Norman Rockwell painting? Something straight out of a Food Network special? Or, is it Butterball turkey, canned cranberry sauce, and over-cooked dinner rolls served on paper plates, punctuated by squabbling over the dark meat? Well, wherever yours falls, it's not about the show. It's about simply being there.
We moved to Scarsdale 10 years ago, one week before Thanksgiving. My family had just returned to New York after four years in the Midwest, and was thrilled to be reunited with our loved ones in time for the holidays. It was then that I learned not to focus on what or when, but rather, to stick to the why.
Just nine days prior to turkey day, I stood in my new, yet old, living room in a neglected Dutch colonial, surrounded by moving boxes and walls in desperate need of paint. My mother stood beside me and asked, "So, you think you'll be able to get the china and crystal out for Thanksgiving?" First incredulous and then confident, I chuckled, "If we do Boston Market on paper plates, you'll be happy." A few hours later, my sister called to make sure. "You're doing Thanksgiving, right?" Of course I would be... and I wasn't going to sweat it either. Prior to moving away, I had hosted every Thanksgiving for 12 years. It was time to start a new streak.
Thanksgiving has always been a favorite of mine and I don't like seeing it get squeezed a little more each year. No, you can't simply skip over it to get to Christmas. Santa is supposed to wait until the end of the parade. Oh, I long for the days when the Rock Center tree was lit in December and the Hallmark Channel didn't exist. We're speeding through days, events, and experiences to do more, see more, and acquire more. Thanksgiving still matters, doesn't it?
I digress. At the risk of sounding preachy, giving thanks for what we have, no matter how little or how much, is worth celebrating. Go ahead, take out your turkey embossed platters, orange candles, and leaf-patterned tablecloths. But remember that this day is more than "the process." There's a saying about how being truly wealthy is being content with what you have. I think sharing what you have and giving of yourself is far more fulfilling. And it starts in your home.
The Giving Thing
Full disclosure: I like having people over and am an expert in improvisation. Entertaining is hard work when you do it all yourself, but good work for me. No, it's not for everyone. You may not like crowds in your house, you may think you can't cook, or you might not know where to start. It's OK. But know that it should begin with people who are there for you; everything else is extra. If someone comes to your home looking for a performance, he or she doesn't belong there. So don't tell me you're intimidated because I entertain all the time. Invite me over for some takeout and I'll be grateful.
Back to the giving thing. Hospitality is not defined by Williams Sonoma. It's simply welcoming people with open arms. It's offering others your time, your effort, and your attention. And, it's just as much for you as it is for them. There's no room in Thanksgiving for judgment. It's about sharing what you can.
It's easy to get wrapped up in the hype surrounding America's "biggest food day. "The Must-Have Thanksgiving Cocktail," "How to Wow Your Thanksgiving Crowd," "Thanksgiving Wreaths That Graciously Welcome Guests to Your Home," "Host a Seasonal Cider Tasting," blah, blah, blah.
Décor, ambiance, menu, seating plans, activities...if you're not Martha Stewart (and her merry band of stylists), the expectations can be exhausting. Why get tired before you start? I must confess I was sucked into the madness years ago – before kids – carefully planning the event based on the latest holiday trends. Should I use chargers this year? Is the classic Italian fruit and nut centerpiece too pedestrian? Will people prefer Eli's cranberry walnut bread or Italian semolina from up the corner? What about deep-fried turkey?
Fast forward to A.K. (after kids), and the joys of clarity and simplicity. Never mind fretting over nuts in the stuffing or crisp, ironed linens, I was lucky to get any dishes out and shower before guests arrived. Cooking, cleaning, keeping the kids out of trouble, cleaning again, and saying, "Don't touch that" countless times before noon was sheer madness. Even though I eliminated the frills, Thanksgiving (and every holiday) was reduced to a "to do" list, a chore. Only when I faced with dozens of boxes and 16 anxious relatives 10 years ago did I realize the value of just winging it.
The Game Plan
Before I start, know that I'm not here to rain on your parade. If you want to pull out all the stops this year, by all means do it. But do it for you. Do it because it gives you joy. In the end, your happiness, as the host, is most important. You can't spread cheer if you aren't cheerful. But, don't get mad if your guests don't share your enthusiasm for the pumpkin-shaped butter pats you carefully crafted Wednesday night. They just want butter for their bread.

OK, rule number one: accept that things will go wrong. I've forgotten courses, cooked the giblets in the turkey, dropped a half-frozen cheesecake on the floor (and served it), run short of chairs, broken dishes, used sugar instead of salt, and had to resort to the dreaded premade gravy. Everyone survived and no one was the wiser. Go with the flow.
Two: be practical. How much time can you fret over offering an "unexpected" dessert, deciding the best wine pairings, arranging the right table scape, or sourcing turkey-themed anything. Really? If I've learned just one lesson during the past 25 years, it's that if you have it, plate it, and pass it, it will be eaten.
Spatchcocking the bird or Hasselbacking the potatoes is not necessary. Stay in your lane and get the meal on the table. Traditions are important, if you have them. It isn't Thanksgiving around here without my mom's mashed potatoes with melted mozzarella. If you can't or won't cook… then buy it. But whatever you do, go easy with the side dishes. You know about the sides that die in the refrigerator days later because there was too much of each in the first place? There are only so many string beans you can eat in a given week.
Three, do a buffet – it's so much easier than setting a table. Ask your guests to help get the food out (they should be offering to help anyway), make sure everyone has a full plate, then put up your feet, and enjoy your corner of the world, preferably with a glass of wine. Too bad I usually can't look at the food at this point; I've been picking at it all morning. Get the conversation started and, for the love of all that's holy – AVOID POLITICS!
Which leads me to the big one and number four, navigate family drama. I'm Sicilian. I've been there. My advice? Suck it up. Be a peacemaker. Declare a ceasefire for the day. Humor your know-it-all cousin; he just wants attention. Give your hypercritical aunt something to occupy her time. And, take it from me – nothing quiets a meddling, yet well meaning, mother like a stiff drink.
No matter how frustrating, your family is yours. Focus on what's special about the loud one, the cheap one, the slob, the pest, the loving one, the selfless one, and the one who's just trying to get through the day. Own your near and dear, with all their faults. They make you who you are and you'll miss them when they're gone. I'd give anything to hear my mom complain about too little salt or hear my dad assure people that it's OK to eat with their hands just once more.
On that note, which really isn't as melancholy as it sounds, I wish you a day of savoring the smell of turkey (or whatever you're making) roasting in the oven, the music of marching bands on TV, the anticipation of guests arriving with smiles and goodies, the craziness of your people, and the abbondanza of it all. Appreciate and share with those around your table, and marvel at how they make your life what it is. And, remember it's not what you offer that matters, it's that you share. It's not what they bring, it's that they give to you. It's not about gaining praise; it's about serving others. It's not where you gather; it just has to be together.
Scarsdale Resident Hosts 14th Annual WJCS Have a Heart for the Holidays Luncheon
Details

Written by

Joanne Wallenstein

Hits: 3130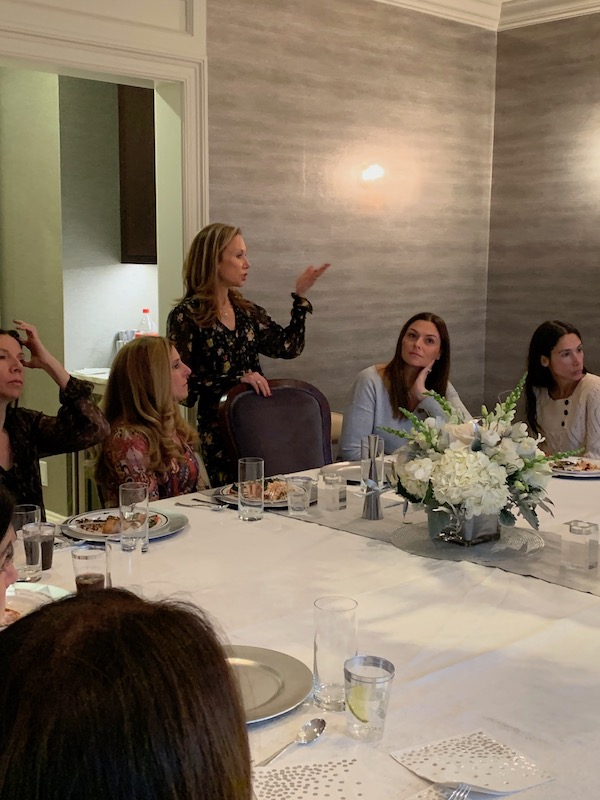 For the 14th year in a row, Linda Plattus, a Scarsdale resident and Westchester Jewish Community Services (WJCS) board member, hosted a luncheon in her home for the WJCS Have a Heart for the Holidays Gift Drive which benefits Westchester children in under-resourced communities. Fellow board members Suzanne Yearley, Nina Ross, Sarah Kayle and Michele Brettschneider co-hosted the event, which raised a record-breaking $8,000.
"While Westchester is often regarded as an affluent county, it is home to thousands of families living below the poverty line. WJCS provides services to many of those households through a range of parenting, mental health and education- focused programs. We want to make sure that children in the families we serve have a truly joyful holiday," says WJCS CEO Seth Diamond. "We are so grateful for Linda Plattus' support year after year, along with other WJCS board members, as well as her neighbors and friends who contributed toys and gift cards for children in need."
Monica Brennan, a supervisor at the WJCS Yonkers clinic, spoke at the luncheon, as did a client whose nine-year-old son participates in WJCS support groups for developmentally and intellectually disabled youth. WJCS provides 88+ programs to 20,000 Westchester residents each year and addresses a vast range of life challenges, including mental health, trauma, literacy, autism, Alzheimer's, and more.
Local businesses, including Cherry Lawn Farm Market, Cooked and Co, House of Flowers, Martine's Fine Bake Shoppe, Patisserie Salzburg, and Standing Room Only supported the event.
To contribute to the Have a Heart for the Holidays Gift Drive, please click here: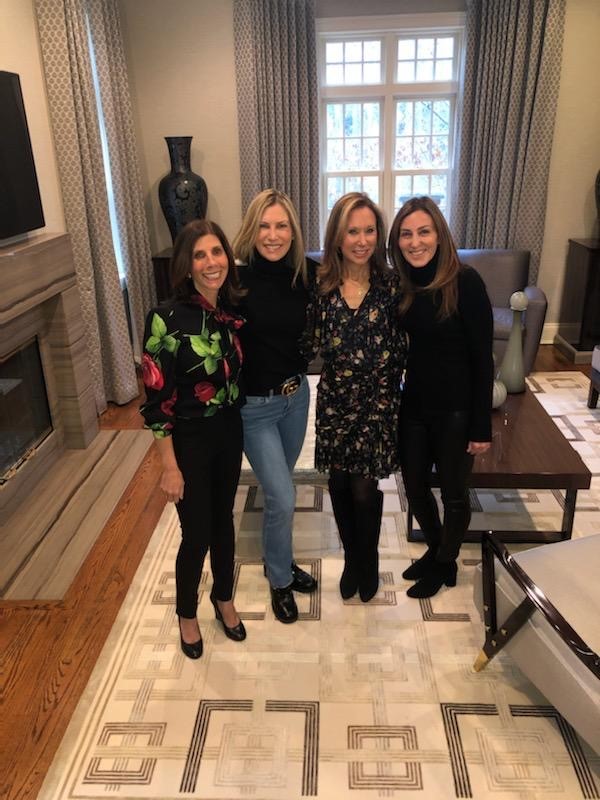 WJCS Board members from left: Sarah Kayle, Nina Ross, Linda Plattus, and Michele Brettschneider.
ABOUT WJCS
WJCS is one of the largest non-profit, non-sectarian human services agencies in Westchester, serving 20,000 people annually at 70 clinic, school, community, and home-based locations throughout the county. WJCS is a trauma-informed agency. Its integrated network of services includes: mental health treatment and counseling, child and youth development programs, residential and non-residential programs for people with intellectual and developmental disabilities, and geriatric services. The highest level of professional development and training is offered through the WJCS Educational Institute. For more information on WJCS, click here.
Eleven Elected to Serve on the Citizens Nominating Committee
Details

Written by

Joanne Wallenstein

Hits: 2889

The results of the Citizens Nominating Committee election held on Tuesday, November 12 are below. Scarsdale voters elected their neighbors to serve on the nonpartisan Citizens Nominating Committee (CNC). These newly elected members will join current CNC members to meet and evaluate non-partisan candidates for the village offices of three Trustees and Village Justice. The 30 elected members of the CNC will then nominate candidates to represent the Non-Partisan party's slate in the village election, which takes place on Tuesday, March 17, 2020.
A total of 368 votes were cast, included in person voting and mail in ballots. Here are the names of those who were selected:
Elected CNC Members, 3-year terms unless otherwise noted: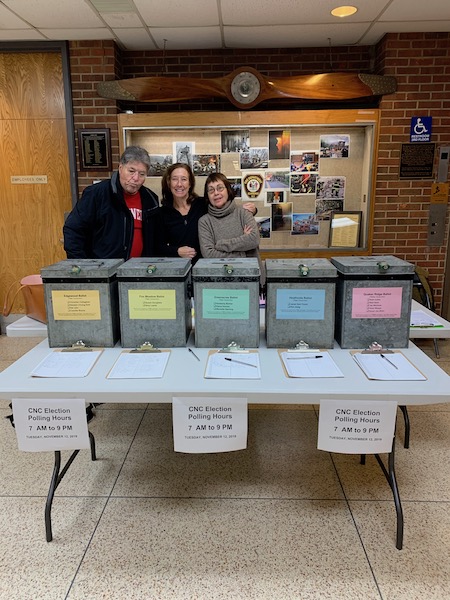 Eric Jaffe, Anne Lyon and BK Munguia at the poll.

Edgewood: Christian Callaghan; Camille Roche

Fox Meadow: Susan Douglass; Amy Laartz

Greenacres: Elena Kanner; Michelle Sterling

Heathcote: Janet Han-Youm; Peri Zelig

Quaker Ridge: Neal Soss, 1-year term; Jay Wechsler; Omer Wiczyk
Here are the number of ballots cast by District Unit: in person (mail-in ballots)
Edgewood 96 88(8)
Fox Meadow 46 41(5)
Greenacres 82 79(3)
Heathcote 57 53(4)
Quaker Ridge 87 75(12)

The election was administered by the Citizens Nominating Committee Procedure Committee which is chaired by Eric Cheng and Sarit Kessel Fuchs and includes Stephen Baer, Daniel Brown, Eric Cheng, Chair, Marie DiPalma, Madelaine Eppenstein, Sarit Kessel Fuchs, Vice Chair, Dan Gerardi, Judy Wenjing Kerr, Jon Leslie, Matt Martin, Barry Meiselman, BK Munguia, ML Perlman, Andrew Sereysky, Gregory Soldatenko, Peter Tesler, Amber Yusef, and Anne Zink.