Girls Varsity Tennis Team Headed to State Championships at USTA National Tennis Center
Details

Written by

Joanne Wallenstein

Hits: 1266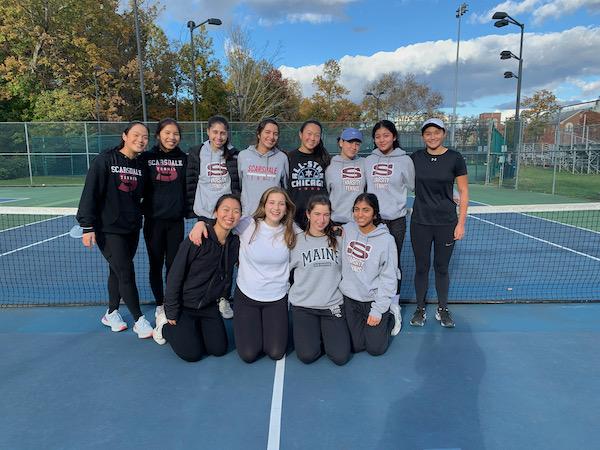 The Scarsdale Girls Varsity A Tennis Team is headed to the USTA National Tennis Center in Queens on Friday to play in the New York State finals. This is the first time in the history of Scarsdale tennis that the entire team will compete in the state championship and the first year that the NYSPHAA has hosted team championships. With so many talented players on the Scarsdale team, they benefitted from their depth, hosting strong competitors on all seven courts.
It's been an exhilarating run for the team who travelled by Coach bus to Binghamton for an overnight last week. Many of the girls had not stayed in a hotel for two years and the team, along with their manager Zach Sanders and Coach Jennifer Roane, bonded during the trip. No parents or extra chaperones were permitted and the girls had to play wearing masks.
Playing inside on unfamiliar courts on October 26, the girls played the regional championships at the Binghamton Tennis Center where they swept their opponents from Ithaca – winning all seven courts. Their opponents barely won a game. The three singles teams and four doubles teams dominated over their upstate opponents and went on to become one of the top four teams in the state for the large school league.
Here were their remarkable scores from the regionals in Binghamton:
-First Singles: Natalie Hu defeated Talia Shaw 6-1,6-0
-Second Singles: Giana Marks defeated Paula Carrillo 6-0,6-0
-Third Singles: Maya Cukierman defeated Elise Park 6-0,6-0
-First Doubles: Laura Mendes/ Campbell Alin defeated Caroline Whelan/Aria Petrella 6-0,6-0
-Second Doubles: Maya Vora/ Yelena Sahakyan defeated Marina Okada/ Fiona Glenn 6-0,6-0
-Third Doubles: Madison Lee/Daphane Luttrell defeated Lily Wang/Julia Blakeslee 6-0,6-1
-Fourth Doubles: Kay Cottrell/Natasha Pereira defeated Liala Cryer/Luna King 6-0,6-2.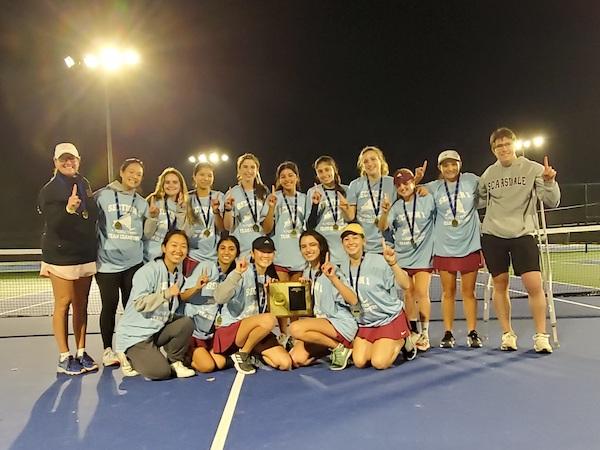 Tennis Team Following Victory in Binghamton
Next up, the team will go to the USTA Billie Jean King Tennis Center on Friday November 5 where they will play another upstate team, Brighton High School, from Rochester in the semi-final at 11 am. If they succeed, they will play in the finals at 4:30 pm against the winner of an earlier match of Syosset vs. Bethlehem (a suburb of Albany). The players must win two full sets to claim victory, i.e. they will not play a tie breaker in lieu of a third set.
No parents or spectators will be permitted inside the facility. However all matches will be livestreamed from the court. Each of the players needed to have proof of vaccination and they will need to play wearing masks, adding another challenge to the competition.
On Wednesday we caught up with the team and Coach Roane who had scheduled a practice match against the team from Byram Hills, who are the Section 1 champions in the small school draw. Awaiting their opponents the girls were all smiles as they did warm up exercises to music on the courts.
Coach Roane explained that this year the team included eight players who had moved up from the Varsity B team along with two freshman, Giana Marks and Kay Cottrell. Playing second singles Marks has had an amazing first high school season.
We asked team captain and first singles star Natalie Hu how the team maintains their fighting spirit. She said, "We pump each other up and have a team huddle before each match. We all want to win badly!... and we bring our team mascot, Ace, to every match."
Coach Roane tells the girls to be positive, focus on one point at a time, if they make a mistake to let it go, communicate with your partner and most of all, to have fun!
From the scene at the high school courts on Wednesday, the girls were having fun and were looking forward to riding the wave of enthusiasm to Queens on Friday.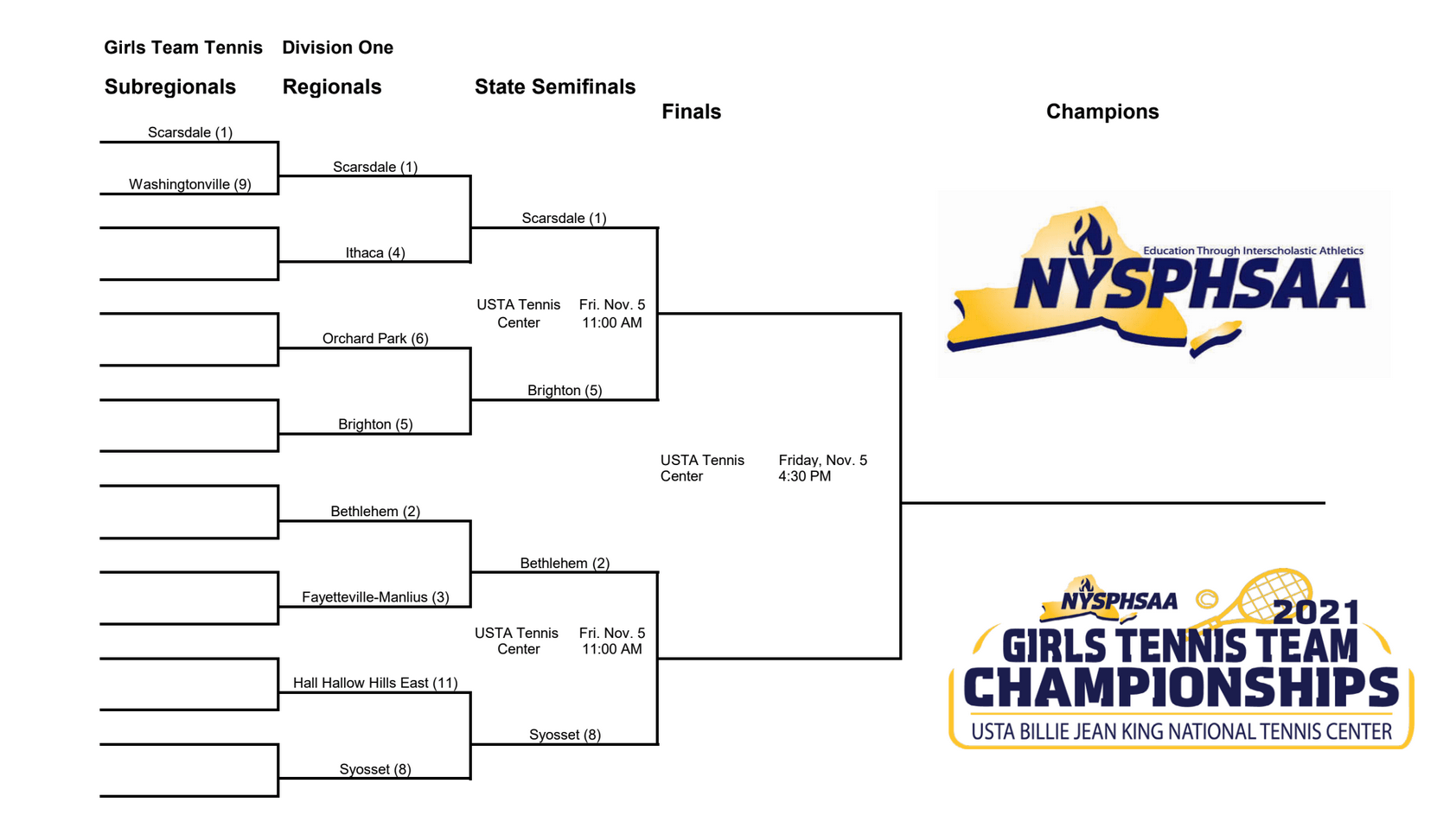 Raiders Football Team Defeats Mt. Vernon 34-6
Details

Written by

Jack Margolin

Hits: 1080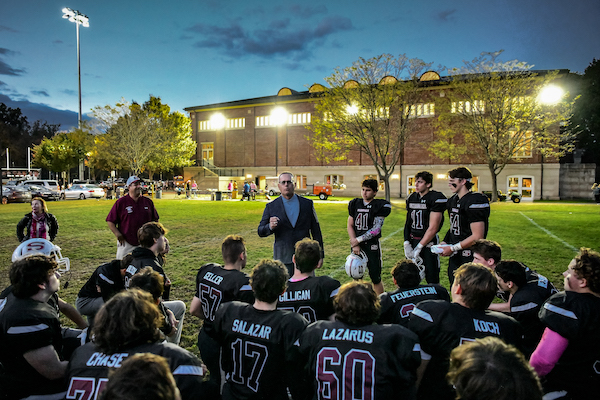 On Friday October 22, a beautiful night for football, the Scarsdale Raiders defeated Mount Vernon 34-6 and honored the team's seniors.
Before the game began, there was a ceremony honoring senior managers, cheerleaders, and football players in what would be the final home regular-season game of their high school career. When the players were introduced, their names were announced, they were given a rose and walked out to applause with their parents.
When the ceremony finished, all the players had to put their emotions aside and go out and play. Coming off a two-game win streak, the Raiders looked to build momentum and take home the victory. They did just that, and it would have been tough to script a better game.
The Raiders started out hot, scoring a TD off a Nick Freihofner run to kick off the scoring and make it 7-0.
Kicker Bennett Abbe followed that up with a field goal to give Scarsdale a 10-0 lead. Mount Vernon would respond with a quick TD, but miss the two-point conversion, and be shut out from there.
It was all Raiders from that point on. Both the defense and offense played exactly how you draw it up. After the failed conversion from Mount Vernon, Scarsdale put together a beautiful drive to get back on the board. QB Adrian Duval started it off with a long run, followed by another Freihofner TD. He wasn't done there, however; he scored his third TD of the night after Colby Baldwin recovered a fumble to set up the score.
Baldwin, like Freihofner, also continued to stuff the stat sheet. After Mount Vernon had a nice kick return with just over a minute to go in the first half, Baldwin intercepted a pass and returned it all the way to the red zone right before the half concluded. Abbe would capitalize on the nice return with another field goal, giving the Raiders a 27-6 lead going into halftime.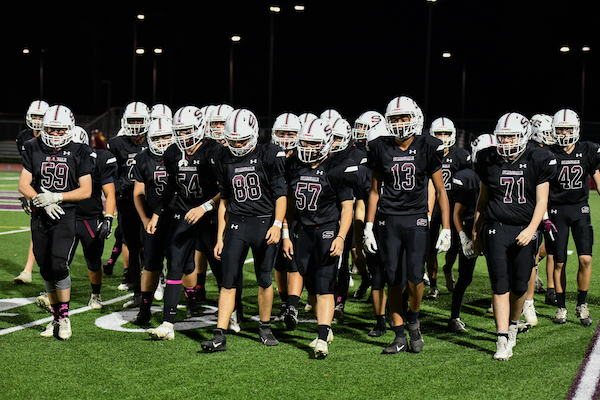 Raiders head for the field.Scarsdale's final TD would come just as the 3rd quarter was coming to a close on a rush by Julian Glantz. The defense stole the show the rest of the way, with interceptions by Ethan Weismer and Will Salazar.
After complete domination on both sides of the ball, it was an extremely successful night for the Raiders and its seniors. Preparing hard all season (and their entire high school careers), their hard work was vindicated and they ended things off on a positive note.
Photos by Jon Thaler - see more here: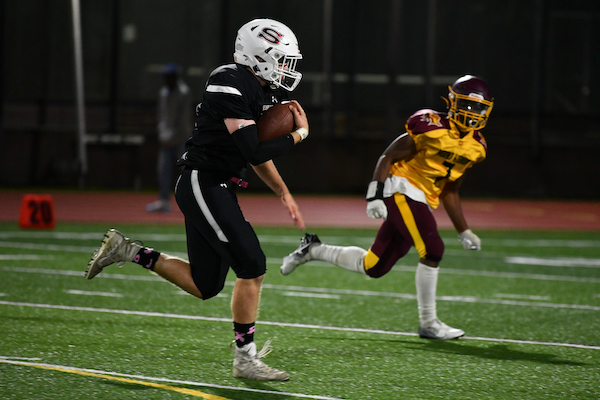 Scarsdale rushes towards the end zone.
Red Oak Planted in Aspen Park in Honor of John Auerbacher
Details

Written by

Joanne Wallenstein

Hits: 840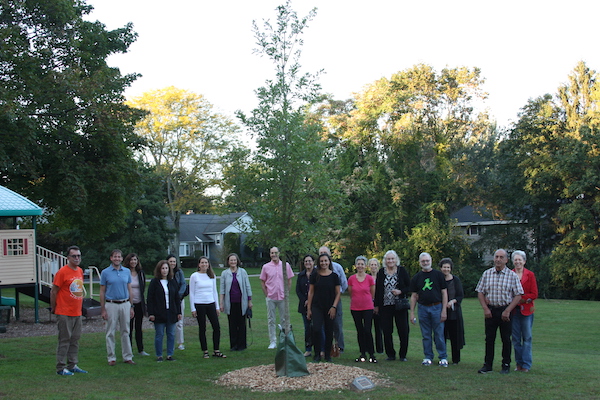 Members of the CAC gathered to honor John AuerbacherA red oak tree and plaque were installed in Aspen Park on October 7, 2021 in memory of Conservation Advisory Council member John Auerbacher who passed away last year. The tree and plaque were funded by a gift of $730.82 by the Conservation Advisory Council.
A Village resolution accepting the gift says, "In recognition of John's durable conservation legacy, his tireless efforts to collaborate with others in support of the environmental, public health, and overall quality of life needs of current and future generations of Scarsdalians, a plaque will be placed at the base of the Red Oak, featuring the inscription, "In Memory of John Auerbacher, Scarsdale Conservation Advisory Council Member, Nature's advocate who led by example, showing us how to be kind to the Earth"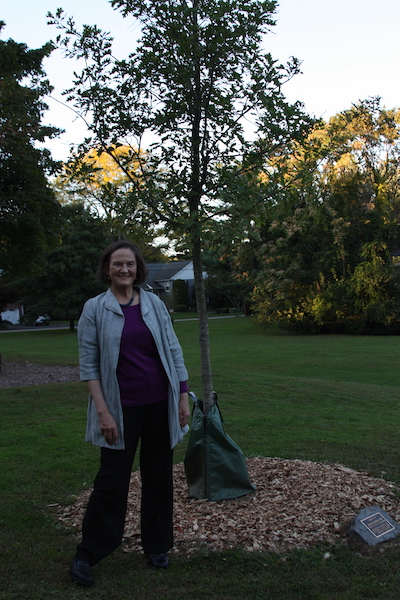 Jennet Auerbacher and the new red oak.It continues, "The Red Oak, Quercus rubra, is distinguished from other trees by its broad trunk, similar in many ways to John's broad shoulders, which carried the weight of our obligations to future generations, its large branches, suggesting John's collaborative spirt and efforts to reach out to others, and its impressive stature, reflecting the CAC's admiration and respect for John as an individual, friend, and colleague."
Michelle Sterling from the Conservation Advisory Council said, "John was a terrific CAC member, a great lover of nature, and just a remarkable person. Our hope is that this tree grows and provides shade and comfort to children and families in the park for generations. We feel John would be happy to know that he is still giving to the community in a positive and loving way. That was John."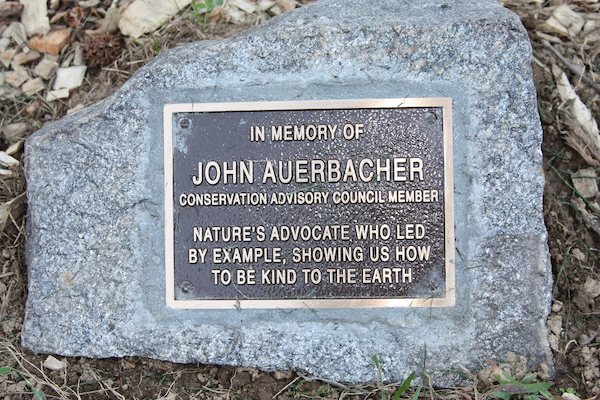 The Miracle League Hosts Scarsdale Little League
Details

Written by

Joanne Wallenstein

Hits: 875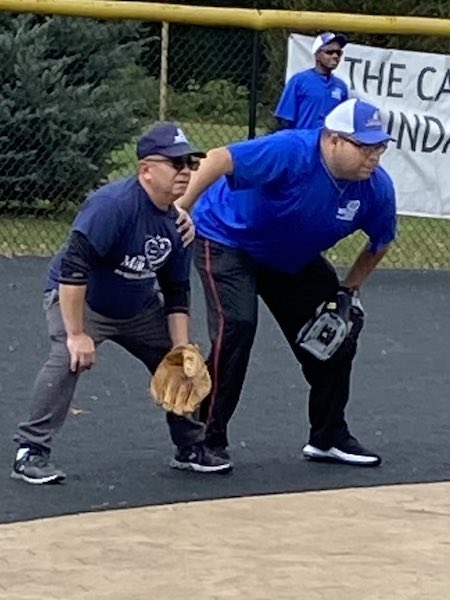 (Letter to the Editor from Peter De Lorenzo)
October is championship baseball time and it definitely was no different at the Miracle League of Westchester. On October 17th the Miracle League of Westchester Skills team hosted Scarsdale Little League for a friendly game of baseball. The game started with both teams giving it their all. The ML Crushers lived up to their name and hit some bombs over the fence and had some aggressive base running with 3 stolen bases, but Scarsdale answered back with some impressive hits and plays of their own. At the end of a very exciting game with much cheering from the crowd, the game ended in a tie. However with all the smiles on the field , both teams were winners.

Thank you very much to the Scarsdale little league families and players for joining us for a fun filled afternoon, we look forward to doing it again.
The Miracle League of Westchester is a not for profit organization that gives children and adults with disabilities the opportunity to play baseball and enjoy social events throughout the year. www.mlwny.org
Respectfully,
Peter De Lorenzo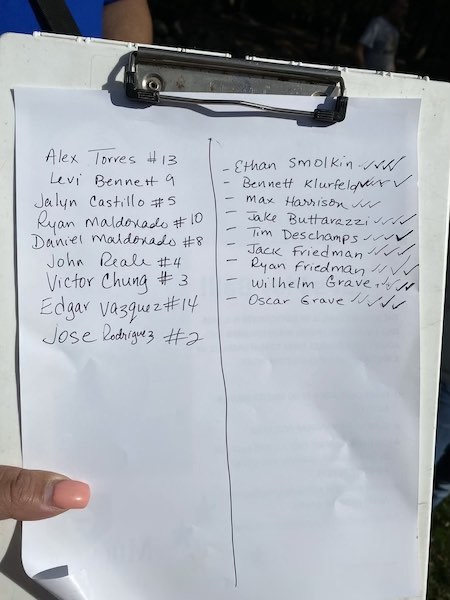 Raider Pride is Back
Details

Written by

Daniel Love

Hits: 779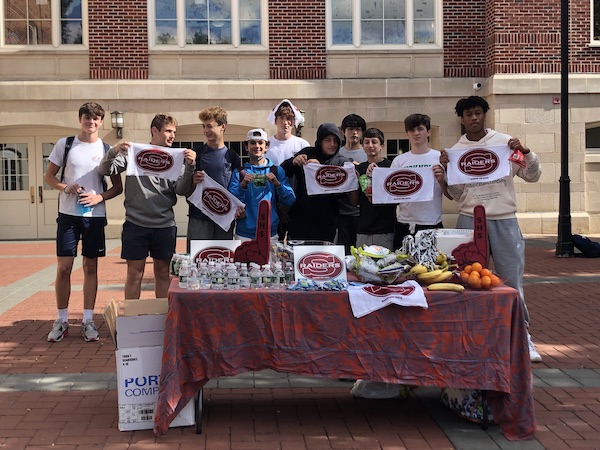 After a break in 2020 due to the pandemic, Raider Pride Week was back at Scarsdale High School, during the week of September 27, stronger than ever. Maroon and White, the athletic booster organization, kicked off Raider Pride week by distributing black WE ARE SCARSDALE tee shirts to student organizations and teams to demonstrate support for the Friday night homecoming black out game vs. Mamaroneck.
Students dressed for Raider Pride week starting off with pajama day on Monday, September 27th. They continued to show their school spirit by wearing red, white, and blue on Tuesday. Maroon and White supplemented Wednesday's white out with healthy snacks for students after school before teams' practices. On Thursday students wore maroon and even more school spirit was visible with Raider Rooter magnet mania in the parking lots.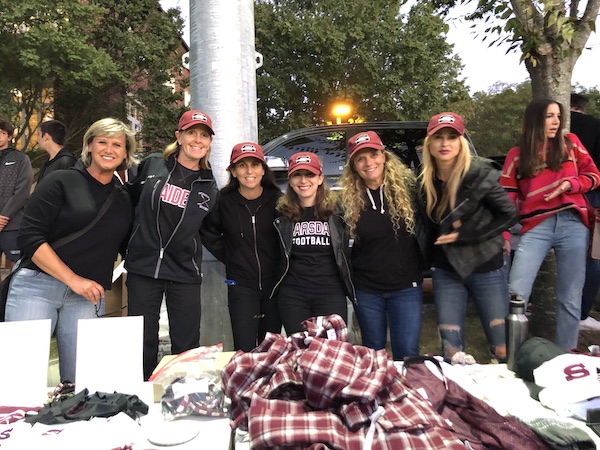 Raider Pride Week culminated on Friday with the first ever outdoor Pep Rally. SHS teams, clubs and teachers, dressed in black, demonstrated their skills and Raider pride on Butler Field while the band played on the track, and students assembled by grade in the bleachers, on chairs and on the turf. To make the pep rally safer and socially distant, the event was held outside rather than in the gym. Student Government Advisor Lauren Barton, "the major difference is that the pep rally will be outside and students will be spaced apart on the turf and bleachers. Masks are required for students, faculty and staff watching as well."

When asked about how school spirit has been affected by the pandemic, Student Government President Claire Scarcella stated, "Ever since the start of the year student government has noticed a change in the school dynamic and community. The spirit levels have been way up and we knew that this was our opportunity to "redefine" our school spirit week! We are so happy with the outcome of our spirit days!"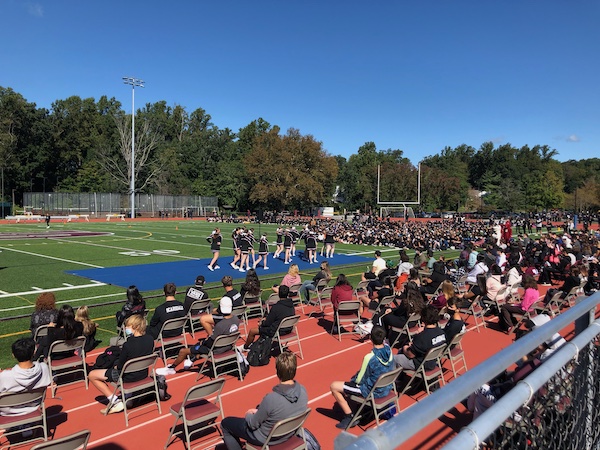 Students and faculty agreed that the outdoor format for the pep rally was a welcome change that was not only safer but much more enjoyable and helped the entire high school community feel more connected.