Words With Friends: Spelling Bee Returns to Scarsdale
Details

Written by

Joanne Wallenstein

Hits: 3072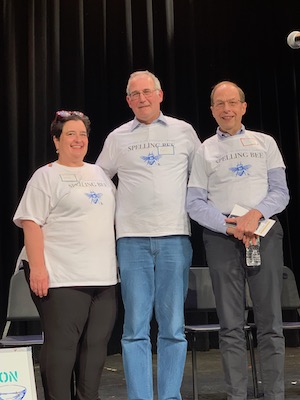 Scarsdale Foundation Honey Bowl: Janice Starr, Randy Guggenheimer, Frank Lichtenberg.The 2020 Spelling Bee at SHS on Friday night January 31 was a challenge for the 57 contestants on stage as well as all of us in the audience, striving to spell some puzzling words. The event attracted 19 teams, with clever names like the BEEtles, Killer Bees, We Spell Trouble, Don't Stop Bee-lievin, Ladies of the Loft (from the library) and a group of library trustees, called the TrustBees. Also on stage were two teams of realtors, four teams of high schools students and previous winners who not surprisingly won again!
The event was sponsored by the Friends of the Scarsdale Library, to raise funds for the large-scale renovation of the library now underway. Introducing the fun were Library Friends President Dara Gruenberg and Scarsdale Library Director Beth Bermel.
Ed Coleman, a community member and Voice of the Mets, returned as MC, and clearly articulated some very obscure words. Expert judges included Library Director Beth Bermel, NYS Assemblywoman Amy Paulin and Scarsdale Mayor Marc Samwick.
The opening rounds included a few giveaways like NECESSARY and SCISSORS, but it wasn't long before teams were dropping like flies – after tripping up on LIAISON, BOURGEOIS and INOCULATE (In fact, it doesn't have two "N's")
Another stumper, DUMBBELL, was misspelled by all four teams in one of the swarms. And in that case, with no one spelling it correctly, all four teams remained.
In the first swarm, Killer Bees Jenn Love, Sharon Hoffman and Chris Riback successfully spelled ONOMATOPOEIA, and won their swarm.
We Spell Gud with Judy McEvoy, Kevin McEvoy and Simon Landless emerged the winner of the second swarm after correctly spelling EMBARRASS, NONPAREIL and MERETRICIOUS.
Swarm C proceeded quickly, when DACQUIRI proved easier to drink than to spell. The second H in the word DACHSHUND tripped up another team and a third team was eliminated when they spelled CAMARADERIE – with an O rather than an A as the second letter.
That left Bee Bee Kings and Scarsdale Foundation Honey Bowl to spar for the swarm. They successfully spelling DILETTANTE and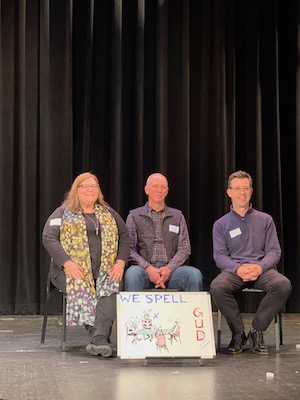 We Spell Gud: Judy and Kevin McEvoy, Simon LandlessFLUORESCENT, before the Bee Bee Kings lost their ARRYTHMIA, and the Foundation Honey Bees, including Randy Guggenheimer, Janice Starr and Frank Lichtenberg dominated their swarm.
The last swarm consisted of four high school teams, who all successfully spelled PALINDROME and JEWELRY before all the teams misspelled CAPPUCCINO. The round ended in an instant, when three teams misspelled CALIOPE leaving the Bee Gees to go to the final round.
After intermission and refreshments, the competition heated up, with the four winning teams from Swarms A through D competing in the championship round. In this round, teams took turns spelling, and the teens survived the spelling of ADOLESCENT. Randy Guggenheimer spelled BIVOUAC, "We Spell Gud" outlived the GUILLOTINE (who knew it had two L's?) and the teams traded words until the teens missed CURMUDGEON.
The contest continued with DOPPELGANGER and CREPUSCULAR. Sharon Hoffman of the Killer Bees spelled MAELSTROM, QUESTIONNAIRE and CARDAMOM and appeared to be the queen of the hive but was ultimately knocked out by QUOTIDIAN – using an E for the A – a mistake anyway could make.
That left We Spell Gud and the Scarsdale Foundation Honey Bowl to duke it out.
The words got tougher by the minute – from ANODYNE and BADINAGE to REVEILLE and DIPHTHONG. This round featured words from all over the world, laced with extra vowels. Simon Landless and Randy Guggenheimer, backed by their teams, wowed the crowd spelling FRANKINCENSE and DAGUERREOTYPE.
When Guggenheimer missed BOUILLIABAISSE, it looked like "We Spell Gud" would take home first prize. But lo and behold they were given a middle English word dating back to Shakespeare, "GUERDON," and got that wrong, so the contest went on. The suspense continued as both HASANPFEFFER (German Stew) and FAIENCE (French China) were also misspelled. Finally the Foundation Honey Bowl spelled PHAETON, We Spell Gud missed URCEOLATE and the night ended with a victory for Scarsdale Foundation Honey Bowl team members Randy Guggenheimer, Janice Starr and Frank Lichtenberg.
Janice Staff said, "It was a pleasure to participate in one of my favorite activities, the Scarsdale Spelling Bee, and to contribute to the success of the fundraiser benefiting the Scarsdale Library. Whether I win or lose, it is so much fun to compete (and I have experienced both winning and losing!), but it was a delight to be a part of the winning team along with Randy Guggenheimer and Frank Lichtenberg, both amazing spellers! I cherish these community moments and encourage others to give the spelling bee a try."
Commenting on the event, Simon Landless from "We Spell Gud," said, "This was the second time we came second at the Bee! We all had a great time. I guess I'm pretty good with spelling obscure words because I took Latin at high school. Also, this was truly a team effort. Both Judy and Kevin McEvoy are terrific spellers in their own right. Judy excels with all food-related words. And Kevin was our tie-breaker when we couldn't agree."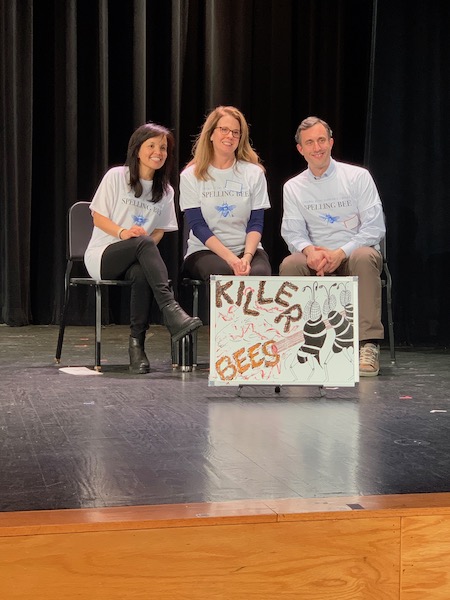 Killer Bees: Jenn Love, Sharon Hoffman, Chris RibackIt was an impressive performance by everyone who had the courage to take to the stage.
Dara Gruenberg, President of the Friends of the Scarsdale Library commented on the event, "The Friends of the Scarsdale Library was thrilled to see such an enthusiastic turnout for the Bee! It was truly a special community event, and Scarsdale was clearly excited to come out to watch the competition and support the library. With 300 people in attendance, both adults and kids, and $40,000 raised, we could not have asked for a better outcome. Thank you to all who participated, donated, sponsored the event, and attended! Congratulations to the Scarsdale Foundation Honey Bowl team on their victory!"
(Author's note: Following the Bee we relieved our SCIATICA from the auditorium seats and ARRYTHMIA due to the excitement, by enjoying BOUILLIABAISSE and HASANPFEFFER on our grandmother's FAIENCE.)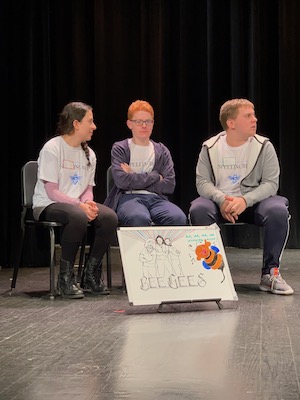 Bee Gees: Eve Mainster, Craig Carroll and Gabe Lesser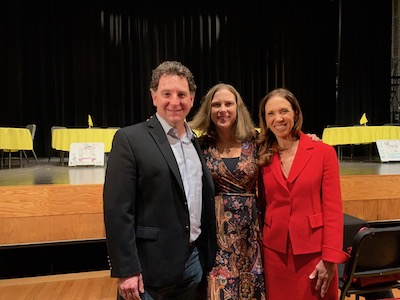 Bee Judges: Marc Samwick, Beth Bermel and Amy Paulin

The Bee is Back on Friday Night January 31
Details

Written by

Joanne Wallenstein

Hits: 1897

Teams have been dusting off their dictionaries in preparation for the upcoming Scarsdale Spelling Bee on Friday, January 31st at 7:30pm. Spectators of all ages will swarm to the Scarsdale High School auditorium on Friday, January 31st for a night of stellar spelling, silent auction, food for purchase and trivia, including local celebrity emcee Ed Coleman, the radio voice of the New York Mets. This community event is brought to you by the Friends of the Scarsdale Library and aims to be the Friends' primary fundraiser for 2020, supporting the Scarsdale Public Library.
Corporate event sponsors include Country Bank, Houlihan Lawrence, Mercedes of White Plains, The Gabelli Foundation and Pilates Glow. Bites from Chop't, Giannoni's and Once a Lil Cupcake will be for sale starting at 6:45pm.
Arrive early to check out the silent auction featuring items such as Shakespeare in the Park tickets, SAT/ACT Prep packages, Manhattan art walk, F Factor Counseling Package, Yankees tickets, empty Metropolitan Museum of Art tour with docent, fitness classes and more! An early arrival will also enable you to catch a glimpse of the library's construction progress slideshow. Prizes to be given to trivia winners!
Spectator admission is $10 for adults and $5 for children under 18. Entrance on Brewster Road.
This is also a perfect time to become a 'Friend' of the Scarsdale Library or renew your commitment to FOSL. For further details visit scarsdalelibrary.org or stop by the Friends' table at the Bee. Throughout this transition period during construction of the Olmsted Road building, Friends of the Scarsdale Library continues to play a pivotal role in sponsoring popular programs such as free museum passes, children's events, book talks, writers' workshops and so much more! Proceeds from the Spelling Bee will go towards the enhancement of these enriching programs.
No Hate, No Fear March Draws Large Crowd
Details

Written by

Amy and Ray Cooper

Hits: 2553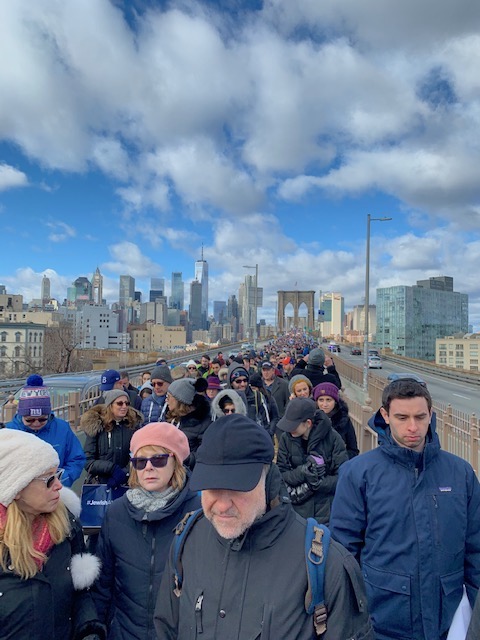 This past Sunday, under bright skies, thousands of people showed up in unity to protest anti-Semitic attacks in the region. This "No Hate, No Fear" event began at Foley Square in lower Manhattan, continued with a march over the Brooklyn Bridge, and ended with a rally at Cadman Plaza in Brooklyn. According to event organizers, the NYPD estimated the crowd at approximately 25,000. The event was organized by the UJA Federation of NY in collaboration with the AJC, Antidefamation League of NY/NJ, Jewish Community Relations Council and the NY Board of Rabbis.
While dignitaries were in abundance at the event – including Governor Cuomo, Senators Schumer and Gillibrand, Mayor De Blasio, Congressman Engel, among others – the rally featured other speakers who moved the crowd. In addition to event organizers and Jewish community leaders, speakers included activist Deborah Halberstrom, whose son was murdered on the Brooklyn Bridge in 1994, Pastor Gil Monrose, co-founder of the "GodSquad", and Cardinal Timothy Dolan and Bishop DiMarzio of Brooklyn.
The majority of the march-goers came from synagogues in the greater NY region, including Scarsdale's local Temples. Many also came by the bus load from Cleveland, Philadelphia, Boston, Montreal, and Toronto. The event was organized as a "Solidarity March" and included a large group from the Sisterhood of Salaam Shalom, a national group of Muslim and Jewish Women, with local chapters who marched together.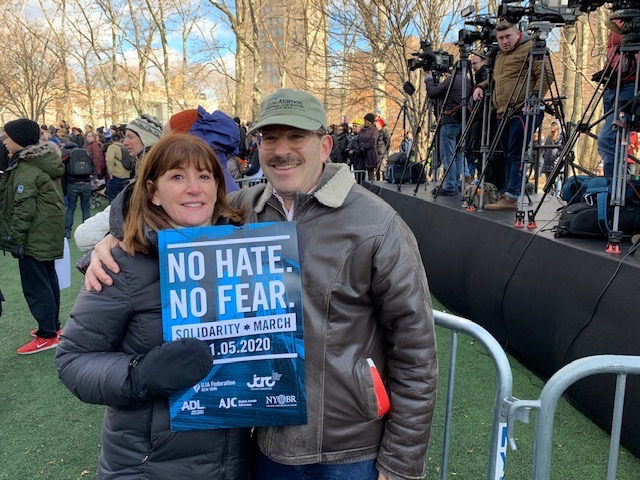 It was clear that participants felt unified under a common theme – to voice concerns about growing anti-Semitism. Additionally, the importance of showing Jewish pride was echoed by speakers and marchers alike. Scarsdale residents Joy and David Chalfin put it simply: "Sometimes you have to stand and be counted, and this was one of those times."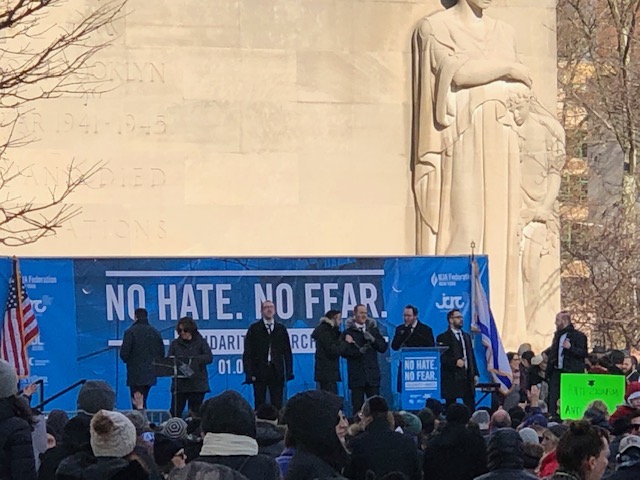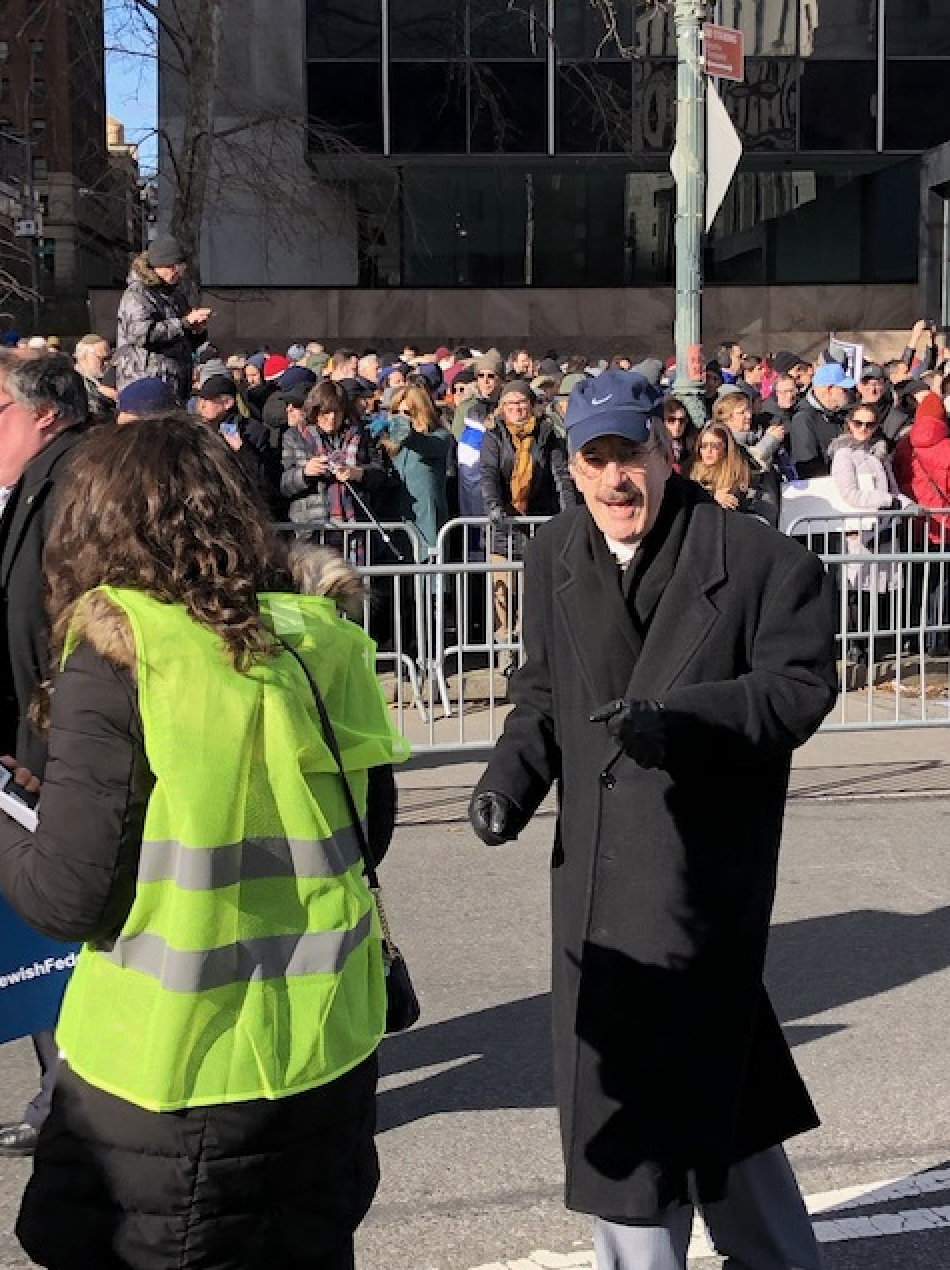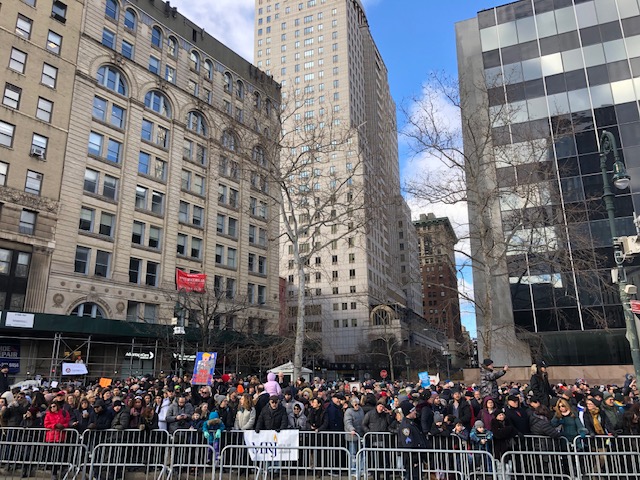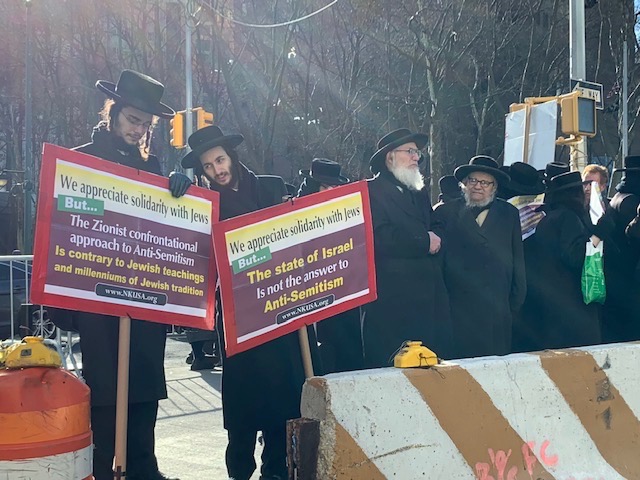 Scarsdale Historical Society Presents Two Documentaries on February 9
Details

Written by

Joanne Wallenstein

Hits: 3032
The Scarsdale Historical Society in cooperation with the Scarsdale Public Library invite the public to join them for an afternoon of films at Quaker Ridge School Auditorium at 125 Weaver Street., Scarsdale on Sunday, February 9th at 3:00pm. Admission is free and light refreshments will be provided.

THE LIFE AND ART OF ANNA RICHARDS BREWSTER is a short (9 minute), poignant film that rediscovers the magnificent work of Anna Richards Brewster (1870-1952), a Scarsdale resident, who in her day was recognized as one of America's finest Impressionist painters. Her work was widely exhibited in Europe and America, and she painted many familiar stunning landscapes of Scarsdale.
A RIVER RETURNS: A HISTORY OF THE BRONX RIVER is a 40 minute film that provides a historical journey down the Bronx River and a tale of how it was rescued from severe pollution to become a model for restoring natural resources nationwide. The Bronx River may be a small river but it played a large role in shaping the towns and lives of people in Westchester County, including Scarsdale.
These documentaries were professionally produced and directed by Scarsdale native Lesley Topping with Barbara Shay MacDonald, VP, Historian of the Scarsdale Historical Society. Ms. Topping is an independent filmmaker, producer and film editor whose work includes dramatic films, documentaries, and television programs. She has edited award-winning films for the Cousteau Society, CBS, PBS, and A&E, and worked on many feature films. She also produces multimedia content for businesses and not for profits.
After each film, there will be an opportunity to ask questions of Ms. MacDonald and Ms. Topping.
About the Scarsdale Historical Society
The Scarsdale Historical Society exists to discover, preserve, and disseminate historical information as well as inspire others to learn about and contribute to the history of Scarsdale and the Central mid-Westchester region.
Majority Leader Stewart-Cousins Pays a Visit to Scarsdale
Details

Written by

Joanne Wallenstein

Hits: 3178
Andrea Stewart-Cousins, the first woman and the first African American woman to serve as majority leader of the NYS Senate paid a visit to the Scarsdale Forum on December 11, proud to announce that this was the most productive session in the history of the NYS Legislature.
She reported that though the legislature is still dominated by men, the majority conference this year is very diverse and includes a Salvadorn senator, two Colombian senators, a Costa Rican, a Taiwanese, a southeast Asian and the Senate's first Muslim senator.
Stewart-Cousins proudly said, "We demonstrated that we could govern, keep the promises we made to voters, pass an on-time budget, and be progressive. With a Democratic majority in both houses, the legislature passed 935 bills, many that she called "substantive and historic" that generally take a year to get through.
Among the bills that passed were the Reproductive Health Act which legalized abortion at any time "when necessary to protect a woman's life or health or in the absence of fetal viability. The act allows licensed health care practitioners other than physicians to perform abortions if doing so falls within their lawful scope of practice.
Also passed was the Child Victims Act that extends the statute of limitations for a survivor of child sexual abuse in criminal and civil cases in New York. This means there is now more time for a survivor of child sexual abuse to press criminal charges. And, in civil cases, the CVA extends the period of time during which a survivor of child sexual abuse can file a claim for money damages.
Another groundbreaking bill enacted into law was the Green Light Law which restored the right to obtain a license, regardless of immigration status, that existed prior to 2001. According to Stewart-Cousins this legislation will allow undocumented immigrants to drive legally and foster economic growth and make roads safer. She said, "This is the right step forward for New York State as we continue to advocate for comprehensive immigration reform on the federal level."
Upcoming issues before the NYS State Senate will be the $6 billion deficit in the upcoming state budget, which is largely due to an increase in the state's Medicaid costs.
Stewart-Cousins discussed an upcoming state census which will largely be done online – and will determine future representation in the state. She also noted that the date for the state primaries has been moved to June from September to align with the federal primaries. This means that the session for the state legislature will be condensed.