Scarsdale's Emilia Rodriguez Honored by the Pace Women's Justice Center
Details

Written by

Joanne Wallenstein

Hits: 1067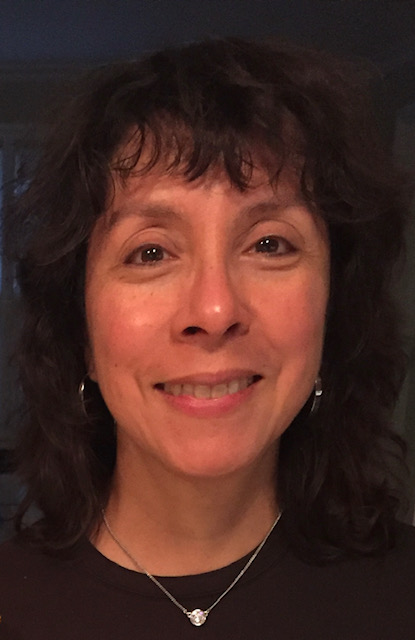 Emilia Rodriguez, a volunteer attorney for Pace Women's Justice Center (PWJC), was awarded the Jonathan Lippman Pro Bono Award by the New York State Bar Association (NYSBA). The award recognizes the dedication of senior attorneys who generously use their legal knowledge and experience to provide pro bono assistance in New York to underserved members of the community.
Ms. Rodriguez was selected for this award from a highly competitive pool of nominees from across the state. This year she celebrates 13 years as a PWJC volunteer attorney across three programs: Legal Helpline, Family Court Legal Program and Walk-In Legal Clinic. Prior to volunteering with PWJC, "I had no experience in representing survivors of domestic and intimate partner violence. The Pace Women's Justice Center provided me with training, support and mentoring, which enabled me to meet the legal needs of clients" through their programs, states Ms. Rodriguez.
From giving legal information and resources to providing limited scope representation on family matters, or representing clients in court who need Orders of Protection, Emilia helped over 130 clients in 2021. Known at PWJC as a compassionate and empathetic bilingual attorney who is client-focused, culturally-sensitive and trauma-informed, Emilia helps clients navigate through very complex legal and emotional issues. "The impact she has had on our clients' ability to live the next chapter of their life in safety is immeasurable," states Natalie J. Sobchak, PWJC Director of Pro Bono Programs.
The NYSBA award is named in honor of former Chief Judge Jonathan Lippman, an inspiring judicial leader who has zealously championed the cause of access to justice and has encouraged and supported the unique contributions of senior attorneys to the pro bono mission. PWJC celebrates its 30th anniversary in 2022, of providing free civil legal services to victims of abuse and sexual assault opportunities and resources to empower themselves and begin their journey away from abuse and towards healing.
The Pace Women's Justice Center (PWJC) is a self-funded nonprofit legal center located at Elisabeth Haub School of Law, under the 501(c)(3) status of Pace University. Each year, PWJC provides free legal services to over 3,500 victims and survivors of domestic violence, sexual assault, and elder abuse, as well as conducts or participates in over 140 training and outreach events. Serving Westchester and Putnam Counties, PWJC's mission is to pursue justice for victims and prevent abuse through quality legal services, community partnerships, education, and awareness. With an experienced staff and a team of dedicated volunteers, including attorneys, other professionals, and students, PWJC has built an effective, coordinated community response to interpersonal violence. (For more information https://law.pace.edu/wjc)
Terry K. Singer to Receive the 2022 Scarsdale Bowl
Details

Written by

Joanne Wallenstein

Hits: 2189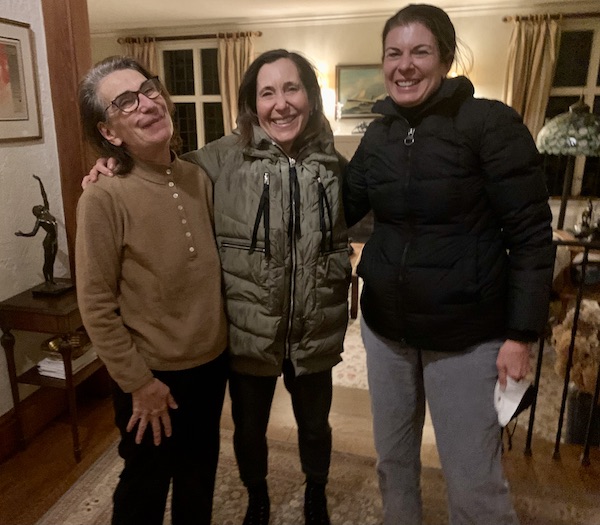 The Scarsdale Bowl Committee announced on Tuesday January 11, 2022 that they had selected Terry Singer to be the 2022 recipient of the community's highest honor and award, the Scarsdale Bowl. The Scarsdale Bowl has been awarded annually since 1943 to "one who has given unselfishly of time, energy, and effort to the civic welfare of the community."
As Nancy Michaels, Chair of the Scarsdale Bowl, said "Terry Singer is the consummate volunteer. When we think about the qualities and characteristics of the ideal Scarsdale Bowl recipient – an incredible doer, someone with a collaborative nature, a good partner, positive attitude – Terry Singer immediately comes to mind. She has worked tirelessly on behalf of all of Scarsdale for over 30 years of community service. She has literally touched and improved the lives of children, teens, and adults in Scarsdale."

The Bowl Committee, a diverse group of 15 community volunteers, selects the recipient after reviewing and vetting many worthy candidates who are nominated annually by the community. After the Bowl Committee voted on Sunday night to award Ms. Singer the Scarsdale Bowl, Nancy Michaels along with committee members Michelle Lichtenberg and Margot Milberg went to her house immediately, as is tradition, to tell her about the Bowl Committee's decision. However, she wasn't home so the group returned later that evening to share the news. "I am so surprised," said the shocked Bowl winner. "I'm really speechless; I just can't believe it! I am so honored. Thank you so much."
Ms. Singer, along with the Bowl recipients from the past two years, Jon Mark and BK Munguia (2020) and Michelle Lichtenberg (2021), will be honored at the Scarsdale Foundation Bowl Dinner on Thursday, April 28 at Brae Burn Country Club in Purchase. Ms. Michaels encourages all members of the community to attend the dinner which will be a celebration of community and of volunteerism in Scarsdale. The Bowl Committee will send out invitations in early March; however, one need not receive an invitation to attend. The entire community is invited to this wonderful, celebratory event. Even if Covid is not completely behind us, the plan is for the event to go on outdoors at Brae Burn Country Club.
Ms. Singer has been involved in all aspects of community service since she moved to Scarsdale. When Singer's children were young, she served on the Board of Kids' B.A.S.E. and the Little School, as PTA President for Heathcote Elementary School, and as VP of the High School PTA.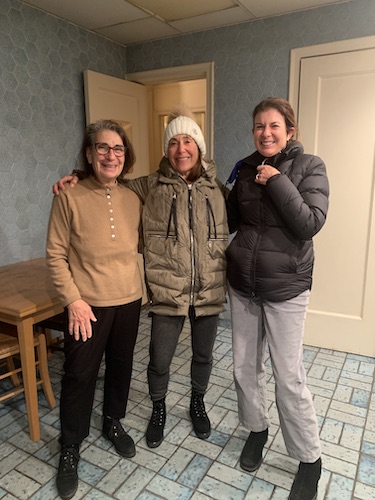 Singer with Nancy Michaels and Margot Milberg

Ms. Singer engaged in public service for the Scarsdale community at large by leveraging her architecture degree and professional experience to serve on, and chair, various Scarsdale Village Boards and Committees. Since 1991, she has taken on important roles on the BAR, the Planning Board, and the Conservation Advisory Council. She balanced these commitments with service to the League of Women Voters, the School Board Nominating Committee, the Historical Society, and Westchester Reform Temple. At Cornell University, her alma mater, she served as President of the College of Human Ecology Alumni Association, and in various roles on the College's Dean's Advisory Board, the President's Council of Cornell Women, and the Cornell University Council. Ms. Singer currently serves on the Westchester County Soil and Water Conservation District and is finishing her second year as Co-Chair of the Board of Directors of the Scarsdale Adult School, having already served eight years as a member of the Board.
Ms. Singer has also exhibited extraordinary commitment to the Scarsdale Library, as a Trustee and Vice President of the Board from 2013 to 2018. Her term was ending just when the physical construction at the Library was set to begin, but she agreed to stay on and co-chair the Library Building Committee for more than two years. She frequently met with the architect, Village officials, Library Director, Library President, and the project's manager and vendors to share her knowledge and to help make sure that the library construction was done properly in a timely way, and on budget. Ms. Singer remains very involved at the Library and is currently serving on its Landscaping Committee.
As her Co-Chair of the Scarsdale Adult School, Lisa Tretler says: "Terry works quietly yet effectively. She is collaborative, sincere, and seeks out the opinions and views of others. Terry has a lovely way of working with people – never ruffled, with a calm demeanor. She is an inspiring leader."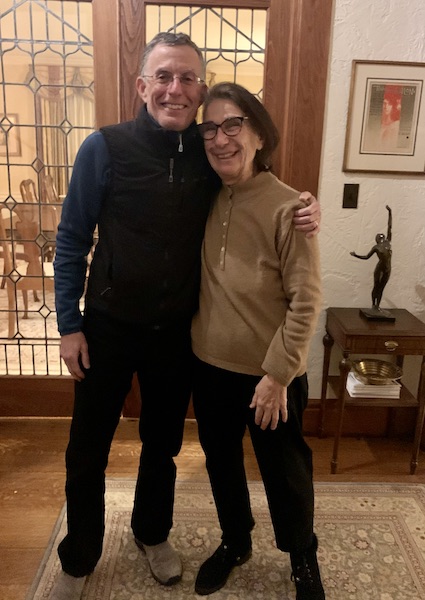 Terry and Paul Singer"Terry loves to work in the background and not let the spotlight find her," says Elyse Klayman, a past president of the Scarsdale Library Board of Trustees. "That's why seeing her receive this award is so wonderful. Terry is always willing to pitch in. If there is a difference of opinion, she tries to find common ground in a courteous and respectful way. Her mind is fully engaged, and open. She does not shy away from difficult decisions, but rather handles them in a diplomatic manner. Those of us who have had the chance to work closely with Terry are the better for it, and we are tremendously grateful for all that she has done for Scarsdale."
Support the Scarsdale Library: We Rely on You
Details

Written by

Joanne Wallenstein

Hits: 1142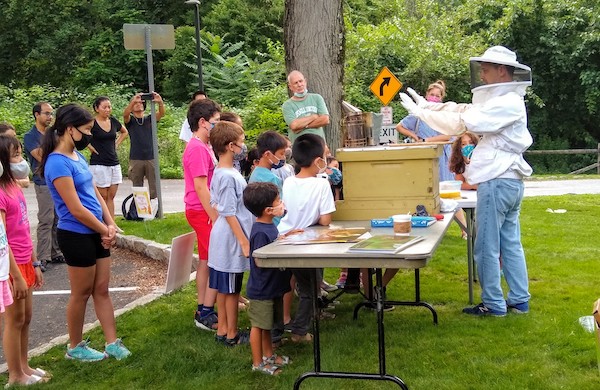 Honeybees and Pollinators with John Gallgher
(This letter was written by Dara Gruenberg, President of the Friends of Scarsdale Library)

Hopefully 2021 has brought forth an emerging sense of normalcy. As most of you know, the newly renovated and modernized Scarsdale Public Library proudly opened its doors last March and has been bustling ever since!
To launch the Library's re-opening, the Friends hosted a community-wide Love our Library spring celebration, which generated a palpable feeling of enthusiasm and excitement amongst attendees after many months of isolation, and also sponsored an uplifting art installation entitled Hindsight 2020, which showcased some of Scarsdale's talented artists exploring their responses to COVID.

In addition to the Library's physical enhancements, this year the reinvigorated SPL offered the community a plethora of virtual and in-person programming and activities. Some of the programmatic highlights include the restart of our Teen Advisory Board, Becoming Podcast, and the Historical Research Conference for teens as well as the Tails & Tales Summer Reading Game for our youngest Library-goers. The Friends continued to fund some Library favorites such as the SPL Writers' Center, book discussions and speaker series, the museum pass program, and the book delivery service for the homebound. The Friends also underwrote much of the state-of-the art technology you now find at Olmsted Road in order to ensure a productive and user-friendly experience for everyone. As we move forward, we strive to maintain this momentum by delivering a variety of robust offerings ranging from exercise classes to poetry readings, and from craft lessons and to walking tours.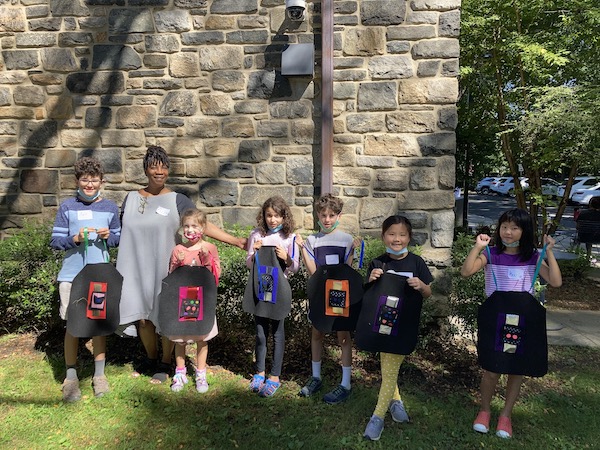 Sew It! Halloween Capes with Ellen Lumpkin Brown

Donor support is vital in order to sustain these programs and to support ongoing innovation at the Library. The Friends relies on your contributions in order to maintain the SPL's vibrancy. Since the Friends is a not-for-profit entity, your generosity is crucial as we strive to make Scarsdale's library a model of national excellence.

Please show your support by clicking on this link to become a Friend of the Scarsdale Library--our calendar year runs from December 1st to November 30th. We are truly grateful for donations of any size, and all the funds raised will be dedicated toward the ongoing improvement of our treasured community gem.

We would like to extend our warmest wishes to you all for a safe and joyous holiday season. May the new year bring peace, happiness, and of course, good health--along with lots of excellent reading, movie-watching and inspired learning!
Click here to make your donation today.
Warmly,
Dara Gruenberg
President, Friends of the Scarsdale Library

P.S. Mark your calendars: On the evening of May 20th, 2022, the Friends will be holding a Spring Fundraiser at the Library. Planning for this event is already in the works. Please be sure to save the date!
Independent Film Center to Expand to Bronxville
Details

Written by

Joanne Wallenstein

Hits: 1928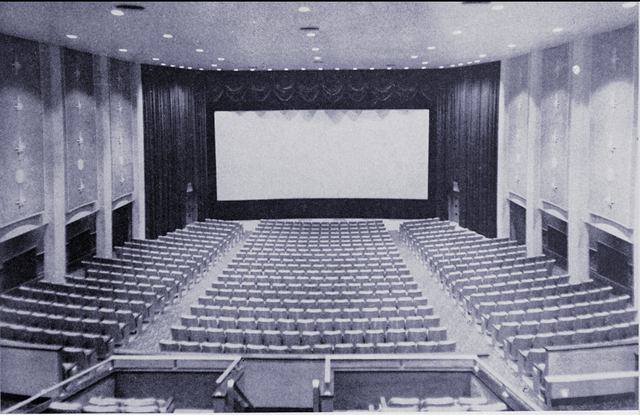 Attention movie goers: Exciting news announced about the expansion of the Pelham Picture House to Bronxville
Though venues for viewing independent films and documentaries seemed to be disappearing, there's good news for movie goers in southern Westchester. The Pelham Picture House, now called The Picture House Regional Film Center (www.thepicturehouse.org) will expand operations to Bronxville, NY, extending its film and education programs to the historic movie theater on Kraft Avenue that is owned and was previously operated by Bow Tie Cinemas.
The announcement of its growth into Bronxville comes as the film center continues the year-long centennial celebration of its iconic Pelham theater. The Bronxville expansion will add three screens — and another 1920s era theater — to the regional film center, allowing for even more wide-ranging and varied programming of new, independent, foreign, and documentary films.
The addition of the Bronxville theater will also increase audiences and strengthen the impact of The Picture House across the region through amplified access to the best available cinema, conversations, arts education, and live performances.
Bronxville Mayor Mary Marvin said: "When we learned that the Bronxville movie theater was in danger of not reopening post-pandemic, we immediately put a call out to the community for a creative solution to keep the theater alive. We then heard that The Picture House Regional Film Center might be a possibility and we were absolutely thrilled. The way The Picture House brings communities together around film and cultural discourse is exactly what we were hoping for in Bronxville. We have no doubt that having a Picture House location here in Bronxville will not only strengthen our community culturally, it will also help attract more people to eat, shop, and visit our downtown."
President and Executive Director of The Picture House, Laura deBuys added: "Our nonprofit was formed in 2003 when the Pelham theater was scheduled for demolition. It seems so fitting that, with the expansion to Bronxville, we can rescue another 1920s theater and further our mission at the same time. We'll be extending Picture House programming to the Kraft Avenue location, exhibiting a wide array of films as we entertain, educate, and build community around a shared love of art."
"We're so grateful to Bow Tie," deBuys added. "We've worked together for over six months to figure out how to make this work for Bronxville and for Westchester."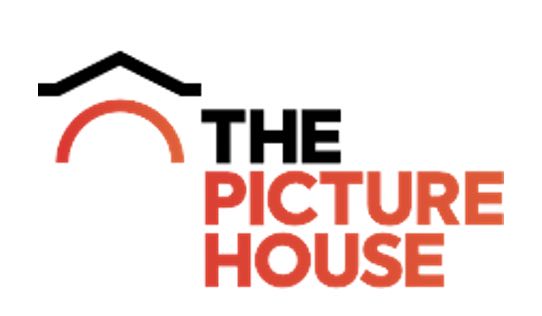 Ben Moss, CEO of Bow Tie, added, "As a four-generation family-owned company understanding the significance of movie theaters to local communities, we as much as anyone wanted to find a way to keep movies alive and well in Bronxville. Given our belief in the value The Picture House provides to the communities it serves, and overwhelming community support, we are confident in the success of a non-profit cinema model in Bronxville and we're delighted to help make that happen."
"It's incredibly exciting to have this opportunity to broaden our impact and provide even more unique film and education programming to Westchester," said TPH Board Chair Katy Loria. "We'll reopen the theater in early February 2022. See you at the movies!"
Pay It Forward: Fresh Produce Delivered to Those In Need for Thanksgiving
Details

Written by

Joanne Wallenstein

Hits: 976
One local business is doing yeoman's work to feed the needy this Thanksgiving. Mike Zalon who runs Westchester Produce is providing fresh produce to families in the Bronx through Montefiore Hospital as well as two Bronx Public Schools, PS 595 and CS67.
The company motto is "Always fresh, always market to door," and they deliver boxes of fresh, seasonal produce selected at the market the morning of delivery. When the pandemic started, Mike Zalon lost his job in the craft beer industry. His brother-in-law works as a restaurant supplier and began delivering boxes of mixed produce on Long Island. Mike saw the opportunity to expand to Westchester and the two began working together.
It was a small operation at first but quickly grew, and now he has been delivering boxes of fresh produce directly from Hunts Point Market all over Westchester and even some towns in Connecticut. It is a family operation! His wife's parents provide the space and help put together the boxes each day, while his father and brother do the deliveries. Sons and nieces can often be found counting apples, too.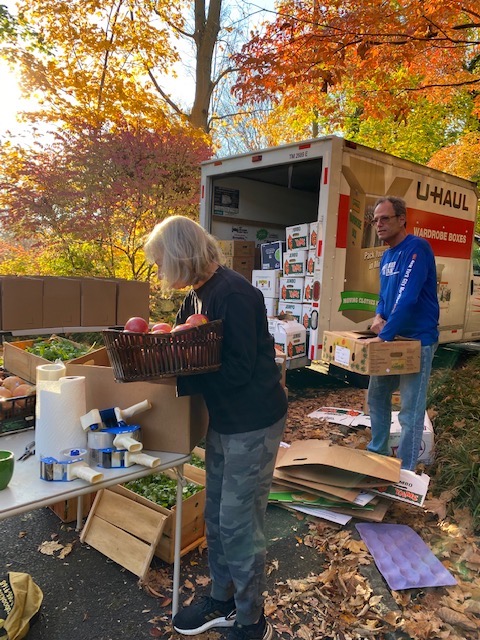 If you're interested in ordering, check out their website at westchesterproduce.com and select Tuesday or Thursday for lower Westchester delivery.
Now to paying it forward: Zalon says, "It started with Montefiore hospital, who reached out through a customer. For two years we have delivered over 30,000 pounds of produce the week before Thanksgiving, which they then bag up and distribute to people in need."
"At around the same time, I was contacted by PS595, and this year by CS67 as well, in the Bronx, who wanted to provide boxes of Thanksgiving produce to families in their school community. This year we delivered 200 boxes filled with all the fresh foods needed for a Thanksgiving meal. We curated customs boxes per their requests. It felt great to know that we were able to help these schools provide healthy meals for their families."
Learn more about Westchester Produce on Instagram account and Facebook page where they post photos of the produce as well as recipes. You can follow @westchesterproduce and send a direct message for orders as well.