SHS Seniors Drive by For Graduation Gowns and Cupcakes
Details

Written by

Joanne Wallenstein

Hits: 1550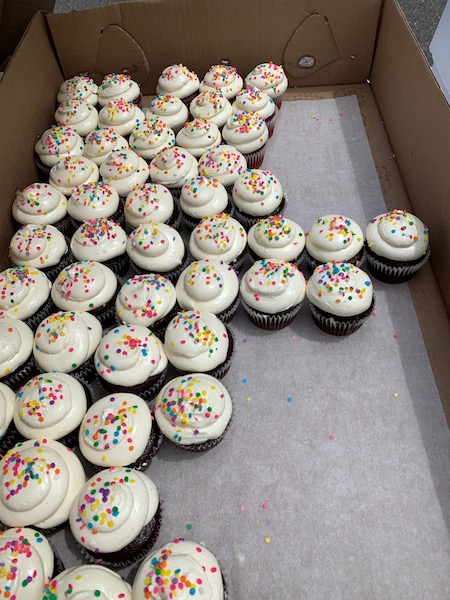 Cupcakes Donated by Lulu Cake Boutique of ScarsdaleScarsdale seniors had an added treat when they went to drop off their textbooks and pick up their graduation gowns on Thursday June 4. They were greeted by Deans, their class advisors and administrators and after receiving their hats and gowns they were handed a cupcake, donated by Lulu Cake Boutique in Scarsdale. The bakery baked and donated and individually boxed 350 cupcakes for the senior class of 2020 who will miss their prom and traditional graduation ceremony.
Students were given instructions to stop by in their cars to deposit books and retrieve gowns, not the usual graduation procedure but necessary due to NYS social distancing guidelines. The 350 students will be spaced over a two day period.
Here are photos of the drive by pick up and drop off. Students who had entered a time capsule prediction years ago were handed their letters along with instructions and material to create a Shrinky Dink for a senior year art piece that will be put together by the Scarsdale High School PTA.
Though this is no ordinary year, it's clear that the Senior Transition Day Committee is doing everything it can to ensure a special graduation experience for the Class of 2020.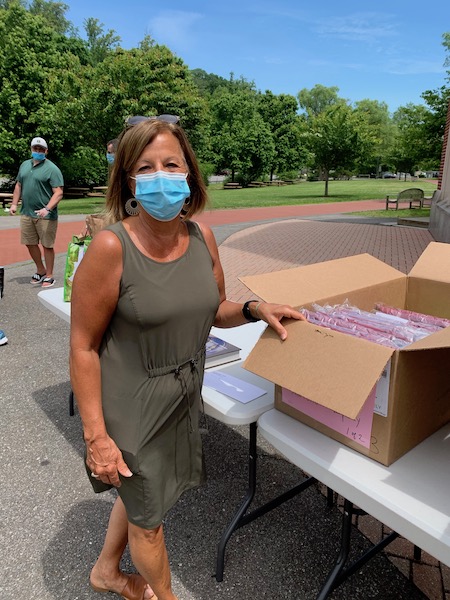 Pat Frusciante handed out graduation gowns.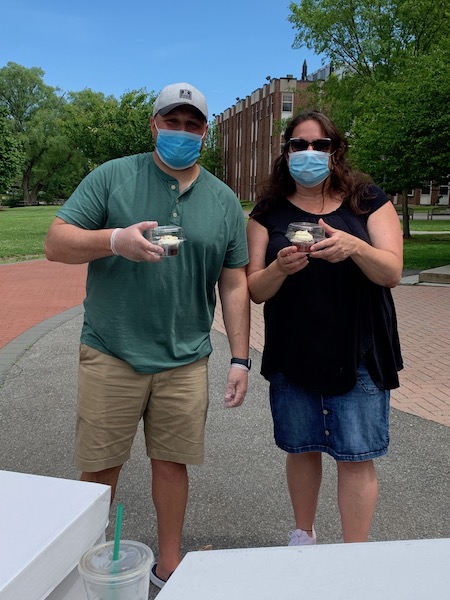 Senior Class Advisors Eileen Cagner and Alex Greenberg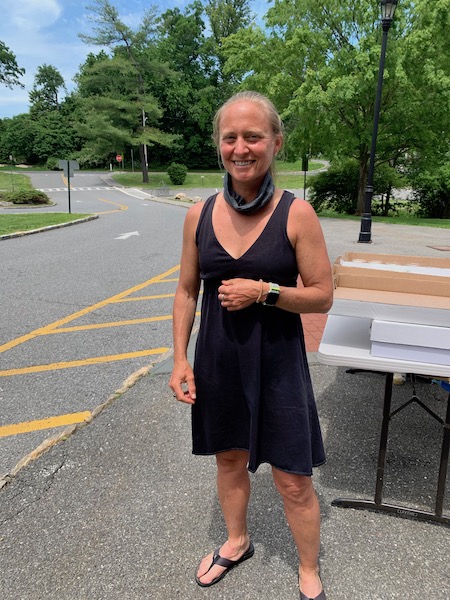 School Government Advisor Lauren Barton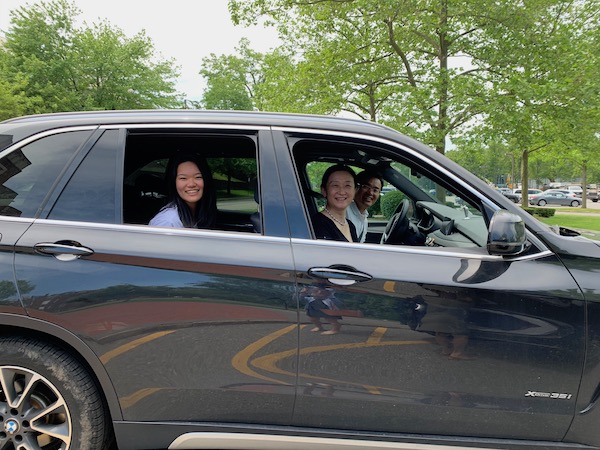 An almost grad with her family.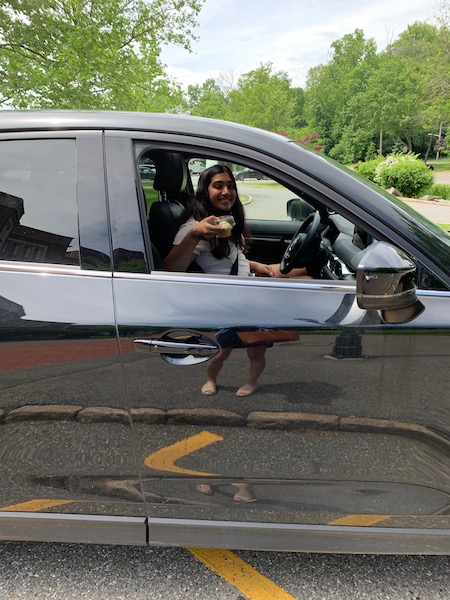 Grad receives a cupcake.

Why I Support the Non-Partisan System And You Should Too
Details

Written by

Joanne Wallenstein

Hits: 2312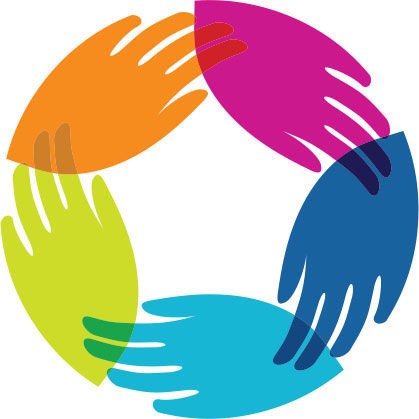 This is the opinion of Scarsdale10583 site founder Joanne Wallenstein:
What used to be the exception has now become the norm. Scarsdale's unique non-partisan system of government, which was designed to prevent divisive partisan elections, is being challenged at every opportunity. Each year seems to bring contested elections, undermining a system that was formerly the envy of many other communities.
As most of you already know, Scarsdale's system to elect candidates to the school board and village board calls for candidates to be vetted and nominated by committees of elected representatives from each of Scarsdale's five elementary school neighborhoods. In the case of the school board nominating committee, the nominators are elected to serve three-year terms. By design these candidates have no specific agenda or party affiliation. They are nominated to do what they believe is best for the children and taxpayers of Scarsdale.
Since the nominators three-year terms are staggered, each year brings ten new members to the committee, with ten completing their service. This process ensures that the committee is infused with new blood and new points of view each year. That committee of elected representatives is charged with reaching out to the community at large to identify willing and capable residents to serve.
The process served Scarsdale well for decades. Talented and collegial people stepped up to lend their expertise to the board of education and help the school administration to uphold excellence in our schools. Yes, challenges from opposition candidates arose from time to time, but they were few and far between.
But recently these challenges have become so frequent as to undermine the entire system.
Why now? It's really not clear. Is something amiss at our schools? Is the budget out of control? Have college admissions rates declined? Is the district losing faculty or administrators? Has morale fallen? The answer to all these questions, at least from my observations, is no. Yes we're in a pandemic, but the district has been responsive, flexible and has designed an e-Learning program that is already being modelled by other schools. The proposed budget increase is de minimis, kids have been admitted to the colleges of their choice and the district maintains its stellar reputation.
So again, what's the opposition about? The School Board Nominating Committee did their work and vetted and nominated two worthy candidates to join the board in July. I haven't heard a word against the credentials or reputations of either. They appear to have just the right skill sets to complement the board.
The truth is we can't identify a polarizing issue or policy that's dividing the community and would spur opposition to the non-partisan candidates. In fact, all three candidates support the school budget and urge you to vote yes.
All that's dividing us is a highly active political campaign by the opposing candidate who is sending out emails, letters and flyers and advertising to support her campaign. As a result, those who support the non-partisan system and their candidates are forced to spend time and money defending the candidates nominated by the SBNC. These same volunteers could be doing more to move the community forward and help those in need in these perilous times. Instead, they are asking for contributions to wage a full-scale campaign, simply to defend Scarsdale's unique form of governance that ironically is supposed to prevent divisive politics.
For the rest of us, who live here because the village is well run, it's truly tiresome to be on the receiving end of this hoopla. We all have a lot on our minds. The COVID pandemic, illness, death of loved ones, the resulting economic crisis and anxiety about our future all weigh heavy on my mind. I am sure you have your list too.
I don't need divisive politics in the place of refuge I am fortunate to call home; Scarsdale.
So when my ballot for school board and the school budget arrives in the mail sometime after May 27, I am going to vote for the two candidates nominated by the School Board Nominating Committee, Amber Yusuf and Bob Klein, and vote YES for the school budget.
Scarsdale is one of the only places I know where things are going in the right direction. Let's cast of a vote of confidence in the non-partisan system of governance for the Village we all love.
Nominate a Medical Professional to Receive a FREE Cake
Details

Written by

Joanne Wallenstein

Hits: 908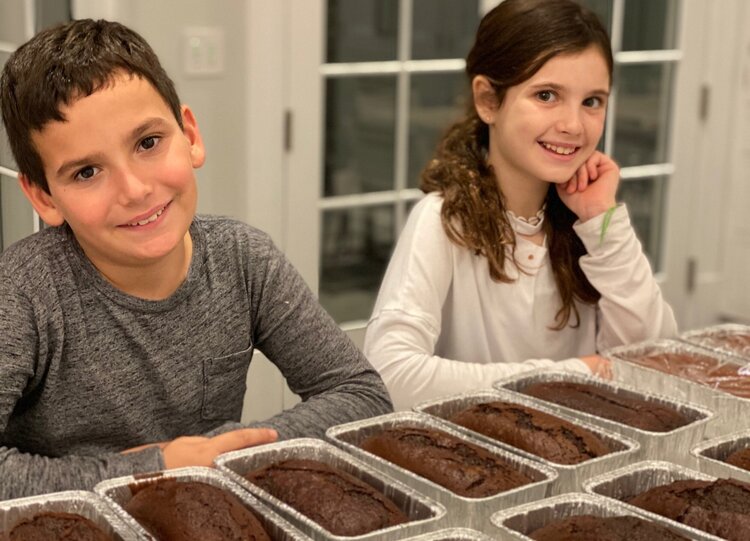 Dear Friends and Neighbors,
We hope you are all well during this pandemic and that your loved ones are healthy!
At Cakes4Cause, we have thought a lot about how to best give back during these difficult times. In honor of the brave medical workers who are fighting to keep us all safe, we will be baking and delivering cakes for FREE to medical professionals in Westchester.
We invite you to nominate a doctor, nurse, or frontline worker to receive a cake in the next few weeks, to thank them for their dedication and hard work.
There will be no charge to you and you will put a smile on someone's face when they receive a Cakes4Cause cake! If you would still like to contribute, we will be donating any proceeds to the Westchester Food Bank to help feed those in need.
To nominate someone, please visit our website: www.cakes4cause.com or respond to this email.
Please make sure to include the name of the recipient, their address (within Westchester if you'd like us to deliver it), and a note of gratitude for their service.
Lastly, we would also like to thank everyone that contributed to the Thanksgiving drive. We donated all raised funds to St. Jude's Children's Hospital and to the BCRF (Breast Cancer Research Foundation).
Stay healthy!
The Cakes4Cause Team
Tomi, Carolina, and Nico Stainfeld
Caroline Kelson
Seniors Despondent Over a Cancelled Graduation. What To Do?
Details

Written by

Oscar Tirabassi

Hits: 1874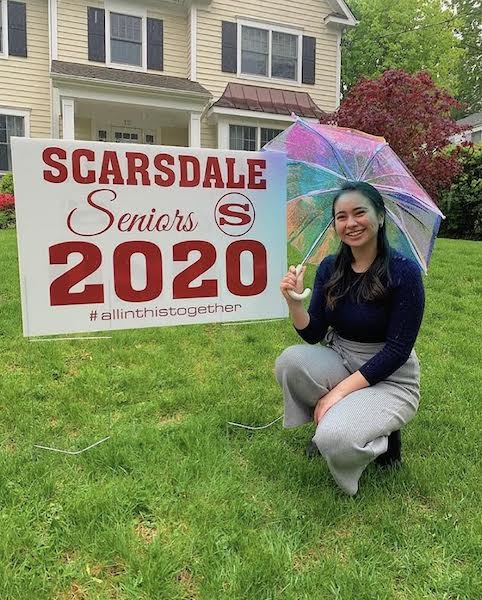 Scarsdale High School teachers had a nifty solution – a surprise car parade. On Thursday, May 7th, Scarsdale High School teachers, wearing SHS-themed attire and maroon bead necklaces, paraded around the streets of Scarsdale to bring a bit of cheer to the homes of students. They blared the song "We're All In This Together" from the canceled senior class musical High School Musical, and drove by in cars sporting balloons and markered-on supportive messages. At every house they visited, even if the student wasn't home to be greeted, they placed on the senior's lawn a sign with the words "SHS Seniors 2020 #allinthistogether" as a tribute to a school year ended early.
But how did this surprise come to fruition?
This event, out-of-the-blue as it seemed, had actually been planned for some time by the two senior class advisers – special education department chair Ms. Eileen Cagner and math teacher Mr. Alex Greenberg – in conjunction with several members of the senior class government and other faculty members, parents, and administrators.
The teachers were split into multiple teams and given lists of students to visit within a specified area. English teacher Mr. Stephen Mounkhall's team, which visited houses near Fox Meadow, included friends Ms. Claussen, Ms. Bryant, Ms. Wright, Ms. Jakymiw and Mr. Viviano, and he wrote that he found the experience greatly rewarding, even when he did not know the student for whom he was cheering.
"We were energetic and laughing from the moment we met in the track lot to festoon our cars with streamers. We laughed the whole time (when we weren't cheering). Sometimes we laughed at the absurdity of cheering at an empty house (not every student on our list was home); sometimes we laughed at hearing 'We're all in this together' on repeat for 3 hours; sometimes we laughed because the people biking by were giving us strange looks; sometimes we laughed because we had not spent time with people outside of our immediate families for months, and even though our faces were mostly covered by masks, we still felt a strong connection."

When visiting students he already knew, "the emotion felt like 'I am glad that we are shouting for you, but I would much prefer a quiet conversation in my office' mixed with pride, sadness, uncertainty, confusion and joy."
"I was hoarse by the end of the three-hour journey that had taken us about one mile as the crow flies. I am pretty sure everyone in our group was hoarse. Mr. Bedoya and Ms. Warshowsky finished their list in another part of Scarsdale before we did, and they joined us for the last few houses, so we had even more honking horns and screaming teachers."
Students on the receiving end of the festivity were just as grateful to be a part of the experience. SHS senior Izzy Lelis, who lives on a busy road in Scarsdale, was one of the first houses the teachers visited on May 7th but did not think of checking to see who was honking and cheering outside. She later walked out of the house and saw that the sign had been placed on her lawn, but the teachers had already left. Later in the afternoon, to her happy surprise, the teachers came back and cheered for her once again so she could experience it for herself.
"I was so grateful and it shows how much the teachers really care for their students and wanted to make this experience as best as it could be," she wrote. "Everyone I talked to was just so happy and thankful for the effort they put forth behind the scenes to create this surprise for us because it made all the seniors feel celebrated and united, even though they can't be physically together."
SHS senior Rebecca Maude, one of the teachers visited by Mr. Mounkhall's team, wrote that she was also thrilled by the visit.
"It literally made my weep and I couldn't stop smiling and my dog wouldn't stop barking. It was really nice to see three of my teachers that I had had in the past. The whole experience actually made me happy for once to be a 2020 senior despite everything we're gonna miss."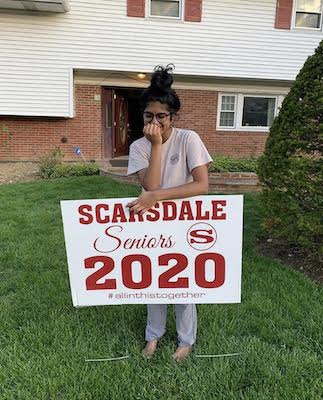 "We could not be more thrilled to have been able to individually honor each senior while also having a collectively shared experience with the entire Scarsdale community," Ms. Cagner wrote in an email. "The students and families were so gracious and the smiles on their faces mirrored the ones on ours! This day will definitely go down as one of the highlights of my career."
While COVID-19 has brought hardship to our community and other communities globally, it has also emphasized our positive spirits, goodwill, and optimism in the face of adversity. The car parade, for many of Scarsdale's students, parents, and teachers, encapsulated that feeling perfectly.
The celebration isn't going to end yet, either – the administration of SHS recently announced the creation of a special committee for senior events. "This committee has been charged with the collection and vetting of ideas from the community (teachers, parents and students) so that we can actively discuss and pursue options," wrote Principal Kenneth Bonamo in a widely sent email. "The committee agenda includes discussions of Senior Options, our Awards Ceremony, Senior Day, Prom and Graduation. We have been discussing alternatives that include events with appropriate social distancing as well as those we may need if group gatherings of any size continue to be banned."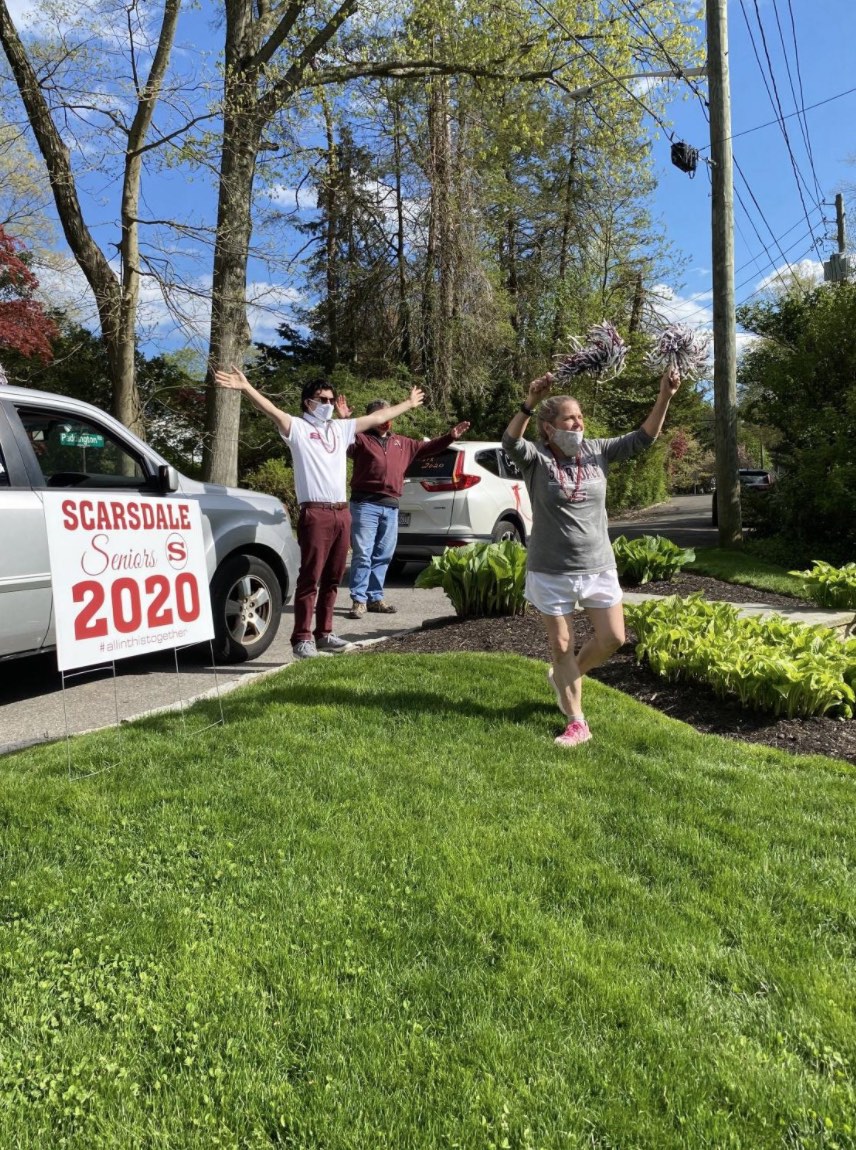 Continue Food Scrap Recycling: Compostable Bags Available
Details

Written by

Joanne Wallenstein

Hits: 1218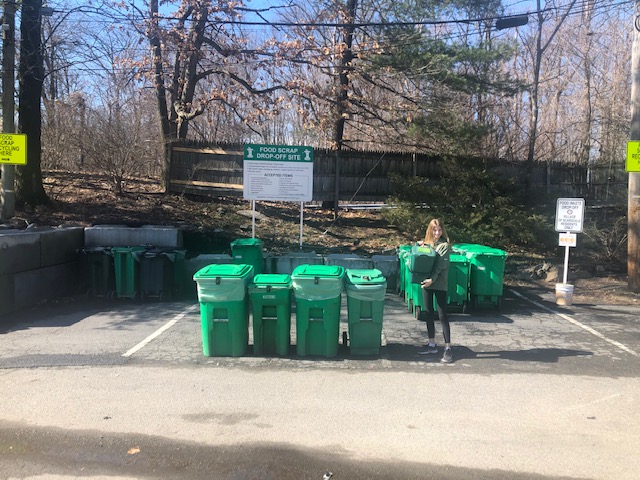 This note was sent to Scarsdale10583 by Michelle Sterling: Residents can purchase rolls of compostable liner bags (all sizes) by emailing composting@scarsdale.com. Stock up or just buy a few rolls - we have plenty! Food Scrap Recycling Starter Kits can also be obtained by emailing composting@scarsdale.com. Payments can be made electronically and all distribution is contactless. Weekly food scrap recycling pickup has been temporarily suspended but the Food Scrap Drop-off Spot at the Scarsdale Recycling Center (110 Secor Road) is still open Monday through Saturday from 8am to 3pm. We are eating at home and generating more food scraps then ever so this is a great time to start food scrap recycling and do our part to help the environment!