Independent Film Center to Expand to Bronxville
Details

Written by

Joanne Wallenstein

Hits: 2189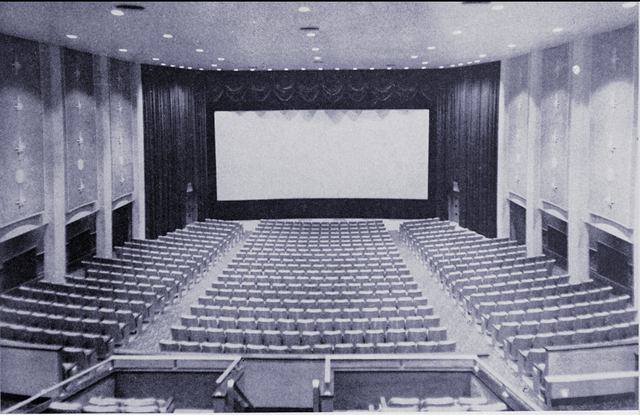 Attention movie goers: Exciting news announced about the expansion of the Pelham Picture House to Bronxville
Though venues for viewing independent films and documentaries seemed to be disappearing, there's good news for movie goers in southern Westchester. The Pelham Picture House, now called The Picture House Regional Film Center (www.thepicturehouse.org) will expand operations to Bronxville, NY, extending its film and education programs to the historic movie theater on Kraft Avenue that is owned and was previously operated by Bow Tie Cinemas.
The announcement of its growth into Bronxville comes as the film center continues the year-long centennial celebration of its iconic Pelham theater. The Bronxville expansion will add three screens — and another 1920s era theater — to the regional film center, allowing for even more wide-ranging and varied programming of new, independent, foreign, and documentary films.
The addition of the Bronxville theater will also increase audiences and strengthen the impact of The Picture House across the region through amplified access to the best available cinema, conversations, arts education, and live performances.
Bronxville Mayor Mary Marvin said: "When we learned that the Bronxville movie theater was in danger of not reopening post-pandemic, we immediately put a call out to the community for a creative solution to keep the theater alive. We then heard that The Picture House Regional Film Center might be a possibility and we were absolutely thrilled. The way The Picture House brings communities together around film and cultural discourse is exactly what we were hoping for in Bronxville. We have no doubt that having a Picture House location here in Bronxville will not only strengthen our community culturally, it will also help attract more people to eat, shop, and visit our downtown."
President and Executive Director of The Picture House, Laura deBuys added: "Our nonprofit was formed in 2003 when the Pelham theater was scheduled for demolition. It seems so fitting that, with the expansion to Bronxville, we can rescue another 1920s theater and further our mission at the same time. We'll be extending Picture House programming to the Kraft Avenue location, exhibiting a wide array of films as we entertain, educate, and build community around a shared love of art."
"We're so grateful to Bow Tie," deBuys added. "We've worked together for over six months to figure out how to make this work for Bronxville and for Westchester."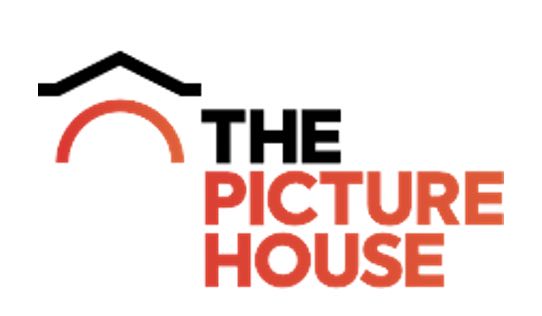 Ben Moss, CEO of Bow Tie, added, "As a four-generation family-owned company understanding the significance of movie theaters to local communities, we as much as anyone wanted to find a way to keep movies alive and well in Bronxville. Given our belief in the value The Picture House provides to the communities it serves, and overwhelming community support, we are confident in the success of a non-profit cinema model in Bronxville and we're delighted to help make that happen."
"It's incredibly exciting to have this opportunity to broaden our impact and provide even more unique film and education programming to Westchester," said TPH Board Chair Katy Loria. "We'll reopen the theater in early February 2022. See you at the movies!"
Support the Scarsdale Library: We Rely on You
Details

Written by

Joanne Wallenstein

Hits: 1359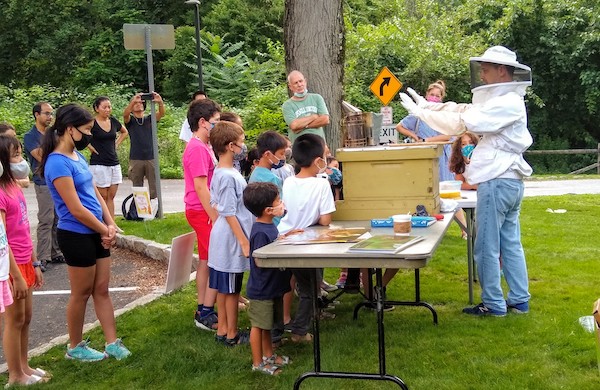 Honeybees and Pollinators with John Gallgher
(This letter was written by Dara Gruenberg, President of the Friends of Scarsdale Library)

Hopefully 2021 has brought forth an emerging sense of normalcy. As most of you know, the newly renovated and modernized Scarsdale Public Library proudly opened its doors last March and has been bustling ever since!
To launch the Library's re-opening, the Friends hosted a community-wide Love our Library spring celebration, which generated a palpable feeling of enthusiasm and excitement amongst attendees after many months of isolation, and also sponsored an uplifting art installation entitled Hindsight 2020, which showcased some of Scarsdale's talented artists exploring their responses to COVID.

In addition to the Library's physical enhancements, this year the reinvigorated SPL offered the community a plethora of virtual and in-person programming and activities. Some of the programmatic highlights include the restart of our Teen Advisory Board, Becoming Podcast, and the Historical Research Conference for teens as well as the Tails & Tales Summer Reading Game for our youngest Library-goers. The Friends continued to fund some Library favorites such as the SPL Writers' Center, book discussions and speaker series, the museum pass program, and the book delivery service for the homebound. The Friends also underwrote much of the state-of-the art technology you now find at Olmsted Road in order to ensure a productive and user-friendly experience for everyone. As we move forward, we strive to maintain this momentum by delivering a variety of robust offerings ranging from exercise classes to poetry readings, and from craft lessons and to walking tours.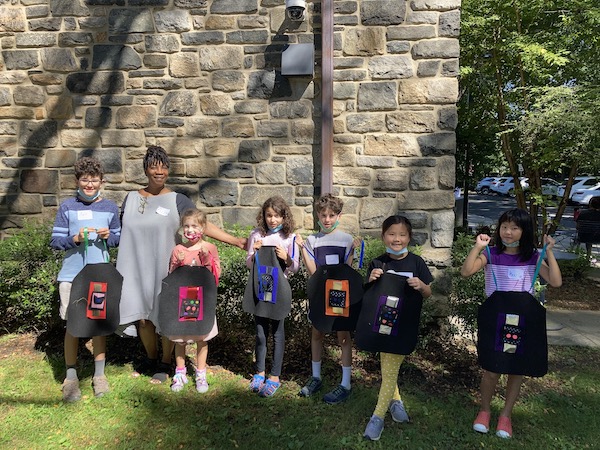 Sew It! Halloween Capes with Ellen Lumpkin Brown

Donor support is vital in order to sustain these programs and to support ongoing innovation at the Library. The Friends relies on your contributions in order to maintain the SPL's vibrancy. Since the Friends is a not-for-profit entity, your generosity is crucial as we strive to make Scarsdale's library a model of national excellence.

Please show your support by clicking on this link to become a Friend of the Scarsdale Library--our calendar year runs from December 1st to November 30th. We are truly grateful for donations of any size, and all the funds raised will be dedicated toward the ongoing improvement of our treasured community gem.

We would like to extend our warmest wishes to you all for a safe and joyous holiday season. May the new year bring peace, happiness, and of course, good health--along with lots of excellent reading, movie-watching and inspired learning!
Click here to make your donation today.
Warmly,
Dara Gruenberg
President, Friends of the Scarsdale Library

P.S. Mark your calendars: On the evening of May 20th, 2022, the Friends will be holding a Spring Fundraiser at the Library. Planning for this event is already in the works. Please be sure to save the date!
Scarsdale Student Performances Liven Up the 'Dale
Details

Written by

Joanne Wallenstein

Hits: 971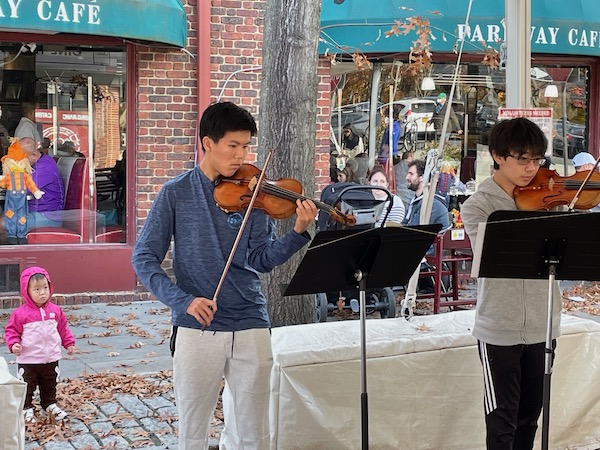 Violinists (L-R): SHS junior Andre Tsou and Ryan Tully (guest performer from Tenafly HS)Friends of Music and the Arts in Scarsdale Schools (FMA) arranged for Scarsdale High School student musicians to perform in the Village this past weekend. Diners and shoppers enjoyed great music and good vibes from a jazz combo and violin duo. Students were thrilled to be able to perform for a live audience in our community again!
A range of student musicians will be performing in the tent in Scarsdale Village again on Sunday Nov 21, from noon – 1:30pm. The lineup includes duo Vianne Lim on cello and Henry Zhang on violin, and solo performances by Anish Mehta (alto sax), Isaac Wood (bass clarinet), and Siri Polepalle (vocalist).
Come out to enjoy the free concert and support Scarsdale student performers!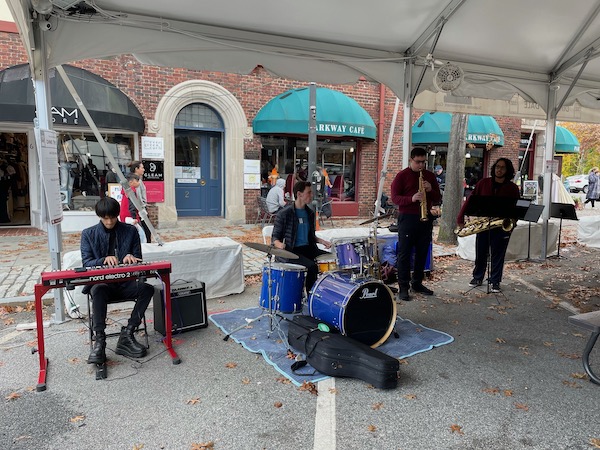 Jazz Combo (L-R): SHS seniors Alex Horvath on the keys, Eli Gelblum on drum set, Michael Farina on tenor sax, and Ayaan Bahl on baritone sax
FMA is the nonprofit parent booster group supporting the visual and performing arts in Scarsdale schools. Give to and volunteer with FMA: www.scarsdalearts.org. FMA thanks the Scarsdale Business Alliance (SBA) for welcoming the student concerts in the beloved tent.
Pay It Forward: Fresh Produce Delivered to Those In Need for Thanksgiving
Details

Written by

Joanne Wallenstein

Hits: 1145
One local business is doing yeoman's work to feed the needy this Thanksgiving. Mike Zalon who runs Westchester Produce is providing fresh produce to families in the Bronx through Montefiore Hospital as well as two Bronx Public Schools, PS 595 and CS67.
The company motto is "Always fresh, always market to door," and they deliver boxes of fresh, seasonal produce selected at the market the morning of delivery. When the pandemic started, Mike Zalon lost his job in the craft beer industry. His brother-in-law works as a restaurant supplier and began delivering boxes of mixed produce on Long Island. Mike saw the opportunity to expand to Westchester and the two began working together.
It was a small operation at first but quickly grew, and now he has been delivering boxes of fresh produce directly from Hunts Point Market all over Westchester and even some towns in Connecticut. It is a family operation! His wife's parents provide the space and help put together the boxes each day, while his father and brother do the deliveries. Sons and nieces can often be found counting apples, too.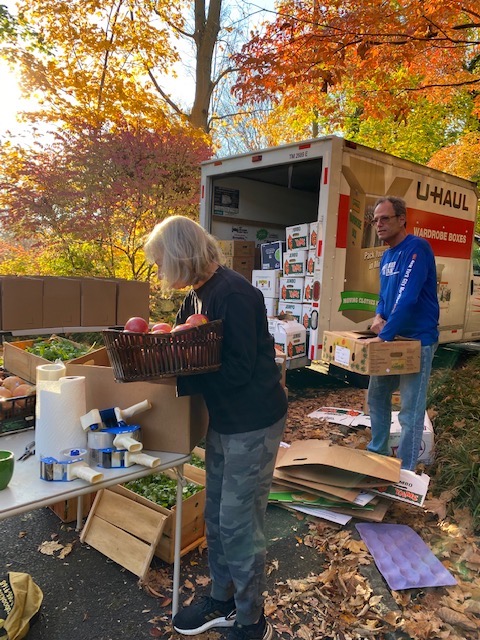 If you're interested in ordering, check out their website at westchesterproduce.com and select Tuesday or Thursday for lower Westchester delivery.
Now to paying it forward: Zalon says, "It started with Montefiore hospital, who reached out through a customer. For two years we have delivered over 30,000 pounds of produce the week before Thanksgiving, which they then bag up and distribute to people in need."
"At around the same time, I was contacted by PS595, and this year by CS67 as well, in the Bronx, who wanted to provide boxes of Thanksgiving produce to families in their school community. This year we delivered 200 boxes filled with all the fresh foods needed for a Thanksgiving meal. We curated customs boxes per their requests. It felt great to know that we were able to help these schools provide healthy meals for their families."
Learn more about Westchester Produce on Instagram account and Facebook page where they post photos of the produce as well as recipes. You can follow @westchesterproduce and send a direct message for orders as well.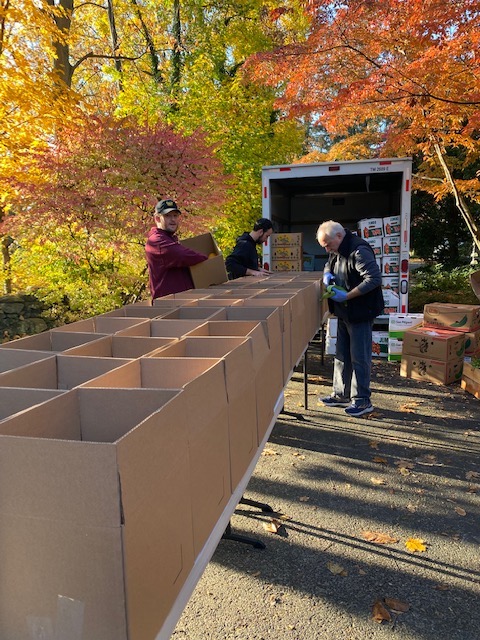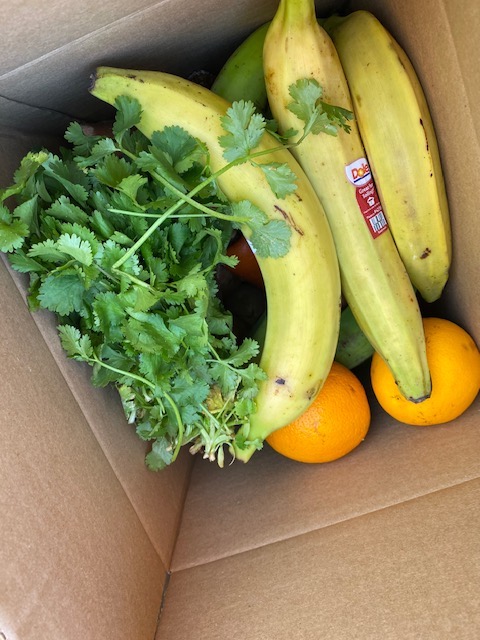 Girls Tennis Team Wins NYS Championship
Details

Written by

Joanne Wallenstein

Hits: 2000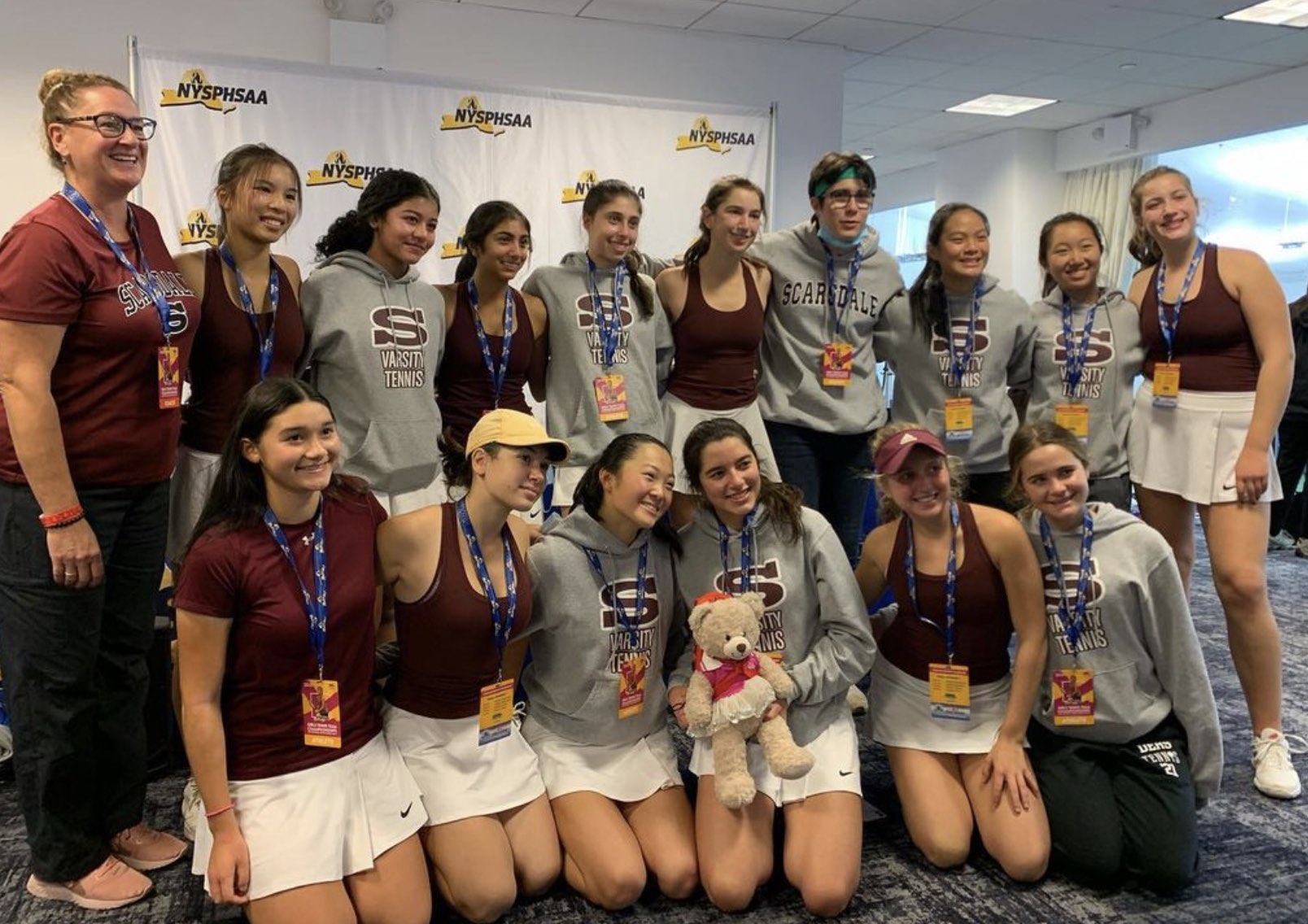 The Scarsdale Girls Varsity A Tennis Team won the New York State championship, in a tense final set on the fourth doubles court at the USTA Tennis Center in Queens on Friday November 5, 2021.
The team became regional champs in Binghamton and then traveled closer to home to indoor courts at the Billie Jean King Tennis center to play two final matches on Friday November 5th.
At 11:30 am they met another regional champ from Brighton High School near Rochester, and in usual fashion, swept the courts in a 7-0 victory. That triumph qualified them for the finals at 4:30 pm that same day, when they played against a tough opponent, Syosset High School, from Long Island.
In the long break between the two matches, the parents walked into Flushing and enjoyed a Chinese lunch. The girls took time to tour the tennis center and pose for photos in the Grandstand Stadium.

Though Scarsdale had dominated all fall, and were undefeated in the regular season, they met their match against the Long Island team. As Scarsdale Coach Jennifer Roane said in an interview after the match, "we were really pushed … they gave us a run for our money."
The girls were required to wear masks when they played, and the matches were livestreamed and recorded on video. Back at Scarsdale High School, some of the teachers livestreamed the matches into their classrooms so that students could watch.

The rules changed the night before, and each player was permitted to bring one parent. The scoring changed as well to no ads and a super tiebreaker in lieu of a third set.
What happened? Scarsdale's three singles court all won, and Scarsdale first, second and third doubles teams all lost. That left the team 3-3, with the match to be decided by the outcome on the fourth doubles court, where freshman Kay Cottrell and sophomore Natasha Pereira edged out the first set in a tiebreaker.
In the second set, Cottrell and Pereira were leading when Coach Roane came by and warned them about the noise from the stands and the cheering, advising them to tune it all out and stay focused. Did they want to know the scores of the other matches? Natasha said yes and Kay said no.

Despite the pressure, Cottrell served the final game, hitting a down the middle forehand that took the match and secured the championship for Scarsdale, winning the final over Syosset 4-3 and making history as Scarsdale's first team state champions.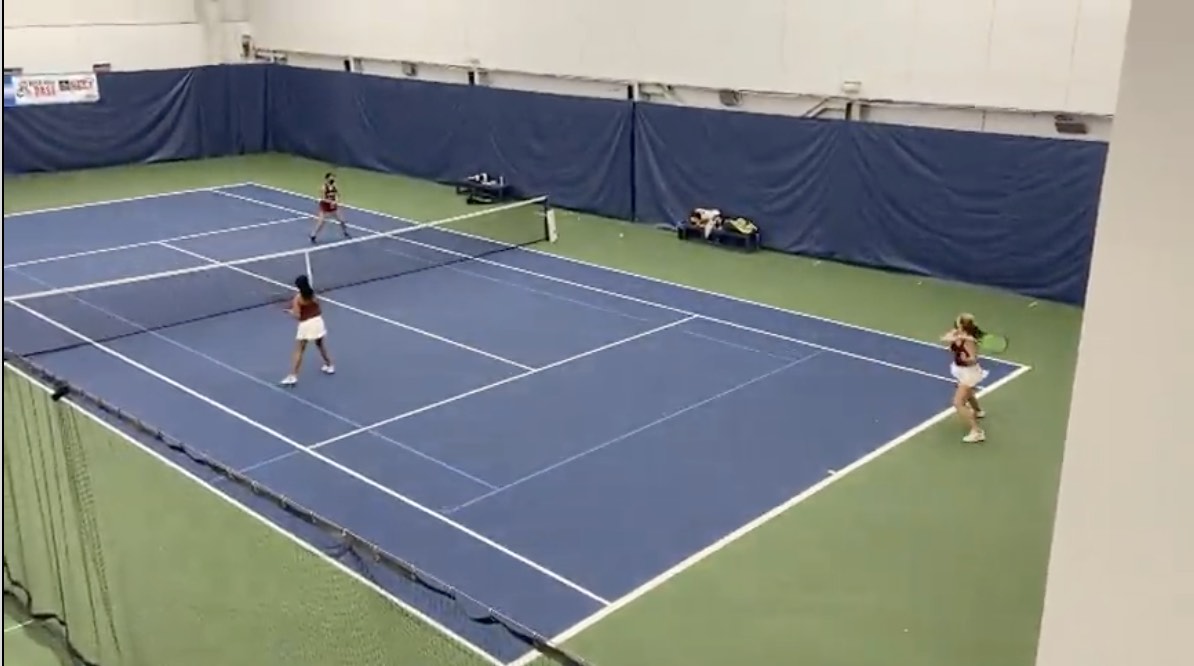 Commenting on her match, Cottrell said, "We won the second set 6-3. I did not know it was our match that was the deciding match on the last game we played, when I was serving. I wasn't really calm at all. I was overwhelmed with everyone cheering and screaming. During the match, I kind of zoned out in attempt to not get nervous or anxious, knowing that the championship was on me and my partners shoulders. I would not have gotten through it without knowing that my whole team was there, supporting us and cheering us on. They were all so supportive and excited! On the last point, I was so nervous I was shaking, but it was all worth it when everyone rushed onto the court and we all screamed and celebrated. That was the highlight of the whole match!"
Team Captains Natalie Hu and Laura Mendez called the match "an emotional roller coaster," and said, "We had many new players this season, but the more time we spent together the stronger we got." Coach Jennifer Roane said, "I have been at coaching tennis for 27 years this is a really special moment."