Trustees Offer Kudos to Jane Veron at her Final Village Board Meeting
Details

Written by

Joanne Wallenstein

Hits: 2411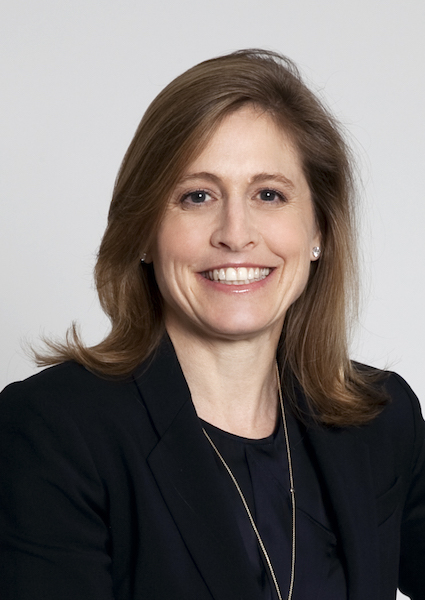 Trustee Jane Veron completed 4 and half years on the Village BoardTrustee Jane Veron, who served four years and an additional six months as Scarsdale Village Trustee due to the delay in electing her successor, sat at her final Village Board meeting on Tuesday night September 8, 2020. The postponed Village election is scheduled for Tuesday September 15.
Village Clerk Donna Conkling let the Board know that whoever wins the election will take office almost immediately and be sworn in on September 20, 2020. So Veron, who is now the longest serving trustee in Scarsdale's history, appeared on the dais for the last time as trustee.
Mayor Marc Samwick called Veron "nothing short of a dynamo." He added, "Scarsdale is a much better place because of what she has done,"…. and thanked her, saying "It has been an absolute pleasure working with you."
Lena Crandall said it was an honor to serve with Jane saying she was "intelligent, kind, hardworking and always prepared." She thanked Veron for "helping me to become a better public servant," and reminded her to take some time to "eat and put your feet up."
Justin Arest said, "Getting to know you as a friend has been an honor; learning from you has been a privilege." He added, " Obviously this is not goodbye -- I expect your work for Scarsdale to continue."
Jonathan Lewis said, "Jane, you set a high bar for public service and an extraordinary example for collaboration. You have the vision to see what's important and you sweat the details. Thank you for your years of service."
Seth Ross said, "I had high expectations for serving with you. You foster collegiality while getting the right things done." Hinting at a possible run for Mayor, Ross said, "This is not goodbye – its not the end of anything – it's just a transition to the next phase. Expectations for your future service remain sky high. You never let us down in the past and I am sure you won't in the future."
Rochelle Waldman said, "I am sorry that this is our last meeting together. You will be missed. I want to thank you for your guidance and support. I know we will work together in the future in some capacity."
During public comments, Dara Gruenberg called in and thanked Veron for exceptional service. She said, "I loved working with on the communications committee" and "You have been a champion of the library…. I can't wait to celebrate the opening with you."
Veron thanked said, "It has been a privilege to do this job."
Village Clerk Donna Conkling provided information for voting either in-person or by absentee ballot until Monday September 14. Voting will take place on Tuesday September 15 between 6 am and 9 pm at the Scarsdale Congregational Church at 1 Heathcote Road. Conkling said the Village will take precautionary safety measures. The area will be sanitized and there will be extra gloves and masks on hand. Anyone who prefers to vote before hand, can go to Village Hall through Monday and apply for an absentee ballot and then cast their vote immediately.
Village Manager Steve Pappalardo reviewed the problem with the school tax bills. Though
the two installment payment coupons are correct, the property tax assessment and the total tax on the bottom of the bill was incorrect. " He said, "The amounts on the two pink coupons are correct. Homeowners should pay the amount shown."
However he reported that Village Hall has fielded over one hundred phone calls from residents about the error in the bills. After consulting with their attorney they decided to send corrected tax bills to each property owner at the end of this week. They will be mailed to all property owners – whether or not they already paid. The Village will also meet with their vendor to see what went wrong.
Pappalardo also reviewed the sanitation schedule saying, "the majority of services have returned to normal operation. Trash, recycling and food scraps are all back to their normal schedules however the furniture donation bin is closed.
When visiting the Recycling Center, Pappalardo reminded everyone to social distance and wear masks.
He reported that a visit from the county's mobile shredder on Saturday attracted a crowd, with cars lined up to Mamaroneck Road to participate.
Public Comments
Bob Berg, now from Black Birch Lane, reported on the proceedings of the Board of Assessment Review of which he is a member. He praised the new Village Assessor Victoria Sirota, calling her a "breath of fresh air." He said, "She fights for the Village but deals with the public in an effective way." He reported that the BAR received 492 grievances, 15 were withdrawn and they considered 477 applications. They granted reductions to 24.3%. He also told residents that they can file a grievance on their own by getting an appraisal of their home and completing the application.
Mayra Kirkendall Rodriguez had questions about the Ad Hoc Council to Combat Racism and Bias. She said, "What are the objectives? Have you been able to include more residents? If people are interested how does that work? If there are any minutes of these meetings, it would be good to be transparent." She said, "I am grateful that you created this committee – but that will not solve the issues of bias."
Mayor Samwick explained that "Some of these discussions are sensitive and it's important that people feel free to openly discuss."
Bob Harrison also complimented Veron saying, "The Scarsdale Business Alliance is one of your babies – the dining tent is a big success." He reported that the use of Village tennis courts is on the rise, with 1,591 permits sold this year as compared to 900 last year. He invited players to sign up for the Scarsdale Youth Tennis Tournament to be held next week.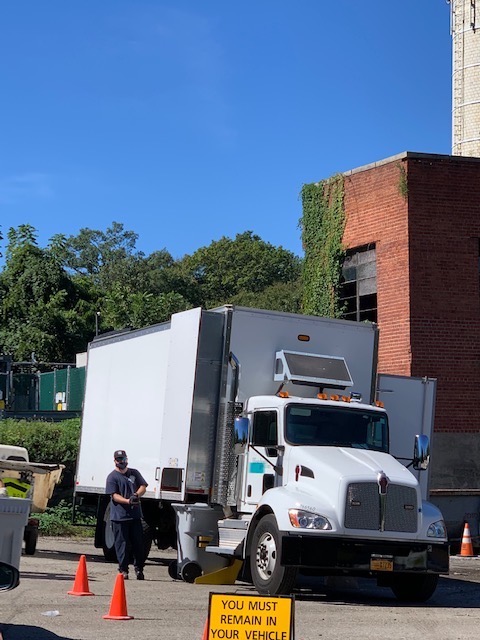 Trustees were invited to make liaison reports and Trustee Waldman announced the Lunch and Learn program for seniors to take place on Mondays beginning on September 14 from 1 – 2 pm in the dining tent in the Village. The events will be educational, safe and socially distant. More information can be found at www.sfcsinc.org or by contacting Maryellen Saenger at msaenger@sfcsinc.org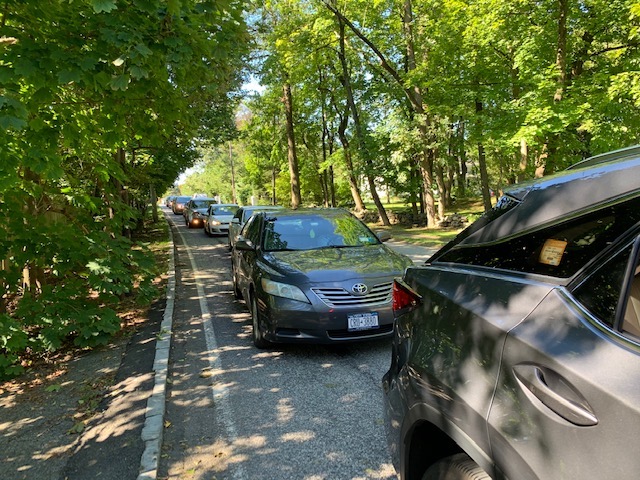 Cars lined up to use the mobile shredder at the Recycling Center. Photo by Cynthia Roberts
Trustee Jane Veron announced that the "Dine the 'Dale tent as well as our more liberal use of sidewalk space have kept our Village buzzing this summer." She said, "As the colder weather approaches we have decided to explore ways to continue to use outdoor space. Village staff has been working behind the scenes with their legal, engineering and public safety colleagues to iron out the details. At our next Village Board meeting, the Village Board will announce a public hearing to discuss proposed code changes to extend the time for merchants to take advantage of outdoor space to sell wares and to host sidewalk cafes."
About the library she said, "Furniture and shelving are being delivered, and movers are also bringing books back from storage. In addition, the Library currently has an RFP out for vendors to run the cafe at the Library." In the interim she encouraged everyone to use the Library Loft for books and media and online programming.
In other business, the Board approved a resolution to hold a public hearing on the number of taxicab licenses. Though ridership has dropped due to the lack of commuters, according to Trustee Lewis, "It is onerous to reduce the number of licenses so the recommendation is to continue with the same number of cabs." The public hearing will be held on Tuesday September 22, 2020.
The Board approved a $5,000 gift from the US First Responders Association to the Scarsdale Firefighters.
Randy Whitestone thanked the Mayor for his comments about Con Edison at the hearing of the NYS Legislature. He also said that he was downtown and the dining tent was being used and retail stores were open and busy. Last he reminded everyone to vote.
Let's Continue to Breathe Life into Scarsdale Village
Details

Written by

Joanne Wallenstein

Hits: 1821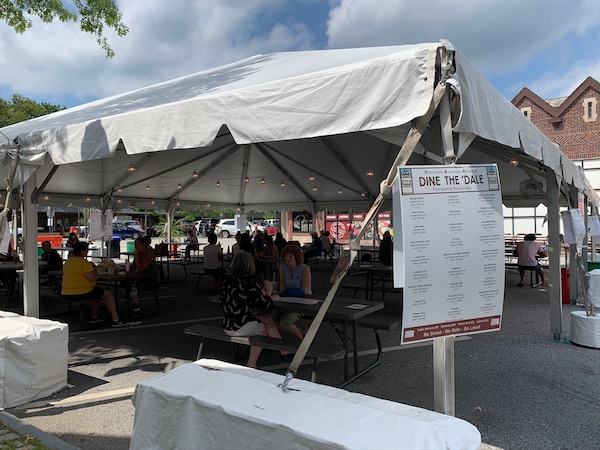 This letter was written by Marcy Berman-Goldstein, Co-President of the Scarsdale Business Alliance: Dear Editor: As the summer is drawing to a close, the Scarsdale Business Alliance (SBA) would like to extend its gratitude to Scarsdale Village, Scarsdale Forum, Friends of the Scarsdale Parks, local property owners and corporate sponsors for partnering with us to reinvigorate our Village Center during these challenging times.

Since the onset of the pandemic, the Village Board and staff have helped us to reopen our businesses safely and creatively. They have been responsive, flexible, and forward-looking. They have focused on supporting all stakeholders -- merchants, property owners, customers, and residents -- and have worked with us to ensure it was done prudently and Covid-consciously, with public health and safety at the forefront. Initiatives that might not have been possible in the past have been made a reality. There is finally vitality in the Village Center after months of relative dormancy.

The Board and Village staff were early to recognize the need to expand the use of outdoor space. They amended codes to allow sidewalk usage for the display and sale of wares, and have worked with our local restaurants to expand their sidewalk cafe footprints to allow for safe outdoor dining. Additionally, the Village approved a week-long Sidewalk Sale with road closures in the Village center to allow for safe, socially distanced shopping, minimizing crowds and drawing a constant flow of traffic in support of our merchants.

The 'Dine the 'Dale' tent has been a huge success in the downtown center. We are grateful to our donors, both local property owners and corporate sponsors, whose generosity has helped to create a buzz in our Village Center as shoppers and diners utilize the dining tent and stay to shop.

The Scarsdale Forum and Friends of the Scarsdale Parks identified Boniface Circle as an area that was underutilized and overgrown. These two groups have helped return this special area to our community through their generous financial contributions, time, and expertise. President Madelaine Eppenstein (of both the Forum and Friends of the Parks) and Forum Committee Chair Susan Douglass were driving forces behind this project.

Special thanks to Trustees Justin Arest and Jane Veron, Assistant Manager Ingrid Richards, Engineer David Goessl, and Planner Greg Cutler. Along with representation from the SBA, this group has met at least once every week over the past few months and has been the driving force on these initiatives. Without the collaboration and hard work of this group, none of this would have been possible.

We are excited to announce that the dining tent will remain up through October, and we encourage residents to continue to Dine and Shop the 'Dale. We, your local merchants, are here to serve you and appreciate your business. Let's continue to breathe life back into our Village Center in a safe and Covid-conscious way.
Marcy Berman-Goldstein, SBA Co-President, on behalf of the Scarsdale Business Alliance Board of Directors
(Left to Right) Sergeant David Rosa Ingrid Richards, Assistant Village Manager Marcy Berman-Goldstein, I Am More Greg Cutler, Village Planner Robert Cucolo, Parkway Ryan Tarantino, Jackie B's
A Rainbow of Color on Chalk Night
Details

Written by

Anna Cho

Hits: 998


At Scarsdale's first "Chalk the Dale"' on Friday July 31, parents and children gathered on Spencer Place, Boniface Circle, or Harwood Court, to enjoy an evening of chalking along with boxed dinners and snacks from Scarsdale eateries. The event, produced by sophomores Anna Feldstein and Katie Han, offered Scarsdale residents a great opportunity to spend time outside to safely participate in a fun activity while munching away on delicious food. With each family spread out in accordance with social distance rules, parents and kids worked on their hands and knees to create beautiful drawings on the street. An explosion of creativity filled the village, with an array of drawings including colorful depictions of rainbows, flowers, and animals. Laughter was heard all around, and smiling eyes were seen everywhere, though smiles were hidden behind masks.


SHS Grads Launch Kickstarter Campaign to Fund Interplanetary Conquest Board Game
Details

Written by

Joanne Wallenstein

Hits: 3525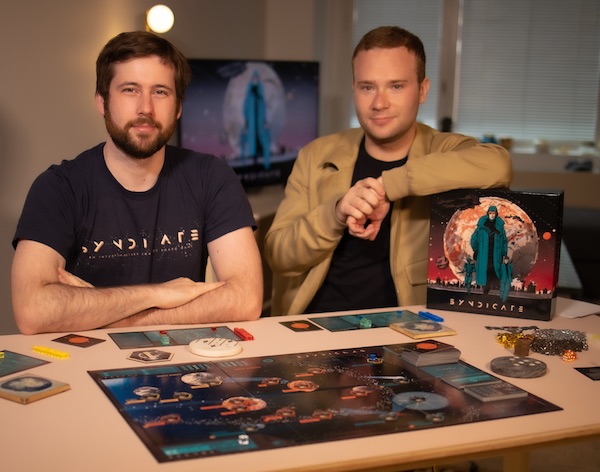 Game Designers Greg Dietz and Josh Pollack SHS Grads, science fiction fans and fast friends since their days in elementary school at Fox Meadow, Greg Dietz and Josh Pollack just launched a Kickstarter campaign to fund the production of their new game, Syndicate, an interplanetary conquest board game.
Dietz and Pollack have ambitious plans for this highly interactive game that can be played by one to five players. Rather than sell the game to an established publisher, the two hope to produce and sell the game themselves and maintain the rights to the license. In order to learn more about the development process and how they will move forward we asked them to respond to some questions and here is what they shared:
Please describe the game:
SYNDICATE is an interplanetary conquest thematic, 4x (expand, explore, exploit, exterminate) board game for 1 to 5 players. You control a young, enterprising criminal syndicate on the outer fringe of Arcturus, trying to stay under the radar of the Sovereign while competing with other criminal syndicates for money, power, loyal crew and advanced technology. Complete missions, set up criminal operations, and take down anyone that stands in your path to building the most formidable interplanetary criminal empire in the system.
How did you and Josh come up with the idea for the board game?
Both of us are avid board game players and big science fiction fans. Naturally, a science fiction themed game is the direction we wanted to go. Deeper than that the idea of SYNDICATE came in the many steps and iterative process of board game design. We started with sticky notes on the wall and table along with some poker chips and then through hundreds of tests and scores of game models the game mechanics formed. Simultaneously, we exercised another passion Josh and I share, which is writing science fiction. As we built the game mechanics we wove in an immense universe of world building, which adds to the thematic element and player immersion of the game.
Why did you decide on a tabletop game rather than a digital one?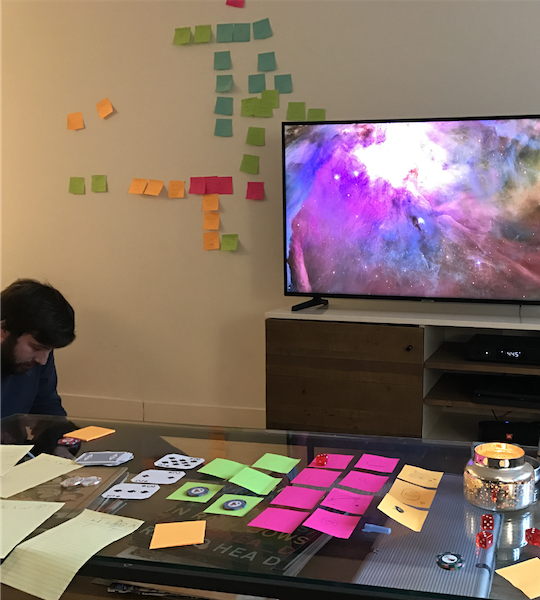 The creative process.
Board games, RPGs and other types of tabletop games form something many call the magic circle. Players are transported into a collective story in which they are the lead characters and writers. It differs from video games in many ways, but we like to call out two in particular. One, a deeper emotional connection between players around the table as opposed to across distant screens. Two, rules in board games are not as fixed as a video game written in code. How many of us have different house rules for Monopoly? The ability for players as a collective to become more of the writers of their own story and game also leads to a greater emotional connection and the effect of the magic circle.
This emotional connection is a major reason why over the last decade we have seen a renaissance in the table top industry, and large market growth, as society becomes more increasingly connected but emotionally distanced in an increasingly digital world.
Board games have been a pillar of our friendship, and we have made it our mission to give back to the community and create that emotional connection between friends, family and even strangers.
Did you explore the option of developing the game for a traditional board game company rather than producing it on your own? If so, why did you decide to go this route?
Along our two year journey we have met many other board game designers. Many of them design games with the intention of licensing or selling them to an established publisher. We are taking on the challenge of self publication for many reasons. We are confident we have the creative skills, business skills and entrepreneurial drive to travel the hard path we have chosen. It will be incredibly fulfilling to see our game go from idea to a game store shelf. Another simple reason is that we want to preserve the rights and IP of the game. We don't intend to stop with one game. We have created an expansive universe of lore that can be explored with more games, and perhaps we will expand out of games as well. Star Wars started somewhere, right?
Tell us about yourselves: What are your backgrounds - what did you do before you decided to launch the game?
The two of us have been fast friends since childhood. We both grew up in Fox Meadow. We started a high school band and recording studio together. And we always knew we would form a company together.
Greg Dietz (29) is a Lafayette College and Columbia University graduate with degrees in geology and masters in sustainability management. From geology he moved into a marketing and sustainability role at the software tech giant SAP where he continues.
Josh Pollack, (also 29) completed his undergraduate in economics at Tulane and recently finished his MBA at Columbia University. Josh has led a successful career in investment banking and private equity first at Lazard and then at Rhône Group, respectively, where he continues.
You launched your first Kickstarter campaign in June. Why did you decide to relaunch it now?
For first time game designers and first time Kickstarter creators, our first Kickstarter launch on June 23 went quite well. Of the $55,000 funding goal we raised just over $30,000 in under two weeks of the 30-day campaign. So why relaunch? We made the difficult decision to end our first campaign early and do a quick turnaround for a relaunch on August 18 because there was a lot of amazing feedback from the Kickstarter community. The best way to incorporate that feedback and offer an even better game reward and campaign was to create a new one. Relaunching like this is not uncommon. We are confident that the REDUX will make an even bigger splash.
How much do you need to raise to produce the game?
There are many components that go into pricing the game and establishing a funding goal. We have settled on a price of $55 for a core package that includes a copy of SYNDICATE: An Interplanetary Conquest Board Game, a single player campaign expansion, and any unlocked stretch goals which are special upgrades, such as a lore book and high quality components, backers get if the campaign reaches above funding goal targets. We have concluded that $35,000 is the minimum funding goal we need to get the game on its way to gamers around the world.
How has the pandemic affected your plans?
As with all companies in this time, the pandemic raises uncertainty in the market and the supply chain. At the outset of the crisis, several manufacturing negotiations were stalled which forced us to delay the launch. It is tough to measure, but the economic effects of the virus are surely impacting board gamers' wallets and willingness to pay as well. That said board games are collectively still raising millions of dollars. From 2018 to 2019 funding dollars for tabletop games grew 6.8% to $176 million, which is a continuation of a steady growth it has had for many years. It will be interesting to see what the 2020 numbers show.
Contribute to the Kickstarter campaign to help fund the production of Syndicate and receive your own copy.
Chalk the 'Dale on Friday July 31
Details

Written by

Joanne Wallenstein

Hits: 1281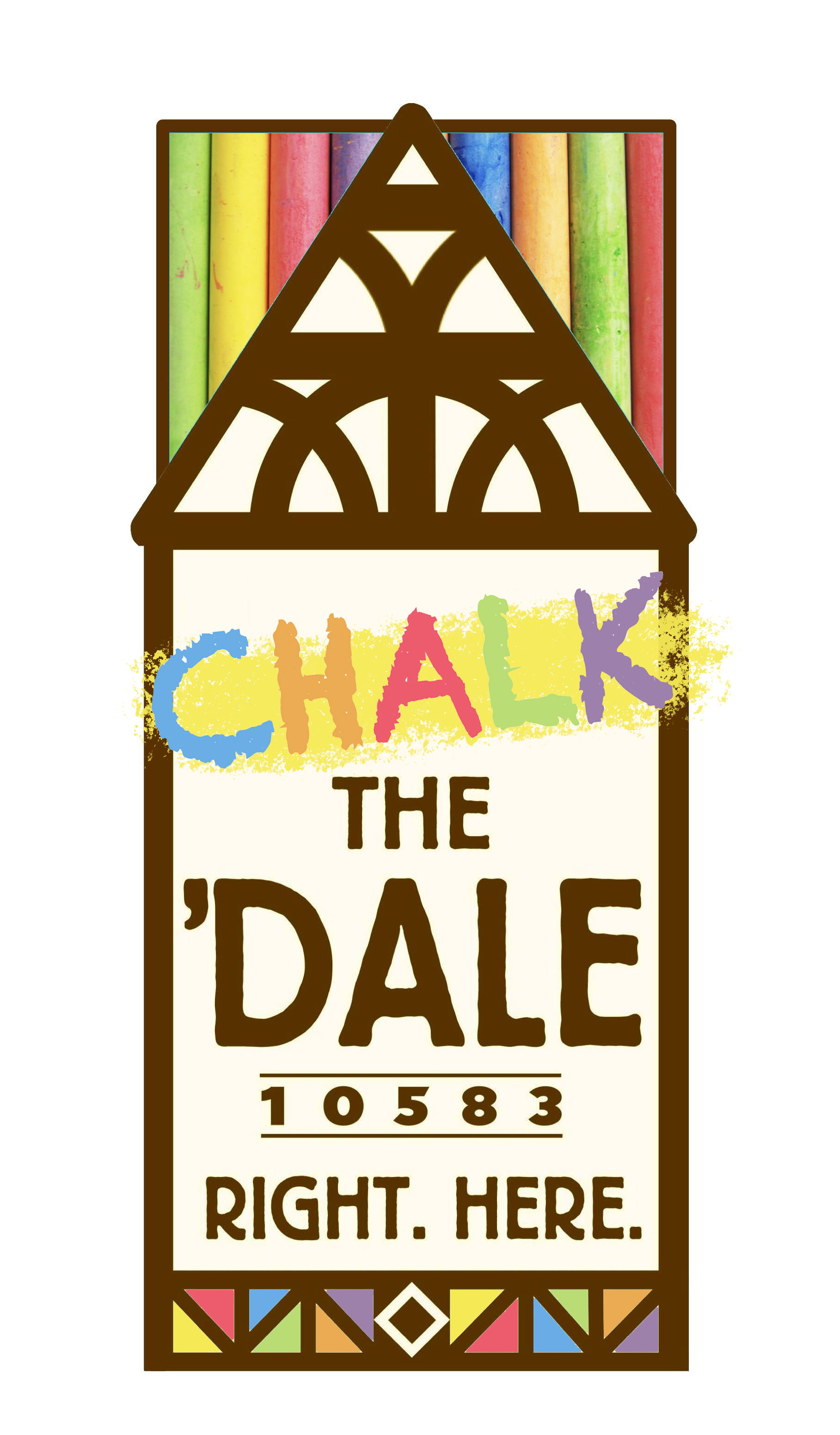 Two high school sophomores have arranged a fun event to bring kids and adults of all ages to the Village on Friday evening July 31 from 6:30- 8 pm to decorate Scarsdale with chalk.
Anna Feldstein and Katie Han received permission from the Village to hold "Chalk the 'Dale, to bring the community together during the upcoming Sidewalk Sale.
Chalk the 'Dale will be open to any Scarsdale resident, coming either alone or in a group. At any point during the allotted time, each person or group will find a place to create chalk art on Spencer Place, Boniface Circle, or Harwood Court. These streets will have already been closed to vehicular traffic for the weeklong sidewalk sale. Social distancing will be enforced throughout the whole event; everyone must wear a mask and stay at least six feet apart.
Before people find a place to chalk, they will be required to check in, receive their free chalk and be encouraged to make a donation to the Scarsdale Business Alliance.
In addition to chalking, the students encourage residents to support local
restaurants. In partnership with the SBA, Scarsdale eateries will provide boxed dinners and snacks. Chalking and food should create a festive environment and bring families together.
Everyone is welcome but there are a limited number of spots available, so please sign up to chalk today at https://www.livethedale.org/ and email any questions to: livethedale@gmail.com.