Paulin Passes Bill Requiring Airports to Provide Information to Help Human Trafficking Victims
Details

Written by

Joanne Wallenstein

Hits: 1326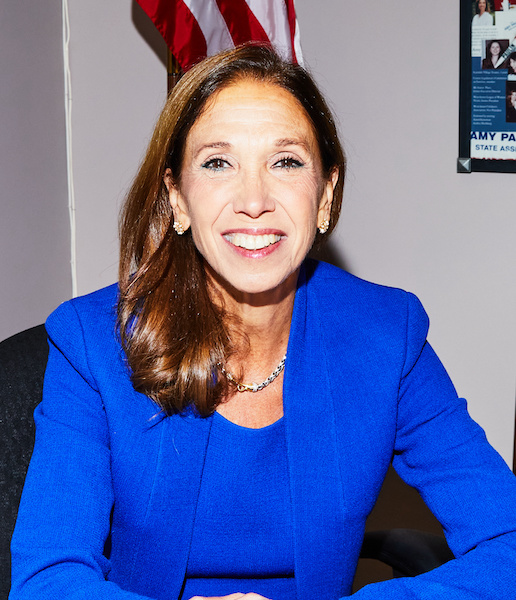 Assemblymember Amy Paulin (D-Scarsdale) announced that her bill (A.9169/S.8262) has passed in the New York State Assembly which requires all airports of the Port Authority of New York and New Jersey, which are JFK International, Newark Liberty International, LaGuardia, New York Stewart, and Teterboro airports, to provide information on support services for human trafficking victims. It will now proceed to the New York State Senate where it is sponsored by Senator Anna Kaplan.

The bill requires the airports to have informational cards or signs available in public restrooms. Such items would contain information on services for trafficking victims as well as the national human trafficking hotline number.

"Since trafficking networks often rely on air travel to transport victims, we are including airports in our efforts to help these victims," said Assemblymember Paulin. "For some victims, the information they will see in an airport restroom may be the only opportunity to learn about services available to them. Ideally a victim will take a card or a photo of a sign and call the hotline for help either on the spot or at a later time."

Human trafficking is a global phenomenon that generates $150 billion in annual profits. In 2021, an estimated 25 million people were trafficked. Airports are known hubs used to traffic victims both internationally and domestically, and as a result they are an ideal location to provide information about victim services. This information will inform victims, as well as other travelers, about the availability of services.

Pursuant to the bill, the posters and cards must include information on human trafficking services and must prominently display the national human trafficking hotline number. Many victims are heavily supervised and controlled while in transit, preventing them from safely seeking help or finding resources for fear of retaliation. By having the victim services informational signs or cards posted in all restrooms, victims will have easy access to the information.

"Through this legislation, airports can assume a more prominent role in responding to and preventing human trafficking," said Assemblymember Paulin. "It will also afford victims a resource to help escape their capture."

This bill is the latest in a host of legislation authored and passed by Assemblymember Paulin designed to strengthen New York's laws against human trafficking. In 2014 she passed a law ensuring that human trafficking victims who are 16 and 17 years old will be treated as victims instead of criminals and get the services they need (Ch. 402 of 2014). In 2015 she passed the landmark "Trafficking Victims Protection and Justice Act" to increase the accountability of buyers and traffickers, providing law enforcement with additional tools to identify traffickers, and providing victims recourse to recover damages from their traffickers (Ch. 368 of 2015). In 2016 she passed a law requiring hospitals to establish written policies and procedures for the identification, assessment, and treatment or referral of suspected human trafficking victims (Ch. 408 of 2016).

In 2018 Assemblymember Paulin passed several anti-trafficking laws, including the End Child Sex Trafficking Act, which eliminated the requirement for proof of force, fraud, or coercion in order to prosecute an individual for the class B violent felony of sex trafficking of a minor (Ch. 189 of 2018). Another law she passed in 2018 requires lodging facilities to provide information about services for human trafficking victims on cards in public areas, including in their public restrooms and guest rooms (Ch. 190 of 2018). She also passed a 2018 law which allows any county to move an action pending in a local criminal court to a human trafficking intervention court (Ch. 191 of 2018).

Anita S. Teekah, Esq., Senior Director, Safe Horizon Anti-Trafficking Program, said "Safe Horizon's Anti-Trafficking Program is grateful to Assemblymember Paulin for her steadfast and unwavering support of victims and survivors of human trafficking. Her recently passed bill will provide valuable and life-saving information to victims in transit during their trafficking and will hopefully connect victims to the services they critically need as they self-empower after escaping trafficking."

Nancy Downing, Executive Director, Covenant House New York, said "Trafficking victims, especially those trafficked from abroad, may find themselves in airports confused and scared with no idea of who to trust. Seeing posted information on how to get help could be their chance at freedom. Awareness of the realities of human trafficking and how to access services needs to be far reaching and we applaud Assemblymember Paulin's efforts to have this information posted in heavily populated New York airports."

Dorchen A. Leidholdt, Esq., Director, Sanctuary for Families, said "Sanctuary for Families, the largest provider of holistic, dedicated services to gender violence survivors—including human trafficking survivors—in New York State, commends Assemblywoman Amy Paulin for her long-standing leadership in the fight to prevent and combat human trafficking. We applaud her success in securing the support of the New York State Assembly of a bill that requires airports to publicize information on support services for human trafficking victims. Providing this information to victims, and those in a position to assist them, in the very destinations in which they are being transported for purposes of sex and labor trafficking will prevent exploitation and save lives."
"We must continue to extend protection, services, and assistance to victims, while also strengthening laws which hold those that enslave and exploit children through the commercial sex trade accountable," said Assemblymember Paulin. "I am grateful to my colleagues in the Assembly for passing this bill and now look to my Senate colleagues to do the same. It's critical that we help victims escape lives of abuse and exploitation at the hands of their predatory traffickers."
SVAC to Offer EMT Training to the National Guard to Meet Shortage of Healthcare Workers
Details

Written by

Joanne Wallenstein

Hits: 911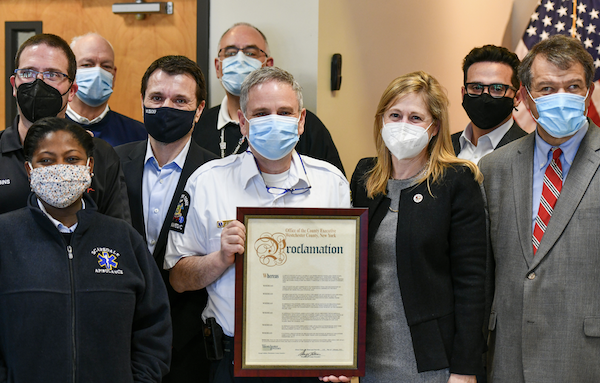 On Friday, February 11, Westchester County Executive George Latimer presented a proclamation to SVAC for its efforts in providing COVID-19 testing and vaccinations to Westchester residents,A classroom full of men and women in camouflage fatigues may not appear to be a typical Scarsdale EMT class, but their drive to volunteer and make a difference in the community certainly is.

Eighteen men and women from New York's National Guard are being trained as Emergency Medical Technicians by the Scarsdale Volunteer Ambulance Corps. With little to no medical training, they have embraced the intensive 180-hour program that will culminate in a three-year certification as a New York State EMT.

They come to SVAC by way of Governor Kathy Hochul who ordered the training to help with the shortage of healthcare workers. The Department of Health asked nine EMS training centers across New York to assist with training 400 soldiers and airmen.

"There is a real need for EMTs and paramedics in our area and we couldn't be prouder to have been selected for this important mission," said SVAC President David Raizen. "To get through all 180 hours in five weeks is ambitious. Their accomplishment is a testament to our armed services in general, and the dedication of these eighteen men and women in particular."

In initially announcing the partnership, Governor Hochul said, "The Department of Health and our New York National Guard have been working side-by-side to fight this pandemic since Day 1, and I am proud to see this innovative plan between the two agencies come to fruition. When times get tough, New Yorkers put their heads together and find solutions."

This training builds on SVAC's overall response to COVID-19 over the last two years. On Friday, February 11, Westchester County Executive George Latimer presented a proclamation to SVAC for its efforts in providing COVID-19 testing and vaccinations to Westchester residents, as well as the launch of its community paramedicine program that has reduced rehospitalization among its patients.

But key to all of SVAC's success is having qualified EMTs and paramedics to care for patients.

"I have no doubt these soldiers and airmen will use the skills SVAC has imparted to them in their work with the Guard," said Raizen. "Hopefully, they catch the 'EMS bug' and we can welcome them on one of our ambulances."

The students will complete their coursework on March 1st, and sit for the New York State EMT exam shortly thereafter.
Photo Credit: Jon Thaler. See more photos here.
Scarsdale's Emilia Rodriguez Honored by the Pace Women's Justice Center
Details

Written by

Joanne Wallenstein

Hits: 1328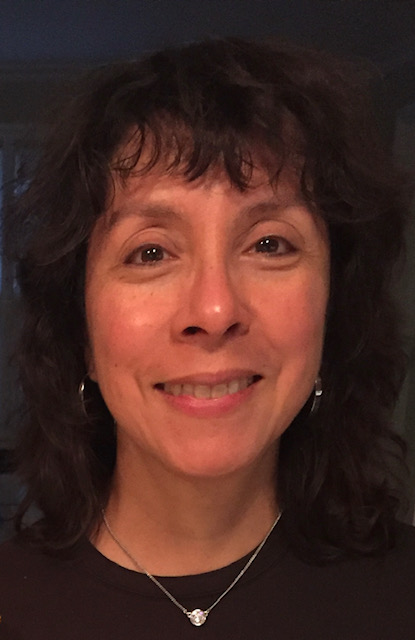 Emilia Rodriguez, a volunteer attorney for Pace Women's Justice Center (PWJC), was awarded the Jonathan Lippman Pro Bono Award by the New York State Bar Association (NYSBA). The award recognizes the dedication of senior attorneys who generously use their legal knowledge and experience to provide pro bono assistance in New York to underserved members of the community.
Ms. Rodriguez was selected for this award from a highly competitive pool of nominees from across the state. This year she celebrates 13 years as a PWJC volunteer attorney across three programs: Legal Helpline, Family Court Legal Program and Walk-In Legal Clinic. Prior to volunteering with PWJC, "I had no experience in representing survivors of domestic and intimate partner violence. The Pace Women's Justice Center provided me with training, support and mentoring, which enabled me to meet the legal needs of clients" through their programs, states Ms. Rodriguez.
From giving legal information and resources to providing limited scope representation on family matters, or representing clients in court who need Orders of Protection, Emilia helped over 130 clients in 2021. Known at PWJC as a compassionate and empathetic bilingual attorney who is client-focused, culturally-sensitive and trauma-informed, Emilia helps clients navigate through very complex legal and emotional issues. "The impact she has had on our clients' ability to live the next chapter of their life in safety is immeasurable," states Natalie J. Sobchak, PWJC Director of Pro Bono Programs.
The NYSBA award is named in honor of former Chief Judge Jonathan Lippman, an inspiring judicial leader who has zealously championed the cause of access to justice and has encouraged and supported the unique contributions of senior attorneys to the pro bono mission. PWJC celebrates its 30th anniversary in 2022, of providing free civil legal services to victims of abuse and sexual assault opportunities and resources to empower themselves and begin their journey away from abuse and towards healing.
The Pace Women's Justice Center (PWJC) is a self-funded nonprofit legal center located at Elisabeth Haub School of Law, under the 501(c)(3) status of Pace University. Each year, PWJC provides free legal services to over 3,500 victims and survivors of domestic violence, sexual assault, and elder abuse, as well as conducts or participates in over 140 training and outreach events. Serving Westchester and Putnam Counties, PWJC's mission is to pursue justice for victims and prevent abuse through quality legal services, community partnerships, education, and awareness. With an experienced staff and a team of dedicated volunteers, including attorneys, other professionals, and students, PWJC has built an effective, coordinated community response to interpersonal violence. (For more information https://law.pace.edu/wjc)
Scarsdale Historical Society and Scarsdale Library Look Back on Black History in Scarsdale
Details

Written by

Joanne Wallenstein

Hits: 972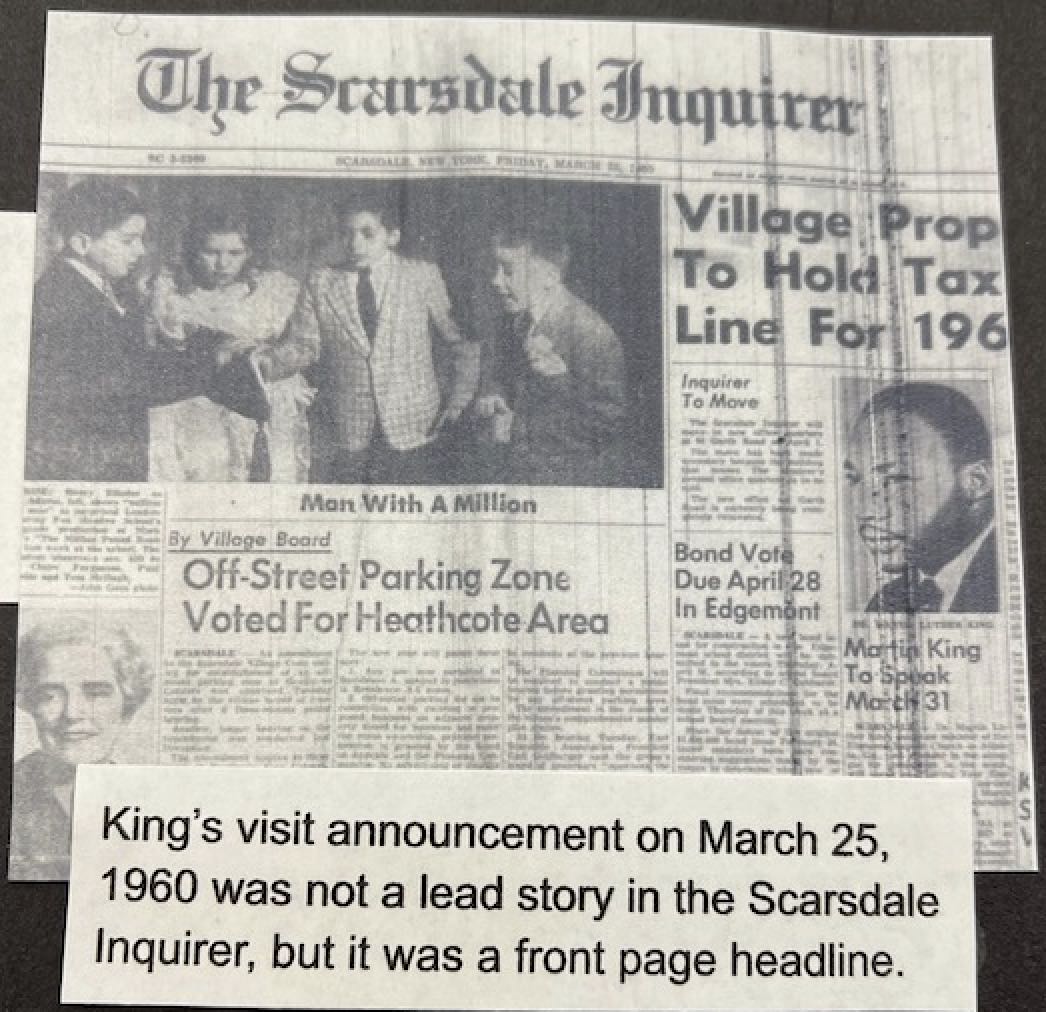 To celebrate Black History Month and display the beautiful new reference room at Scarsdale Library, the Scarsdale Historical Society and the Scarsdale Library joined forces to create an exhibit on the history of blacks in Scarsdale. Leslie Chang from the Scarsdale Historical Society introduced the exhibit in a video presentation available on Facebook live.
The exhibit uses original documents, photographs, newspaper articles and letters to shed light on slavery in the 1700's and 1800's and then jumps to cover two visits to Scarsdale from Martin Luther King in the 1960's.
Local History Librarian Dan Glauber explained many of the records documenting slaves in Scarsdale and Associate Village Historian Jordan Copeland reviewed photos and history of the black community on Saxon Woods Road and also explained the mythology of the underground railroad in Scarsdale

The exhibit shows details of King's 1965 visit to the home of Jon Marqusee on Kensington Road in Fox Meadow followed by a benefit for Abbot House. Also shown are photos of a march attended by 2,000 people in Scarsdale after the assassination of Martin Luther King on April 4, 1968. At the time, the Scarsdale Clergy Club organized a memorial march and 2,000 people turned out to walk from Butler Field to Chase Park in silence. At the time of King's funeral, flags were lowered to half mast, schools were closed and Village businesses also shut their doors.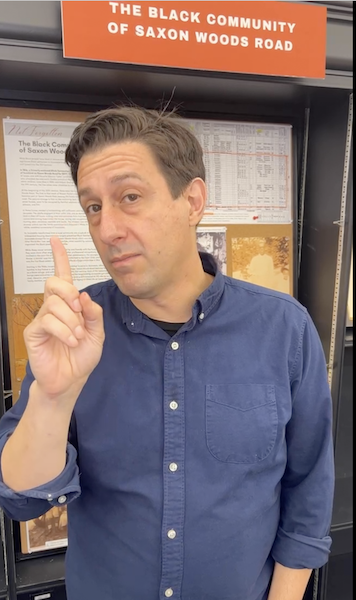 Jordan Copeland reviews the history of the black community on Saxon Woods Road.
The virtual tour of the exhibit given by members of the Scarsdale Historical Society and Library staff was presented on Facebook live at 7 pm on Tuesday February 8, 2022. The video is available on demand and brings these historic documents to life. If you haven't had a chance to tour Scarsdale's new library, be sure to see the library and the exhibit.
Terry K. Singer to Receive the 2022 Scarsdale Bowl
Details

Written by

Joanne Wallenstein

Hits: 2450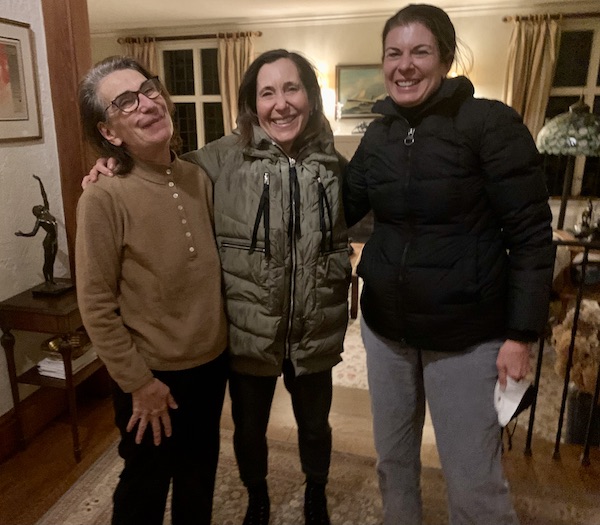 The Scarsdale Bowl Committee announced on Tuesday January 11, 2022 that they had selected Terry Singer to be the 2022 recipient of the community's highest honor and award, the Scarsdale Bowl. The Scarsdale Bowl has been awarded annually since 1943 to "one who has given unselfishly of time, energy, and effort to the civic welfare of the community."
As Nancy Michaels, Chair of the Scarsdale Bowl, said "Terry Singer is the consummate volunteer. When we think about the qualities and characteristics of the ideal Scarsdale Bowl recipient – an incredible doer, someone with a collaborative nature, a good partner, positive attitude – Terry Singer immediately comes to mind. She has worked tirelessly on behalf of all of Scarsdale for over 30 years of community service. She has literally touched and improved the lives of children, teens, and adults in Scarsdale."

The Bowl Committee, a diverse group of 15 community volunteers, selects the recipient after reviewing and vetting many worthy candidates who are nominated annually by the community. After the Bowl Committee voted on Sunday night to award Ms. Singer the Scarsdale Bowl, Nancy Michaels along with committee members Michelle Lichtenberg and Margot Milberg went to her house immediately, as is tradition, to tell her about the Bowl Committee's decision. However, she wasn't home so the group returned later that evening to share the news. "I am so surprised," said the shocked Bowl winner. "I'm really speechless; I just can't believe it! I am so honored. Thank you so much."
Ms. Singer, along with the Bowl recipients from the past two years, Jon Mark and BK Munguia (2020) and Michelle Lichtenberg (2021), will be honored at the Scarsdale Foundation Bowl Dinner on Thursday, April 28 at Brae Burn Country Club in Purchase. Ms. Michaels encourages all members of the community to attend the dinner which will be a celebration of community and of volunteerism in Scarsdale. The Bowl Committee will send out invitations in early March; however, one need not receive an invitation to attend. The entire community is invited to this wonderful, celebratory event. Even if Covid is not completely behind us, the plan is for the event to go on outdoors at Brae Burn Country Club.
Ms. Singer has been involved in all aspects of community service since she moved to Scarsdale. When Singer's children were young, she served on the Board of Kids' B.A.S.E. and the Little School, as PTA President for Heathcote Elementary School, and as VP of the High School PTA.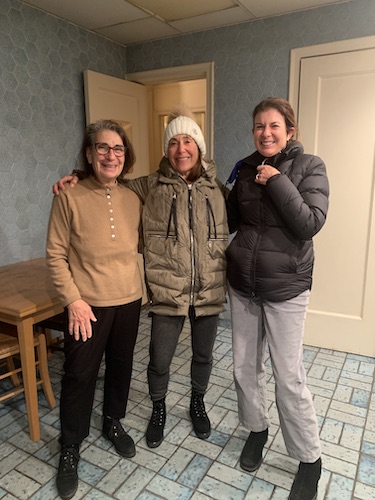 Singer with Nancy Michaels and Margot Milberg

Ms. Singer engaged in public service for the Scarsdale community at large by leveraging her architecture degree and professional experience to serve on, and chair, various Scarsdale Village Boards and Committees. Since 1991, she has taken on important roles on the BAR, the Planning Board, and the Conservation Advisory Council. She balanced these commitments with service to the League of Women Voters, the School Board Nominating Committee, the Historical Society, and Westchester Reform Temple. At Cornell University, her alma mater, she served as President of the College of Human Ecology Alumni Association, and in various roles on the College's Dean's Advisory Board, the President's Council of Cornell Women, and the Cornell University Council. Ms. Singer currently serves on the Westchester County Soil and Water Conservation District and is finishing her second year as Co-Chair of the Board of Directors of the Scarsdale Adult School, having already served eight years as a member of the Board.
Ms. Singer has also exhibited extraordinary commitment to the Scarsdale Library, as a Trustee and Vice President of the Board from 2013 to 2018. Her term was ending just when the physical construction at the Library was set to begin, but she agreed to stay on and co-chair the Library Building Committee for more than two years. She frequently met with the architect, Village officials, Library Director, Library President, and the project's manager and vendors to share her knowledge and to help make sure that the library construction was done properly in a timely way, and on budget. Ms. Singer remains very involved at the Library and is currently serving on its Landscaping Committee.
As her Co-Chair of the Scarsdale Adult School, Lisa Tretler says: "Terry works quietly yet effectively. She is collaborative, sincere, and seeks out the opinions and views of others. Terry has a lovely way of working with people – never ruffled, with a calm demeanor. She is an inspiring leader."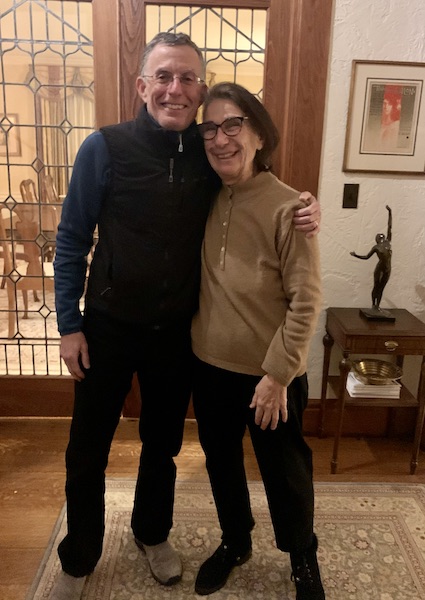 Terry and Paul Singer"Terry loves to work in the background and not let the spotlight find her," says Elyse Klayman, a past president of the Scarsdale Library Board of Trustees. "That's why seeing her receive this award is so wonderful. Terry is always willing to pitch in. If there is a difference of opinion, she tries to find common ground in a courteous and respectful way. Her mind is fully engaged, and open. She does not shy away from difficult decisions, but rather handles them in a diplomatic manner. Those of us who have had the chance to work closely with Terry are the better for it, and we are tremendously grateful for all that she has done for Scarsdale."