20th Annual Greenacres Turkey Bowl and Tailgate
Details

Written by

Joanne Wallenstein

Hits: 2535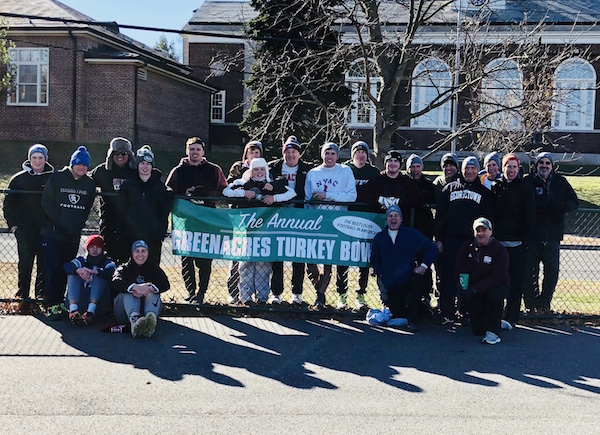 The wind chill temperature was 10 degrees at kickoff time but nothing was going to stop 25 fathers and sons from participating in the 20the anniversary of the Greenacres Turkey Bowl and Tailgate party "The best lousy football in America" Most of the kids playing weren't born when Keith Schutzman started the game in 1999 because he lived across the street from Greenacres Field and felt it was his responsibility to organize a traditional Thanksgiving Touch football game. There were 6 players that year Over the years the game expanded to include the players sons, many of who have played football for Scarsdale High School. The Pregame and Postgame party has also expanded as the number of players has increased to almost 30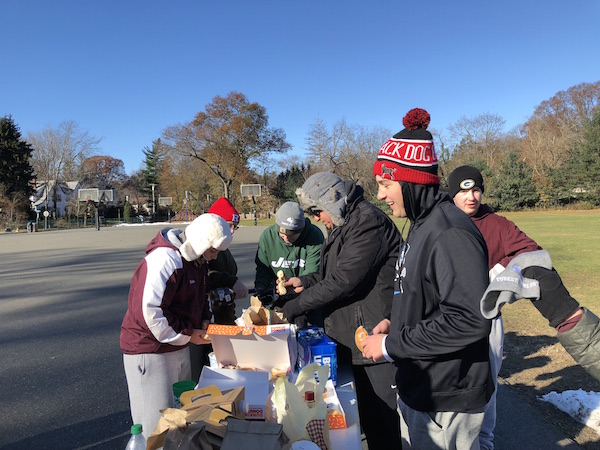 Several of the players were over 60 and the highlight of the game was when the oldest played on the field, 69 year old Ed Coleman of WFAN Radio made a diving catch for the game winning touchdown. Other participants included Keith Schutzmans sons Grayson and Cole, Brian Hogan and sons Brett and Colin, Lorenzo Patrizio and sons Lawrence and Daniel, John Kantor and sons Finbar, Dermot and Patrick, Jon Bosco and son Max, Charlie Kramer and son James, Peter Del orto and son Andrew, Peter Doyle and Mark Nadler (who played in the first game in 1999.)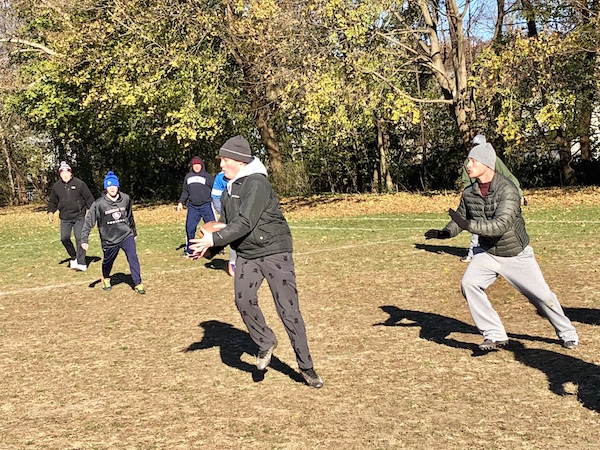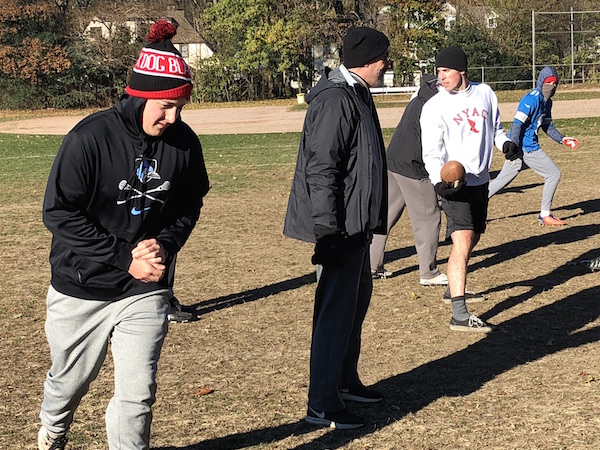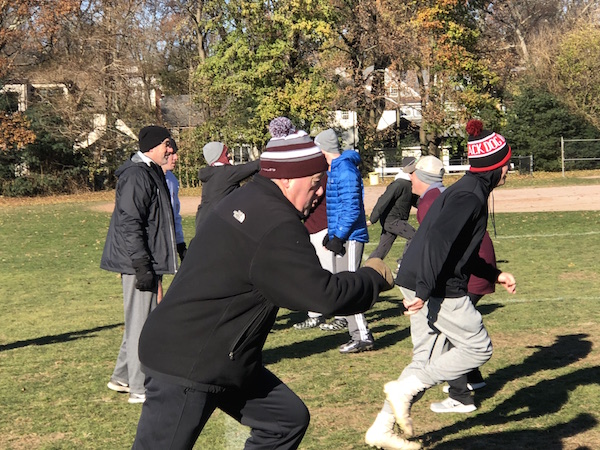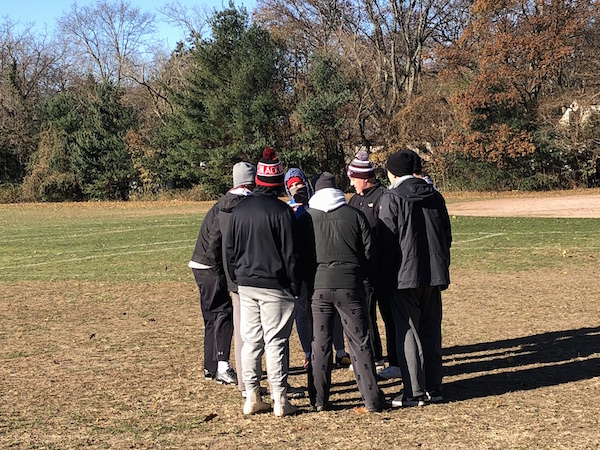 Three Scarsdale Varsity A Girls Soccer Players Honored At All Section Award Dinner
Details

Written by

Joanne Wallenstein

Hits: 3096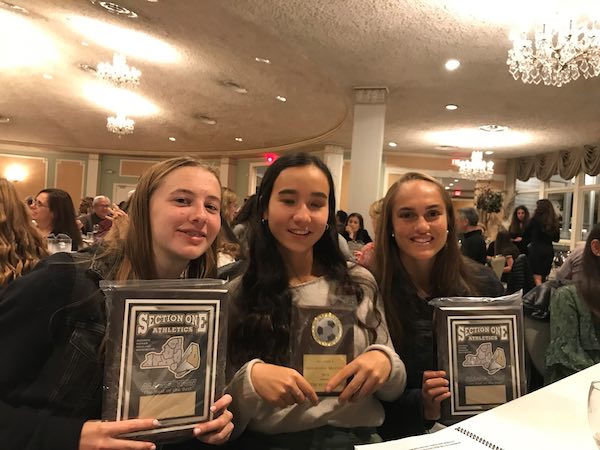 Olivia Bryant, Nayumi Parente-Ribeiro and Allison StaffordOn Monday evening, November 12, three Scarsdale Varsity A girls soccer players were honored at the 2018 All Section awards dinner at Colonial Terrace in Cortlandt Manor. The awards dinner occurs annually after the conclusion of the high school soccer season and recognizes the top high school female soccer players in Section 1, which consists of all high schools in Westchester, Rockland, Dutchess and Putnam counties in New York State.

The 2018 Scarsdale Varsity A Soccer team was represented by senior forward Nayumi Parente-Ribeiro, who was All Section honorable mention; junior forward Olivia Bryant, who was All Section; and senior mid-fielder Allison Stafford, who was All Section for the third consecutive year. Stafford was also named to the Westchester/Rockland/Putnam/Dutchess Coaches Association's Elite 12, which recognizes the top senior girl soccer players in Section 1 who have also have excelled in the classroom. Head coach Mindy Genovese described Bryant as "a dynamic forward with explosive speed, technical ability and powerful shot who was a scoring threat every time she touched the ball." Regarding Stafford, Coach Genovese stated: "Allison was the key playmaker for our team who won countless balls to start our counter-attacks. She is an exceptional player who played with perseverance and grit and displayed great leadership on and off the field."

2018 was another successful season for the League champion Scarsdale's Girls Varsity A soccer team, which after a slow start against the top non-League teams in the Section, ended the season with a 9-7-1 record. The team peaked at the end of the season, going undefeated in its last nine games before losing in the quarterfinals in the playoffs, taking eventual Section champion Arlington to overtime in a 1-0 loss in a game that could easily have gone the other way. The Raiders will graduate nearly a dozen seniors in 2019 but there is considerable talent that will be returning next year, making the team well positioned for another successful season and playoff run.
Halloween Parade at Heathcote School, Costume Parade in Scarsdale Village
Details

Written by

Joanne Wallenstein

Hits: 2700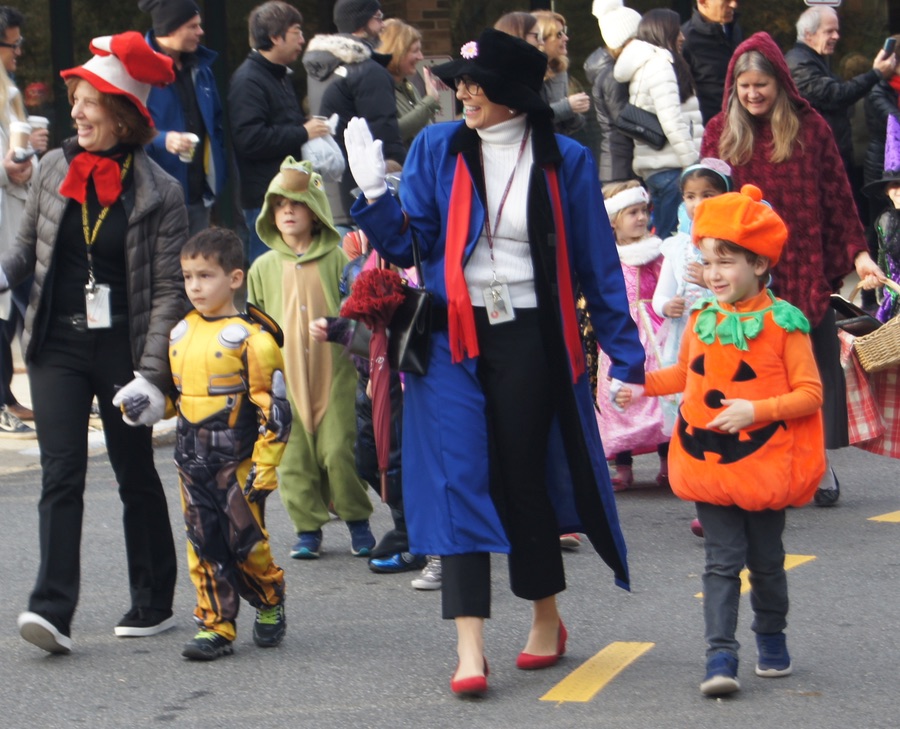 For some, the Heathcote Elementary School Halloween Parade is their favorite day of the school year. Cool but sunny weather and classes of excited kids made this year really joyful. As the class paraded around the school's circular entry to the tune of "Monster Mash," parents snapped photos of smiling students.We saw quite a few Harry Potters and Hermoines, blow-up dragons, lifeguards, skeletons, a cop, a firefighter, a bunny, angels and even a cell phone.Check out these photos of the Halloween Parade at Heathcote and send us your photos to add to the gallery at scarsdalecomments@gmail.com.
Halloween Parade in Scarsdale Village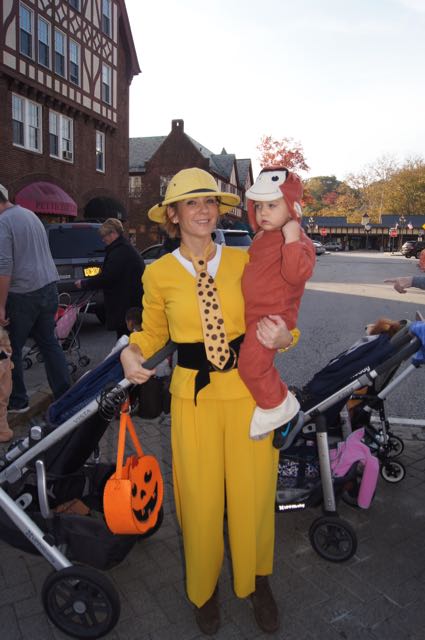 The Lady with the Yellow Hat and Curious GeorgeScarsdale's youngest residents had a Halloween party of their own at 4 pm on Halloween day in Scarsdale Village. Stores were open and stocked with candy for the tiny trick or treaters and the Recreation Department organized a parade and goodie bags. Langes supplied donut holes and cider while kids and parents posed for photos with Batman. Parents got into the act as well - some wearing coordinating costumes with their kids. Check out this woman dressed as the Lady with the Yellow Hat and her child as Curious George. Following the parade around the Village kids were treated to a magic show in Chase Park.




Opinion: School Security Without Armed Guards
Details

Written by

Diane Greenwald

Hits: 3440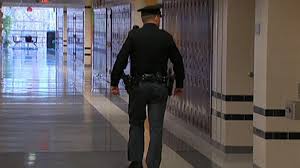 The following was sent to Scarsdale10583 by Diane Greenwald: I am grateful that the evacuation of students from the Quaker Ridge last week was an exercise in abundant caution, not a real threat, and no one was harmed. My sigh of relief is my thank you to everyone involved.
That same day, national leaders dodged pipe bombs targeting them because of their politics. And then… it got worse. I do not have words to express my grief and dread about the hate shooting at Tree of Life Synagogue in Pittsburgh. We now add Pittsburgh to the list, one that often starts with Columbine and has no end in sight.
Unbearable.
It has been a sorrowful week that brings the feelings of threat and violence close, and we feel vulnerable and powerless. It does not then come as a surprise that some good people in Scarsdale believe the most responsible course of action, in light of great fear, is to place armed guards in schools. I can understand the response, but for me, even under the cloud of these horrifying shootings, I do not support the presence of firearms as part of school security plans.
It is not only because of my own enormous anxiety around guns or devotion to schools as sacred spaces of learning, but because there is reason to question the value and effectiveness of armed presence in schools.
President Trump suggested that the Pittsburgh synagogue would have had a different outcome if they had armed guards at their peaceful place of worship, effectively blaming the victims for their misfortune of being shot. To me, his suggestion defies logic, given that 4 trained officers were hit by bullets during their efforts to apprehend the heavily armed killer. It is indecent rhetoric and ignores a miserable truth that, if someone wants to kill you with a semi-automatic, they are going to.
According to the Atlanta Journal-Constitution, the highly trained NYC Police Department's 'hit rate' during a gunfight is 18%. Our most stellar first responders miss their mark 82% of the time. Guns do not equate to safety, even in the bravest and most competent hands. And if you don't have guns in schools, you can't have a gun accident.
Furthermore, fear and risk are not always linked in rational ways. The risk of the most terrifying gun violence is extremely low. Analysis in a Washington Post states that "the statistical likelihood of any given public-school student being killed by a gun, in school, on any given day since 1999 is roughly 1 in 614,000,000." Any number is monstrous but let us not readily funnel resources away from teaching, learning, counseling and training, in service of a false sense of security, that might have unintended consequences for children and not be the most effective focus of our safety and wellness work.
So what do we do now, here is Scarsdale, when reasonable people may disagree?

First, it is my firm and unwavering belief that every single person in our community is fundamentally committed to the safety of our children. I trust that every member of the Scarsdale School Board, the Administration, all faculty and staff, every parent and caregiver, all law enforcement, and all in local government considers our children's safety to be the paramount priority. We are in this together.

Second, we can and should be proactive to ensure safe schools. I am sure there are lessons from the incident at QRS, but I worry that if we forget that we all share a universal value of safety, we could lose the ability to have nuanced exchanges with productive outcomes. I also worry that in the name of transparency, a normally good value, we could undermine the at-times private nature of security work. Effective security demands our trust.
Third, I encourage our District leadership to consider ways to foster inclusive discussions on this extremely sensitive topic, likely in spaces beyond agenda-packed Board meetings. We need facilitated forums for dialogue where everyone has an opportunity to learn and participate. We can model the collaboration and respect we champion for our children.
Like others in this community, I am distraught. Not only is there unleashed hatred in America, there is ample availability of monstrous weapons. I don't have answers to the harrowing events of these dark times, but I will not give up what I value in America to hide behind a wall. Or a guard. Or a gun.
We cannot control what is in another person's heart, but we can legislate what is in their hand. Whatever you think the best security options are our children in schools, support common-sense gun control. It's the best thing we can do today to ensure safety for our children tomorrow.
Halloween Window Painting: The Artists at Work
Details

Written by

Emmeline Berridge and Brooke Bensche

Hits: 3001
On Sunday October 21st, the Scarsdale Parks and Recreation Department held their annual Halloween Window Painting contest. Children grades 3-10 spent their Sunday painting original creations on the storefront windows of Scarsdale Village, competing for prizes and enjoying the Halloween spirit with friends and family. To many Scarsdale residents, the artistic windows signify an excitement for the upcoming Halloween season.
Mia and Samara, both fifth graders, had a vision for a "Shady Witch," (pictured at top) because their assigned window was an eyeglass store. Mia's favorite part of the experience is waiting for the window to be done and peeling off the tape. This is the duo's second time competing together.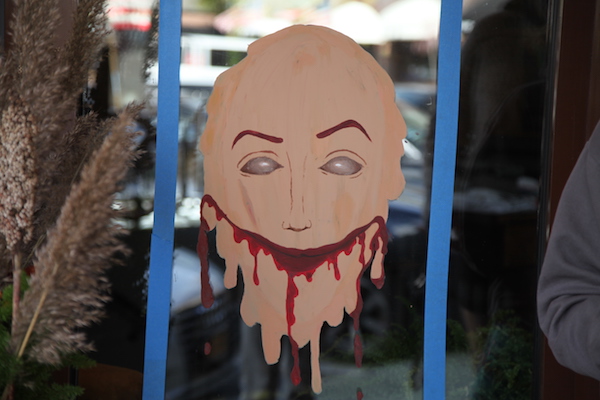 Anastasia Stefanou, a tenth grader, simply "felt like drawing a face," letting her passion for creativity and art flourish from there. Her method was to leave the background clear, adding to the "freakiness factor." Anastasia got an early start to her window, as later in the day she competed in the Varsity Girls Soccer playoff game, which ended up being a win against John Jay East Fishkill. She scored a goal in the game.
Whitney, a third grader, painted her window based on her favorite TV show, Ultimate Beastmaster. For Whitney, the best part about Halloween Window painting is doing the background. This year was Whitney's third time competing, and she looks forward to painting with her dad every year.
Anna Henry, a 7th grader, recreated a famous painting, "Sunny Day in the Afternoon on La Grande Jatte". She learned of this painting in Art for Looking in 5th grade, and used the and inspiration to add her own Halloween flare. Anna has been doing window painting since 1st grade, winning a number of awards throughout her years.
Ursie, a fourth grader, has been doing window painting since she was eligible. Her design this year was 3 pumpkins, mimicking the "hear no evil, see no evil, and speak no evil" monkeys.
Although the harsh winds reminded everyone that winter is near, the persistent spirit of all competitors was a perfect reminder that the fall and Halloween seasons are still present in Scarsdale. While some participants compete for prizes, most are simply excited to be a part of this long-standing Scarsdale tradition. Window painting is a great outlet for students of all ages to come together and celebrate their love for Halloween.
Text by Emmeline Berridge, Photos by Brooke Bensche