Alyssa Marvin to Appear in Trevor the Musical at Stage 42
Details

Written by

Joanne Wallenstein

Hits: 1059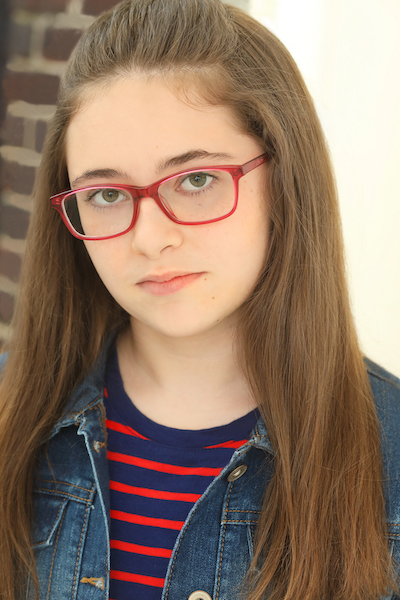 When we last spoke to Scarsdale's Alyssa Marvin she was on the road, acting in the Broadway tour of School of Rock. Now, three years later, she has been cast in "Trevor the Musical," which will begin performances at Stage 42 in NYC on Monday October 25, 2021. How has she continued her acting career and kept up with her school work since then? Here's what it takes to be a professional actor when you're only in middle school.
When we last interviewed you, you were on tour with the cast of School of Rock. When did that end and what has been going on since then?

I returned from the School of Rock tour after about 18 months on the road with the show in June 2019. I actually got home with a few weeks left of 5th grade, so I went back to school for that time at Greenacres and was able to do my Capstone and graduate Greenacres with my Scarsdale friends.

I started middle school at SMS in the fall of 2019 (I'm in Butler), was auditioning that summer and fall for lots of stuff and booked Trevor in February 2020. We started rehearsals, but because of the pandemic rehearsals were put on hold about three weeks after we started. Because we thought originally the Broadway shutdown was going to only last a few weeks, I stayed enrolled in my online school program for the rest of 6th grade. I spent a lot of time during quarantine playing online games with my Scarsdale, School of Rock and Trevor friend and training.

In 7th grade (fall 2020), I returned to in person school at SMS. I did tons of training, auditioning, was on student government, joined track and field and did stage crew last year while back at SMS.

I also went to sleepaway camp this past summer at French Woods and at the end of the summer re-auditioned for Trevor and was re-cast! We started rehearsals right around the beginning of this school year full-time, so I'm currently enrolled in an online school program for the first half of 8th grade.

How did you keep up with your acting during the pandemic?

I did a TON of training during the pandemic. It actually was probably the most uninterrupted time I have had to just train since we couldn't go anywhere and I couldn't be in a show.

My acting classes all transitioned to Zoom at the start of the pandemic, so I was able to stay in my two classes I was in pre-pandemic. In addition, the really cool thing that happened during the pandemic was because of Zoom I was able to take classes with people all over the country. I took classes with teachers in LA with whom I never could have before and have met other actors from all over the place who are in my online acting classes.

I also was able to continue voice lessons on Zoom during the beginning of the pandemic and transition back to in person in the fall of 2020.

Probably the thing I did the most of during the pandemic was dancing! My dance school in the city Dance Molinari, transitioned to Zoom before any of my other classes and I was able to dance about 7 hours a week on Zoom. In the Fall of 2020, I also signed up to go to Scarsdale ballet who was offering in person ballet, so I did about 4 hours of ballet a week in addition to my dance on Zoom (which also went back in person last Spring).

Tell us about Trevor - what is it about and what role do you play?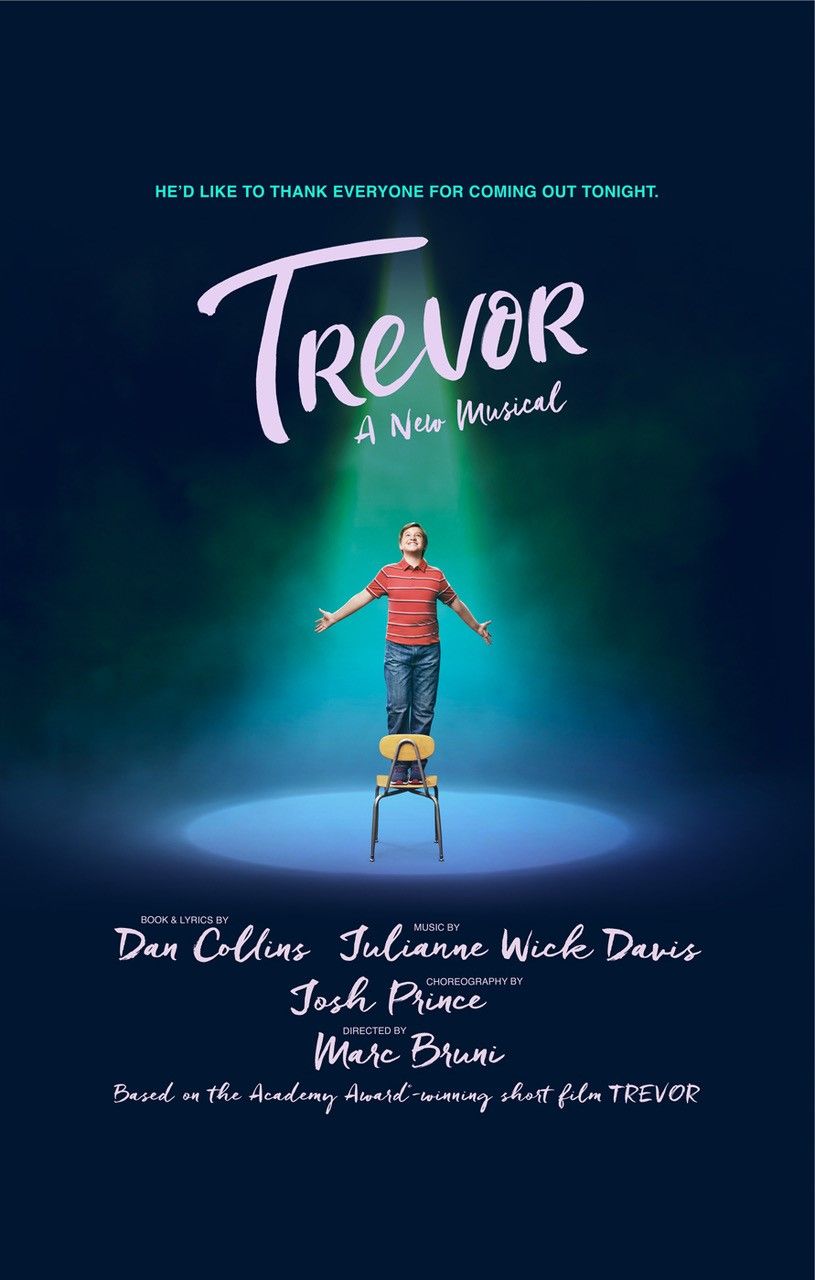 Trevor is about 13-year-old Trevor, a force of nature with a vivid imagination. As he deals with becoming a teenager, Trevor struggles to navigate his own identity and determine how he fits in a challenging world.

Chris Jones, theater critic for the Chicago Tribune, called TREVOR "a hugely likeable, exceptionally timely and consistently artful new musical."

The Trevor Project was created as a result of the Trevor film – which won the 1994 Academy Award for Best Short Film, Live Action – and is not affiliated with the musical. It is the nation's only accredited crisis intervention and suicide prevention organization focused on saving LGBTQ lives, particularly those of young people (ages 13-24).

To me, Trevor is such an important and timely story to tell. It is funny, hopeful and wonderful – such an important message about acceptance and being who you are. I play Cathy- she's in that "awkward" phase many of us middle schoolers go through trying to find herself and where she fits in!

When did you tryout out for the show? How long has it been?

I first auditioned for Trevor more than two years ago when they were casting for a 29 hour reading in August 2019 (my mom had to drive me back and forth from sleepaway camp multiple times to attend the auditions). I didn't get the part at that time, but I re-auditioned in February 2020 and was cast in the off-Broadway production at that time. Sadly, the show had to "pause" because of the pandemic before it opened. I re-auditioned in August and was re-cast then! I think I've probably had about 10 rounds of auditions/callbacks for it over the course of the past two years (dancing, singing and acting rounds). I'm super excited to finally be bringing the show to life after over two years of waiting for this moment!

How often do you rehearse? And how as it affected your schooling?

We rehearsed for six weeks, six days a week for about 7-8 hours a day, plus we do school in addition to rehearsal for 3 hours a day. It's very busy, but super fun! I had to withdraw from regular school because of the rehearsal schedule and am currently enrolled in an online program for the first semester of eighth grade. Hopefully I'll go back to regular school for the second half of eighth grade!

When will the play debut? Are you in all performances? How can your Scarsdale friends come to see you?

Previews start this Monday, October 25th at Stage 42 in New York City and the show officially opens on November 10th. We have 8 shows a week and I am in all 8! Tickets can be purchased at TrevortheMusical.com or through Telecharge.

I'm so excited to be a part of this amazing show. Not only is it timely and such an important message, but it's also full of joy and fun! Hope everyone will come see it!
Scarsdale Raiders 10U Hockey Team Sweeps Division
Details

Written by

Joanne Wallenstein

Hits: 984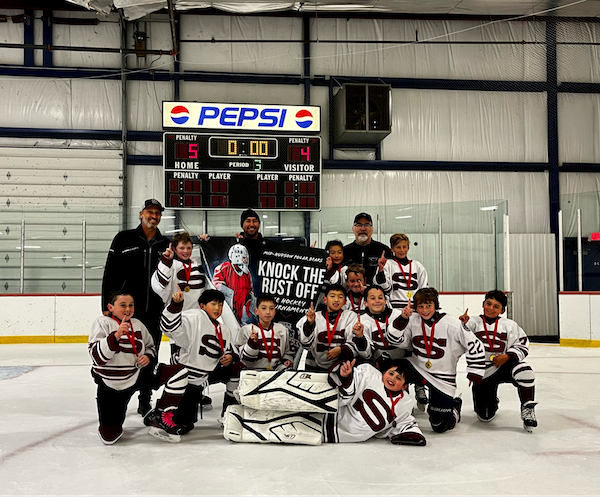 Scarsdale Raiders Hockey 10U Maroon team swept their division winning 5 games to clinch the win of the A1 division of the "Knock the Rust Off" tournament hosted by the Mid Hudson Polar bears in Newburgh, NY over the weekend. The Raiders team won their games 12-3, 7-1,5-2,5-0. The final was won 5-4 with the game winning goal scored by Jonah Grasheim with 48 seconds left in regulation. This was a fantastic team effort by all players.
Pictured Above:
Adrian Whang, Atticus Tagami, Charlie Bruton, Ethan Ling, Jacob Strauss, Jamie Putnam, Jonah Grasheim, Kyle Bach, Mason Kay, Owen Casey, Valeria Li, and Zach Handler.

Coaches: Andy Grasheim, Kevin Tagami, and Neil Casey
The Arts Play a Foundational Role in Scarsdale Education
Details

Written by

Joanne Wallenstein

Hits: 900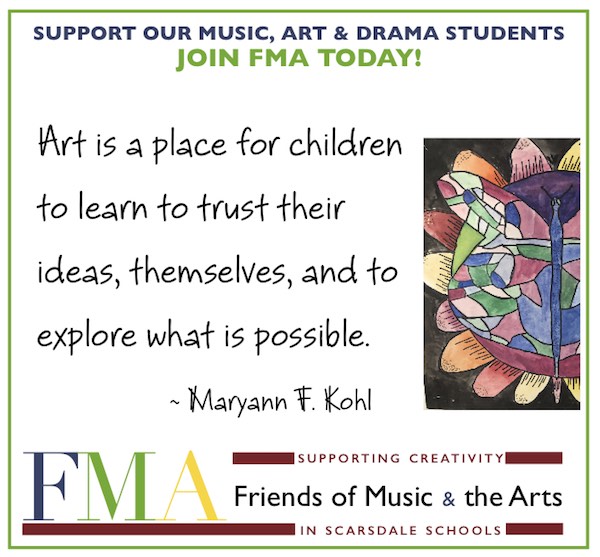 Join Friends of Music and the Arts in Scarsdale Supporting Creativity
Did you know that over 1300 students in Scarsdale Schools K-12 participate in instrumental music? That's over 25% of students! (and doesn't even include our singers.) And did you know that Scarsdale High School offers about 30 unique art classes, ranging from printmaking to computer animation to art history? And offers nearly as many performing arts classes in drama and music, such as improv, jazz and wind ensemble? Impressive!
Scarsdale's outstanding arts program from K-12 is one of the crown jewels of a Scarsdale education. It provides opportunities for students to connect, find self-expression, and cultivate well-being. Children are back in school now and are also back together in their school music ensembles, art studios and drama productions.
From ancient times, the arts have been understood as a critical element in healthy human development. Today, the world will need our children to be deep and critical thinkers in order to tackle the complex problems of the future. Creative thinking starts with arts education and is more important now than ever.
FMA - The Friends of Music and Arts is the nonprofit parent booster group for visual and performing arts in Scarsdale schools. We are supporting creativity! Our mission is grounded in our profound value for the arts, but our efforts are concrete and require resources.
For example, FMA connected and supported our student artists and musicians in new and exciting ways last year in response to the challenges of the COVID-19 pandemic. From producing a student talent video to launching Practice Partners, FMA's new student-to-student music mentorship program, FMA introduced creative initiatives to meet students' needs and build community.
In addition to bringing back Practice Partners later this fall, FMA is planning to return to our core initiatives, such as providing SHS concert receptions, student awards, and grants for gifts to each school. FMA also offers gently used, cleaned SHS concert dresses at a steep discount through the Encore Dress Program. FMA hopes to pursue many other program ideas and relies on parent volunteers and family donations.
FMA has launched a membership drive and encourages parents and residents to join or renew your membership for the school year. renew your FMA membership for the school year Membership starts as low as $35 and all gifts are gratefully welcome. As an added perk, FMA members can also save on instrument rentals and purchases, art supplies and dancewear from our local business partners.
FMA is pleased to announce this year's slate of leaders below. More volunteers are needed! If you'd like to get involved with our activities, click here to volunteer, or contact us at fmascarsdale@gmail.com
The 2021-22 FMA Executive Team
Laura Gelblum President
Sherry Hsu, Diane Greenwald, Suzie Hahn Vice Presidents
Meghana Mehta & Cindy Yau Co-Treasurers
FMA relies on family donations… and our students rely on us. Thank you in advance for supporting the FMA mission to serve Scarsdale music, art and drama students.
Submitted by Laura Gelblum and Diane Greenwald on behalf of FMA
Scarecrow Hayday
Details

Written by

Joanne Wallenstein

Hits: 482
Enthusiastic families came out to build their own scarecrows at a Scarecrow Hayday sponsored by the Scarsdale Recreation Department on Saturday October 2 at the Scarsdale Pool Complex.
56 scarecrows were constructed by 200 participants, using hay contributed by the Recreation Department.
Everyone enjoyed the decorations, a lunch of hotdogs and hamburgers and giveaways including apple pies, pumpkin cakes and chrysanthemums. The Weinberg Nature Center brought animals and fun was had by all.
See the colorful decorations and scarecrows here.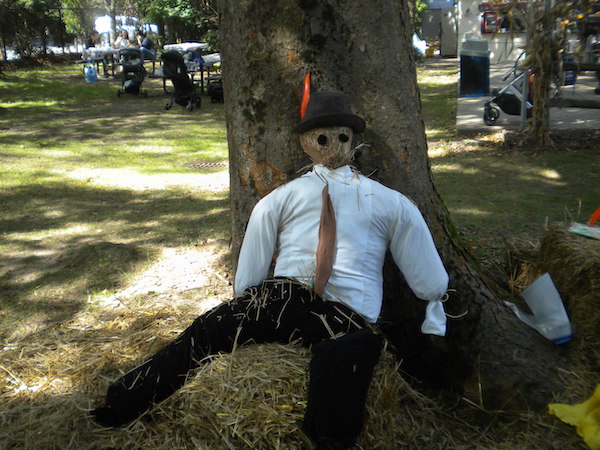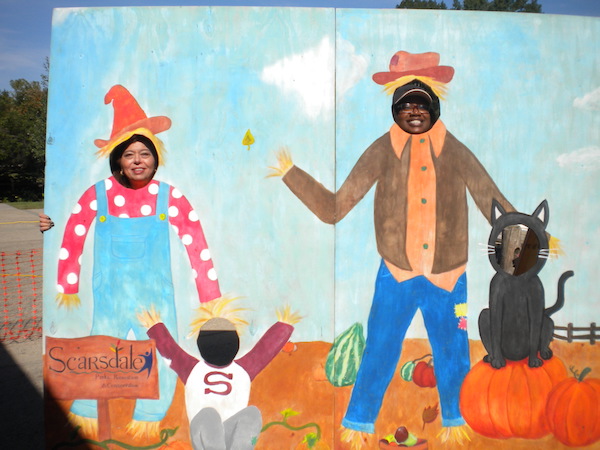 Tragedy Follows Scarsdale Football Game in Dutchess County
Details

Written by

Adam Katcher

Hits: 1383

(The following was written by Scarsdale High School Senior Adam Katcher)
The trip north to Dutchess County to face football-powerhouse Arlington on Friday September 17 ended in a call for collective mourning to support a family in the face of tragedy. The 27-point Scarsdale defeat was not the talk of the night. The focus was on unity and how to process the inexplicably difficult events of the evening.
After the game's conclusion, both teams were cooling down on the field while the crowds left the stands to return home. According to reports, a fight then broke out among Arlington fans in the Arlington High School parking lot which is not in the immediate area of the field. During the altercation, Quraan Smith, a 16-year-old Arlington student, was fatally stabbed. An 18-year-old former student at the school, Nestor A. Ortiz-Ocampo (age 18), was arrested and charged with first-degree manslaughter.
In a statement to the Scarsdale community following the incident, Superintendent Thomas Hagerman said, "After the game, our football students and their coaches remained on the playing field until they boarded the buses to return home. It is unclear if our students were aware that a fight had broken out or that police were arriving to intervene (since our students were across campus from the incident)."
Both school districts have and continue to ensure there are extra resources and people available to assist anyone who wants or needs assistance in processing the devastating news.
Dutchess County Executive Marc Molinaro said, "A loss like this has ripple effects throughout the community and many of us need support as we face waves of emotions and try to comprehend what happened."
Hagerman added to Molinaro's statement by reinforcing the point that "although our students were not directly involved in the situation, incidents like this can be difficult to understand and process."
As required by the district's Safety, Security, and Emergency Management protocols, the procedures related to Scarsdale High School sports teams' participation in off-campus events will be reviewed at the next Safety Committee Meeting.

Even though reports have indicated that no Scarsdale students or staff were near the scene, as stated by the Poughkeepsie Journal, "Anyone who was present and has relevant information is asked to contact the sheriff's detective bureau at 845-486-3820, or their tip line at 845-605-2583, or by email at dcsotips@gmail.com. Callers and e-mailers should leave their name and contact information, but not leave any specific details about the case or what they observed."

Everyone in both the local and larger community's thoughts and prayers are with the victim's family, the Arlington community, and anyone else who may be affected by this act of violence. As is always the case in the face of such awful events, now is the time to come together as communities to support those who need it the most, and to raise awareness about issues of violence in local communities to help prevent such devastating occurrences from happening again.
Adam Katcher is a senior at Scarsdale High School and a student athlete. He is also a student writer for Scarsdale10583.