Parents Encouraged To Complete Online Kindergarten Registration by January 31, 2019
Details

Written by

Joanne Wallenstein

Hits: 3430

The Scarsdale School District offers online Kindergarten registration. Current residents who expect to have a child attend Kindergarten during the 2019-2020 school year are encouraged to complete this process by January 31, 2019. Although prospective Kindergarteners may register at anytime prior to the start of the school year, completing registration early ensures a smooth screening and placement process. Children whose fifth birthday falls on or before December 31, 2019, may be registered for the 2019-2020 school year.
Please visit www.scarsdaleschools.org/registration for instructions on how to register online.
Enrollment in one of the five elementary schools (Edgewood, Fox Meadow, Greenacres, Heathcote, and Quaker Ridge) is determined by the neighborhood in which you reside. If you do not know which elementary school serves your neighborhood, please call the District Registrar, Nunzia Mauro, at (914) 721-2444, or send an email to registrar@scarsdaleschools.org.
Scarsdale Boys' Basketball's Thrilling Season
Details

Written by

Alexandra Wilson

Hits: 2783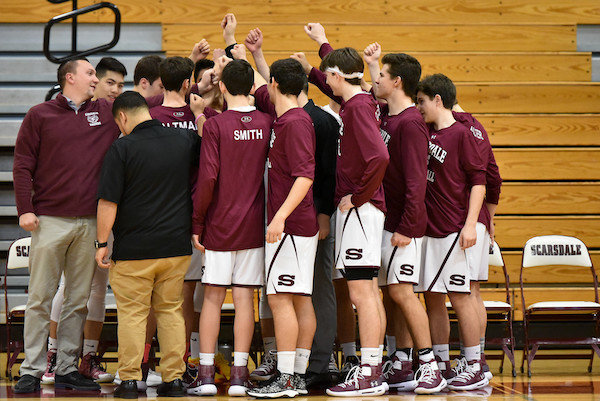 SHS Boys' Varsity Basketball has had an energizing start to their season under first-year coach Joe Amelio.

Over the summer, Coach Joe Amelio of St. Raymonds High School For Boys in the Bronx was hired has the new head coach and immediately started holding open gyms and weight lifting sessions for the players. When the season started, Coach Amelio was not the only new member of the team; in fact, only six out of the 13 members were returning players.

While the team was mostly new, the boys were optimistic as they entered the regular season. "At the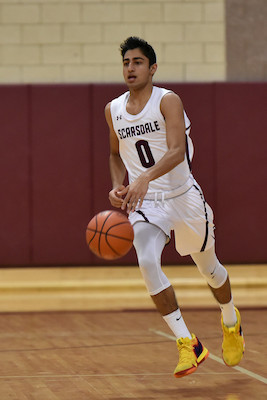 Captain Jayshen Saigal '20 driving up the court. start of the season, we all thought we would be capable of going really far… When we first met the coach, we got more and more confident because we all really like him and had good workouts with him before the season. As for the new players, we've played with these guys a lot growing up and had confidence in them from what we had seen," said Captain and shooting guard Cole Kattan '19.

The players and coaches wanted to bring the newly minted team together quickly to become a cohesive unit; to accomplish this, they practice for two hours six days a week, dissect game film twice a week and work out in groups of three once a week. They also spend plenty of time bonding outside of practice. "The team is really close-knit this year, players and coaches. We go out for lunch and dinner as a team multiple times a week," said center Gus Thompson '19.
This chemistry immediately showed itself on the court when the team won their first eight games in a row. After losing the ninth game to Marshall Academy by eight points, they recovered and won the next two games. They then lost to basketball powerhouse Mt. Vernon on January 9th, making their record 10-2. They are now ranked 5th in the Section behind Briarcliff, Rye, Ardsley, and Mt. Vernon, and they're a contender for the Section 1 championship.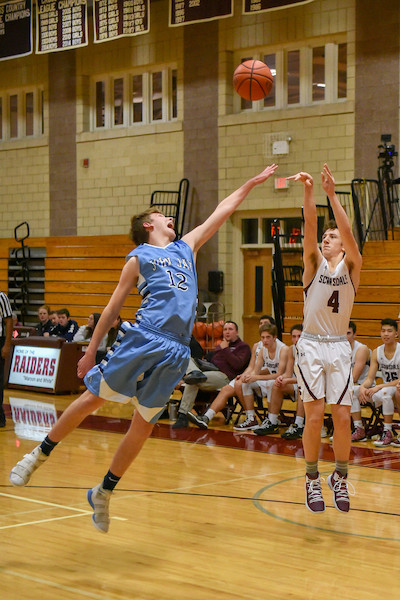 Dennis Alter '20 taking a jumpshot While the team's cohesion plays a large role in their success, Coach Amelio is also a primary reason for the team's impressive record. "Our new coach brings a lot of intensity day in and day out, but most importantly, he has a brilliant understanding of the game," said Thompson. In the practices leading up to their games, the team specifically prepares for their upcoming opponent, which helps the Raiders anticipate the other team's style of play. Assistant coaches Jordan Griffith, Jason Villalobos and David Zenon also help the boys dissect film from the games and develop as players.

As close as they are, teammates also attribute their success to each other. "Joey [Lane '19] and Mike [Callahan '20] are vocal leaders in practice, always pushing everyone to get after it" noted Thompson. The boys' motivation and deep respect for one another carries them through their many hours of grueling training.
The Raiders are happy with the way their season has progressed, but they are only about midway through it and there is still a lot they would like to accomplish together. "My goal is the same as the team's goal: we want to win the Section. We are all working towards the common goal and want to do it in any way possible," said Kattan. The Raiders will continue to intensify their training so that they remain a contender for the championship title and hopefully continue upward progress in the rankings. Photos by Jon Thaler, see more here: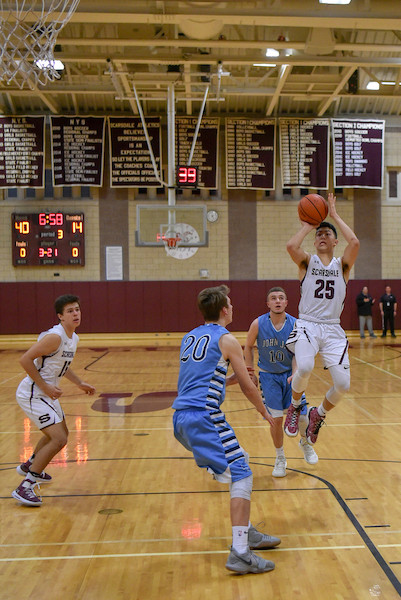 Evan Huo '19 taking a shot and Connor McCarthy '19 looking for the rebound
SHS Soccer Player Named to All-State team for Second Consecutive Year
Details

Written by

Joanne Wallenstein

Hits: 2480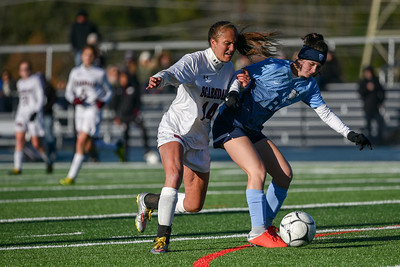 Allison Stafford has been named fourth team All-State 2018 for Class AA by the New York State Sportswriters and Coaches Organization for Girls Sports. She was also recently selected as a member of the Westchester/Rockland/Putnam/Dutchess Coaches Association's Elite 12, which recognizes the 12 high school girl soccer players in the region who best combined standout play on the field with outstanding classroom performance. Class AA consists of the largest high schools in New York State and Section 1 is comprised of high schools in Westchester, Rockland, Putnam and Dutchess counties.

It's the second consecutive year that Stafford, a senior at Scarsdale High School and a three time All Section and All League selection, has been named to the New York All-State team. She's the first female player from SHS to receive the honor since 2011. What makes the All State and Elite 12 designations especially impressive in Stafford's case is that she played midfield the past two years for the Raiders even though her natural position, and the position for which she's been recruited by college coaches, is center back.

Coach Mindy Genovese believed that Stafford's talents would best serve the team if she played mid-field. In describing her experience playing a different position for the Raiders, Stafford said "I have great respect for Coach Mindy's judgment and wanted to do whatever I could to help the team. I believe that playing midfield helped our team maintain possession and start many offensive rushes. It also helped me continue to develop my all-around game by giving me a greater role in the offensive attack."

Stafford, who looks forward to continuing her soccer career at Amherst College, said she had an exceptionally good experience playing high school soccer, having developed camaraderie with her teammates, enjoying her leadership role as co-captain, and experiencing on the field success each year. The success in the 2018 season culminated in the Raiders' hard fought, 1-0 overtime loss to eventual section champion Arlington in the Section 1 playoffs in October. "I really enjoyed playing on the high school team these past four years and am going to miss it. I'm especially grateful to Coach Mindy for everything she did for our team. It was so much fun and the memories, including the inspiring play of my teammates late this past season that had us playing at a Section champion level, will stay with me forever," Stafford said.
View From the Sideline: What You Learn In College is More Important Than Where You Go
Details

Written by

David Stafford

Hits: 3438
As virtually every parent of a Scarsdale High School senior knows, December is the month each year when students learn whether they have been accepted to the college to which they've applied for admission under early decision. It is a time of exhilaration for some and heightened anxiety and disappointment for others. More than ever these days, students apply "ED" to their first choice schools, for two primary reasons. First, they believe that applying ED maximizes the chance for admission at their first choice school and second, they hope to complete their college application process early, avoiding the need to apply regular decision to multiple colleges and in most cases, having to wait until the spring to learn where they have been accepted. Most people who have been through the college application process know that it is stressful for all involved. Make that very stressful. The high achieving, competitive environment in which we raise our kids in Scarsdale only makes things worse.

I'm here to pronounce that those Scarsdale students and their parents who are experiencing the anxiety associated with the college application process should exhale. As counter-intuitive as it may seem, recent studies show that a student's future career success, measured by earnings, is only marginally, if at all, tied to the prestige of the institution of higher learning that he or she attends. This premise is supported out by a recent study that was recently reported on by the well-respected publication, The Atlantic.

I'll start with a disclaimer. For purposes of this column, career success is equated with earnings. I fully recognize and appreciate that far more goes into defining career success than income, including personal satisfaction and fulfillment and the benefits the work confers upon society.

We can all acknowledge that top tier schools in the United States, defined by those schools that admit students with the strongest academic credentials and have the lowest acceptance rates, not only provide high quality instruction. They provide a lifetime network of well-connected alumni and send a message to future employers that the student is bright and motivated. And there's no avoiding that top tier schools seem disproportionately responsible for turning out America's highest achievers. About 45 percent of America's billionaires attended schools where incoming freshmen average in the top first percentile of standardized test scores.

So where's the rub? According to a 2002 study by the well-known economist Alan Krueger, the increase in earnings from going to a top school is "generally indistinguishable from zero" after adjusting for student characteristics, such as standardized test scores. Translated, this means that if two students have the same standardized test scores and apply to the same colleges, but one gets into Harvard or another elite school and the other attends a state university with relatively high acceptance rates, they can expect to earn the same income throughout their careers. The study further showed that the average standardized scores of all the schools a student applies to is a better predictor of future success, measured by income, than the school that the student actually attends. This "non-Harvard effect" is most pronounced for white males. It is less pronounced for women, but according to a recent study by economists at Virginia Tech, Tulane and the University of Virginia, the reason why women who attend elite schools tend to earn more than women who don't is not because women who attend elite schools earn higher hourly wages. Rather, it's because they tend to get married later in life and delay having children, and therefore stay in the workforce longer and work more hours. The reasons for this phenomenon can be debated. The "Harvard effect" has been shown to be most apparent among lower income students, many of whom are minorities. Why? The most likely theory I've seen is that the networks created at elite institutions have proportionately the greatest impact on less affluent students who tend to be less well-connected than students who have grown up in wealthy areas where established, professional networks already exist among friends and family.
For the majority of Scarsdale High School students, the best indicator of career success, measured by earnings, is the student's academic performance and achievements at age 18, rather than which college the student attends. Yes, attending an elite institution can open doors when a student is applying for her first job, and there's certainly a lifetime prestige factor in attending a college that is equated with having the brightest students and the highest quality education. But to the extent Scarsdale students and their parents believe that where the student attends college is going to dictate the students' career outcome as measured by earning power, it's time to chill out. It's less about where the person goes to college than it is about what that person accomplishes once he or she is in college. And then, perhaps the biggest factor is how the person performs once he or she is a member of the workforce. In the aggregate, a person's individual qualities overwhelm institutional characteristics and it's more important to be hardworking, industrious and curious than to have "Harvard" on one's college diploma.
Winter Raider Pride Week at SHS
Details

Written by

Jordy Love

Hits: 3179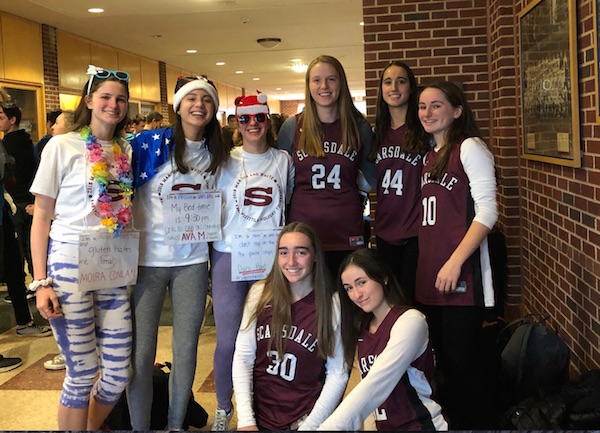 With the winter sports season is in full swing, Scarsdale High School celebrated the new season of athletes and demonstrated its school spirit at Winter Raider Pride Week.
School spirit was seen throughout the week at spirit days where students dressed to a different theme each day. Monday was pajama day, Tuesday it was a black out and on Wednesday, they wore pink to pay tribute to Mean Girls. On Thursday students re-created their favorite memes and on Friday students and faculty were decked out in school colors maroon and white.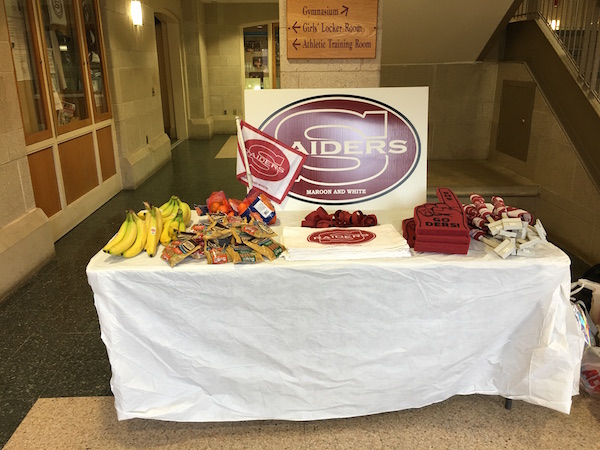 Pompoms, rally towels, foam fingers and flags were distributed to the teams and fans.
On Wednesday, Maroon and White provided the athletes with complimentary healthy snacks outside of the gyms after school. On Thursday, Maroon and White kicked off the opening rounds to the annual Kari Pizzitola basketball tournament. The Varsity girls lost 51-40 in the first round Thursday evening against Horace Mann but dominated in the consolation round against South Bronx on Saturday with a victory of 75-20. The Varsity boys beat High School of American Studies on Thursday and went on to win the tournament in front of their home crowd with a 71-45 victory over Iona Prep.
Raider Pride Week culminated on Friday with a school wide pep rally introducing all the teams to a jam-packed gymnasium of students, teachers and coaches. Photos by Jon Thaler. See more here: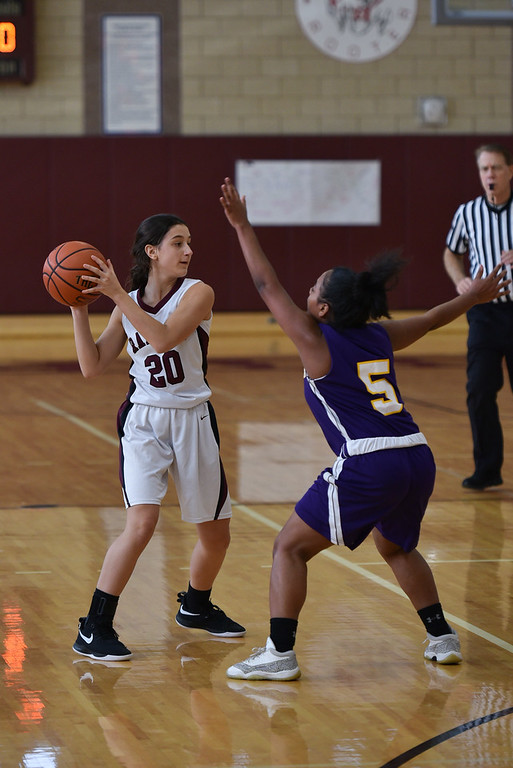 Ava Londa, a freshman on the varsity basketball team, handles the ball as she looks for a pass against South Bronx.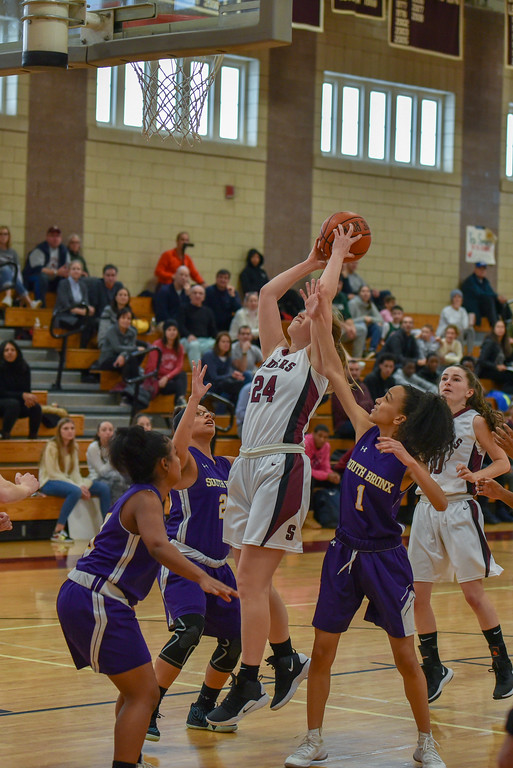 Senior Captain Emmeline Berridge goes up for a shot against South Bronx. On Saturday, the Raiders beat South Bronx 75-20.