SHS PTA Voices Concerns About Scarsdale Restart Plan
Details

Written by

Joanne Wallenstein

Hits: 1248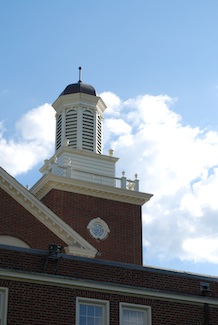 This letter was sent to the Superintendent and the Restart Committee by the Scarsdale High School PTA Executive Committee:

Dear Dr. Hagerman and Members of the Restart Steering Committee:
The SHS PTA Executive Committee appreciates the efforts of all of the Scarsdale Restart Committees and the tremendous undertaking involved in reopening Scarsdale schools in a safe and timely manner. It is a monumental task to manage competing priorities while satisfying the numerous requirements of both the Department of Health and the NYS Education Department guidelines.
In light of recent discussions within the Scarsdale community regarding a possible scenario that does not adequately address the broad educational and developmental needs of high school students, we feel it necessary to communicate our grave concerns. Specifically, we are troubled by the possibility that all high school students might be moved to fully remote learning while plans for all other students include some element of in-person learning. Every student in the community equally deserves to benefit from going to school if deemed safe to do so. Beyond the delivery of instructional time, in-person learning is critical to our high schoolers because it facilitates connection with peers, mentor relationships with faculty and community building, none of which can easily be replicated in a remote learning environment.

The Scarsdale High School PTA Committee acknowledges how difficult the task is for the District to develop a plan for high school students which delivers the Scarsdale model of choice in course selection while adhering to the new health and safety measures required by the state. An innovative solution, however, could both preserve student course choice while still allowing for some component of in-person engagement. We urge the District to think deeply and creatively about how to bring high school students back on campus as they formulate plans for September and beyond.
While high school students may be capable of remote learning in a way that younger students are not, that does not mean a fully remote learning model is in the best interests of high school students. In that regard we feel it necessary to highlight the following needs of high school students that will go unmet with a fully remote learning model:
Social and Emotional Wellbeing
Social connections are paramount to healthy adolescent development and emotional wellbeing. The ability to maintain relationships and social connections is not only critical for our students' overall mental health but also impacts their ability to learn. Providing high school students with some opportunity for in-person learning and engagement with peer groups and teachers will protect students against the negative effects of social isolation such as depression, anxiety and substance abuse. In June 2020 the SHS PTA administered a survey to parents in order to assess student wellness and needs. The results overwhelmingly reinforced our understanding that parents are concerned about the impact of social isolation due to remote learning conditions and that our community places great value on the social connections which school typically provides for our teens.

Student and Teacher Transition to a New School Year
Every new school year presents teachers with the opportunity to forge a new classroom community and to develop relationships with new students. Similarly, students must transition to learning from new teachers and with new groups of classmates. It is commonly understood that these relationships are essential to creating a robust and effective learning environment. Starting the school year under a fully remote scenario would significantly hamper the ability of both teachers and students to meet these learning conditions. Consistent with the Scarsdale Schools Restart's commitment to, "establishing nurturing connections" and "fostering meaningful learning opportunities for each student," every effort must be made to bring students and teachers at all levels including the high school together in-person, particularly at the start of the year, to establish a foundation for optimal teaching and optimal learning.
Diversity of Learning Modalities
Lectures on a computer do not work for all learners. Reading textbooks and answering rote questions do not equate with higher level learning for all students. Students requiring educational services need to have access to specialists to reinforce their educational progress. At the high school level, parents are not adequate replacements for educational support from teachers and specialists when students struggle. Furthermore, some classes, such as design & fabrication, ceramics or science labs, simply do not translate into a remote learning model. Creative solutions should be considered which address these different learning needs with in-person learning options wherever possible.
Bridge for Further Learning
The transition from middle school to high school is challenging for most students. A failure to provide appropriate in-person support and the opportunity to establish a new school community would create undue hardship for our Freshmen. Additionally, upperclassmen in grades 10-12 are working to build the connections with their teachers, deans and peer learning groups that are necessary not only to master the curriculum at this level, but to prepare them for college and beyond.

The SHS PTA Executive Committee is also disappointed by the lack of early transparency and missteps in the restart planning process:
1. The District did not seek widespread community input early enough in the restart process. Engaging in feedback through community forums would have been a way in which the entire school community could have followed the process and development of the plans.
2. The survey to parents, while welcomed and utilized by the majority of families in our community, was implemented too late to be integrated fully into the planning process. The results of the survey to parents have not yet been shared with the community.
3. Furthermore, the District has not yet sought feedback on the full range of scenarios under consideration, including a scenario whereby some students receive in-person learning and others do not.
We hope for better and more timely communication from the District to the community going forward, particularly since the metrics, and therefore the educational programming, may change throughout the school year.
The Scarsdale Executive PTA Committee respects the magnitude of the task before the District to develop a plan for September, and the tight time frame under which this work is being done. However, before plans are finalized and submitted to the state for approval, we ask that every effort be made to deliver some component of in-person experience at the high school while maintaining course choice; we believe that both are vital to the total success of students and teachers during these challenging times.
Sincerely,
Leanne Freda on behalf of
SHS PTA Executive Committee*
*Joey Silberfein recused herself as a member of the Restart Steering Committee
Cc: Ken Bonamo
From the County: COVID Cases Under Control... Section of County Bike Trail Reopened
Details

Written by

Joanne Wallenstein

Hits: 1844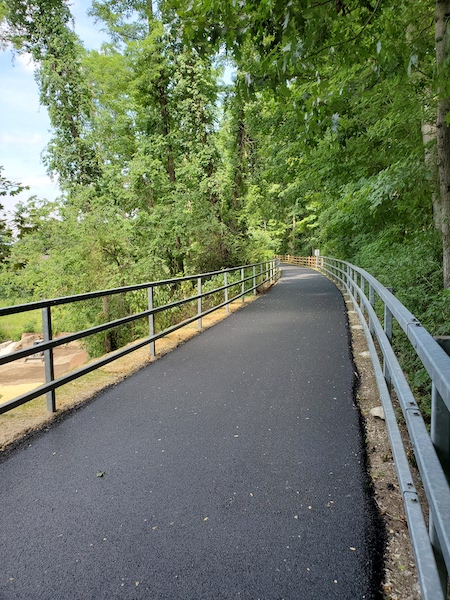 In his first weekly COVID update on Monday July 20, County Executive George Latimer continued to have good news about the diminution of COVID infections in Westchester County. The number of active cases in the county now stands at 467, and this number continues to drop steading. A total of 35,551 people in the county have tested positive and the county has lost 1,440 people. Latimer says the death rate among those who tested positive is about 4%.
He reported that 347,000 people in Westchester have been tested, which is close to 35% of the population. Another 3,000-4,000 people are being tested each day.
It has been three weeks since an outbreak in Chappaqua caused concern and two weeks since July 4th weekend. There have been no new cases as a result of the infections in Chappaqua, and no spikes following July 4th weekend.
He cautioned, "We are doing well but we are not through the woods. We have no vaccine, we have antiviral drugs to lessen the impact but nothing to kill the virus.
The Hudson Valley Region, which includes Westchester County entered into phase 4 two weeks ago when indoor dining, barbershops, beauty parlors and nail salons reopened. Since that time there has been no increase in the infection rate.
He asked residents to wear masks, avoid large crowds, practice social distancing and refrain from activities that can put people in harms way.
In other news, Latimer reported that a portion of the North County Bike Trail had been repaired and is now open. The North County Trailway was constructed along the Putnam Division rail bed of the former New York Central Railroad.
A section of the trail at Birdsall Road in Yorktown was damaged during Superstorm Sandy in 2012 and has now been repaired and resurfaced. The 22.1-mile long rail trail stretches from Eastview in the Town of Mount Pleasant north to Putnam County.

The trail has been resurfaced, new fencing and railings are in place and landscape plantings have been installed to screen and further stabilize the slope. The County will receive a reimbursement of $800,000 from FEMA for the repair work.
Latimer Gives Last Daily COVID Briefing As New Cases, Hospitalizations and Deaths Decline in Westchester County
Details

Written by

Joanne Wallenstein

Hits: 2083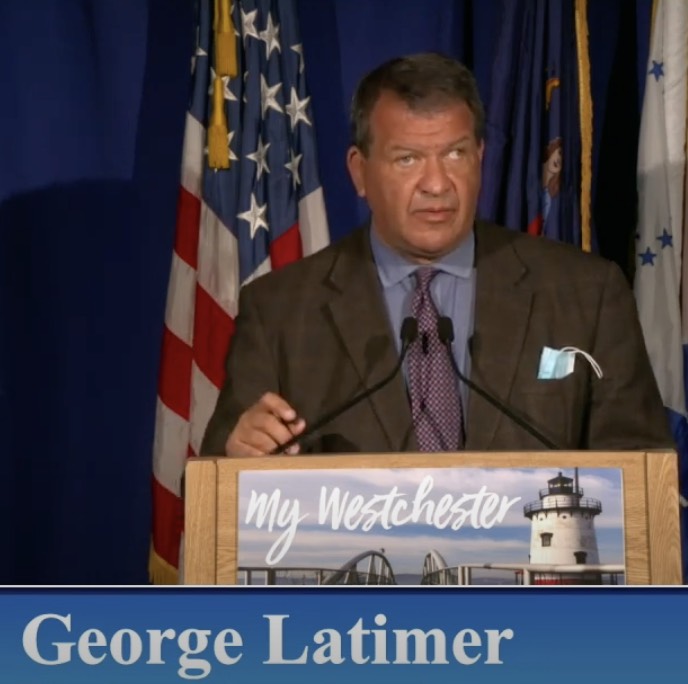 In a signal that Westchester County may be nearing the end of the COVID crisis for now, County Executive George Latimer gave his final daily briefing on Monday July 6, 2020, wrapping up four months of daily updates. With reduced infection and hospitalization rates, Latimer will move to weekly updates.
However, he did report that there has been a slight uptick in the number of active cases with 527 reported today. Prior to a week ago, that number had steadily declined, but in the past week it has oscillated. Latimer surmised that the slight increase might be due to the outbreak in Chappaqua that occurred when a student returned from Florida and infected others at the Chappaqua High School graduation and field night.
Latimer reported that only 1% of tests yielded positive results, and most recently out of 4,000 tests, 41 positive cases were identified. Westchester County has tested 291,000 people, and although there may be some duplication, Latimer believes that about 1/3 of the county's population has been tested.
Overall 1,427 people in the county died from COVID. There were no deaths the prior night, and in the past week, 3 people died. As of Saturday, 61 people remained in the hospital due to the virus.
Latimer attributed the drop in cases to compliance with the order to wear masks and people's growing willingness to practice social distancing.
About the spike in Chappaqua spike, Latimer reported that it has now been more than two weeks since the graduation and field night on Saturday June 20. Contact tracers were used to identify those who might be infected and to recommend quarantines for those who may have been exposed. From that night 27 positive cases have been identified. Since many of those affected were young, Latimer is hopeful that they will not get very sick and require hospitalization.
The County is expected to move to Phase 4 of the reopening on Tuesday July 7, 2020. Small outdoor events, for up to 50 people will be permitted, such as the Scarsdale Band Concerts in Chase Park. Not included in the Phase 4 reopenings are amusement parks and gyms and health clubs which are subject to a separate governor's order.
The County has opened their golf courses, day camps and beaches. However, as of now, anyone from outside the county is banned from coming to a Westchester County beach. This decision will be revisited in the near future.
County Executive Latimer appeared pleased with Westchester's progress to date, but cautioned residents to remain on guard, wear masks and closely evaluate where they are going and their comfort level with their surroundings.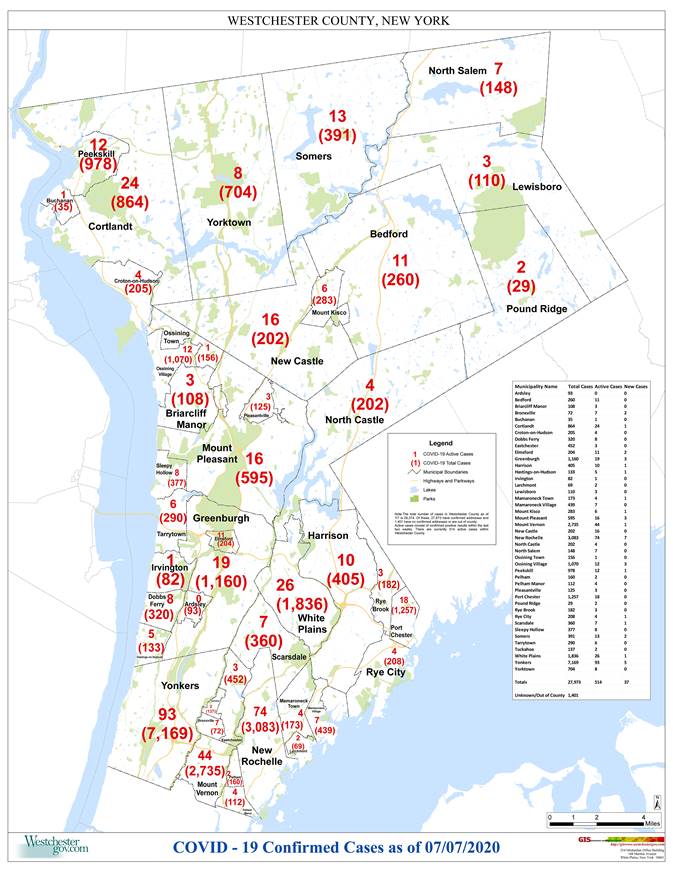 Survey Results: Slightly More Readers Favor In-School Learning than Hybrid Instruction
Details

Written by

Joanne Wallenstein

Hits: 1956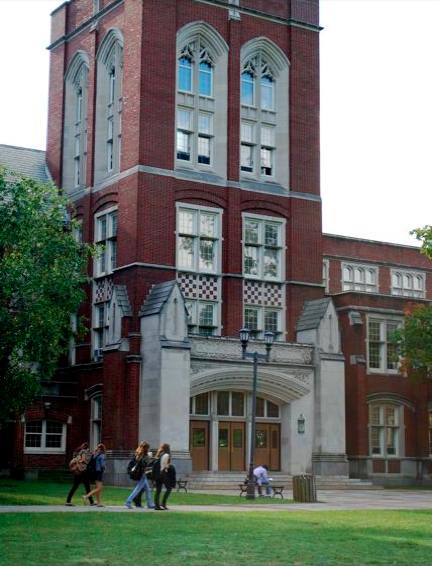 We conducted a quick survey on Scarsdale10583 to get an idea on where our readers stand on the reopening of schools in September. The survey assessed whether you preferred in-school instruction, hybrid instruction or eLearning at home. We also asked whether you thought the benefits of in-school instruction outweigh the risks posed by the virus and welcomed reader comments.
We received 103 responses and it appears that more favor in-school learning than hybrid instruction, but the numbers are close. Here are the results to date and some of your comments:
In your view, how should school be conducted in September?
1 - Live instruction at school with all students in the building. 45.6%
2 - Hybrid instruction with some students in the building
and others engaged in e-Learning on an alternating schedule. 37.8%
3 - School buildings closed: e-Learning only 12.6%
In your opinion, do the benefits of in-school learning outweigh the risks posed by the virus?
Yes 60.1%
No 33.9%
Here are just a few of the many comments we received:
Elementary students grades k-5 belong in buildings. Some older teachers or those with compromising conditions might choose to work on e learning. So perhaps parents of elementary students could be given a choice. Middle and high school students could be given the hybrid approach or perhaps work in split sessions if they need to be in buildings.
High School students will have so many restrictions placed on their freedom of movement, and perhaps even choices of classes, in the name of social distancing. The kids were used to so many freedoms before the shut down that school will be unrecognizable in the fall. The district's efforts would be better spent preparing for better eLearning, with better accommodations from the outset for special education, etc. Social interaction can come in other forms. Elementary students require more supervision.
We must focus on the balance between these two competing needs. We cannot simply choose between COVID safety and our children's learning and development.
To date in our response to the pandemic, we have fully prioritized slowing the spread of the virus over our children's developmental needs. As a result, we have failed our kids. We cannot choose one need over another; we should balance creating a safe environment while getting our children back in the classroom as much as possible.
There are many students with health issues that put them at risk, not to mention teachers, substitute teachers, teachers' aides, staff, and administrators. Everyone wants to go back to normal, but a return to school will be as unnatural as eLearning. I find it hard to believe that everyone will wear masks all the time also.
I believe there will be low risk if all students where a mask and wash their hands. If teachers are nervous, they can install plexi at their desks and they can keep their distance.
As important as education in school is, it doesn't trump life.
Is death or a lifetime of health issues preferable to being in school? No.
Priority for grade k-2 (and higher, if can be accommodated) for as close to "full time" on premise as possible. Older groups staggered as appropriate, with e-learning used to accommodate courses that don't fit neatly with students keeping consistent on-premise cohorts.
The child-to-adult transmission rate is fairly low for children below age 10, but after that it is as high as adult-to-adult transmission. So, children over 10, whether symptomatic or asymptomatic, can bring this home to their parents, family, caregivers, and infect many, many people. Too dangerous, and too many other unknowns.
We will keep the survey open and continue to collect your responses. Share your views by clicking here:
Mother- Daughter Team Spreads Good Cheer on Painted Rocks in Secor Farms
Details

Written by

Joanne Wallenstein

Hits: 1791
Jewelry designer Lauren Kessler and her daughter Carly, a rising sophomore at the University of Richmond, found an outlet for their creativity during the quarantine. Since her daughter was home from college and everyone was stuck at home, the two spent quality time hand painting rocks and leaving them throughout Secor Farms for their neighbors to enjoy.
Lauren and Carly enjoy spreading smiles throughout the community. Everyday they spread a few more rocks while they walk their two dogs Ernie and Oscar. Neighbors have been leaving the rocks in place and enjoying them daily during their walks.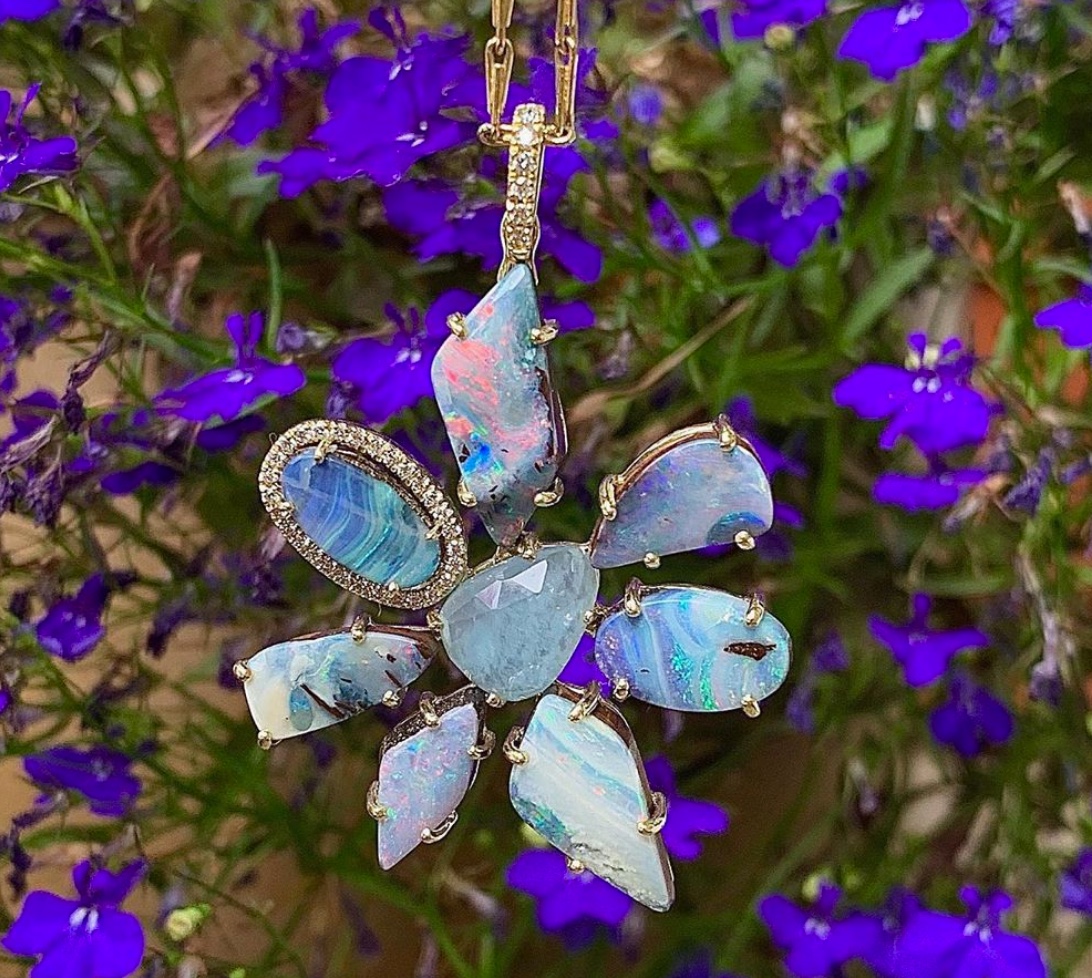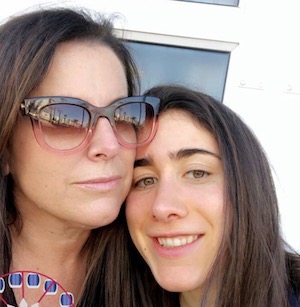 Lauren and Carly KesslerSee Lauren's jewelry designs at: www.instagram.com/laurenkfinejewelry