Meet Jonathan Lewis: Candidate for Village Trustee
Details

Written by

Joanne Wallenstein

Hits: 3393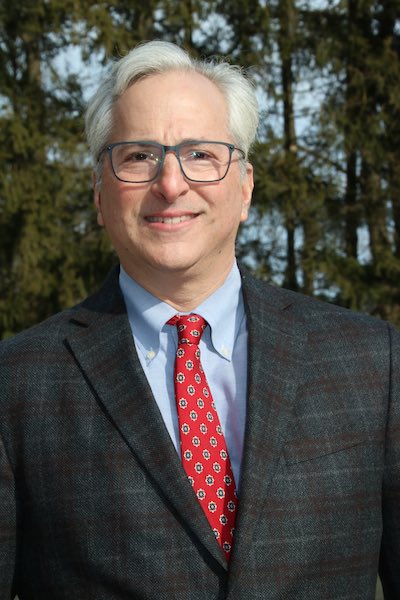 The Citizens' Nominating Committee has nominated Jonathan Lewis to serve as Scarsdale Village Trustee. Why is he running and what does he hope to accomplish? Read his answers below:

After a run for Congress, why did you decide to run for Village Trustee?
My father was a decorated officer in World War Two and he taught me that the most important duty in life, after taking care of your family, is service to your community. When the Citizens Nominating Committee asked me if I would consider serving as a Village Trustee, my answer was yes.
Tell us about your professional and volunteer experience and why it led you to apply to serve as a Village Trustee.
I am an entrepreneur who co-founded and built a successful asset management business, Samson Capital Advisors, that managed municipal bonds. When we opened our doors for business, we had no clients or revenues. By 2015, when we sold our company, we managed over $7 billion in assets, and had developed a national reputation as experts in municipal bonds and public policy. While building my company, I've also served in a variety of volunteer and board positions including as a member of the Scarsdale Board of Education, president of the Scarsdale Forum, president of the Juvenile Diabetes Research Foundation of Westchester, and treasurer of the Phi Beta Kappa Society, where I also chair the Foundation's investment committee. I have built cost-effective budgets in my business, as a member of the Scarsdale Board of Education, and in a variety of not-for-profit leadership roles. I hope to bring my skills in finance and entrepreneurship to the Village Board. I think these skills will enable me to make positive contributions to conversations about the budget, expense management, and innovation.
What do you hope to accomplish as Village Trustee?
My career has taught me to do more with less, while being entrepreneurial, impactful, and taking the long view. I am proud that Scarsdale is my home and grateful to live here. I believe that a Trustee listens to the community, critically evaluates how we deliver services and builds a budget to provide the services that residents expect and deserve in the most-cost-efficient way.
As a Village Trustee, I would bring the skills I have developed in the private sector and in public service to strengthen our unique "brand" as a community and to always look for cost-effective means to deliver on the core value proposition of Scarsdale. This brand is the cornerstone that supports our property values.
I would hope to work with my fellow Trustees to seek ways to refine and redefine the quality and breadth of village services in a way that reinforces our village's brand. These efforts should be focused on how we make Scarsdale an attractive and desirable place to live now and in the future. We should always be asking "What do we do in Scarsdale better than anywhere else?" and then make sure the tough budgetary choices we face each year help reinforce the answer to that question.
I'm running for the Board of Trustees to engage in that conversation with the community, other Board members, and the Village staff.
What do you think are the biggest challenges facing Scarsdale?
The Board of Trustees faces a great challenge today - it has to act as a responsible steward of our neighbors' taxes while delivering high-quality services and public safety in the face of so many external factors, including policy changes at the state and federal level, unfunded mandates imposed on the village by New York State, and the possibility of economic headwinds. Of course we should strive to be as cost-efficient as possible, resist unnecessary expenditures that don't have a clear benefit, and look for new areas to find savings, but I believe there's another side of the equation that will help us meet these challenges.
Throughout Westchester County, and the country for that matter, the basic service model that underlines local government has been largely unchanged and unexamined. I believe we have the opportunity to rethink our Village government to meet the economic, fiscal, and competitive challenges of our times. In my private and public sector positions, I have always felt my most useful role was to challenge assumptions and to raise questions that haven't always been fully explored. I believe my training as a historian and my role as a Chief Investment Officer have given me that discipline. I look forward to bringing that same passion for improvement and critical reexamination to village government.
On the local level, what do you think Scarsdale can do to ensure our home values and our schools in the face of the new limits on state and local tax deductions?
In many ways, the challenge of adapting to the federal cap on the SALT deduction is similar to what we've had to do to successfully adapt to the state property tax cap.
When I served on the School Board, we had to contend with the implementation of that cap. We had to balance the need to provide a great education for the 21st century, while being mindful of the economic challenges our stakeholders faced in the aftermath of the financial crisis. One of the most impactful new ideas we funded was called the Scarsdale Center for Innovation. It was a low cost initiative that had the power to unleash the creative energies of our teachers and administrators for the purpose of reengineering our curriculum. Since its launch, the Center has fostered important forward thinking initiatives within the district. Developing low cost ways to transform how we think about policy and delivering services is a lesson I carry from that experience.
Our leadership in education and our reputation as innovators in that field is what sets our community apart, and I believe we need to innovate and reinvent how we think about local government to succeed in this challenging era. We need to imagine what a more vigorous local economy might look like, beyond the basic need for retail in our commercial areas. Are there non-retail businesses that could be supported and developed here? Can we diversify our economy in a way that is consistent with our values and our village character? Is there a way we can expand our tax base or more broadly share our tax levy that takes the pressure off individual homeowners? I believe if we approach the challenges of our time with fresh perspectives and new questions we are more likely to innovate our way to a solution. That effort will help us deliver on the value proposition of living in Scarsdale. If we succeed, we will remain the most attractive choice for home buyers seeking to build a happy and successful future for themselves and their families.
What are your views on historic preservation? Do you think the Village is doing enough to safeguard historic properties?
I have had a keen interest in how we preserve the character of our neighborhoods. When I was president of the Scarsdale Forum, I established a committee on Neighborhood Character to empower neighbors to explore these issues. I've served in the past on the boards of the American Jewish Historical Society and the Scarsdale Historical Society - so history is important to me. There is a constant and natural tension between the property rights of individuals and the need to safeguard our history and preserve our community for future generations. A tear down is not always to the detriment of the neighborhood, and preserving an old home is not always good preservation. Yet, much of the academic literature suggests that the preservation of truly historic and distinctive properties actually supports and enhances the property values of the surrounding neighborhood. Especially important, what makes a neighborhood special is more than the homes, it's how they interact with their environment, and how the beauty of the natural world and the character of the homes interact and enhance each other. It's a balancing act and an ongoing conversation, and one that the whole community should always feel that they are a part of. In that context, I would look forward to joining the conversation about how to balance progress with preservation in our village.
Scarsdale resident Mark Lewis (no relation to Jonathan Lewis) sent in the following comment.
"I have known Jonathan for several years and feel he will make an excellent Trustee. His knowledge of finance will help guide us over the next two years with well thought out budgets. He seeks out and listens to people and takes their comments seriously. His knowledge of history will also shape the way he makes decisions. I trust Jonathan to lead Scarsdale in the right direction.
Jonathan will keep an open mind on all issues and will be inclusive of all people regardless of which party they belong. I have full confidence that Jonathan will work to meet the needs of all the people of Scarsdale. I have worked with Jonathan and will do whatever Jonathan requests of me to help him get elected as our next Village Trustee. I hope that all Scarsdale residents will support Jonathan no matter which party they belong to."


Latimer Explains Where Your County Taxes Go
Details

Written by

Joanne Wallenstein

Hits: 3259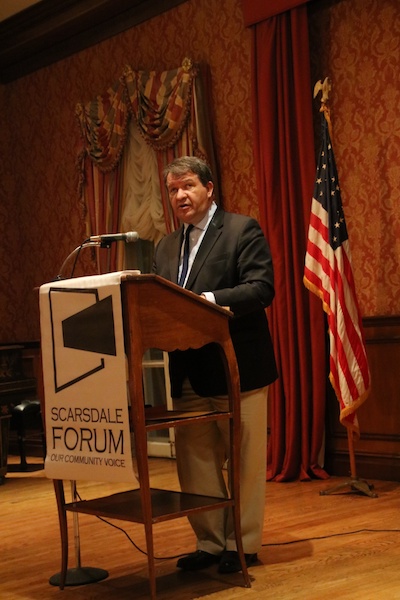 The Scarsdale Forum invited County Executive George Latimer to present the state of the county on Thursday February 7 at the Scarsdale Womans' Club. Latimer explained the size and the scope of the county's $1.9 billion budget and the pressure to maintain costs on a large budget that few seem to appreciate. Scarsdale residents pay about 20% of their real estate taxes to Westchester County, few seem to know where those dollars go. Though the county runs the second largest regional bus service in the state and an1,800 bed county jail, Latimer said that most of the Scarsdale taxpayers who fund these services don't ride the bus or spend a night in jail.
Another chunk of the budget is consumed by unfunded state mandated programs that the place an additional burden on the county.
In order to raise additional revenues the county is considering the transfer of the parking lot at the county center to private ownership and has closely examined all contracts. Latimer has proposed a 1% increase in the county sales tax to replenish county coffers so that they can maintain the parks and roadways that were neglected under the previous administration.
Moving forward the county hopes to build a biotech center on 60 acres of county owned land near the Westchester Medical Center and dental school. They have given a 99-year lease to the land to Ferrari and Associates to build the center.
Speaking about his goals for his administration, Latimer said, "People need to see government that is open, bi-artisan and transparent. We need to re-establish confidence that we can govern ourselves."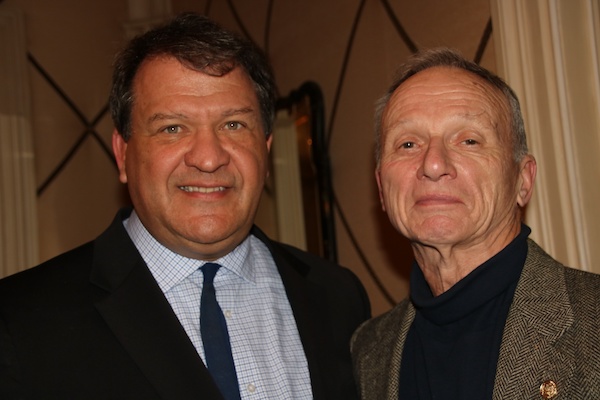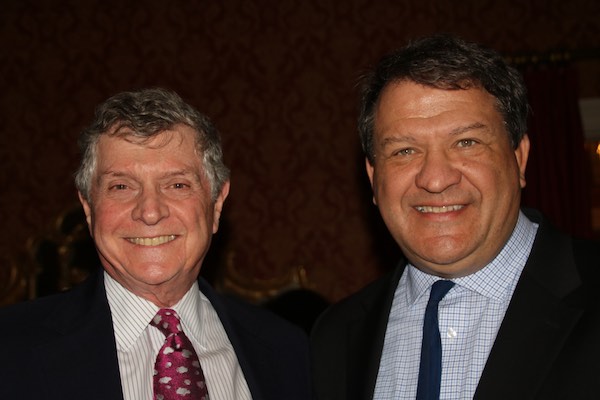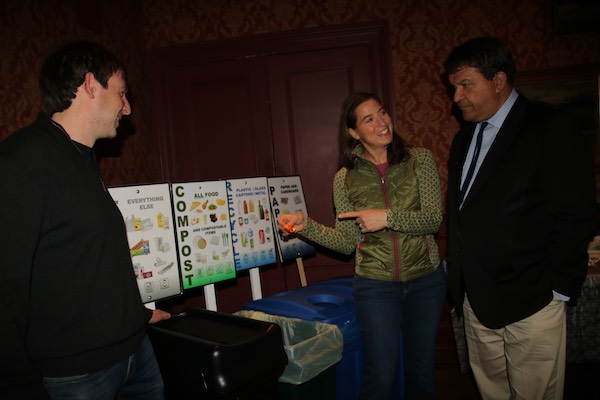 Photos by Lisa Van Gundy
Anticipating An Empty Nest
Details

Written by

David Stafford

Hits: 3014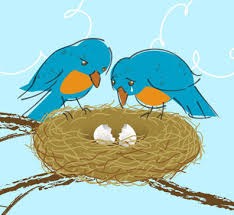 After living almost 20 years and raising three children in Scarsdale, my wife and I face the prospect of an empty nest when our youngest child leaves for college in August. Many of our friends, similar in age to us, are in the same situation. Neither of us has spent much time thinking about what life will be like when we no longer have our "little ones" living with us under the same roof. We both have extremely busy lives, with sports, workouts, book clubs, volunteer work and demanding careers. Still, we have derived our greatest joy from seeing our kids develop into responsible and independent young adults, and we are faced with the reality that since our older son was born 25 years ago, our family life will no longer revolve around our kids.

The question we and many others like us face is, how will we adjust? According to Psychology Today, the onset of an empty nest is a seminal event in many peoples' lives. Some become depressed. Parents may miss the companionship or daily contact they had with their child, and may experience a sense of loneliness. There is in fact an official diagnosis called Empty Nest Syndrome, which is defined as "feelings of depression, sadness, and/or grief experienced by parents after children leave their childhood homes." While both men and women can suffer from the affliction, women are reportedly more likely than men to be affected. I'm not sure why this is. Perhaps it's because more women than men are involved directly in the day-to-day lives of their children.

For some parents, the prospect of Empty Nest Syndrome presents a paradox. We have always wanted our children to become independent adults. A child who moves out of the home, whether to live in a college dorm or her own apartment, is on the way to achieving that goal. Also, it's not as if the children suddenly disappear from the home scene. The events leading up to the empty nest are predictable and can be prepared for. Psychology Today recommends that parents prepare for an empty nest while their children are still in the house. Developing and enhancing friendships, pursuing hobbies, taking on new career challenges, and pursuing educational opportunities are among steps parents can take to ensure that their lives remain fulfilled. Another recommended step to mitigate the effects of the empty nest is to make advance family plans, such as vacations, to provide for time when the family can spend time together.

Research suggests that the quality of the parent-child relationship may have important consequences for both when the child leaves the household. Parents gain the greatest psychological benefit from the transition to an empty nest when they have developed and maintain good relations with their children, as frequent warm and open communications with the child after she moves out can ease the feelings of sadness and loneliness than can arise from a home that is suddenly devoid of children.

One related question that comes to mind for us as Scarsdale homeowners is whether we want to maintain our residence, facing the prospect of very high real estate taxes and no children in the public schools. The question we all face is, do the benefits of living in Scarsdale justify the cost? The substantial elimination of the so-called SALT deduction only increases the financial burden on us. It's obviously a personal decision and we know of several families who have immediately sold or plan to sell their homes as soon as their children leave. For my wife and I, we expect to remain in our home for the foreseeable future because we love our house, have good friendships in town and like the community. Once our daughter graduates college we will consider our options.

We still have seven months to go before our youngest flies the coop. In the meantime, we plan to enjoy every minute of her company. Still, we must prepare to adjust to the reality where the primary focus of our attention, as when we were newlyweds, is on ourselves. That doesn't necessarily sound so bad. While I expect occasional feelings of sadness and nostalgia in the period after we return home from college drop-off in August, we will derive special enjoyment from the rare times when we get together as a family and spend quality time together. It's only now do I realize that we took all that family time for granted.

My words of advice to parents with still young children is, enjoy the ride. While the days with the young ones can sometimes seem slow and tedious, the years pass by quickly.
A Winter Blast at the Scarsdale Forum
Details

Written by

Joanne Wallenstein

Hits: 4560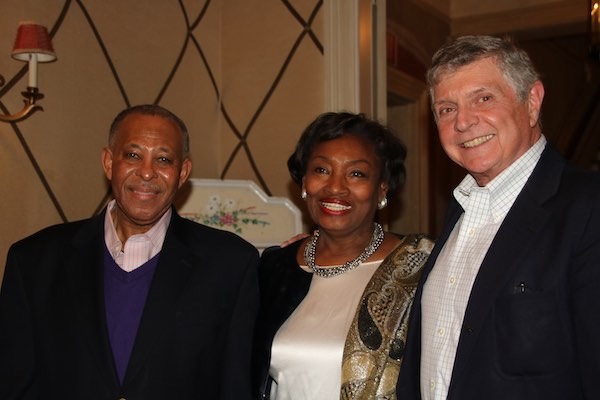 Ben Boykin, Andrea Stewart-Cousins and Jon MarkWinterfest 2019, Scarsdale Forum's eleventh annual membership party, hosted over one hundred members and their guests last Saturday evening, February 2 at the Scarsdale Woman's Club. Forum member Bruce Wells held court at the ever popular beer and hot dog stations in the main room while Forum member pianists entertained throughout the evening. Guests enjoyed a buffet dinner provided by Plates Catering and the various desserts baked by members and several local vendors. The a capella group, Counterpoint sang during the the dessert hour in the Club's library. Forum president Jon Mark and Vice President Tim Foley welcomed Congressman Eliot Engel, State Senator Andrea Stewart-Cousins, State Assemblywoman Amy Paulin and Westchester County Board Legislator Benjamin Boykin as well as Scarsdale Mayor Dan Hochvert and Village Trustees Justin Arest, Lena Crandall and Seth Ross. It was truly a winter blast!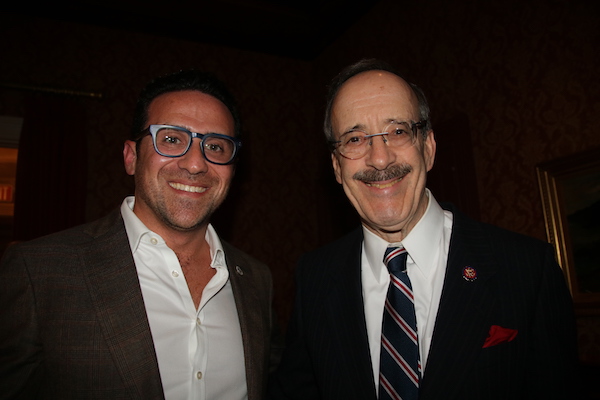 Justin Arest and Eliot Engel
Photos by Lisa VanGundy and text by BK Munguia
A Capella singing group Counterpoint with Forum member Michelle Sterling.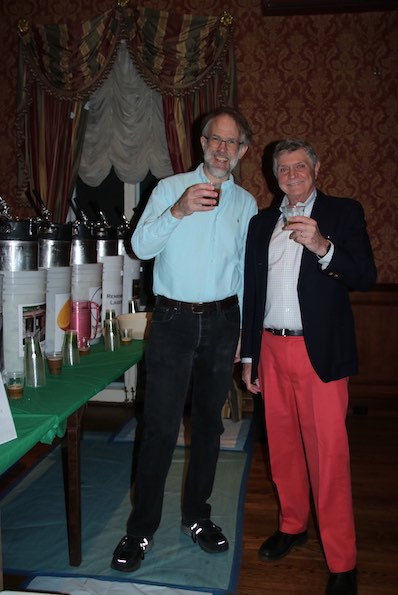 Brewmaster Bruce Wells with Jon Mark
Residents Weigh in on Freightway Proposals
Details

Written by

Laura Halligan

Hits: 5268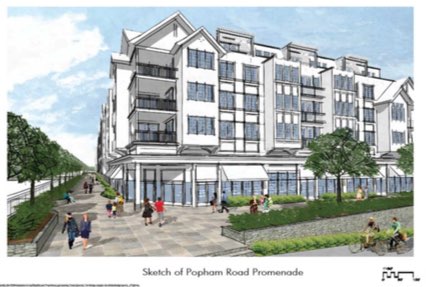 On Tuesday, the Scarsdale Village Board invited residents to comment on the seven Freightway redevelopment proposals that were unveiled last month. The proposals, sent in response to the Scarsdale's request of expression of interest (REFI) on the project, will be instrumental in developing an RFP for the site.
Trustee Jane Veron opened the well-attended meeting by providing an overview and timeline of the Freightway project, including efforts to involve public input thus far. "All of our learnings to date – information gathered over this multi-year process -- will be taken into consideration," she continued. "We have been have been deliberate in our process, hiring the best experts to assist us, proceeding methodically, carefully and inclusively, so that, in the end, we will be able to select a preferred developer who will build the best project for all of us."
Residents provided the trustees with much food for thought, raising concerns about the project's effect on existing village resources, sustainability issues, economic and tax considerations, and the information gathering process itself.
Education and Environmental Concerns
Zoltan Szilagyi (Chesterfield Road), kicked things off by stating that he supports the redevelopment of the Freightway site in general, but is concerned about its impact on the Scarsdale school system. "I viewed the February 2018 redevelopment study… which comes to the conclusion that…there would be, at most… a net gain of 20 school-age students in Scarsdale schools... (This) is based on comparison to other transit-oriented development projects... An important difference between those… and the situation (here), is that Scarsdale, as we all know, has nationally, indeed, internationally renowned schools. I find it very hard to believe that any developer developing residential units … would not market those units to parents or prospective parents."
He then reported, "I recomputed the numbers… based on the provided rate of school children per unit in other multifamily buildings in Scarsdale… current enrollment, and current number of housing units in Scarsdale…I come up with, on the low end, an estimate of 123 net new school children… on the higher (end), I come up with an estimate of 176 net new school children… Unfortunately, that would be a very serious impact for the Scarsdale schools… One, the tax revenue versus spending impact… would be quite different… Two, the overall impact to enrollment, which (would be) 1 percent off the all-time peak, and three… all of the elementary school age population would be attending Fox Meadow Elementary School." Szilagyi concluded by saying, "I would urge that the RFP… should drastically limit the number of new residential units, and/or… have an arrangement like Christie Place, where we can be assured there will be no drastic impact to Fox Meadow school and the district, overall."
Next, Seema Jaggi (Overhill Road), representing the Conservation Advisory Council (CAC), asked that Scarsdale's commitment to sustainability be reflected in the RFP. She said, "Though many of the RFEIs submitted acknowledged the historic architecture of our village center, sustainability received less attention… In Scarsdale, sustainability is a part of our every day lives. We live it through municipal programs, in the schools, in many houses of worship, and other local organizations."
She continued, "Our village already has made great strides in adopting sustainability policies to benefit the entire community… As the village will be issuing a formal RFP, the CAC encourages sustainability to be highlighted as a principle to be addressed in more detail. We need to make sure that the responses… clearly, specifically and adequately address sustainability as a core principle for any development."
Jeanne-Marie Castiello (Mamaroneck Road) also representing the CAC, followed and recommended sustainable building practices. "We would like the board to look at the idea of green building… Green building is a holistic concept that starts with the understanding that a newly built environment can have a positive and negative effect on the natural environment. (It) is seen as an effort to magnify the positive impacts while mitigating the negative effects throughout the entire lifecycle of a building… It is generally accepted… as the planning, design, construction and operation of a building with a focus on energy use, water use, indoor environmental quality, material selection, and, of course, the building's impact on its site and surrounding areas." Castiello went on, "The CAC would like to see a green building project proposal for Freightway that provides cost-saving measures to builders as well as its future occupants by meeting the broader needs of the community (through) using local labor, providing for some units of affordable housing and ensuring the building is sited appropriately… At a bare minimum, the CAC would… request that all projects use green building materials."
Claudine Gecel (Kent Road) agreed with the issues raised by previous speakers and focused attention on costs. "This is a small village. These bond issues have been very contentious… everything's very tight all the time... You can build a nice, sustainable building, and have beautiful property, trees… but you have to get some high, commercial tax payers in there for your own interest."
Jennifer Rossano (Sycamore Road) followed and said, "As the Freightway project gets underway, I wanted to suggest... the creation of some type of green building code to be use as to guide... for future municipal building construction. These projects are large in scale, and as my (fellow) CAC members have touched on, they really necessitate sustainability guidelines. If we were to adopt that type of code, it would be a very efficient way for this project and future projects to move forward, and ensure that… from the start, they are scoped with some sort of sustainability framework."
Open Questions
Brice Kirkendall-Rodriguez (Fox Meadow Road) then stated, "Village staff and the board of trustees correctly recognized that, given the choice of repairing… or coming up with an exciting public/private partnership which would provide more utility… the latter is of more appeal to our residents… This project has the potential to add two, three, four, $500 million to our real estate value. And, there are a lot of questions and things we don't know… How does the project conform to the village's long-term financial plan? Will we lease or transfer ownership of the land to the builder? Will we target professional offices or retail space? Will we tax (residential space) on the basis of rentals, co-ops or condos? …What public amenities can we bargain for? …There are a lot of things we should be considering, up front, before producing an RFP."
He added, "As exciting as it is to see artists' renderings, this is not the time for haste… Major milestones, such as we've just achieved with the seven proposals, are an opportunity to pause, take stock of what you've seen and recalibrate your opinions to make sure, in fact, that the project you have in mind is still in keeping with community opinion… I would urge you not to rush into an RFP without assembling a new committee of citizens in the community to collaborate… (and) formulate a conscious and deliberate plan forward... The value of that land will not decline, but we greatly diminish the value to Scarsdale if we act in haste."
Michael Levine (Walworth Road) followed and said, "I am suggesting that any RFP ask (that developers) provide their estimates on the impact of their proposals on the tax base… the school expense impact, the number of pupils in the schools, the total population impact and, to the extent possible, village services impacts. None of the seven submissions – I know they were conceptual – touch(ed) on any of this. I would suggest that they provide hard numbers and explain the basis for their numbers."
Robert Berg (Tisdale Road) then said, "My fear is that the village board is moving way too fast toward a binding RFP in the next couple of months, before many of the most fundamental questions have been answered. First and foremost, this project has to be demonstrably profitable to the village coffers… otherwise, there's no point… Right now, we don't even know the most basic contours of the project, so it's impossible to perform any sort of pro forma financial analysis…"
He went on, "All of the plans to-date propose large-scale, multifamily housing… Multifamily housing, be it rentals, condos or co-ops, receives an enormous property tax break over the same-market-value, single-family house in the Village of Scarsdale… Why are all these seven proposals pushing multifamily apartments? And how will these apartments generate property tax revenue equivalent to those same-market-value, single-family homes? They won't.
Berg continued, "It seems to me that a commercial office building (and) professional space will generate revenues for the village, will not create additional school children in the Fox Meadow school, and that should be the push here… How will this board and village staff… do the largest construction project in village history? …You're racing to this RFP in the next couple of months and no one has an idea of what this project's going to be... You have to create a task force of village residents… you have some of the greatest real estate developers in the country (in Scarsdale)… use people here in this village to help you out."
Bram Levin (Overhill Road) spoke next, stating, "In your rosy introduction, as well as in a lot of the materials… the meetings with consultants… and many community meetings, there has been a continual dismissal… of what people actually voiced. People were very clear that they wanted a cultural component; they talked about a Jacob Burns Film Center- and theater-type complex that other places in the area have, in both Westchester and Fairfield. We talked about recreational facilities, which were lacking, and having additional parks and recreational services. And, these were continually pushed aside in favor of parking and residential units, as sort of an add-on. "
He added, "What people are asking for is a greater sense of interactive participation with the board… I think the process itself has to be examined, so when people talk about slowing down, or considering environmental issues, economic issues, the school impact issues, what they're talking about is a greater sense of transparency… a greater sense of hearing what you (the trustees) really think already and what you may be leaning towards, and having a dialogue." Later, Levin added, "I hear no vision coming out of village hall about what it is we want to attract… We need more creativity and visioning and it should be an iterative process. It's very hard for us to present things to you and all we get is 'we're going to look at it.'"
Veron replied, "We are continually seeking comment and outreach. The reason people aren't hearing from the board is that the board can't make any reasonable judgment about any tradeoffs because there are no economics yet. "
Kirkendall-Rodriguez then asked if the board would seek an RFP before obtaining financial data about the project. Veron responded, "We depend upon the development community to provide the proposal, and help us understand the economics and the tradeoffs… Do we focus on revenue to the village? Do we focus on amenities? We can get the high-level numbers, but until we understand what the development community proposes and the economics… we would be speaking out of turn."
He concluded by stating, "My fear is that we don't incorporate in the RFP the most of what we can get for what is a substantially valuable piece of property. And, it will be very hard, in hindsight, to renegotiate once you have it out in an RFP… It seems to me that we need to be very deliberate and, perhaps, even conduct a very thorough survey of the community to determine what the public interest is."
Veron: We know that this is time to gather as much data as possible… we're availing ourselves of all available resources. That was the purpose of the visioning study… and we will continue to augment what we have, based on what you tell us.
Trustee Justin Arest then added, "I think there's a fundamental misunderstanding of the process… besides the fact that there was a steering committee put together for the visioning statement, which tried to include community input throughout, we decided to go the RFEI route, whereas a lot of communities would have just done an RFP straight from there. Instead, we decided to do a two-step process, not only to get the conceptual ideas and dive deeper into a lot of these issues, but also to keep the community involved. The RFP is not the end the process; it's actually just another step… The community will have input and continue to have input throughout… (Even though) we don't respond to everything, please understand that we are considering everything you say. We will continue to do so and we will continue to have events just like this. And, we are not anywhere close to the goal line. "
Berg then asked where the board was in the RFP process and how it was proceeding, and questioned "secret meetings with a law firm in executive session." Veron replied, "We do go into executive session with counsel because there are items that we must discuss that we cannot discuss publicly, because it could compromise the village's position when we negotiate… We are not going into executive session to be non-transparent; we're doing it with the very best interests of the village." With regard to the timing of the RFP, she said, "There's no deadline… We have to balance making sure we continue to hear from the community and ensure that the development community knows that, this time, we're actually going to engage in the process, because the development community has seen our town get interested in the site and then stop being interested."
Dorothy Levin (Overhill Road) then approached the podium to say, "At the first meeting, about 70 percent were pro-development. It was a self-selected group… If you want more input from (a variety of) Scarsdale residents, you have to reach out in a different way. Perhaps a questionnaire should be sent to each household… Please think of another way to get people (involved), not a 6:30 meeting… something that would be more inclusive. "
Allison Block (Butler Road) closed the conversation by saying, "From those steering committee meetings and what you've heard, I imagine many people said, 'We're in favor of development; let's refurbish this garage to the extent that we need to, incorporate some kind of revitalization (that) brings the community together, incorporating retail, the bridges…' I'm very supportive of much of that… In expressing they wanted a cultural center, more recreation, did anyone say we want more housing? That is the biggest impact, revenue-wise, school impact-wise."
Arest responded, "I won't get into specifics about the type of property that is built, but you have to generate revenue to pay for it somehow, unless we're willing, as a community, to float a bond and build that multicultural center. There has to be some component that is revenue-producing."
Block answered, "That could be office buildings; there are so many other ways… There are a lot of brilliant people in this community and I want to make sure their voices are being heard. Rather than putting this out to developers and saying 'Bring us what you want,' we should be saying, 'This is what we want. We want this, this and this; show us what you've got. '"
For more information on the Freightway project, visit scarsdale.com; to provide feedback or ask questions, send an email to freightwaystudy@scarsdale.com.